"Wii U" is scheduled to be released on December 8, the price is basic price 16,500 yen, premium is 30,500 yen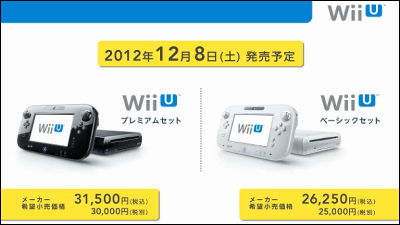 It was announced that the release date of Nintendo's new game machine "Wii U" is scheduled for December 8. The price is a basic set of Wii U main body (white, built-in storage 8GB) and Wii U GamePad (white), each AC adapter, HDMI set as a set including 26,500 yen. In the premium set, the main body and GamePad became black, the storage increased to 32GB, a vertical stand was added to the basic contents, and a GamePad stand stand set was added, including 31,500 yen including tax.

"Wii U" release date and price announcement: September 13, 2012

Presentation on Wii U release | Nintendo
http://www.nintendo.co.jp/wiiu/index.html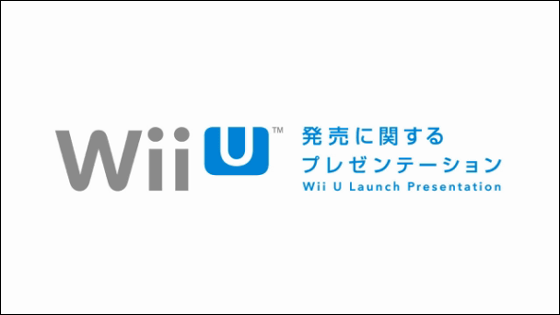 Presentation by Iwata president of Nintendo was held from 16 o'clock. In addition, this presentation is only about contents of Wii U main body, and information on software will be announced at "Nintendo Direct Wii U Preview" from 23 o'clock today.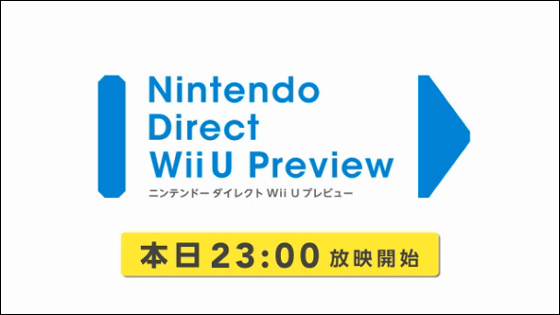 President Iwata gets Wii U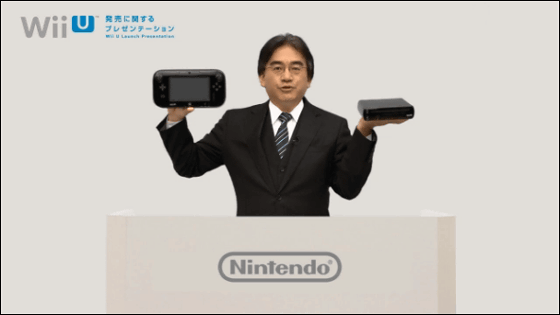 Wii U is Nintendo's first HD compatible game machine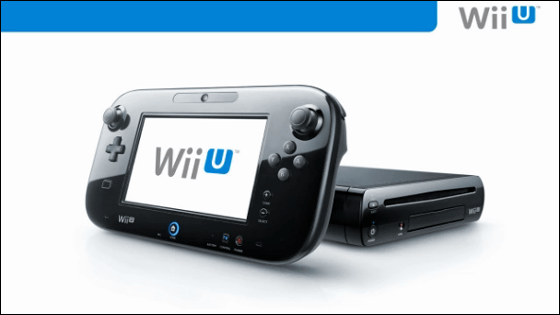 Expression that could not be realized with Wii released 6 years ago is now possible.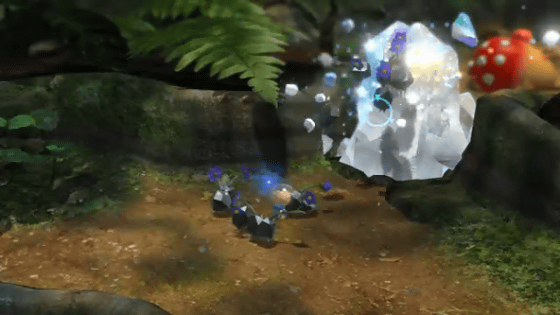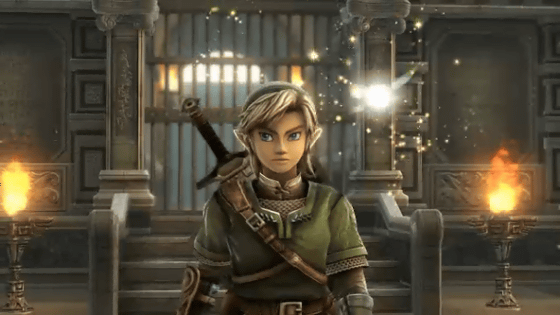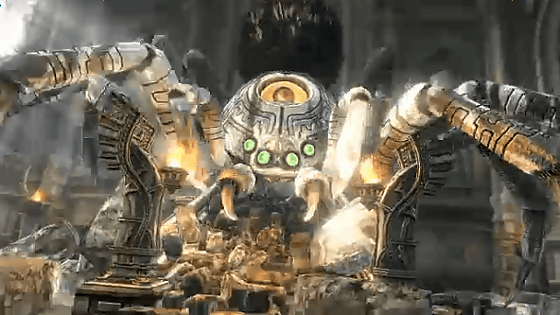 Resolution supports not only 720p (HD) but 1080p (full HD). Not only has the resolution raised, the processing performance of the graphics processor has also improved.

The main memory has 1 GB for games and 1 GB for system with 2 GB in total. This is the maximum capacity among gaming machines, more than 20 times Wii.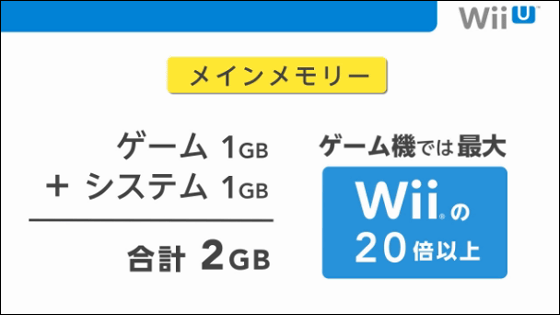 The reason why we allocated it to system memory greatly is that it made it possible to switch various functions of the browser and so on without terminating the game and that it had enough room to secure room for future function expansion There is.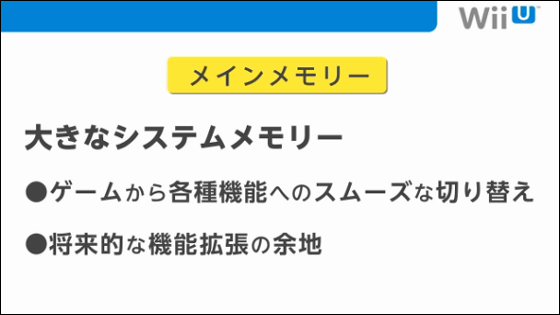 With a large memory capacity, you can make the game world more dense and dense, and by loading multiple scenes in advance, you can shorten the wait time to read from the optical disk at each scene change.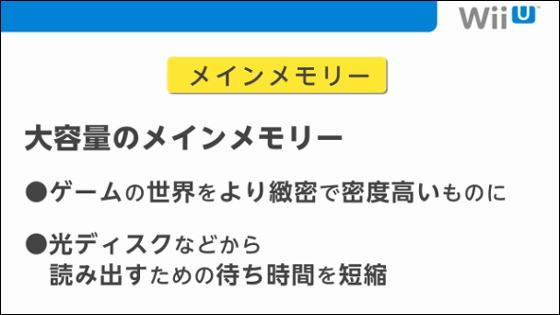 Although the optical disc is adopted as a medium, its capacity is 25 GB. Reading speed is increased by 22.5 MB / s.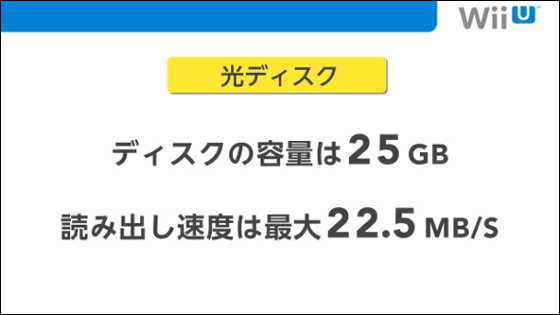 Although it improves the performance as an HD compatible machine, it is also an energy saving specification. The rated power consumption is 75 W. This is the number when using the full function, for example by using all USB ports, and it is rare to reach when playing games normally. Effectively, the power consumption will be around 40 W.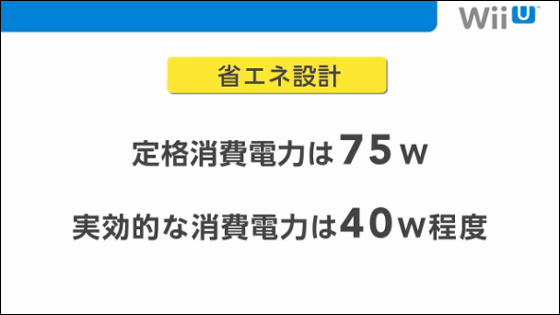 The size of the main body is 46 mm × 172 mm × 268.5 mm compact.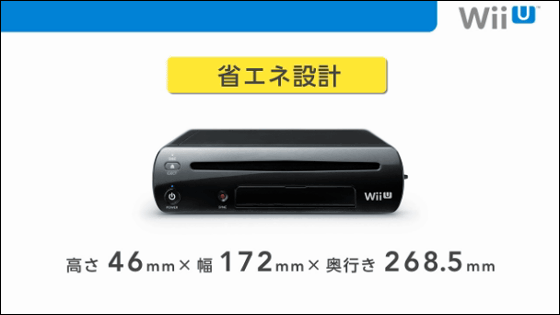 For peripheral devices, Wii remote control, Wii handle, Wii board etc, Wii era thing. As it is possible to use.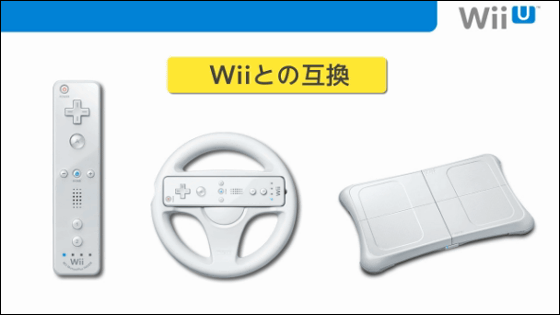 You can use the software of Wii as it is. When starting the software for Wii, switch Wii U to "Wii mode" and use it.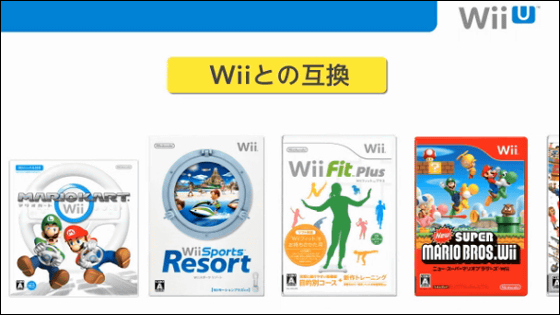 Additional content purchased online, WiiWare, virtual console can also move to Wii U and use it.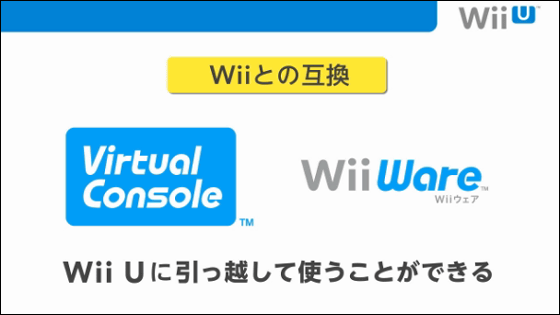 This is Wii U GamePad. It has two analog sticks and cross buttons, ABXY button, two left and right LR buttons, and standard input buttons of game machines.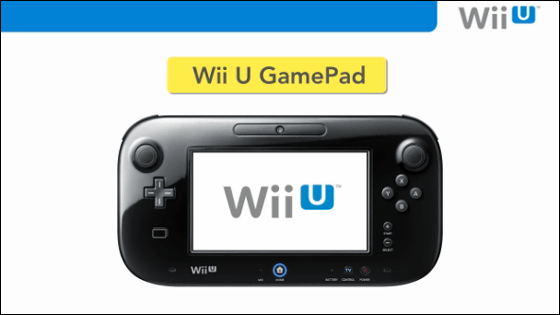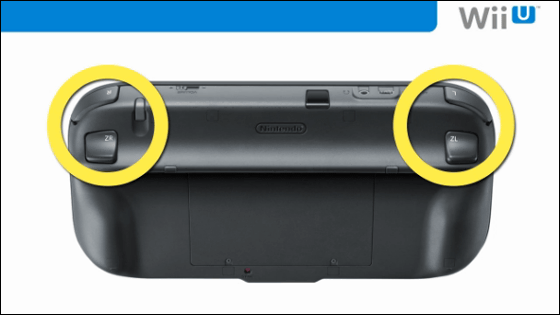 In addition, we prepare acceleration sensor, gyro sensor, geomagnetic sensor, touch screen, camera, microphone, NFC, stereo speaker, headphone jack etc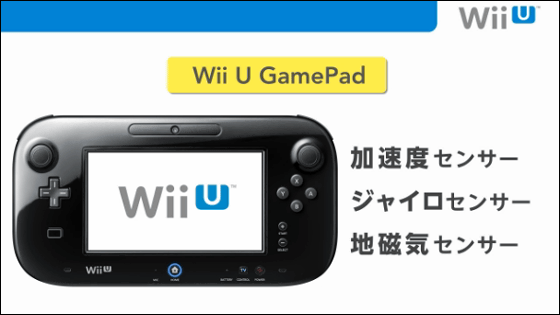 Sen server function is also carried and can be used in combination with pointing function. By the way, although it looks like a big handheld game machine at first glance, it does not work as a game machine by itself.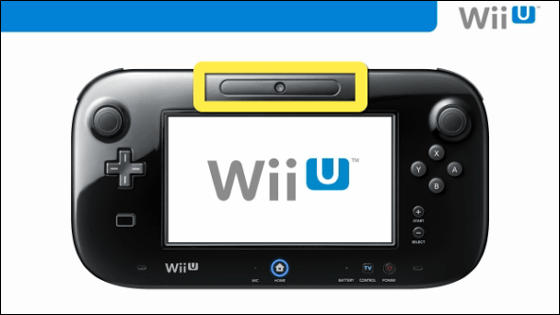 There are various products that transmit images wirelessly, but generally there are some time delays called "latency". Since transfer of information is one way in movies and televisions, there is no problem even if there is latency, but in order to exchange information bi-directionally, for example, from the time you press the button to operate Mario until the mario moves If you are late, you can not enjoy the game comfortably. The presence or absence of latency will greatly influence the value of the game to experience. For that reason, Wii U GamePad was developed with the idea to minimize the latency from the beginning. Therefore, even on the GamePad screen you can play without feeling latency.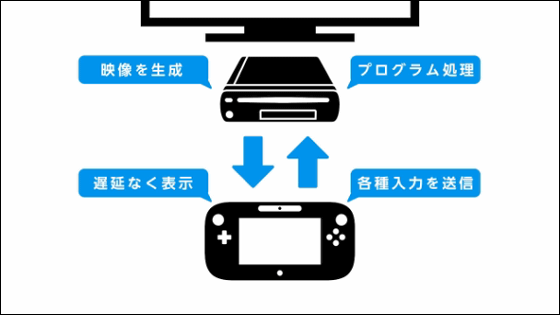 The Wii changed the place where the game machine is placed to a place of play and was accepted by people all over the world.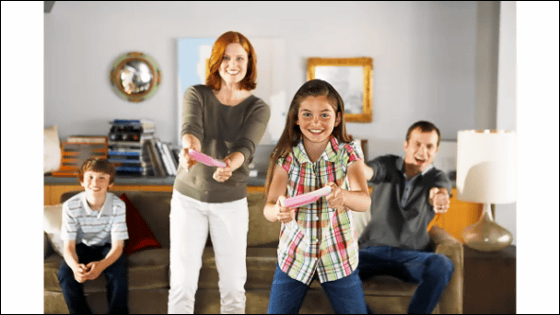 Beyond the first NES, 96 million units were sold worldwide. It is the most sold game machine in the history of Nintendo.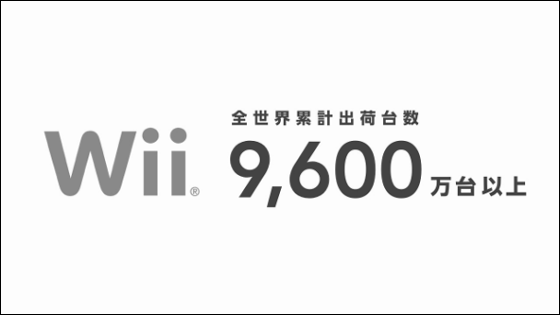 Wii is "If you gather Wii"It was a great advantage that we could enjoy it with Wii when people gathered.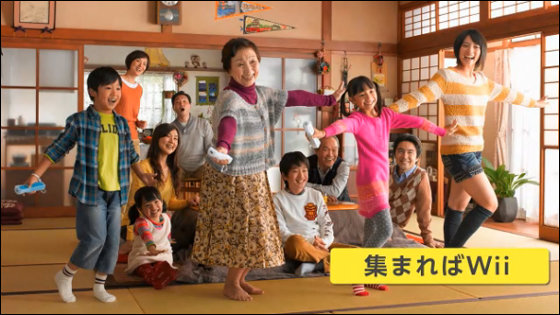 More than 80% of people set up the Wii in the living room and played. But this also created the constraint that someone can not play when watching TV.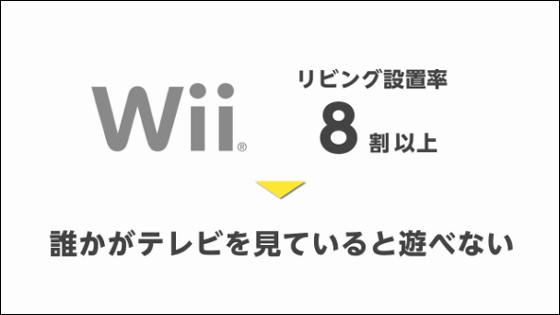 In Wii U it means to make Wii's strength stronger, "If you gather Wii U alone Wii U". I enhanced the function that I can play alone.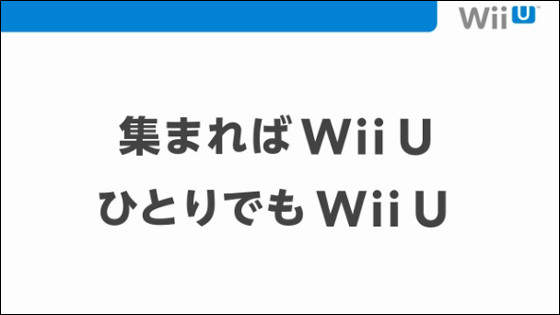 For example, do not show the screen to each other so that they will not reveal the inside of the hand, one will serve a different role, etc.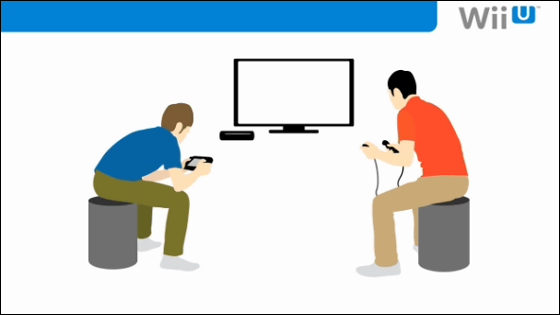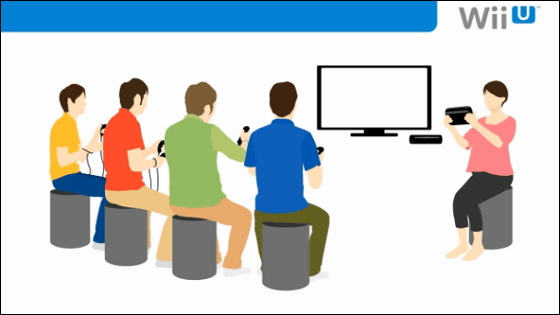 By combining GamePad and large screen TV, multiplayer game will evolve further and create new benefits. People who touch smartphones and tablets while watching TV are not unusual, and modern people should already be accustomed to this kind of things.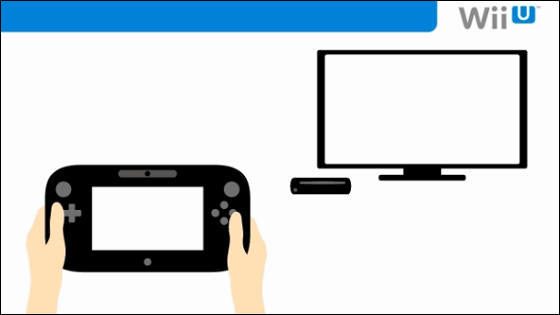 For example, GamePad always keeps the menu open, letting the information display. This will give you information without obstructing the game flow.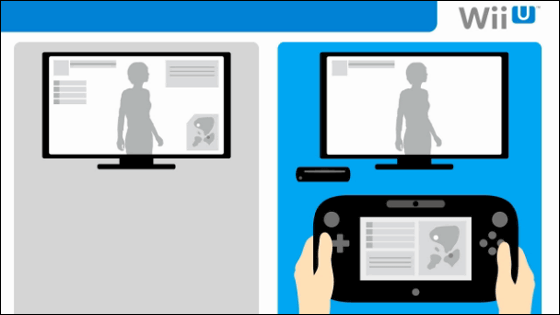 When playing with people away from the net, GamePad also acts as a communication device.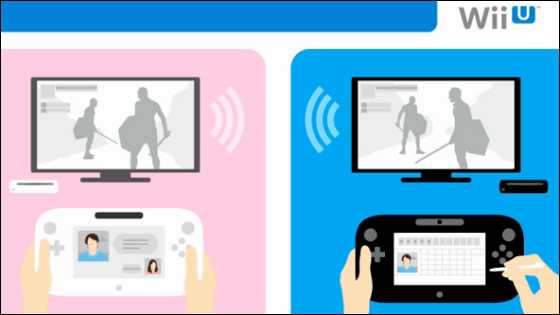 When playing with only one screen, you can play with free style, such as ... without having to use the TV, with only GamePad at hand ...... For the first time in the history of video games, Wii U is a video game machine that you can play without occupying TV.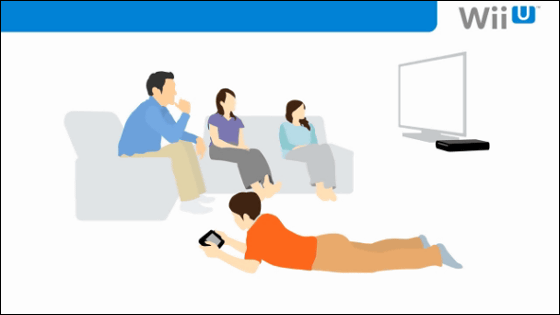 Space named "Miiverse" by Mii's Universe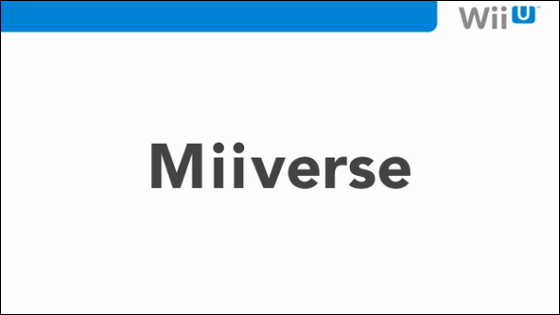 Wii U players can exchange information with each other. Even if there is only one person at home, there are many companions who play the same game through Wii U. Wii U is not alone.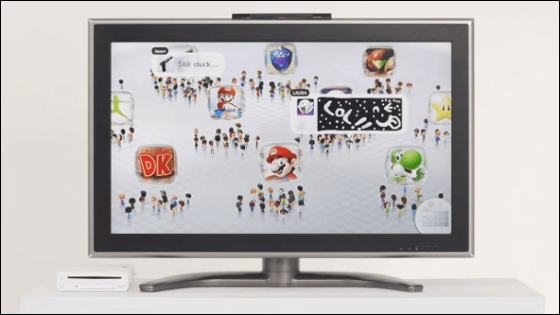 Everyone alone can enjoy it. "If you gather Wii U alone alone everyone is Wii U".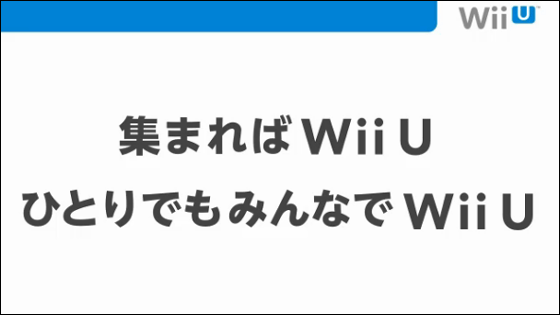 Regarding software, I will talk with Nintendo Direct from 23 o'clock today, but I will briefly introduce two of them, "New Super Mario Bros. U" and "Nintendo Land".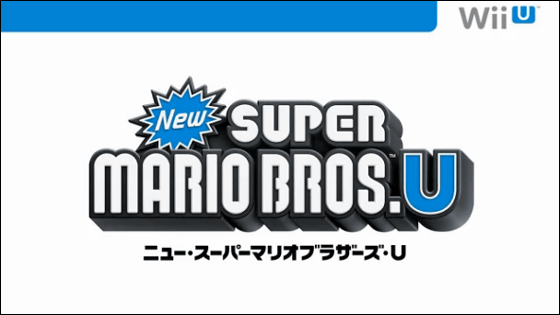 "New Super Mario Bros. 2" for Nintendo 3DS was released at the end of July and achieved millions in about a month.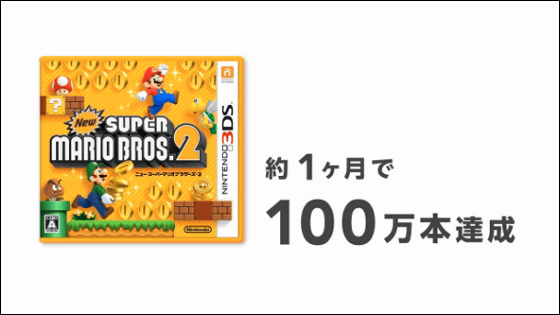 "New Super Mario Bros. U" was released on the same day as Wii U. It is the first time in 16 years since the Nintendo 64 that the new work of the royal road Mario will be released on the same day as Nintendo.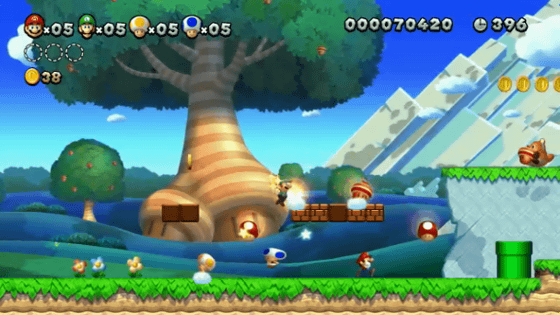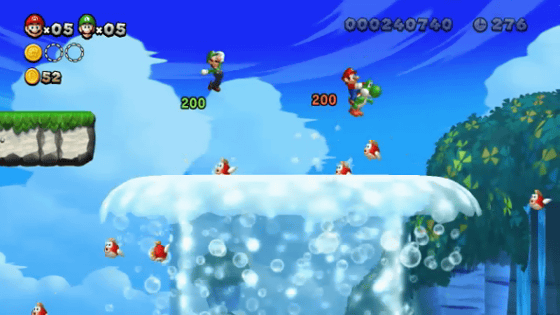 "Nintendo Land" also released on Wii U on the same day. When it is E3, I introduced a multiplayer play, but the content is something that "embodies Wii U" alone.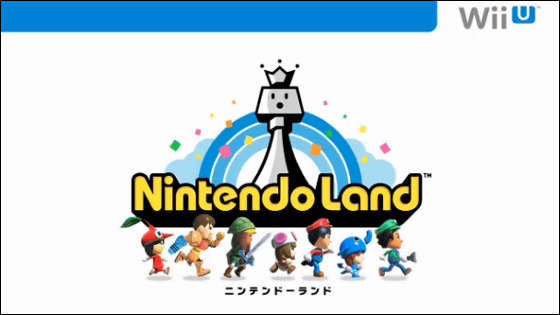 Since I do not have enough time to introduce detailed contents, I will introduce it at 23 o'clock in Nintendo Direct.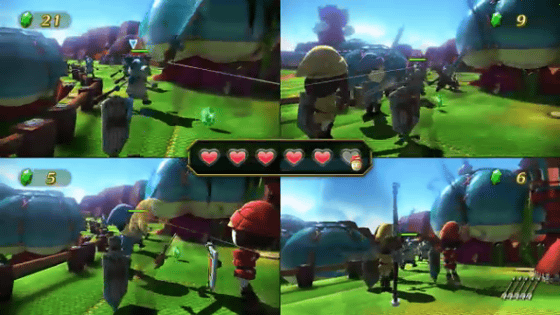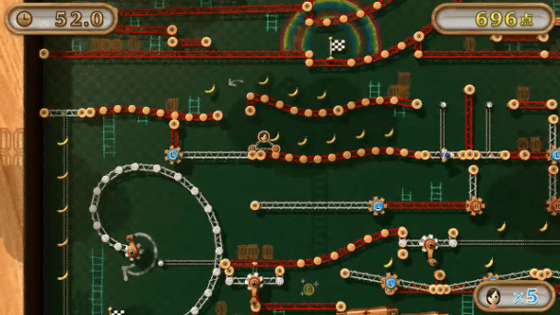 Both are released simultaneously, Mario U is 5985 yen including tax, Nintendo Land 4935 yen including tax. Download version is also released at the same time.



About peripheral devices from here. "PRO controller" can be charged via USB, up to 4 wirelessly connected. 5040 yen including tax.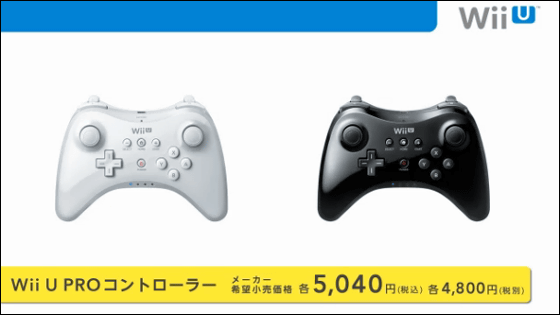 Wii Remote Control Plus will continue to sell as usual in 5 colors of white, black, red, blue and pink. 3800 yen including tax.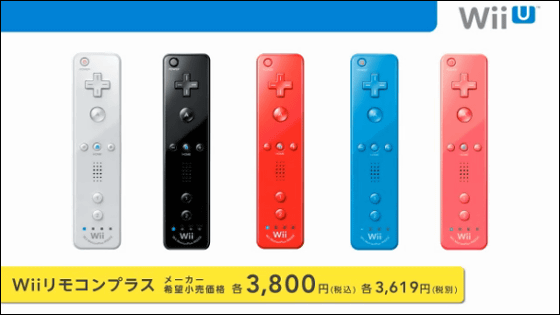 Continue selling for nunchaku as well. 1800 yen including tax.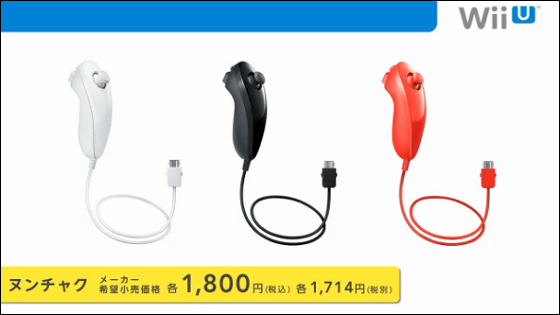 Although the main body is horizontal, basic stand is also available. 315 yen including tax.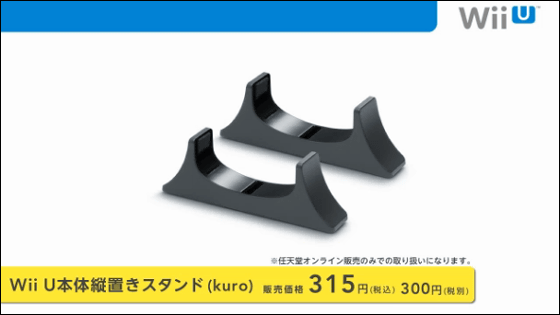 Stand that can charge while keeping GamePad set with playstand is 1890 yen including tax.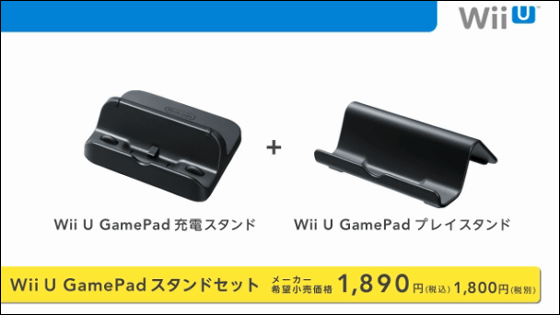 There is one GamePad bundled with the main unit, but technically it is possible to connect up to two. Wii U GamePad sold separately is 10 3440 yen including tax.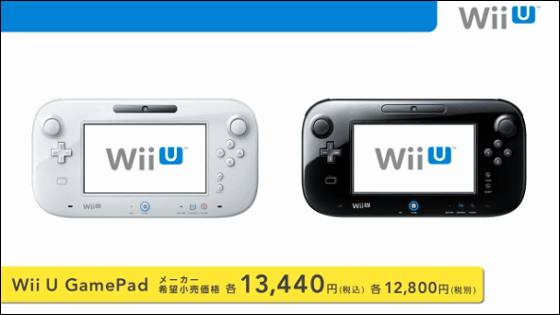 There are two types of "Set Premium" and "Basic Set" as the set configuration of the main unit. Common items are Wii U main unit, Wii U GamePad, AC adapter for Wii U unit, AC adapter for Wii U GamePad, HDMI cable.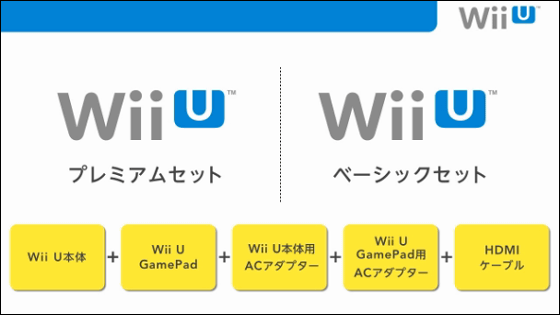 Basic and main body and GamePad are white, premium is black. Built-in flash memory also has a difference, the basic is 8 GB, while the premium is 32 GB.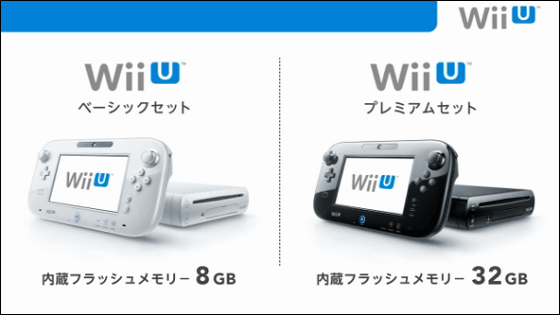 Regarding premiums, as for "Nintendo Network Premium" for digital selling software, points of about 10% of the price will be returned. Nintendo and third parties are OK with the target software, points can be exchanged for Nintendo prepaid numbers in 500 points unit. It will be offered until the end of December 2014.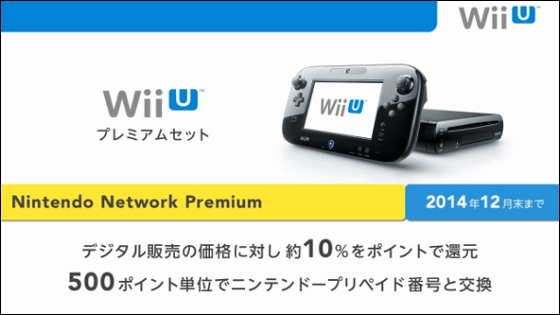 The premium also includes a vertical stand and a GamePad stand set.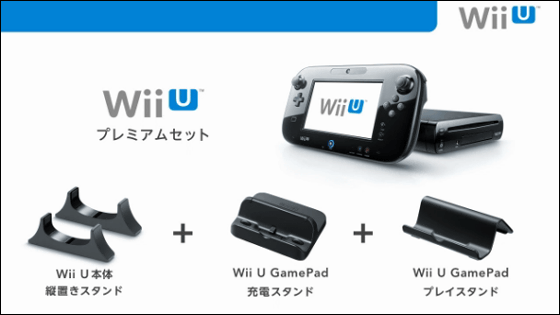 It is supposed to be able to use the Wii remote but not enclosed, because it should have someone who already owns the Wii, he said he did not bundle it to make the price cheaper. For those who purchase additionally, selling at a set price of 5250 yen including those with remote control and Nunchaku, Sen server. It will be cheaper 2030 yen than buying it separately.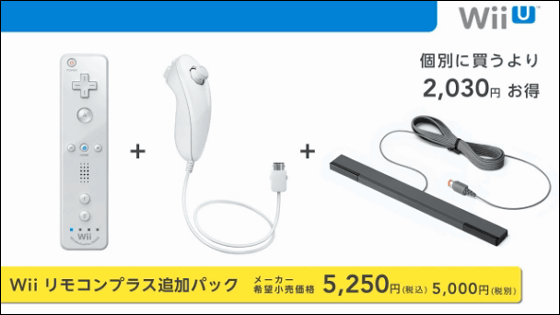 Wii U will be released on Saturday, December 8. The premium set is tax included 31,500 yen, the basic set is 26,500 yen.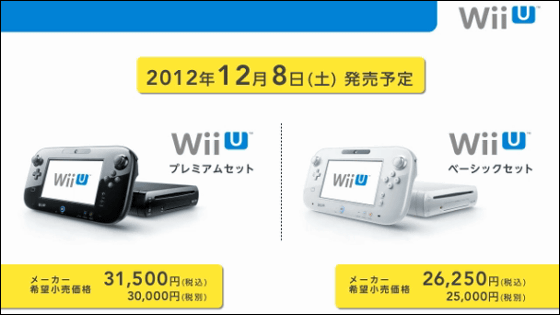 Introducing the software Nintendo Direct Wii U Preview is from 23 o'clock today.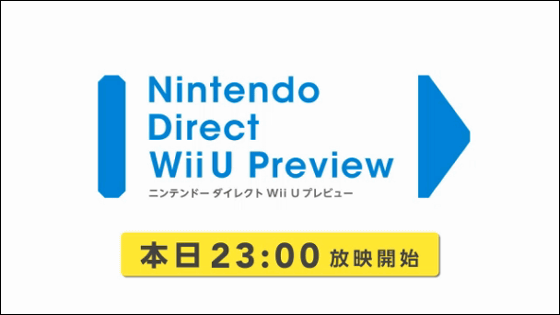 · Continued
"Monster Hunter 3G HD ver." Is released on the same day as the Wii U main body, the bundled set of the main body and software also