Pazzdra's birth parent "I was not the type that can make a game to accept all" confession of birth confession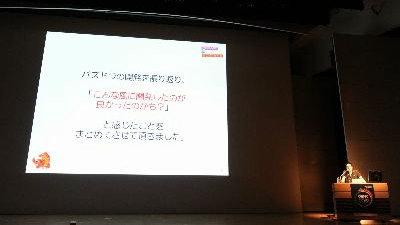 "Pazzla" of puzzle RPG for smartphones that achieved 1.1 million downloads in August 2012, winning CEDEC AWAED 2012 best gaming design category prize "Puzzle & DragonsMr. Daisuke Yamamoto gave a lecture and talked about how "Pazdra" was born after confessing that "I was never of the type that can make a game to accept everyone".

Puzzle & Dragons ~ Bride and Development and Me ~ | CEDEC 2012 | Computer Entertainment Development Developers Conference

It is Daisuke Yamamoto who is a producer of Gunho · Online Entertainment Co., Ltd. Actually, I just got a job change in Gang Ho last July, until that time I was in a small game planning office called Braindog for about 10 years, then I was enrolled in Hudson for about 9 years.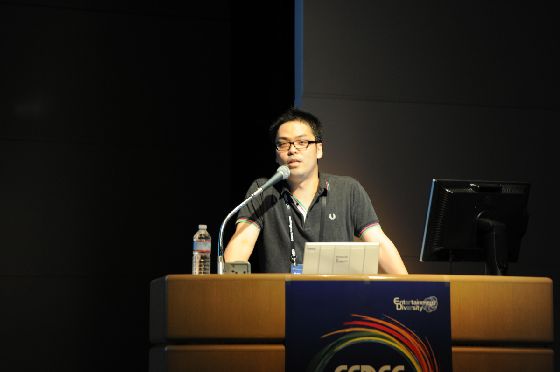 When I say what I would like to say from my past career, I was not a type that could make a game to receive everyone as long as I made it chaotic. What happened to me such that Pazdra was born? While looking back on the development of Pazdra, I summarized the place I felt "It was good to have developed like this".

This time we divided them into four themes, the first oneDevelopment guide. The secondPlanning, The third isPrototype Development,FinallyWhat I'm glad I made, what I would like to do in the futureI will talk about it.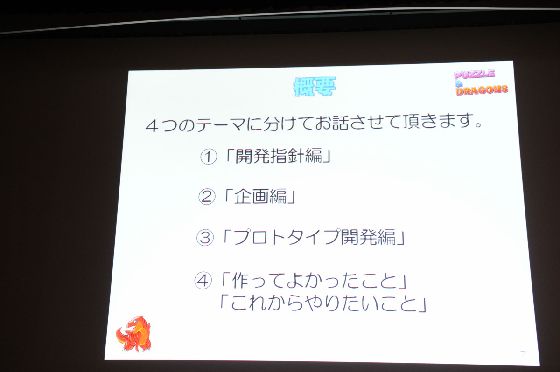 First of all, I will talk from "the 10 development guidelines not beat the social card game".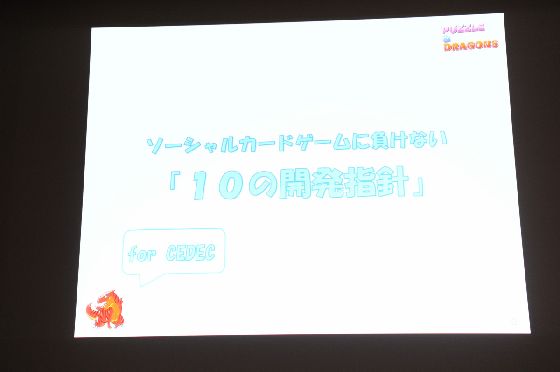 Actually development is actually made with momentum and nori, so the content is nearly retrofitted. Although it is not "winning method", I have worked so hard to be useful so please listen.

Even if I talk normally, it's not so fun, so my favorite "Dog and my 10 promisesI will talk to the wind.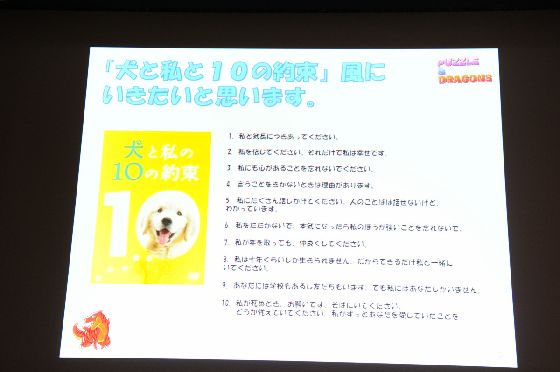 This movie is a story about a dog kept at a house talking to the owner, but this time I will explain it in the form that game developers will talk to everyone.

Part 1,Please get along with me.

Pazzdra launched the project only with the thought that "I am planning to make this project absolutely fantastic! When saying what is good of kore, first of all, development is super fun. In addition, continuous development is also super fun. I often hear "Practice tips" in Pazdola, but since fun is the best, when I think about projects I am pleased that you can make something interesting that you would like to make.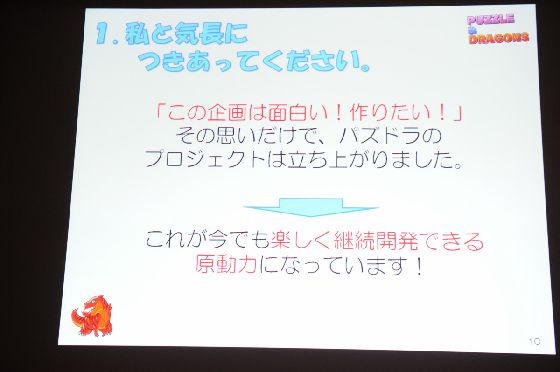 Part 2Look at my fun, that alone makes me happy.

In Pazdora, it is the main game, mainly puzzle parts, but we developed prototypes pursuing only this fun. By firmly making the liver of the game, you will be able to play for the longest time with game nature without relying on excessive social nature or shogaku mind.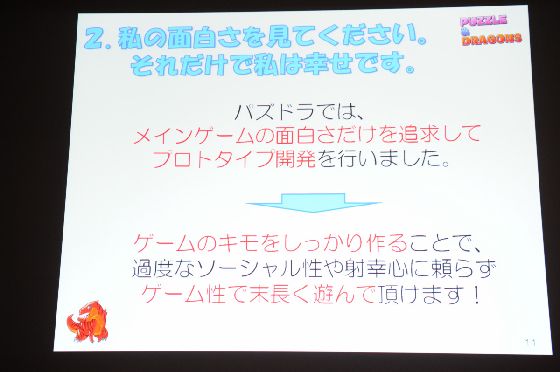 Part 3,Please think about my way of selling first.

Until the prototype, it is only necessary to make it interesting, but before you move on to this development, think "what you want to sell in the game?" Really minimal, so please consider three or four. Please note that if you think too much about details, it will only interfere with the level design or tuning of the second half. It is quite minimal.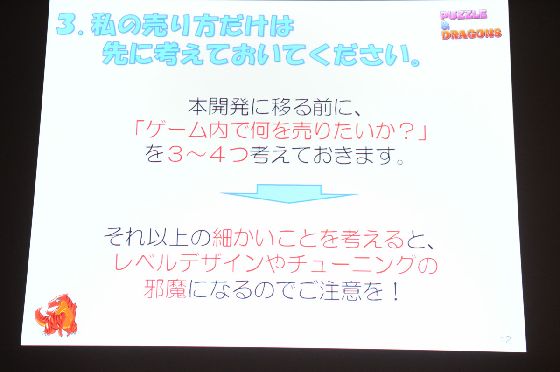 Part 4,There is a reason for not playing.

If you say "Free Download Game", it is very unlikely that it will be downloaded easily, but in reality it is a trap and there are quite a few that will be left without being played after downloading. Or you start off the title and quit right away. It is a place I do not notice unexpectedly. I abolished all the factors that I want to quit when I play myself.

Specifically there are three in big places. First of all, I can not register duplicate user names. Each user naturally has a name and a nickname that he / she wishes to use. Even if it is played once at the time of registration, I think I will do my best if I try again one more time, but when I can play twice, the heart of Oita begins to break and if I can play 3 times, I will almost exit as it is. Since it is an online game, I think that there are many games that make duplicate registration impossible because of ease of management, but I think it would be better to quit because it is quite dangerous.

Next, I will request valuable personal information such as a mail address. There is no way to put precious personal information like an email address into a game you do not know whether it is interesting to say it clearly.

There are also applications that can not start the game immediately after linking to a useless web page before starting the game, but since you will make users feel uncomfortable, I think that it will certainly be a departure point .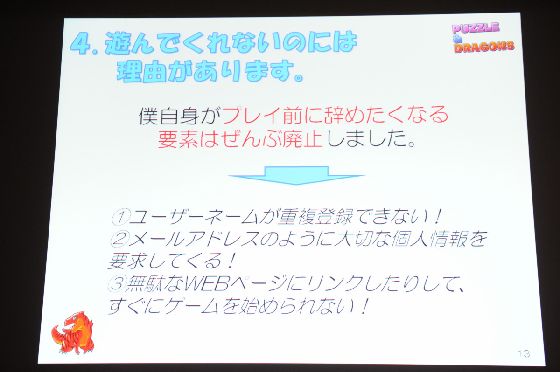 Part 5Please develop me with paid sales quality.

Actually, Pasudra was developing under the assumption of selling at 170 yen originally. It seems pretty cheap to hear it at 170 yen, but it will be considerably higher at the App Store. I think that what I made up to the end with the preparedness to provide at this price leads to a hit by Pazdra.

When trying to have the game play free of charge, by thinking as "how to earn money" with a wicked thought, suddenly "Please pay from here" before thinking out all the elements of the game It will become like a shape. If you make it for paid sales from the beginning, that kind of idea will not work and I think that it will become a shortcut for considerable success as a result.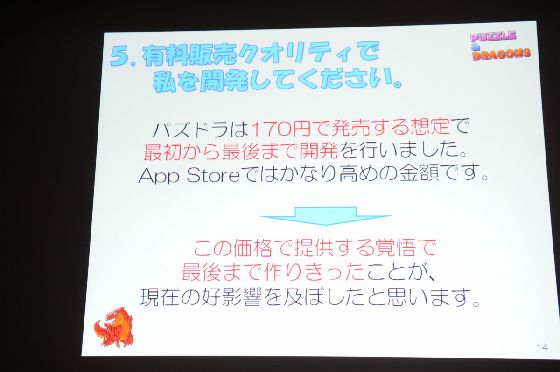 Part 6Do not deny social games.

I wrote it in the wind as 10 development guidelines not to be defeated by social games earlier. I am pretty negative for social games of copies and now, but social games are packed with something very interesting elements in social games too. Even in Pazzla, I used some pinpoints on elements I thought as "nice" as I experienced it. If you are developing games for consumers and arcades and are planning to make a smartphone in the future as well, if there are people who are not playing with something to hate social games, you should definitely play this once on occasion I would like you to feel fun.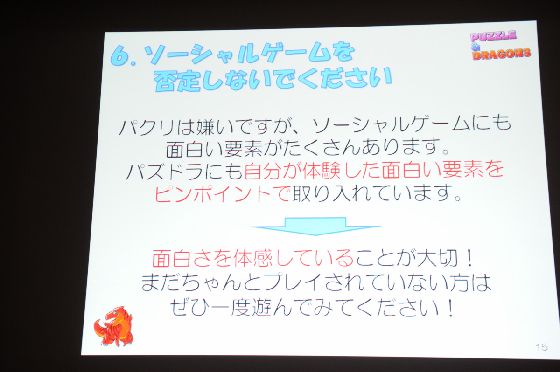 Part 7,Please manage with the server where you want to play most.

Since the communication speed is low, Pasudra tends to be thought to be managed on the client side, but everything important is managed by the server. Especially, it is the ability of the monster to generate dungeon which is the key of the game. All around here are managed by the server, so you can freely add additional adjustments. In the App Store, it takes about 1 week to 2 weeks before Approved by Apple, so there is a circumstance that the operation plan can not be established. So, it is recommended that you manage all servers for the essential part of the game.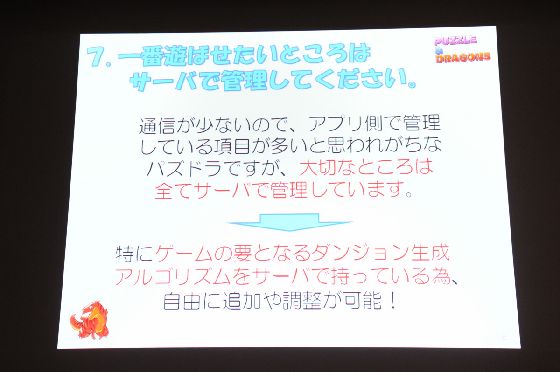 Part 8,Do not forget that I have limitations.

In the application, too much tutorials, game explanations, announcements, etc. .... I'm getting too close, but as the capacity gets bigger or the number of times of communication increases, it is actually a point that is pretty disgusting. In Pazzla it replaced by setting up a link to a strategy article or official twitter. This allows users to view reliable information when needed, which leads to an increase in the continuation rate. Actually, I do not know how much the continuation rate has increased, but I think whether the effect is great with the feeling of watching PV. I think that this is the style of a new media mix that is not in the consumer package so far.

When it is said to be a snatch article, if it is a smartphoneAppBankAndFamitsu AppAre you being touched? Now I do not have the opportunity to buy a capture book, and I think most of you are looking at game information almost online. As I was investigating, as long as it seems to be a suspicious shootout article, I've already certified in the game and I want to put a link on the direct strategy article.

Media is also very effective in seeking new ways of living, and I think that you may try it as there is a possibility of becoming a future trend.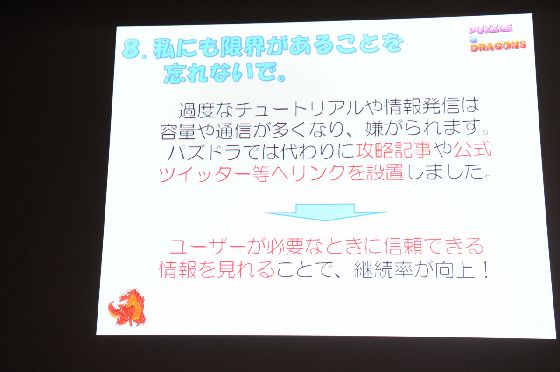 Part 9,You have family and friends.

If it is the rule of Gan Ho, we will take the opinion inside the company. In addition to that, I asked the bride of all development staff to play and frequently asked opinions. This is called "bride review". I will do it in detail later, but I think that it is the biggest point we could succeed with smart casual users. Unlike gaming machines, there are users who do not normally play games in smartphones, so I think that smaho may need to develop games in a different way from now.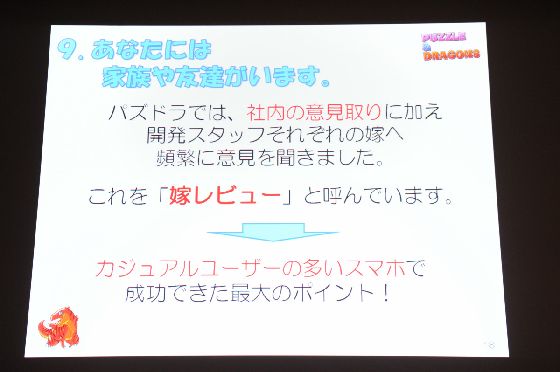 Part 10,Please do not obey us.

In order to differentiate it from others, Pazdora played more than 200 iPhone applications and made it. So please make sure you do not mistake it. About 2 years ago, a very wonderful game called Draco (Dragon Collection) came out from Konami. That's why the social game looks to the right, almost a copy, or similar game has become disappointing. Too much, I'm pretty impatient for about a year now. With the sense of crisis that I would not be able to make my favorite game in the near future, I was truly spending days everyday. In such circumstances, I think that Pazdra became the top ranking of the App Store ranking, and being able to compete as a game that you can evaluate is one of the things that made Pasudra a good time this time.

I think that game development is a celebrated career and I think that everyone probably wants to eat it after 10 years and 20 years even after game development. If you have something to do with social games or smartphone applications, after 3 years and 5 years 10 years from 2 years later, is there really a game market? I am very happy to think about it and consider the project.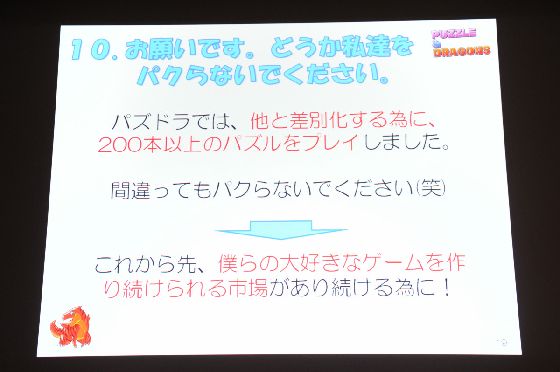 Here I got a breather, it is recommended information. Satoshi Tajiri's "New Game Design"A book called.



I think that my story today is pretty cool, but when I entered the industry 10 years ago, it is a book that was a bible for planners and directors, but there seems to be many people who do not know recently. About the game design is very purely spoken. The second half I will tell you also that if you read this you may be able to understand more, I am on somewhat premier with out of print, but if you have the opportunity I would like you to read it.

Then,PlanningI will go.

The chance for the plan of Pazdra is that I met the priest - in the spring of last year.Dungeon RaidIt is a yoga - that is.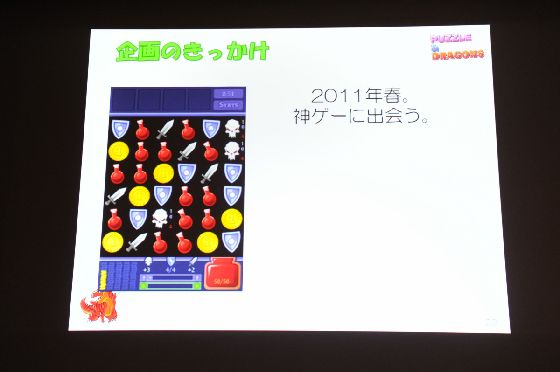 Too shocked me and I was pretty enthusiastic too, but it was the opportunity for this project to say, "Let's make a game made in Japan that can not defeat this game." People who are not playing probably say that DungeonRaid's awesomeness is "fun of RPG and puzzle," but it is totally different. Where the game is amusing is obviously letting the puzzle game but the sense of play clearly "Rogue"Mystery DungeonWhat is it? I was shocked to think that this was really an invention and I wanted to make a defeat to this.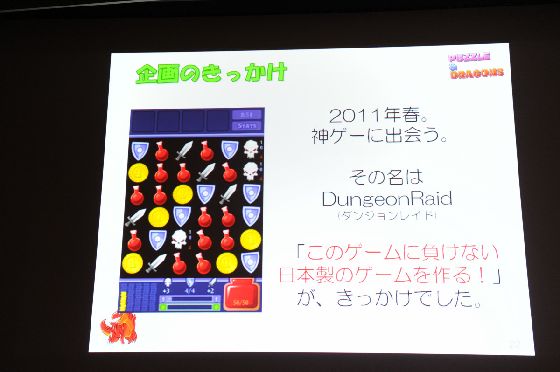 At that time, I came with the pin, "Can this be a trend of development of the smartphone of the future?" So far, the smartphone is a consumer as well, but I think that it was common to fix popular genres into an interface for smartphones or to fix it as an interface of existing genres. But, that is not it. The future smartphone is a genre that matched the interface of the smartphone from the beginning, and I realized that unless I had to experience another game, I could not do it. In the Dungeon Raid before, it means "to experience rogues with puzzles".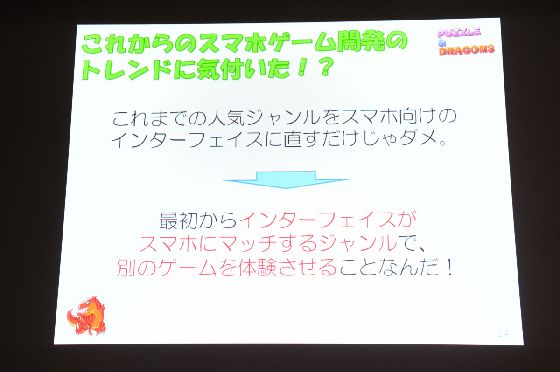 Next is Pazdra's concept. In Pazzla I tried to express RPG battle in puzzle game. In addition to puzzle games, there are lots of genres that matched the smartphone, but at that time DungeonRaid had a considerable impact, so it came in this way.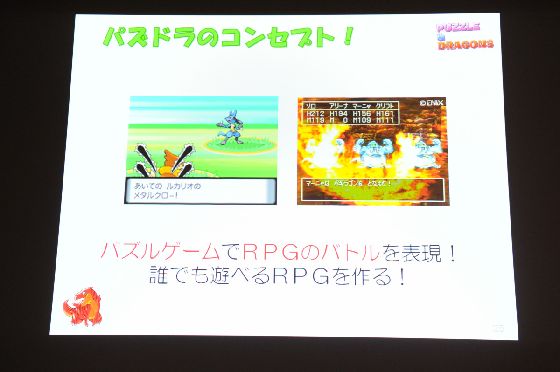 First of all, I made a plan for the inside of the company. I can only take a moment to see it because I am using net materials, but from the point I wrote in this original plan, I am not blurring in game design. So when we are breast with the president, "All the Japanese are raised in" Dragon "" I was told the president "All the Japanese girls' cell phone has a vertical holding with a tech maku Mayakon?" .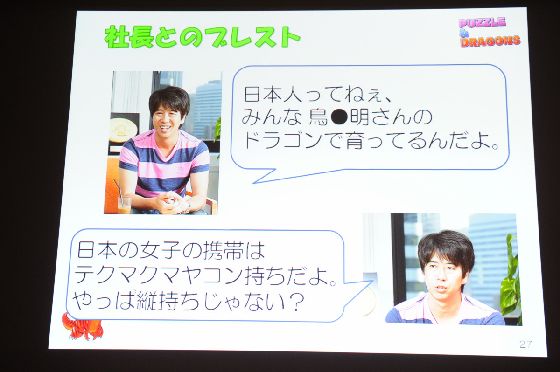 When I was listening, I was able to accept this story obediently, so the screen reflected it.

I was pretty sticking to the game, so I was often unable to listen to people's opinions frankly. But when asked why at this time, I sympathized with the president who said "It is fun placement first, sales are secondary". I think that it is normal to talk from the neighborhood about the president, such as sales and budget. It was a pretty strange president, I decided to be fun at first, I opened my mind unexpectedly and heard it.

Secondly, because I have a child about 3 years old, I think that I became a little grown up. It seems that if children can do game development is considerably favorable. There is a person who is in trouble because there is not a hit work easily, and if you have a wife, we recommend that you first make your child. It is a lie (lol)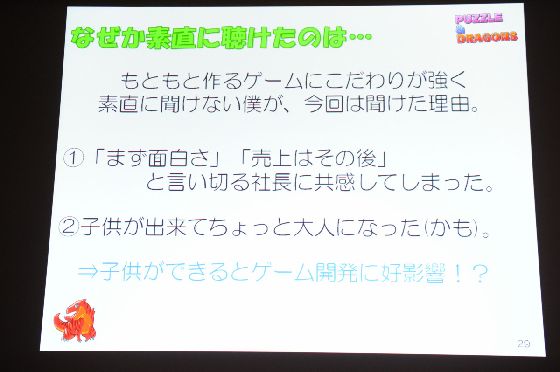 next,Prototype versionI will go.

The most sticking point is the rule of the puzzle. In deciding the rules, we first of all clarified the target layer. The target layer of Pazdora is a casual user who plays simple puzzles, female middle school girls or housewives become main. And in the office workers in the 2 nd and thirties, I used to play Dragon Quest and FF in the past, but the layer that the recent game has become complicated and can not keep up so it's no longer playing. Generally, it is a game beginner to intermediate game.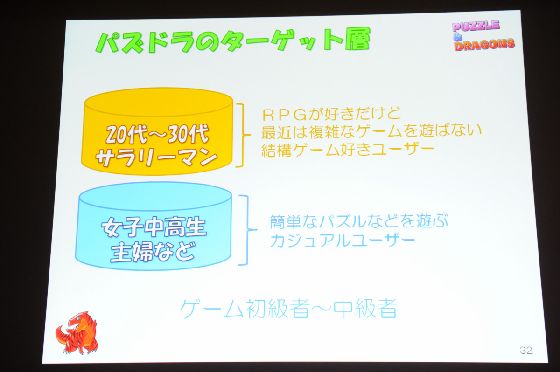 The puzzle game that I receive on the casual layer is not what made the punch special, but after all3 matches (match 3 game)What is it? So, the first planning concept,- keeperIt was in line with the rules of games close to. Z - The keeper is a game in which one character is moved to vertical or horizontal, and characters are moved to make three characters of the same color. It disappears when it is gathered, and it is a game of feeling that you can not move if you do not have it.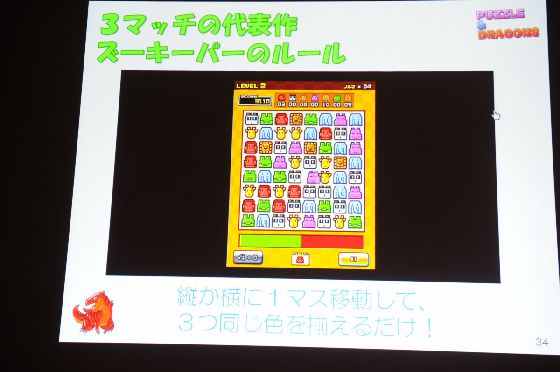 I made it immediately and asked the bride to "try only trying to make 3 identical colors" and let me try it. This is the bride's hand.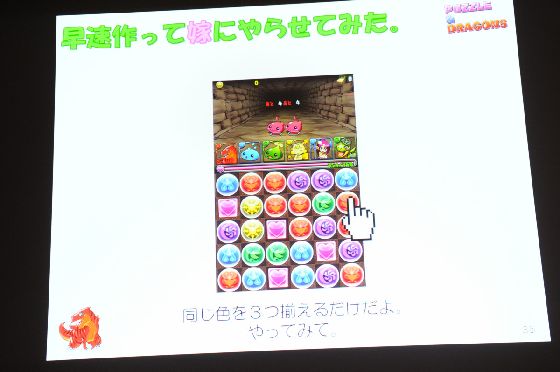 When I saw how I was playing, I felt that I was moving a bit awful, I thought "My review of bride!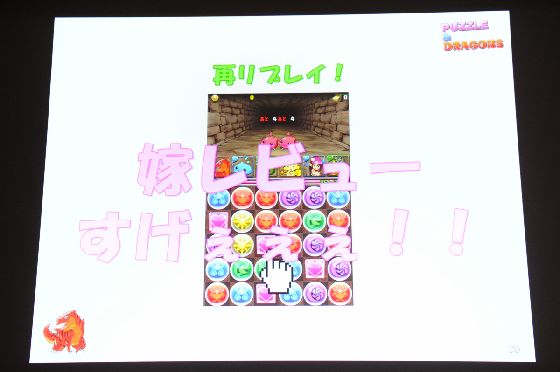 I thought it was like a casual game like a keeper in me, so I was shocked by the movement of breaking it. After that, whenever I update Rom, my bride got me to play. Although you understand when you play, Pazdra is a unique way of playing, you can make a chain by moving a drop when you move around. "Oh, this was the rule that I had never seen before!" It was a feeling.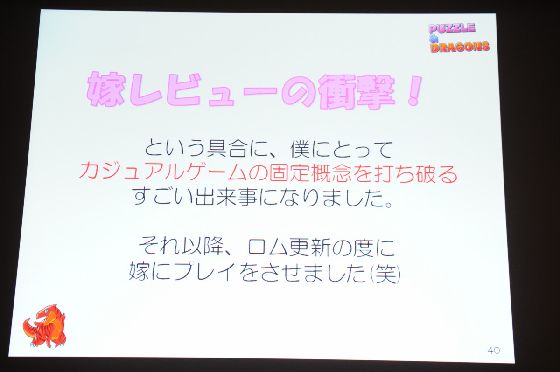 But actually it is a retrofit. I was making it without assuming it at all. However, although it was good that the rules were new, the game balance collapsed at the beginning because the combo was made too much at first. In the end, I got the concept of holding time of drop, and it gave the best balance to balance user's training and achievement feeling. I thought that it was a great right answer without doing the time restriction rule that "Move before time runs out" common to Match 3 puzzle. Since there was a concept of expressing battle of RPG by puzzle, we decided that it is the time limit of dropping slowly thought out without being chased by time.

Even with the number of drops I tried and tried quite a bit. I made 3 kinds of slides on the left 6 × 5, the middle 7 × 6, the right 8 × 7, but I made other types of slides, the other 6 × 5 or 7 × 6 at the end I was worried a lot It was. Although I was worried even after the prototype was over, I decided on 6 x 5 at the end in my bride review. It is the only reason that it is "malfunction if dropping is small". I thought that it would be quite interesting to gamers if I could have a combo more than 7 x 6, so I am afraid that it was a 6 × 5 correct answer.



So, after finishing the bride 's review, the target group was expanding. Originally I thought that "salaried workers in their 20s and 30s", "female high school girls and housewives", but "people who do not play games at all" have been added. Pazdola has a lot of people saying "I am addicted to not playing games until now", but I think that is the result of the prototype's bride review.

Pazzdra can also play with common three match rules. So, you should have excluded users who originally played 3 matches from the target. If it is too far from existing 3 matches, there is a possibility that it may be stopped as "difficult", so it is a pretty important point to make the game design to lower the threshold and play any type of play I will.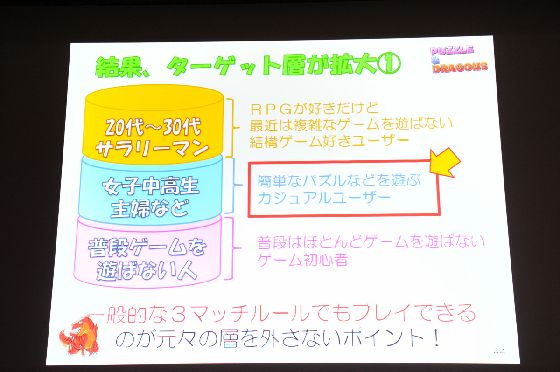 I also succeeded in getting puzzle loving gamers who love 'Puyo Puyo' etc., refining techniques such as combo by training. If you notice it, it was supposed to be able to take as many layers as you initially assumed.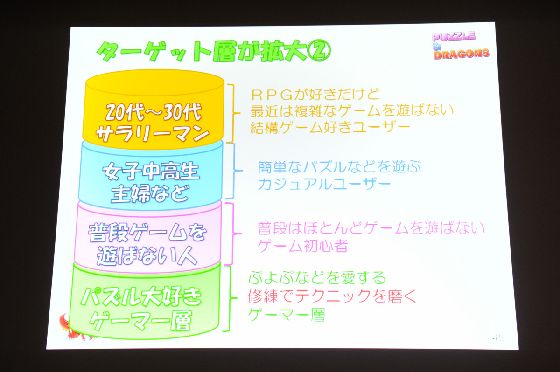 I think that this was the secret that the iPhone alone led to 1 million downloads.

The thing that I felt again this time is that the game design is fun and deep inside. Unexpectedly it became a game that you can play from game players to those who do not usually play games. Besides, game beginners have learned combo and are playing. It's been 10 years in the game industry, but game development has become very enjoyable as to whether there is still such a surprise.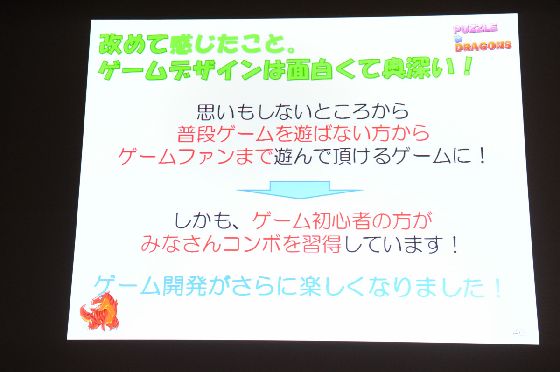 Now that social games are in fashion, I think that the wrong idea of ​​whether it is better to exclude games and play as much as possible is starting to spread. But, I think that it is just a mistake, just to make sure that people who do not usually play games can play games, just a bit of the low threshold is not enough to know the game nature.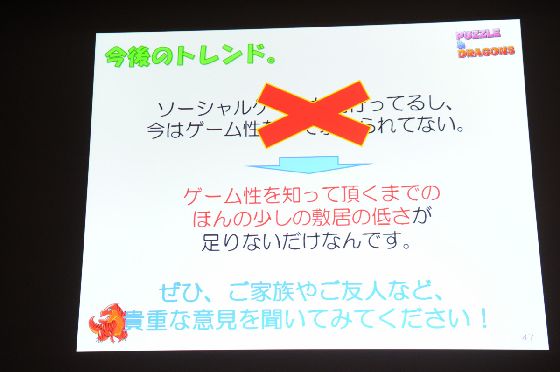 I think that there are many people around you who do not play in the game. I think that the possibility of a hit can be raised even a little by developing it while taking opinions from the initial stage to such a person.

FinallyIt was good to make. What you want to do nowis.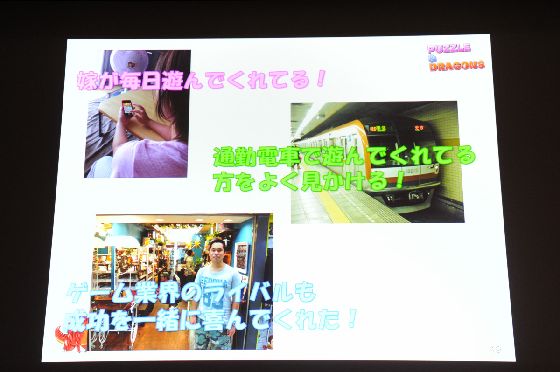 First of all, my wife is playing Pazzla every day. I never played before, so it's a feeling that I finally played. I usually go home late, so I can hardly speak on weekdays, but I will be motivated as I know how many hours ago my wife played when I log in. Although I sometimes see someone who plays with commuter train, this also motivates me.

Also, it is totally private, but when I enter the industry, there is a person called Watanabe who was then a producer of Enix at the time. Now I'm leaving the industry, I am doing a shop at Nakano Broadway, but after having made Pazdora, I decided to meet for the first time in a long time. I was indebted to the extent that he was here so far that he was there, but he seemed to have not known that I made a Pazdora, very pleased with the success of Pazdra ... .... I could not forget even "I drank a cup with his (his) wife", I cried. Game development is a world where millions of downloads and hundreds of thousands of reviews go into the world if it hits but you can see that you are enjoying having fun with familiar people and saying "It was fun" Is the best motivation. This was not talking about today, but I was happy and I wrote it.

Also, the media is very supportive.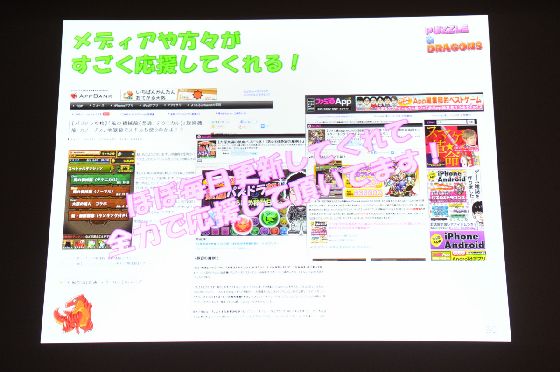 There is also a sense of crisis in the media as to whether the game industry is going down as social games become full. Even so, almost every day I write articles of Pazdora, and I support you with full power. I often hear "how much do you pay advertising expenses?", But it is not a translation that you are doing as a promotion, it is simply a state that is supporting Pazdra. When I go to drink recently, I talk about whether there are games that I have to make now to boost the industry, but I'm happy being able to support Pazdra like this in this way.

The game industry people are also supporting us so much.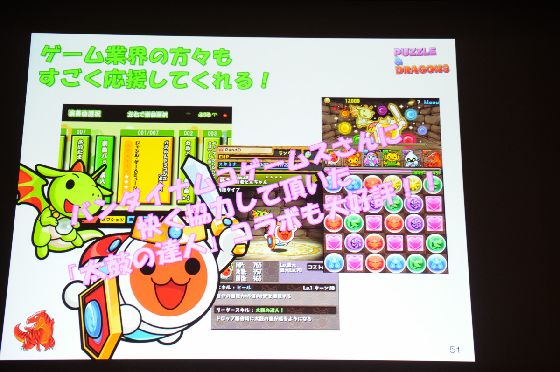 I went to ask producers to collaborate with "Taiko no Tatsujin", but I was pleasantly acknowledged and the event was also a great success. The longer the game industry is, the more I feel a sense of crisis in the social of the recent copy. I was born in 1978 and born in the year of the invader game, I am growing up as a game generation that Nintendo was appearing in the kindergarten, but clearly speaking, since the current market is unusual, everyone really got seriously done We are.

The next collaboration is supposed to do with Mr. Square.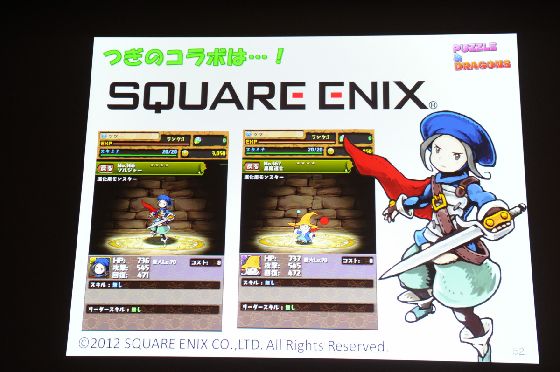 It is said that today is the first time so it is said that you will not speak more in detail, but I would like to continue to work hard as a game maker and continue developing games. Android version finally got to the point where it can be put out around the end of August if it goes smoothly. I am preparing various media mixes besides that, I am preparing to expand beyond the framework of smartphone around autumn.

Furthermore, it is a preparatory phase, so I can not say detailed things, but I think that I want to do a consumer. As a company, it is said that you can use all the money sold in smaho this time, so I think that I will make everything chewy and make it.

Finally we are looking for members to make Pazdra together. If you heard today's story, if there is a gentle person saying, "Would you mind making this game together," or "Is it okay if I could advertise", so I'm looking for an acclaim, so I'm officially starting from Pazzula's official HP. I would be pleased if you could apply.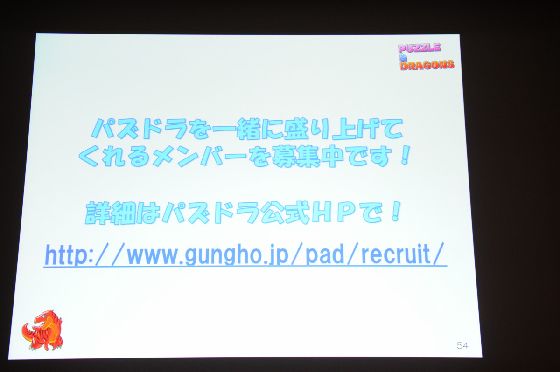 So it seems that you are currently looking for programmers, server engineers, designers, advertisements, administrative assistants (part-time job), so if you are interested please check the hiring information page.

Career Puzzle & Dragons