"NgCore is cool", "Armor is selling more than weapons", "Ninja Royale" from the perspective of both planning and development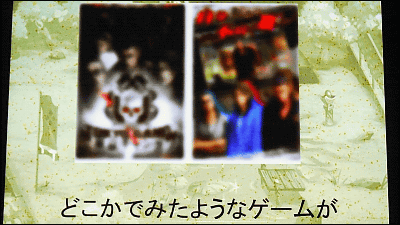 Popular content of "Mobage" "Royale" series's first smartphone application "Ninja Royale"From the viewpoints of planning and development staff from each viewpoint, points devised and points to be improved in the future, and the CEDEC 2011 lecture"Ninja Royale until now and futureI was told. It is different in charge, so we are explaining the same game, "Armor is sold more than weapons", "ngCore is cool to make 2D social game with the application" It has become.

The lecture consists of two parts, and in the first chapter the planning staff are very careful in explaining the development process and functions, but those who have done "○ ○ Royale", especially If you are a user of "Ninja Royale", most of what you understand roughly. In the sense of the backside of game development, developers who are using honesty about the game engine "ngCore" used for Mobage development, comparison with HTML 5, and software used for lightweight application development, Furthermore, since the second chapter, which development staff is speaking out starkly, such as "((Social game) can not be played in the skimmer time") is said to be the real number, please read it with reference to the heading.


What is "Ninja Royale"
◆ Game contents of "Ninja Royale"
◆ History of the Ninja Royale
Process of making "Ninja Royale" application
◆ Examination of characteristics unique to applications
◆ Mission issues


About "ngCore" (1) It runs on Android / iOS with one source
About "ngCore" (2) It is cool to make a 2D social game with an application
About "ngCore" (3) Schedule for future HTML 5
◆ Avatar
◆ Image resource weight saving
◆ I want to improve "Ninja Royale" (1) I should have coped with vertical holding
◆ I want to improve "Ninja Royale" (2) I get tired of special missions
◆ I want to improve "Ninja Royale" (3) I want to use "ngBuilder"
◆ "Ninja Royale" development team introduction
About social games (1) Become conscious of sales, data
About social games (2) People wanting to make "games" will suffer
About social games (3) It is unlikely that social games will not evolve
◆ There really was scary stories

◆ Q & A



Hello everyone. I am a project leader of Ninja Royale, DeNA social game business headquarters, Inc. Social game department Sumafo SG department Ssangunosuke Tokumaru of the SP planning group. Today I will talk with you mainly from the planner's point of view, so please do your best. Then, I will talk about "About the plan of Ninja Royale".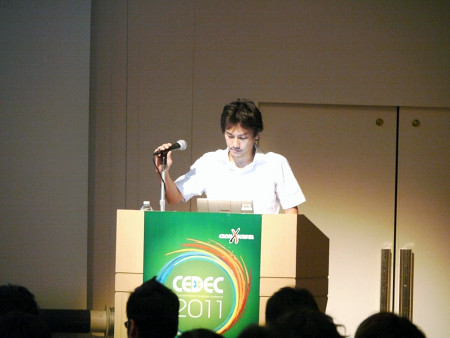 What is "Ninja Royale"
This is the ninja version of "Royale series". We realized "Royale" system with Andloid and iOS application. Based on the mechanism of "Kaitou Royale" mainly, it is positioned as having made an app on the net.

This "Ninja Royale" was released as the first iPhone application as DeNA main body, but as the "MiniNation" of 100% subsidiary of DeNA, I released an iPhone application for overseas English-speaking countries in the first half of 2011 There was already a track record. Since that in October 2010 ngmoco became a subsidiary, in the sense that ngCore presented by ngmoco is used to make native base, that is, domestic application on DeNA main body, "Kaitou Royale" is the first It is positioned as an iPhone application.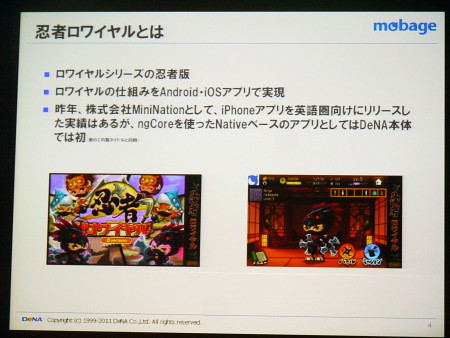 ◆ Game contents of "Ninja Royale"

I would like to explain the contents of the game of Ninja Royale with a simple figure. First of all, the player selects a favorite ninja from among three types. Next, if you look at the home screen on the lower left, two round buttons on the right are lined up, but this will be a game to advance "mission (slot)" and "user battle" using this.

When you press the "Mission" button, it becomes the selection screen, we will select and execute your favorite mission. When you execute the mission, the experience value, in-game currency, and mission progress rate will go up. When the progress rate reaches 100%, the mission is cleared, and as the battle progresses more and more, the boss fights the boss and fights the boss, it is one of the game contents that it goes forward further.

Also, as you move forward with the mission, there are elements to arrange treasure boxes as well. I'd like you to see the illustration part of the treasure box just above the slide "Mission (Slot)", but this treasure box was a set of seven pieces and the user made all 7 treasure Aligned, we will complete the series.

Even if you just advance the mission, you can not complete the treasure, so press the "Battle" button on the home screen. It is possible to get a treasure by winning a battle aiming at the user who has the treasure he wants and winning. It is content that it repeats mission and user battle in such form, and completes treasure.

Regarding user battle, if you challenge the opponent who is likely to win and win by winning it will be a very simple game, so that other users also aim for your treasure so that you take away the treasure of other users I think that it is an interesting place to come. The content itself is almost same as Kaito Royale.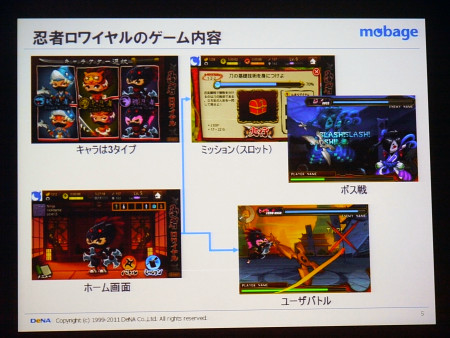 ◆ History of the Ninja Royale

I will look at the history of the creation of Ninja Royale. Last year the theme was decided in October 2010, the plan passed and I decided to make a Royale game based on the theme of a ninja, and I made details of the project.

Although it is underway to start development in November 2010, at first, the best game engine for providing social games at "Mobage" for domestic and overseas "Mobage ngCore SDK"It started from the place where we actually used it after investigating what is necessary for DeNA's game and actually using it. Last year in November, this year it came on May 12th, 2011 "Ninja Royale" Android version was released, it finally got out to the world.

Three months behind the release of the Android version, the iOS version was released on the eleventh day of the last month. When it says what happened during the three months during this period, from the release on May 12th until the beginning of June it is said to be "a function that was originally planned but not in time for release" It will be the period that we introduced it sequentially in a weekly cycle. After that, I remember it in the early June that the function of accounting was included.

And since the middle of June, it is said that we should not consider iOS support soon. As a feature of iOS, it is necessary to pass Apple's review to change the client. Therefore, it took lead correspondence, so we implemented a mechanism to add a mission without changing the client, or a mechanism to add events as a matter of course because it is a social game.

Since iOS support itself is basically supported by "Mobage ngCore SDK", it is certainly in July of 2011 that I applied for Apple in the form of release unless there is any particular concern after verification. There was a reject (rejection notice) about once, approval came down on the morning of August 11, it was released.



Process of making "Ninja Royale" application

Why 'Ninja' became the theme, this is sometimes heard, but first, Royale, that is, the affinity with the content of the game playing the battle was very close. Since development was also made with the view to overseas development in mind, Ninja was chosen also in the place which is likely to be applicable even overseas. I guess the latter is the reason why you can imagine too.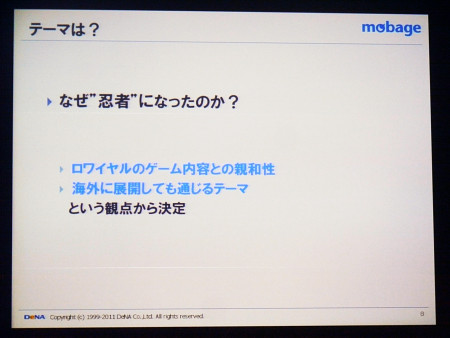 "Is there a part that changed the way of planning consideration compared to the feature phon-based social game that has been proven so far?" However, basically nothing has changed in particular. Even if the device changes, even if it changes from a browser to an application, it does not change that element that must be established fundamentally as a social game, so that the method of examination and how to proceed did not change .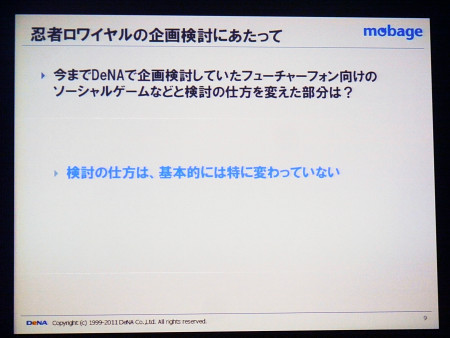 So, if you are told that we really did not change anything in the development of the application, I think that there is actually an unusual part. Specifically, the development method first. This is natural. Since it is an application, I think that there are many parts where development is variously changed, such as how to develop both the server and the client side, or in the place to put out on iOS, how to download it.

Another point, this is a story about planning, my responsible part, but it is an examination of how to make good use of the unique characteristics of a native base application. Since it pulls out as much as possible, we tried and tried and tried it about considering that we had to go aiming at matching with the user by filling up contents that can not be done with the browser.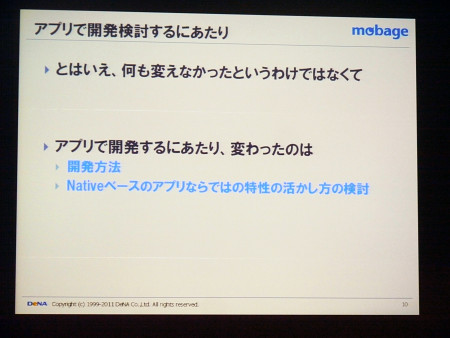 ◆ Examination of characteristics unique to applications

"Expression power", "operability", "communication frequency" as "characteristics" concretely examined from the viewpoint of realizing a new image experience making full use of the characteristics of the application and aiming to improve convenience I will talk about these three issues.



·"Expression"
Expressive power that I want to talk about here is not just design. In other words, for example, it does not mean "an application-oriented landscape screen" or "an operation UI that pushes the list with a finger and chooses it by flicking".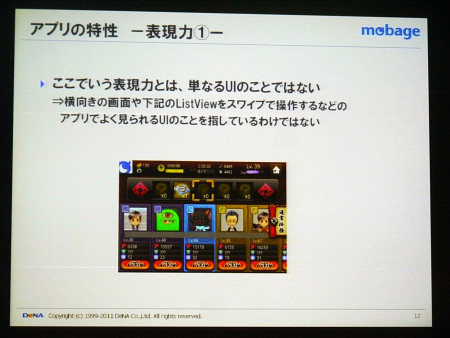 Then, what we call "expressive power" here means to say that we are aiming at stimulating the user's sensation more, by way of directing unique to native applications and so on. Specifically, as shown on the slide, "When the user who returned from running the mission entered the home screen" or "When the battle was aimed at your own treasure by another user" was visually checked I expressed it as a director.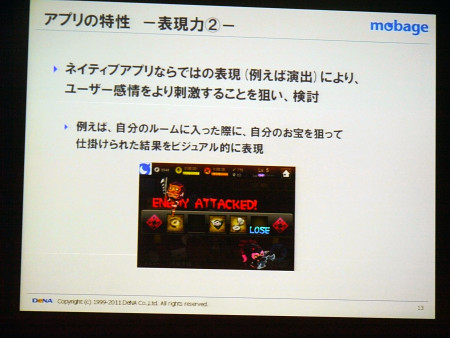 What is the purpose of this directing is to say, it is a female ninja on the right, there was a treasure just written as "LOSE", but if you failed to defend the battle "There are no treasure It is the expression that I lost. On the contrary, when we succeed in defense, we incorporated a production like a tiger ninja losing a pose like a losing ninja.



I think that it is not necessarily the director's cause, but as one of the features of Ninja Royale, "Ninja Royale" tends to sell armor than weapons. Another feature is that the time of the battle is long, I think that here also can be considered as a cause. At least, I believe that I could influence the user's awareness of the battle result by this direction.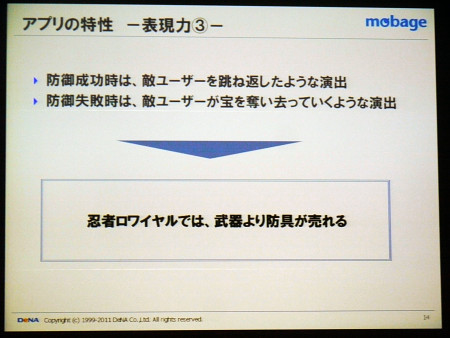 · "Operability"

"Ninja Royale" reviewed the characteristics of native applications, that is, the light actions that made use of operability with the existing social game (Kaito Royale) on a policy of fusing. The result is a user battle. With a very simple action, there are somewhat disadvantages depending on the technique, but since it is a social game, basically we made it to a mechanism that can be won by user's parameters.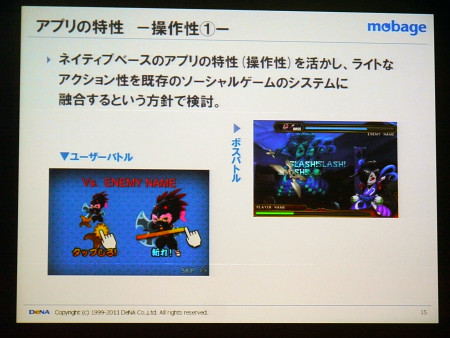 As a result, the percentage of users of "Ninja Royale" who battle users is higher than that of other "Royal" series. From this result, I think that the user was supported by user battle by changing the actionality. I wonder if you can see things like battle usually for people who do not battle.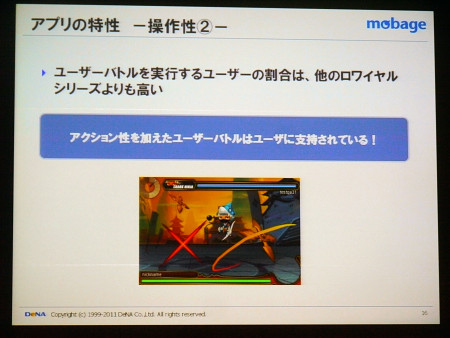 The other one, since you have been running social games for a long time and it is easy to become a simple task of keeping pushing, it is a mission to carry out "mission", so it tends to be boring, so you have to change the mini game " Special mission "was introduced. "Special mission" is a very simple mini game in which characters start to appear more and more and they are knocked down by tapping and sliding.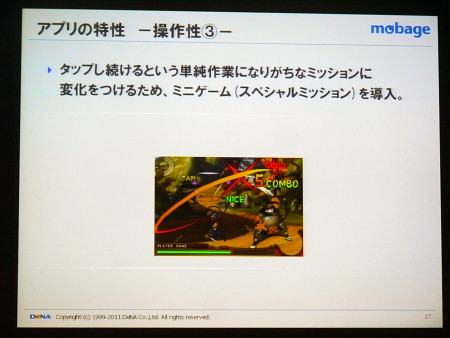 The evaluation of "Special mission" itself has a voice saying "interesting", but there are voices saying "It is difficult". Another thing was "Choose a place to play" or "It is hard to do with a train." Also, "There is a special mission during the event", "I want to gather treasure, but I got time due to a special mission so I can not move forward", and I have such an opinion, pros and cons I guess whether it is the situation.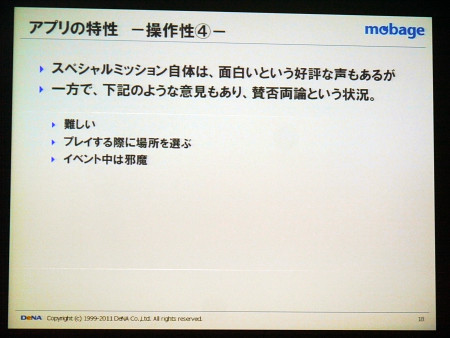 As a future direction, I am planning to add a renovation about special missions. I want to make contents such as "Special mission" itself as easy as possible, not stressing users as much as possible, feeling only pleasure. Moreover, by increasing the reward of "Special Mission" I think that I would like to make meaning to accomplish the mission.

Another thing is a big change, but I think that I will fix it so that I can skip before starting the special mission. After all, because the purpose differs depending on the user, I think that there is a case that the "special mission" itself is obstructive in itself. Regarding actions themselves, it's going right as it is called "user battle", and "special mission" has learned that it was necessary to think about how to put it in.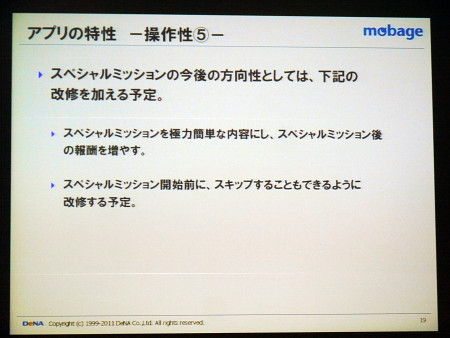 · Communication frequency

"Reduce the number of communication points to reduce the user's stress" and "Please inform the user that it is communicating" in the case of communication, "I am a little waiting because the radio wave condition is bad now "I think that people who are in charge of application development are always thinking.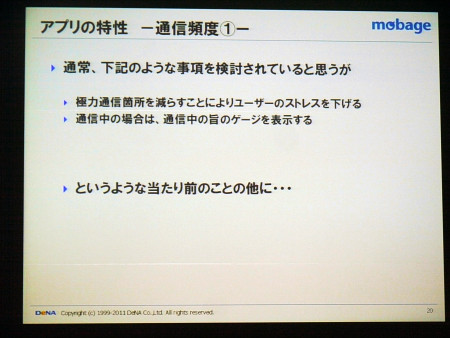 In the case of "Ninja Royale", when the slots' appearance revolves in the mission, they roll with the icon, but at that time they communicate with the back, and the slot will continue to rotate all the time during the communication. Naturally, if the radio waves are bad, we will continue to see the slots that have been spinning all the time, so users are not concerned about communication, but they say that they are devising a way to make them feel "a little impatient?" There is one.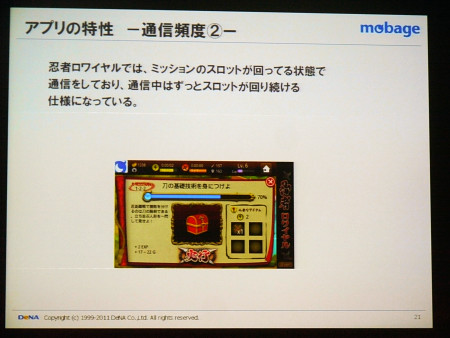 It is more than a story from the viewpoint of the characteristics of the application, but as I talked about the slot of the mission right now, I will talk about the "mission slot" added in late August.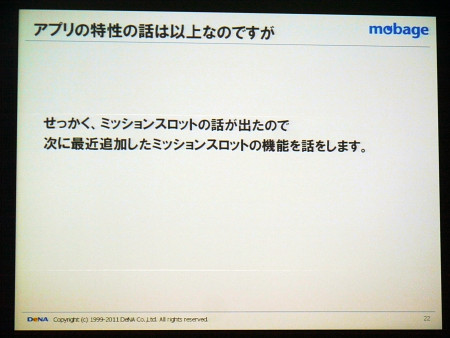 ◆ Mission issues

Although it was mentioned as a task when adding functions, one was to prevent mission work. Although this was also the story of the first person, there were various ideas because there was not enough time in the schedule by all means, but the event which comes out in the mission, in essence the kind of the icon of the slot is It was less. In this part, we recognized that it was necessary to prevent users from getting bored, one of the tasks.

The other is lack of social nature. Basically, at the time of releasing "Ninja Royale", we never thought that the game was rich in social nature, but it is honestly that it did not turn around so much I have to strike a hand somehow. It is as a solution policy for each, is not it?

First of all, from the viewpoint of prevention of mission work, we try not to get tired of increasing the variation of events. Another event adds happy events to users not to feel work. Specifically, I am thinking that it is an event that receives a lot of rewards, or that I want to include something like a game element.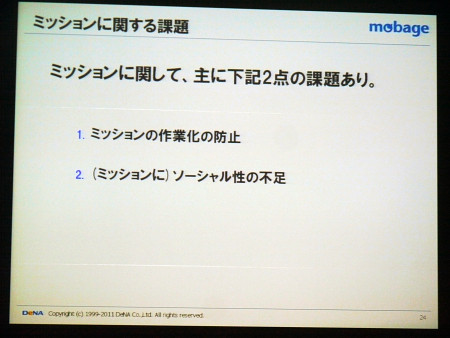 Another point is the addition of sociality of "mission". Since most users execute "mission", it is a great idea, so it is ideal to put sociality there. There are three points of view, first, "Encourage me to encounter while missioning with other users." This is to add contacts with other users. There are friends who are not necessarily real acquaintances, so it is difficult to apply for a user by selecting a user unless it is a considerably active user in how to apply for a group in such a case. Therefore, there is a story saying "Let me encounter in a mission and to encourage a friend's application".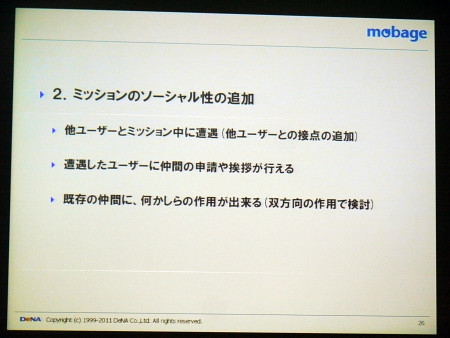 As a third point, we proceeded with consideration from the viewpoint that some kind of action can be taken on existing colleagues. One result is this figure. I am running the mission on the upper left screen.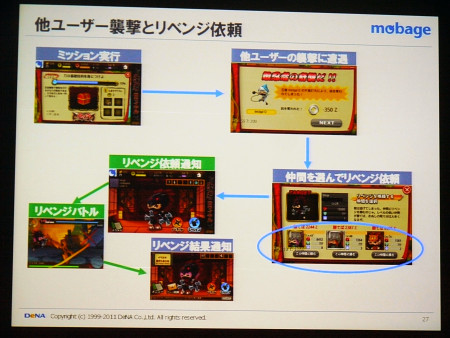 Running the mission encounters other user's raid. This was quite good, and the voice of dissatisfaction from users was raised at the beginning of introduction. It is a pretty shocking event that suddenly suddenly loses money according to the raids of other users.



So when you press the button "NEXT" this screen will open, you will choose a friend and "revenge request". It is a pretty aggressive setting, but it is a specification that the target parameters such as attack power comes out, three of my colleagues are displayed against it, and you can request revenge for favorite users .

Of course it is better to choose a user with a strong offensive power, but there is also a specification that the weak user revenged will return more money, and there is gamble a bit Shin. If you want to regain it reliably, there is not much money stolen, and if you are happy that it is better to return and increase it, you will ask to choose a weak person. In "Revenge Request Notice", he directed the enjoyment when the user logged in. Although I am not surprised, I wonder if I can enjoy it as a change when I next log in as to whether the notification request has arrived or not.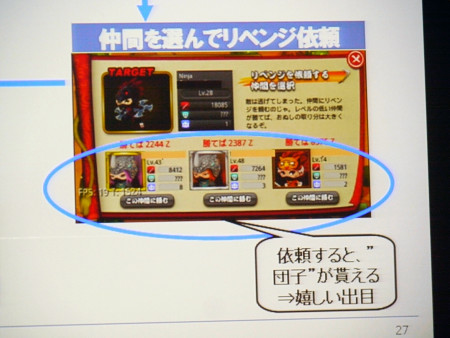 When applying to a friend actually, going to the end of the arrow on the left side, it is the revenge requestor, a friend's home screen. Dove puts a letter called revenge request. If you tap the letter called Revenge Request, check the contents and choose a battle, we will proceed to the left revenge battle. The content itself becomes an action battle, but I used the existing asset and built it in the form of a revenge battle. As a result of the revenge, you win, you lose, but you can communicate with the client.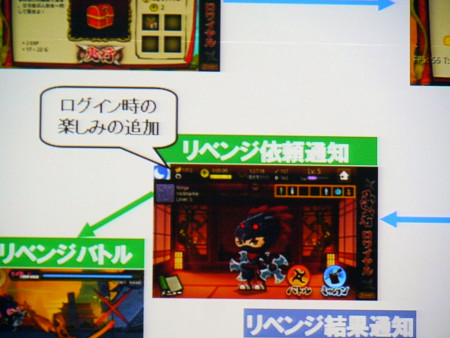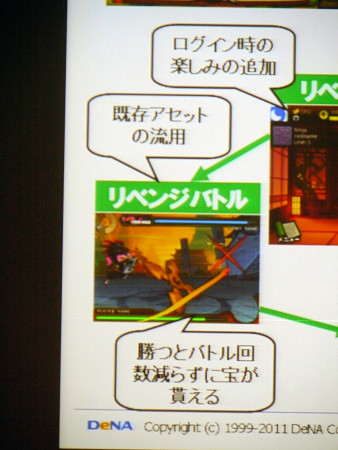 As for the way of communication, the letter of the revenge result comes with the pigeon. If you win according to the result, money will be returned. This function is also equivalent to adding the variation mentioned in the previous issue.

Also, if you choose a friend and ask for a revenge, you can get something called "dumpling" for some reason. This "dumpling" is also a new additional element, and when collecting five dumplings, the battle count recovers once. This is a very pleasing factor from the user, and if you get a "dumpling" number of battles that you could only recover with a rice ball called "rice ball" of the usual price, you will recover even if you do not charge I can do that.

I brought a part that is doing well as characteristics of the application so that users can enjoy it. Also, until now, until the user battle, the number of times the battle is possible decreases and once the battle times decrease, it is a mechanism to wait for 6 hours recovery, but in "Revenge Battle" I think that users can enjoy it also in that they can battle without decreasing. Also, in terms of mutual direction action, we could incorporate the part that the other person answers by asking from me.

Regarding other events, it is said that the effect is still being measured as a concrete number immediately after introduction, but I think that we could have supplemented it as one way of dealing with tasks.

Although it is the last, thought that "Ninja Royale" is not positioned as a game which is yet to be completed, I will continue to consider as a social game in the future and incorporate the function which made the best use of the characteristics as an application from time to time I'd like to raise the user's satisfaction. My part is over. Thank you very much.





Ninja Royale upgraded the Kaito Royale to the smart version. It is over as product introduction. First I will show you a demo.

Today, I recently implemented, so-called off-the-record like one, I would like you to write down in photographs etc., but now I can attach a character pose. Up to now it was just a still picture, but things like clothes change can also be made.

Also, as an item that helps fighting like Bom (shooting), there is something like "sand of time", "I will be able to stop the enemy's movement ... and time will move! Just a slightly unique item called "stop time" and how the user behaves while stopping the time may be a good idea for items that tend to only give damage think.



I am Daigo Sato. I am a person who does not understand well, but I recently came to DeNA. It is a dream to program while milking in the Alps.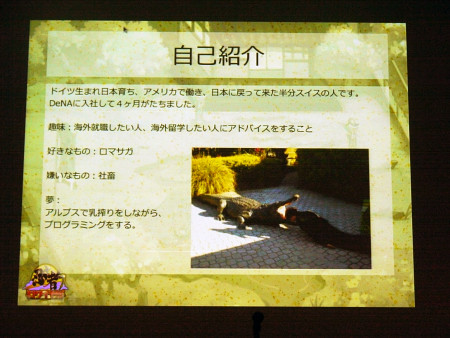 About "ngCore" (1) It runs on Android / iOS with one source

I think that I would like to introduce a bit about ngCore. I often hear that 'What is' ngCore', but, well, well, normal ... normal. It is such a framework that you can do common things for granted. First of all, it really works in Android and iOS. I think that's quite amazing. Although I do not have a framework that is doing all the verification of domestic terminals, I am moved, even though it is working properly, I think that this one source is also amazing.

I have not been conscious of correspondence to multiple resolutions, and even with "Ninja Royale", I am already done by enlarging / reducing itself on the screen. Well, for example, there is a story about Retina display (adopted from iPhone 4) or tablet, but since the original asset is fairly high resolution, it is a mechanism that can withstand even if the resolution rises.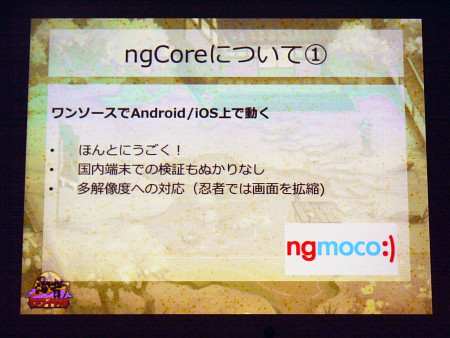 About "ngCore" (2) It is cool to make a 2D social game with an application

The nice thing about "ngCore" is that it is reasonable to make an application, and 2D social game. In the first place, making a server premise game is not the same as consumers. Since "ngBuilder" booth is out, I'd like you to see it by all means, it's a prerequisite for the server and client to be together, so it looks as easy to use as it is. And there is already what is required of Mobage, such as billing and the mechanism of SNS, which is sought after.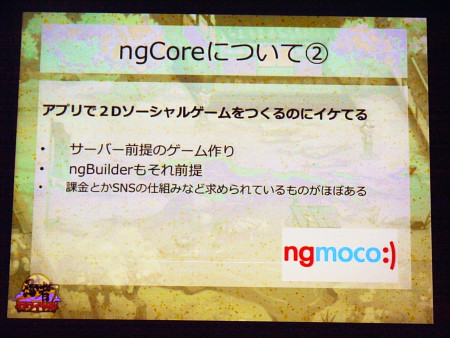 About "ngCore" (3) Schedule for future HTML 5

I thought that "ngCore" is said to be "HTML5 compatible in the future" is very surprising. Real-time nature is super important, is not it social game? For example, "Let's hit the event tomorrow." I do not take the process like doing it in a consumer game easily, making a client, building it every time and publishing it. In that case, I think that HTML5 to be posted on the web is quite strong.

"Well then why not write it in HTML 5" I think that it will be that kind of stuff, but I actually thought that "I can do ngCore", and I started out with HTML5 at home. So, I am doing it now. Well, I think that HTML 5 is still not practical.

After all, there is correspondence to the difference between the browsers, there are many places where multi touch is properly taken or whether drawing is heavy or not yet good. Although it may be good for a project to do on an individual basis, I think whether there is a place that it is difficult to use yet if it is done properly.

As a connection until it becomes practical, "ngCore" is very attractive. The point is to write out natively, so we can put out such works without waiting until HTML 5 becomes practical.

Just personally I think that there is also a way to divide it on the Web that "it is too much rich" and "I am making dolyland." I think it is one hand, and if you want to do something rich a bit ... ... But I think Unity and that is too much. For example, I think that it is difficult to make Unity backwards, for example when making some rich game with just a few people.



◆ Avatar

What I recently did is to implement an avatar. It is doing pretty well-cut specifications and it does not wear animation. Just a still picture. It does not always mean that the specifications of this neighborhood do not change, but simply picks up poses, eyes or a head and combines them. However, there is a place that is simple, but there is a place where data is being dropped from the network, it is still error processing, or you have struggled to reduce the file size.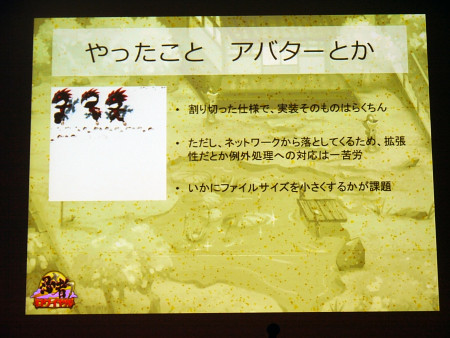 ◆ Image resource weight saving

Next will be a technical story, but as it becomes a rich application, the capacity of the resource has gradually increased, and when I noticed, there was a PNG file of 36 MB in the Android version, that is, an image file . I will explain later why Andloid is larger (capacity).

However, it is quite fatal that iOS (image resource) is 23 MB, and in fact I really want to keep the size of the entire iPhone application within 23 MB. As for what it means, the limit that can be dropped using the 3G line in the AppStore was 20 MB. With such internal information, it is quite a big difference whether 20 MB is cut or not because it comes out with data, I protected it there.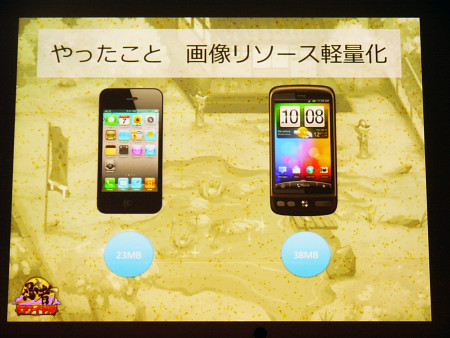 Then what did you do specifically? First, I reduced the capacity by minus 40%. This is the Android version only. Next time I think that I am familiar, but it is index colorization, that is, color reduction display. I use IKEI tool called OPTPiX for this. (The price is a little expensive), but it is unique software which can handle very high quality index color images, especially transparent information as index color. Finally, there is a free tool for Mac called "ImageOptim", but this one is pretty cool, and it's quite noisy and the capacity is reduced, so there is no hand that I do not use.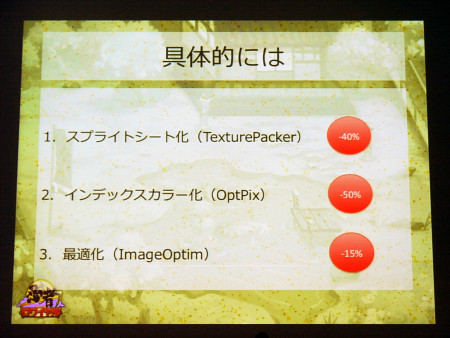 I am talking about the process of ngCore, but since I want to correspond to as many devices as possible after all, it is not possible to read if the power of two is a square in old Android, "OpenGL ES 1.1", an error occurs To cope with the phenomenon of falling, texture is partially enlarged. As for what this says what to say, when the capacity boosts, the image is blurry, there is no good thing. I am not kind at all in memory.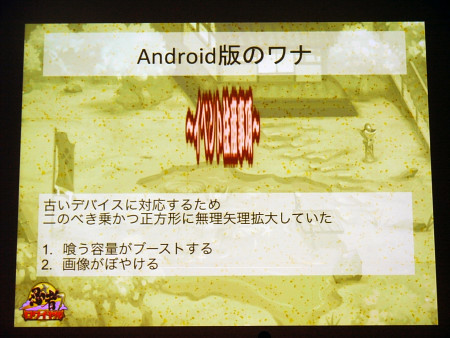 There are several ways to solve this, sprite sheets are one of them, let's try to organize the items and the like into one sheet. Of course it is, of course, this image to be put together as much as possible in the same memory, that is to use it in the same scene, it is efficient and it also makes it faster.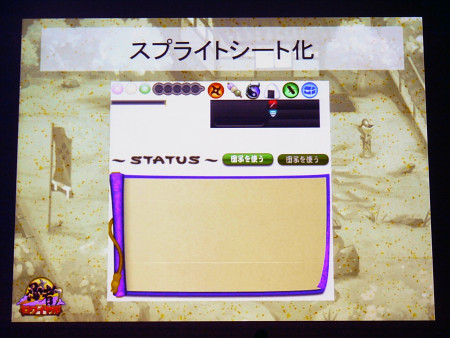 For example, this image is landscape, and if it is normal it will be expanded downwards or rightwards, but this is more than expanding normally It seems that capacity filling up with solid color will be much lighter, about half of the original capacity is enough.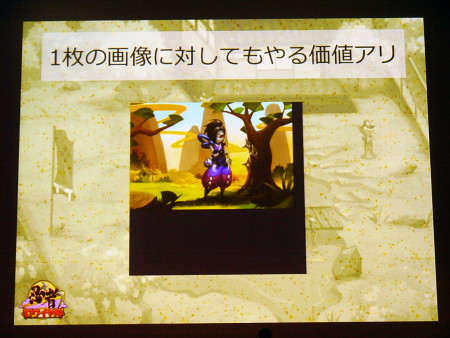 I'd like to introduce a tool called "Texturepacker", but I do not know whether it is made by overseas individuals, but it is an easy and convenient tool that makes a sprite sheet when I throw in the image appropriately. The nice thing is that this simplicity is also true, but if you write a nice JSON file. Well, even if it is not JSON, I will write out various things. At our company, I use the JSON file which I exported to convert the split so that it is good for my product as well. Information such as the display position of the image is specified here by this.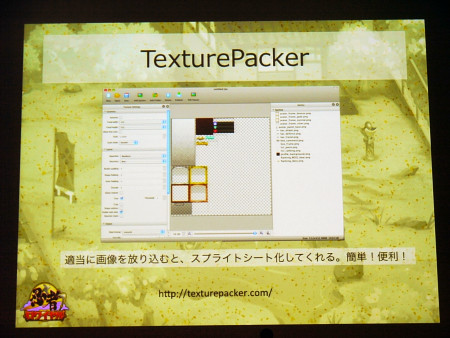 I'd like you to use "ImageOptim" by all means, but it is a useful tool that will optimize if you throw in the image properly, and if you do the same image multiple times, the effect will be demonstrated more than once It is said. It really bats marks when the (image) is useless. By saying that it can not be optimized any further. This is a bit side by side with the designer, I said while saying, "Is this really effective? It has not deteriorated?", But it has not deteriorated. This is already a mystery technology.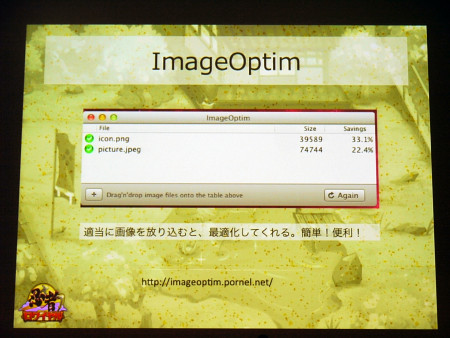 Eventually, both became 10MB. Because it is within 20 MB of the iPhone's data limit, it can be affordable. If we do not have enough weight reduction yet, we need a tool to give the server more, for example audio or image. When I do it, in the sense of user experience, I run to such things as "dumpling", but that is it.

◆ I want to improve "Ninja Royale" (1) I should have coped with vertical holding

There is a point I want to improve about "Ninja Royale", which is also a place I think as a player, but it will be vertical. As I thought, I'd like to play by train while catching on a strap. However, it is embarrassing if you hold it by train. I do not want to be known to be doing "Ninja Royale", I am. I am just striking a mail to the last, I do not play social games. It is the place where we want each social game company to be careful that it keeps such adult 's pride.

Also, to use both hands after all is that one's hands are obstructing, so the psychological burden is high. I think that there are many people who do not like social games so much, that they do not want to put up so much fighting. I guess multitasking is getting in the way.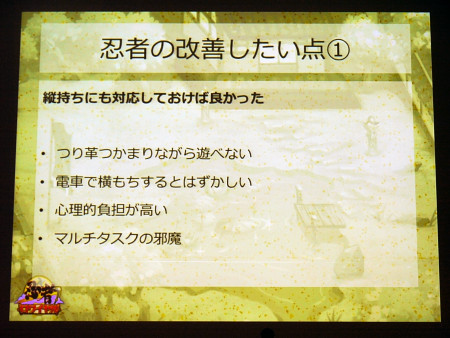 ◆ I want to improve "Ninja Royale" (2) I get tired of special missions

There is a special mission, this is the guy Tokumaru said a while ago so I will skip. The only thing I'm missing is why the user is not complaining about the battle, the battle is active. You can enjoy actions when you like. I think that the special mission does not want to take action separately also because it is a problem that forced the user to do, I think that it is quite problematic as an active action to the last.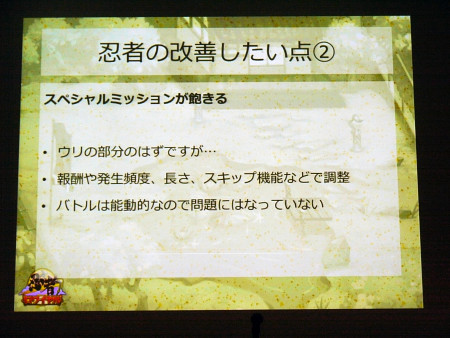 ◆ I want to improve "Ninja Royale" (3) I want to use "ngBuilder"

I want to use "ngBuilder". Actually, I'm in-house, but "ngBuilder" is not really used. Somehow, it is said that there were negative heritage by having developed in a place where the environment is not in place. Those who enter from now will envy and envy ... ....

Among them, adding content is tough, or UI builder is not back then, file editing by hand manually ... ... It is rather painful for programmers to do this. Even the special mission was making that by hand. I do not want to do it anymore ....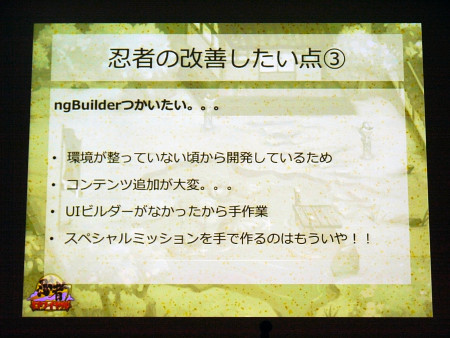 ◆ "Ninja Royale" development team introduction

It is an introduction of the "Ninja Royale" team. Everyone loves social games! Recently social games are popular in the team, for example,Demon's SoulsOr until this timePortal 2Social games were popular. So, the social game the most people are looking forward to now,Diablo IIIis.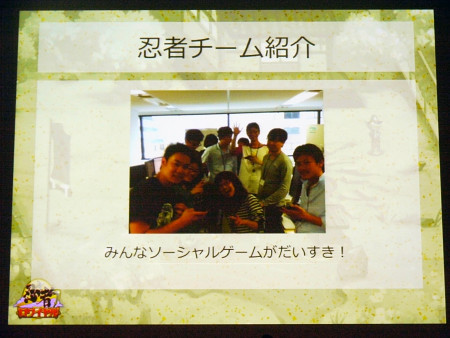 The recent "Ninja Royale" team members have increased a bit, only men ... ... well, that is nice. I also began unit tests and server side. Scrum like things began. Scrum is a management method that manages tasks by boards over a certain period of time. I would like to say that it is a lot of fun because tasks have been visualized, team motivation rises, and everyone's opinions can be shared at the morning party.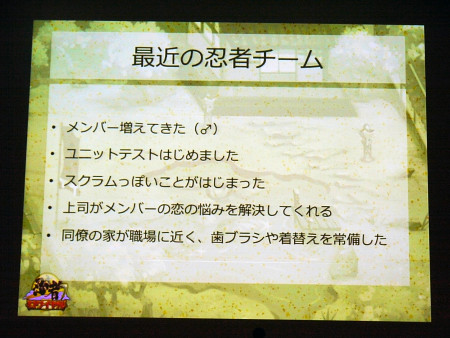 About social games (1) Become conscious of sales, data

About social games. I do not know if this is social game in general, but I will go into DeNA and talk about what I thought.

In DeNA, even programmers get angry that they are only implementing them. Why? When. I think that programmers have implemented them, but at our company it is not easy enough to be conscious of planning and sales and so on. Because it can not be experienced even if you program the program quite normally.

Moreover, the cycle of feed-up is early, and data of sales can be seen immediately. So I feel like trying my best on my own initiative. On the contrary, when the project is bad, I thought "This is the end of the company if I can not make money."

For people who want to start a business, I think it is a good place to study, this is really true. I guess there are people who come in for that purpose.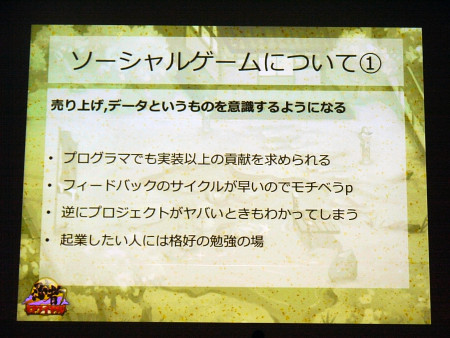 About social games (2) People wanting to make "games" will suffer

Conversely, those who want to make games will suffer. As I enter the social game industry from the consumer game industry, I still suffer from it. "Is not this such a game," or "I, such money making is fine or something." However, as long as you are in the social game industry, you must understand users you do not understand.That is to say that you admit that you do not care about your game and that you will be playing with a gap time.Also, in order to keep up with the speed feeling, there are such aspects if we have to keep up with muddy. This may be difficult from the development pace of the home game, but I think that it can be a great asset if it can be adapted to this.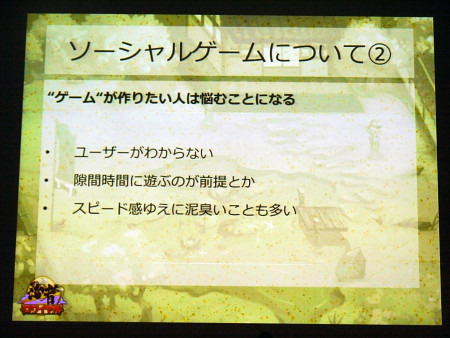 About social games (3) It is unlikely that social games will not evolve

It is unlikely that social games will not evolve. I think that it is totally wrong if I thought that social game now is Mobage, GREE, Zinga, etc., especially those who have consumer skills, making as many new technologies and new games as possible You can not go wrong.

I just got itDemon's SoulsI told social game, but that is not a joke, I think that it is really a social game, that connection of loose feeling. In that sense, I think that it is good to capture social in a little broader view and make interesting games. However, as I said earlier, even those with pride that they have come to consumers, I think that there is nothing to get if there is no attitude to learn.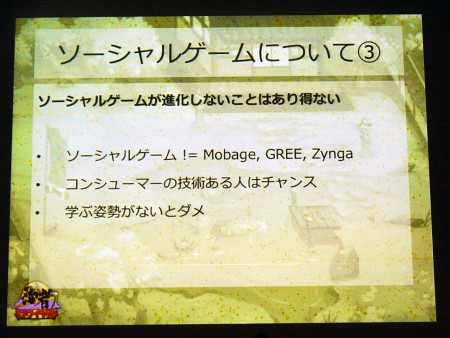 ◆ There really was scary stories

Finally, one really scary story. I saw AppStore yesterday, but there was a game I saw somewhere. I do not say anything, but there is something like a layer or something close to the game I was involved in. By all means, everyone wants you to peek into the App store (lol)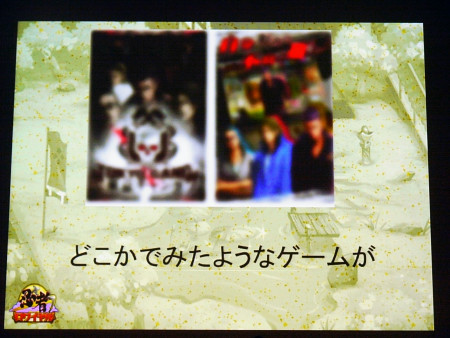 Q1:
Mr. Sato stated that "(development of social game) is sometimes muddy because of speed," but would you tell me what kind of muddy shape it is? "

Sato:
There is a function that I have to force now and I really do not want to write such a code as a programmer! It is said. I sometimes see a source written in something like "I really do not want to write such a code" in the comments.

Still the top priority is sales or business of the company. I also understand the engineers who are working there, so I wonder if I should allow such places to be muddy.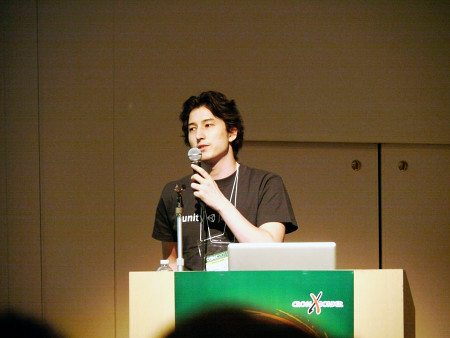 Q2:
I think that "Ninja Royale" has increased in actionality compared to other games, but was there change in sales for users' age group?

Tokumaru:
Although it is said to be the age group of the user, although it talks as to what to compare, compared to the featurephone's royal game, there is not such a conspicuous change? The 20th to 30s are main layers, and there are many people in their twenties who are more than the royals of other feature phones. I do not know for a moment whether it is due to actionality or smartphone.

Q2
I'd like to ask one more point, but I think that being able to do it easily is also one of the advantages of social games, but it is a bit of troublesome game though some words are bad, so it makes a little consumer game I think that it is getting closer, but which sort of games do you think that social should head to that sort of thing or will it differentiated into a system that will work with you? I want to ask.

Tokumaru:
Although it becomes personal opinion, I think that it is not necessarily to make it into a consumer game. The only thing that should stand out is that what to do as a social game, so if it is good to do it, you should pursue it perfectly. For sure this time the change is looking at the user's trend. There is a possibility that it may become disappointing in some cases, and it will become so if the user is doing more and more, and conversely if putting a game that is troublesome, even if the user does it while it is troublesome it is it Let's do it.

Q2:
Do you mean that while looking at user trends

Tokumaru:
Well, I think it is important to feel such changes quickly and to respond.

Q3
In "Ninja Royale", the waiting time of the battle is set to be considerably longer than the other Royal series, but what was the purpose set for this?

Tokumaru:
I tried and error this time and I was honestly introducing the "Ninja Royale" overseas expansion and released an English version of Kaito Royale called "Bandit Nation" when I released an application with "MiniNation" There was circumstance that I had a difficult time struggling to make it head towards a user battle. It is quite acceptable in Japan, but there is a feeling that it is difficult for Westerners to slightly reduce the number of battle and increase the number of battle. That is why I tried to make it simple specification this time. I think that whether 6 hours is the lowest or not is going to be trial and error in the future.