Elements that can be played tens of thousands of times are indispensable, how to make games that earn "basic free era"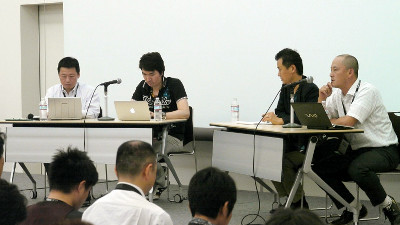 Basically, online games that are charged free of charge for items etc. are increasing, so to speak "Basic Free Era"Social games, online games, and web services corporate managers are asked about how to raise profits to the CEDEC 2011 session"Monetization and Business Strategy of 'Basic Free' Era - Web x Online Game x Game, What is in the Professional Head ~"I said.

"It is important to play games that can be done thousands of times, tens of thousands times"I am saying that overseas is so exciting that Japan is likely to lose, but the fact is not so"A major company actually has a great opportunity"The content of exciting remarks flutters about social games and smartphone game applications, such as" Future ".

From the left, Mr. Takeshi Tsurutani of Polygon Magic Co., Ltd. who is hosting, Mr. Kotaro Honjo who has launched DropWave Co., Ltd., who wanted to make online games, President and CEO, "Browser Sangokushi" etc. Aiming Co., Ltd. President and Chief Executive Officer, and President and Representative Director Hirotsugu Fukada Co., Ltd., which is in charge of Japanese version of "MyTown" of "Location Gay" boasting a large market share abroad.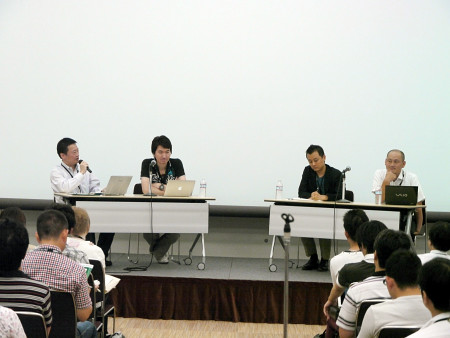 Tsuruya:
Today we had a panel discussion entitled "Monetization and Business Strategies in the Basic Free Era" and gathered in these three sides. I will be hosting today, I am Mr. Tsuruya Tsurutani of CEDEC 2011 Steering Committee, Polygon Magic Co., Ltd. Thank you.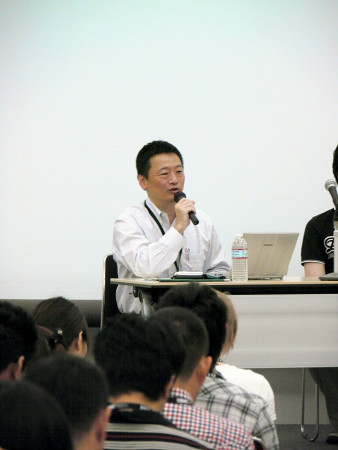 As I am in today's subtitle, I would like to explore with the keyword "monetize" that is in the head of each professional, web, online game, game and game. The game is thought with Mr. Honjo, Web by Mr. Fukada, online game by Mr. Shiiba with such allocation.

First of all I would like to introduce myself easily. Can you order from Mr. Shiiba?

Shiiba:
I am Tadashi Shiiba, President and Representative Director Aiming Co., Ltd.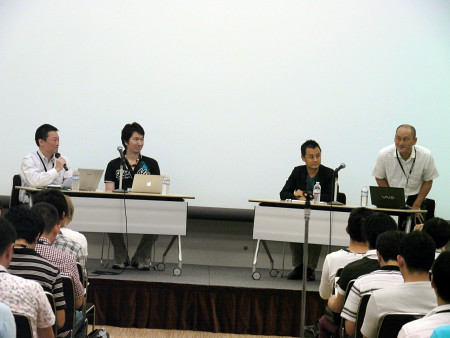 As my background, I joined Tecmo as a new graduate, and developed home game development. About 4 years passed, the game industry became disgusting. SD was not a dream job so much. So, thinking that the age of online games has come, I joined the company because it is a good opportunity for a company that imports and produces so-called Korean-made online games, not myself at that time.

At that time, it was a fixed amount of monthly game online, but from 2004 around the so-called basic free, now mainstream "free to play" (basic play fee is free, charges items etc. ) Of online games began to appear. At that time in Japan "Free To Play" Online Game "Maple story"When"SKAT and Golf Pangya","RED STONE"It was about three titles. Among them, we succeeded in the service of "RED STONE", we went to the company called Game On until listing, and quit with the career we had.

Next, I made a company named ONE-UP, there are not many plans to make social applications, but I got on social boom, "Browser Three Kingdoms"Or"Sengoku IXA"However, I got results with an online game based on that web.

And since this year 's May we made a new company called Aiming, it is about 3 months to make it, but about 140 employees are mainly based on browser games, but perhaps I am going to be in the center of smartphones from now on, We are thinking about it.

I know the sense of home as well as the service of online gaming, and it is my career that we are doing basic free about it from the oldest time and putting out the result. Especially, thinking that all games connected to the net are online games, I am thinking without distinguishing whether it is social or not.

Tsuruya:
Thank you very much. Today my role plays a role, so I think I will hear more and more where I was concerned.

Mr. Shiiba first said that he made "RED STONE" a success, but at the time I thought about how much it would have been possible to sell about the month?

Shiiba:
In a free online game, I think that there are probably only about 6 games totaling over 300 million games per month. Among them, 3 of the total 6 are responsible for me if I made it until now, "RED STONE" monthly maximum 420 million. It's about 3.3 billion yen in annual sales. By the way I say because it is prescription, but the contract money is 5 million yen. The initial promotional cost was 12 million yen, it was said to be "useless" and it was lowered to 8 million yen, which originally raised sales without money.

By the way, the game "RED STONE" has not been successful anywhere except Japan. Nobody knows Koreans, and they failed anywhere in China and the United States, and they are hitting only in Japan alone. Japanese magic or why it seems like it seems like seven secrets of the online game industry.

Tsuruya:
It is one of the mysteries (laugh)

Incidentally, Mr. Shiiba is a planner, a director, a producer, or what is said in a wonderful way of saying?

Shiiba:
I think that I am overwhelmingly a producer as the current job. Producer's work has a story of money management etc, but I think that the producer I think is most important, thinking the most profitable content by looking at the market. I think that thinking there is a producer, my role is president, but I think that in that sense it is overwhelmingly a producer.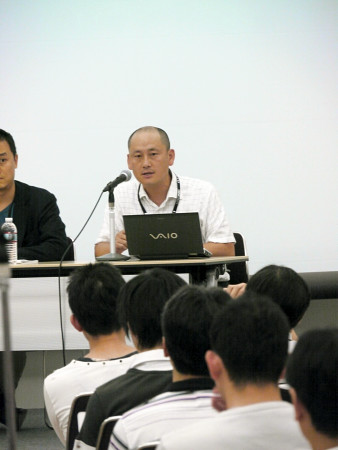 Tsuruya:
I see, thank you. Next, Mr. Fukada, please.

Fukada:
Yes, this is Fukada of Yumemi Corporation. Thank you.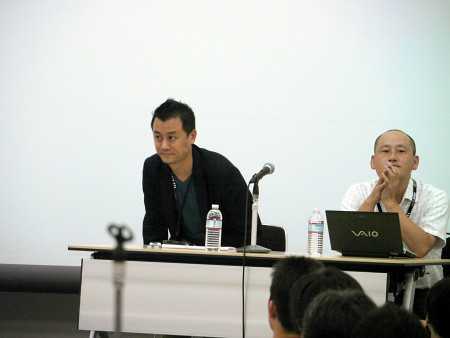 As a web industry representative, in fact the game industry is actually not familiar to me myself. I established a company in January 2000, but I had been doing a job that provided various solutions for mobile solutions to companies. As I got in an easy-to-understand place, I got to do McDonald's' s coupon system and behind the other side. From around 2001, we have provided a mobile commerce structure for the first time in the world, and recently we have used smartphones for companies in such areas, such as brick and mortar, especially called national clients Doing something that will help you attract customers and promote.

So, I came all the time in a completely different area from the game, but in parallel I was doing the services for consumers little by little. I was doing the publishing stand of the e-mail magazine like a mobile version of Maguimaga for about 10 years, but I sold it last year.

After that I started actually thinking that something is possible in the genre of social games, and something can be done on social flow, I just let you do it on GREE platform just a year ago. However, since it started with no concern for the area of ​​the game, I have not been doing very well when I got caught, I have decided to close the service just about a year later.

However, there are things that I have learned in various ways in providing such social game. I think that social is an industry of our web and it is really getting exciting. Besides games, there are many things like "social somehow", but it is quite unexpectedly going wrong.

Well then why do you think that social games were going well? There are lots of tricks that users get excited when using social in this way. What I am interested in using it for enterprises is the area I am interested in recently.

It is called the word "gamification" in the world, but if it is that kind of area it will be our strength. I think that it is possible to do interesting things by using games as an essence of a mechanism to revitalize users for enterprises, and by providing such things to businesses again in reverse.

Tsuruya:
Thank you very much. Roughly speaking, I am from other than the game industry, but I have been studying the object of the game very much, studying various things such as GDC or CEDEC, and it is rare to say I am studying It is existence, and tweetingly about "gamification" on Twitter. And Mr. Fukada is publishing a book titled "Why are social games hooked" from Softbank Creative?

Next, Mr. Honjo, please.

Honjo:
My name is Honjo from DropWave Corporation. Thank you.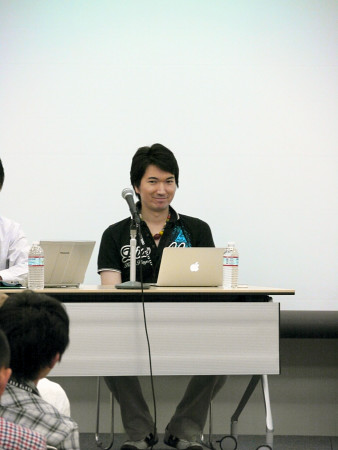 Our company is now, Shinjuku is about 70 staff members and we are also developing online games and those who are also going to contract development. After talking a little about my career, I dropped out of college in a year and then worked as a free programmer in Osaka for several years, but at that timeUltima Online"Or"Diablo"And I met in the title, up to but it was a gamer you're doing just arcade fighting game that, in response to the online of baptism, since then other than the online game index finger has become the body that does not move.

So I wanted a job in the online game company that I want to make online games, that is, at that time because (recruitment) which was not, and now a job to contract development company called Tose of the people of Kyoto, of the console game about five years I was doing a program. "Resident Evil 0"Or Konami's"S. L. A. I.-STEEL LANCER ARENA INTERNATIONAL-I was in charge of network programs such as. Since experiencing the development of consumers, since SE was also originally in the era of free programmers, I can understand everything from the engine of the server to the drawing engine of the consumer from the server, so I thought that "you can make online games with this, I started a company called DropWave in Tokyo six years ago.

At first, we asked companies of consumer games "let me make online games" and asked for consigned development, but everywhere we said, "No, I will not do it, rather than make a consumer game" Well, I've been developing software for DS and Wii. But for about 2 or 3 years ago, as soon as the mixi application was released, I released a game that keeps dogs as my own title, about hundreds of thousands of members gathered and I learn from monetization from there I started doing my own company management.

But since I entered from a consumer and came from 0, I am quite amateur. Mr. Shiiba is opposite to Mr. Shiiba, rather it has entered from minus and has learned the technology from 0, I have not moved at all for about a year, but the title of the title which I recently made at Mobage hits so much There are tens of thousands of sales titles also available. I hope to strengthen monetization from the perspective of consumer games.

Tsuruya:
Thank you very much.

Although they are doing various things in various areas, they are doing various things in a short span of one or two years, that they were successful in business while they were doing business, they were discovered, that they were harvests, I would like you to tell me about its success factors. Then, please tell us what was the biggest success in Shiiba's last one or two years, and the factors of its success.

Shiiba:
I have been doing things like importing and servicing, not development of an installed online game for PC. Even if I become a new company, I can not afford to import it, so I made it by themselves as "browser Sangokushi" game. "Browser Sangokushi" is operated by AQ Interactive, has announced all figures in IR, there are monthly sales of up to 300 million yen, as a social application online game of PC web browser sales close to Dantotsu What is it? It's been awfully successful, but if you say something is a success factor, well, it's about 99% luck (laugh)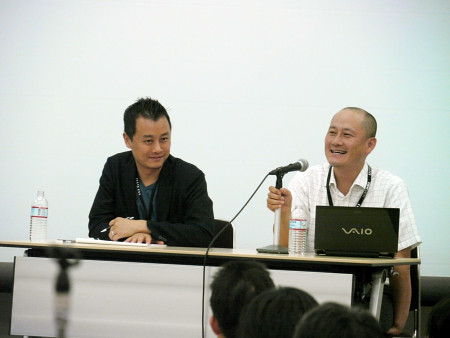 Everyone is making the game so hard, making it by thinking hard, the place I am trying hardly changed. Well, just being prepared earlier than anyone is the biggest. I think that this is an important thing also in the future market, and it is probably delayed even if I do it from the point that everyone is doing "hit". I think that there is no choice but to do earlier than anyone if I try to guess it.

When I first thought about making "Browser Sangokushi", social applications are the only things that it is,Breakthrough PartnersIt is time for investor Akabane to have been talking about social applications in Japan for the first time in some lecture.

I did not have any intention of making social apps, I just did not care about Facebook or anything, just making it with an idea to make an online game that takes time before the personal computer. I guess that way of thinking probably matched. So later the world flowed without permission, it was a social application like time in the gap, in bad terms it was a market hit "game of killing time". Well, I think the game is inherently killing time. As it is, at that timing, it happens that the game "Browser Sangokushi" happens to be completed, it is a good start, it happens that it was in time for launch of mixi open-up, in fact, it hits the honest warranty, it hits It is a place where I felt strongly whether to challenge the place.

Tsuruya:
Well, well, you carry it and make it miserable. Because I can not do that because it is not a bit devasive here. Well then we will change the way we say, but the team will make something titles and projects. So where is the point that Mr. Shiiba is checking?

Shiiba:
The difference between various social applications and online games is ambiguous and difficult to define, but what we are aiming for in a game we make is "to play on a yearly basis". I think that mobile social is the same now, but there are not any people who are making games thinking of playing on a yearly basis.

On the contrary, we are not conscious of monetization much. If you make games that you can play for a long time, there are many points to monetize. Or, clearly saying monetization, ultimately it's all "buying time" is not it?

I think that 'getting time' is like pulling Gacha. Because we are raising the speed of getting gacha shoppers that only come from Gacha, the item sales are all "time buying" for item sale.

Then what matters is that there is something that can be repeated many times over and over. Since game design which can be played on an annual basis is impossible, it is only possible to design a game that is okay to do thousands of times, tens of thousands of times. Even if that is the case after all it will make a profit if you make it there as a charge point, so you do not care much about it.

Well then what do you most care about the question is that you are always very careful about just saying "Do you have something around it that can endure to play on a yearly basis? One thing is always very conscious of whether it is appropriate for the market and target.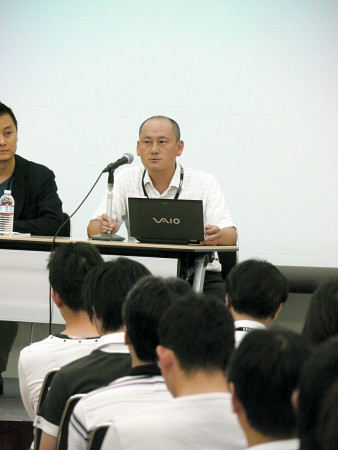 After all, the targeting user is different from those who are making the game now, and those who are making home games, especially those who are making games on Xbox 360, made it for the dense users against the game You know. However, users who are doing "Kaito Royale", of course I think that there are people playing games on Xbox 360, but basically those who basically have low motivation for games, "those who do not mind killing time is fine" They are, are not they?

After all, unless you first know what kind of user is playing, if you do not know what kind of game you like, it is based on the point that you can not win a game to play or a game to play . The first thing to think about who is the target, what kind of way of playing and how to use it at what time in this game is not it. I only see these two points.

Tsuruya:
The two things are to say, "Can you play on a yearly basis, how many thousand times can you do tens of thousands of times," and "Do you agree with the target of the market?" By the way, what is the typical pattern of things like circling round and round, and what else is there?

Shiiba:
Though card synthesis of "Browser Sangokushi" seems to be something, those who do not understand "Browser Sangokushi"DorakoreAlthough it may be a card composition of "MMRPG", it is a synthesis from the old days. We will combine arms and weapons and strengthen them. Because we have stronger base as we strengthened. I bought it and eventually it has to be synthesized. The point is that there is something that is getting stronger forever, there are things that can be repeated strongly. Um, I have a long time to start talking ... ....

Tsuruya:
It's okay.

Shiiba:
Ultimately, online games that keep on playing continuously will inflate. If you say why, everyone does not want to be unhappy. Because it is not good to be boring with playing games. The best way to balance is that if someone makes profits, someone wants to lose. This is the best balance, is the supply and demand. But it's impossible, so you absolutely inflation. Basically it is not just a game design to "take what to inflate" but to basically just specialize all the inflation on the growth of such things as characters and weapon armor, where to turn that inflation I think that it is the best point to say how to work on the system.

So, the synthesis of cards coming out in Gacha is typical. We are not separately original, we talk a lot, but "Foster OnlineIt's card composition, is the original one. The card synthesis of FamiStar Online was done really well, I saw the card synthesis of "Famiesta Online" and thought about incorporating it into the browser Sangokushi. If you return the original story to another one, it is a synthesis of weapons and armor of common online games.

Tsuruya:
I see, thank you.

Mr. Fukada, you do not have to worry about the game at all, so doing something like collecting customers with something like this, making money with PV, selling goods of course, of course, so do it for a variety of things I think that you are coming, so please tell us a story.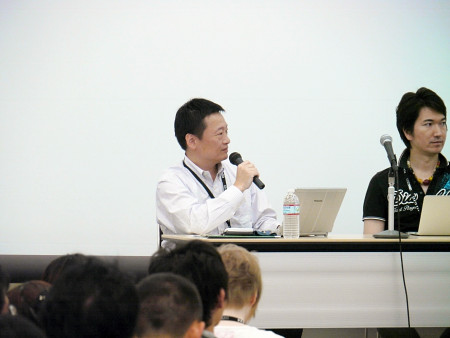 Fukada:
Well, in terms of harvesting, we are a company that has always been working in the mobile world. So, I can not go to the point of success yet, but in July of this year I will be sharing location based services in America (in JapanCoroplaIn the location information game that corresponds to "etc), big title"MyTown"It was decided to localize iPhone license.

It was a big thing to have such a license, but there was a place to notice that I felt through those things. Is it a mobile way of doing it in Japan? The mobile environment that we think is natural is actually quite normal in countries other than Japan, but it is a huge harvest that I realized as a bodily sensation I think that.

Even though I went to San Francisco about a year ago and talked to people over there, I feel that mobile is coming from the future, but everyone has a feeling that real feeling is not accompanied so much . In other words, it is a concrete experience. When I was thinking about how many people are doing really, I found out that there is not much to do.

Looking at the penetration rate for the population of the Internet in the mobile environment, in Japan it seems like everyone else uses it as 70% ~ 80%, but in other countries, for example in the US Looking at such a part, the population who uses the smartphone Internet is only about 10% ~ 20%, is not it? It is said that overseas is so exciting that Japan seems to lose, but the reality is that way. In that sense, the interestingness of the service normally done in Japan, the value when looking at the world wide is the opportunity to appreciate the value very much according to the way that this deal It is a place that I found out very well with the (transaction).

On the contrary, I understand it very much, I think that the very few Japanese people who are aware of it is very small, I wonder if a small company like us this time was one big factor that we got a big title (overseas) I am thinking. When smart phones become popular including society as completely industry, it is realized that Japan and foreign countries have become irrelevant. When that comes, I think that it is coming to such a time that you can not strongly think about where on earth it is that you can demonstrate worldwide value. On the other hand, I think that the area of ​​mobile and smartphones is one of the few areas where we can exercise value, I think we should extend it from there, and we are in a country where this is only popular So, I think that there is no hand not using it, I think that it is recently my big awareness.

Tsuruya:
That is what "MyTown" is, it is such a game that you use GPS, like "Foursquare" became a game. When Yumemi develops it after becoming Japanese in the future.

Fukada:
Since I was allowed to go to like various things, I think that I would like to do it also because I have development of the original version of the Japanese version and other Asian countries in Japan.

That is interesting because it is a game, but it does not stop at the game. It is a way of play that has an atmosphere like changing daily life to play. Then, although I'm playing a game, I heard that information is being sent from the shop when I notice, or something like coupons came to be sent from a shop that often goes on recently. Do you say that kind of discovery, it is a mechanism that you can do such things as real recreation is obtained to the user through how to play.

Indeed, when thinking about what something Mr. Shiiba used to say, "When something can continue playing endlessly", thinking that it would be a hint that there really is something to get something I studied, though. I guess that making a route there will be one long-lasting factor.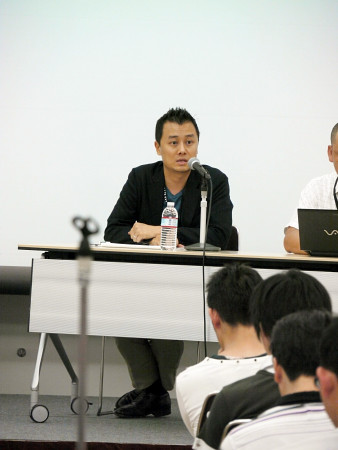 Tsuruya:
Among them, 80% of 90% of people in the game industry, they are easy to be deceived because they are easy to be deceived, because this is a person from WEB marketing, you can not be easily deceived by everyone (laugh) In short , "I smelled of gold" when translated. In other words, there are things such as raising, continuing connection, or being connected with real, but in essence, I think that it was probably such a smell.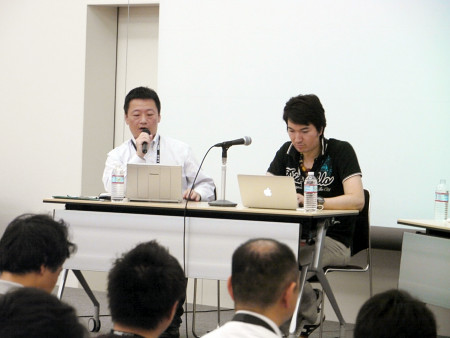 Well then, Mr. Honjo, please.Honjo:
There is no case that any company has succeeded, but there are two things that I think it was good to do in myself.

Originally I made this company to make an online game, I was doing contract development of consumer game for the first time, but without giving up on this dream from the beginning, I continue my research on network servers even if I do not have a job Thanks to that, when the social wave came about for the last 2 years, I was able to get on the wave at once. Without giving up, I thought it was good to have ordered orders, such as via a browser.

At the time of entrepreneurial launch of Xbox 360 and PS3, this CEDEC is also a shader, is not it lecture of 3D related only, but I feel very uncomfortable as myself. "I was watching with cold eyes," ((game) is essentially entertaining people, shadow's density got darker a little, and that is how many people use programmers for that) . That is why I have studied myself myself without going to CEDEC, I think that I am connected to the present as a result.

Another thing is that since I was also a technician, I can create an online game at home, but "NikQ (NikQ Knights of Hidaren) "For the first time, and then"Livly IslandI made an online game called "Monetization" .... Livly has succeeded well, but NikQ has failed. So, beyond creating online games, it is necessary to make clients profitable, so at their very early stage, at the time of opening the mixi app, by doing their own study of monetization, it is several months behind We played the game on our own.

So in the first game I got it, this also does not make a profit at all, in 2 months the PC version stops as soon as "This is useless", and then switched to Mobagetown, which was insanely profitable I did it out. I made it in 4 months but it did not make a profit, the first sales was 1.5 million yen, it was a story of "Stop it soon" but never quitting, so I will continue my research more and more After studying everything in the game, I was able to grow to the extent of exceeding 1 million yen in the end, about 4 months or 5 months ago. In the process, I think that it was good that I did not give up, I did not give up with obsession.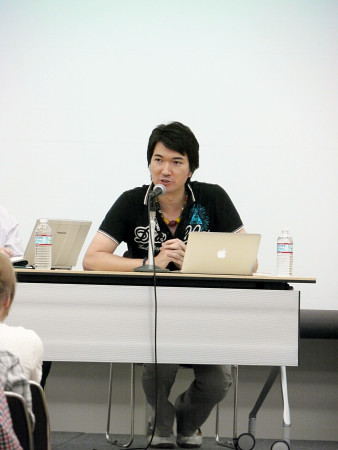 Tsuruya:
By the way, did you make that "NikQ" grow up to 1 million yen for daily sales by improving it for 4 months and 5 months from about 1.5 million yen monthly? Or is it a different game?

Honjo:
"NikQ" had no authority to make, so "Wan this roomThat's Mobage's title, is not it? Even now, there are about 450,000 members.

Tsuruya:
Where would you say the most changed place in "Wan this room" from 1,500,000 monthly business to 1 million daily dealers?

Honjo:
Well, as it was originally a game shop, as Mr. Shiiba said, if the game shop creates social games, I will definitely make it for gamers. It has become such a game that I can scratch a lot of stuffed items and can only do walks with a button click, but I made events that compete among them and even introduce highly gaming tastes, That was where I won the most. I studied the title of another company and managed to manage it somewhere. It was a completely different game from the beginning.

Tsuruya:
Thank you very much.

By the way, although there were talks about timings and timidities in both sides, there was a lot of stuff like CEDEC, about half of them are major game makers, so there are a lot of things when you are in the big places. After all, the time is different from the clock. I think that it depends on the company.

If I become a strategy only as quickness it is something like a shocking remark when it gets bigger, when I hear it. So, is there something you can win, even if you do not have it early? For example, what should I do if a major company takes decisions about half a year? Then, Mr. Shiiba, what should I do?

Shiiba:
I always talk about taxes, but being in a big company is paying taxes and working, I got my salary. After all, there is no other way than to make the best use of such things as the size of the company, brand, etc.

I guess there is no other choice but to continue selling anymore. I worked in Tecmo, but the traditional type of home game now is old and old. Since management notions are old, after all there is plenty of impossibility. If I say 100 times and say no to say 200 times, If people who want to do it by themselves do not stand, I think that the work will never come even if waiting just by waiting for a friend.

Now, when you are talking with a manager of a home game company, everyone has a sense of crisis. Sometimes I think that there is no way I can not do it even if I have a great sense of crisis, so I guess the work site can not do anything, or "(the site does not say that I will try to challenge quite a new thing)" It seems like you are thinking about it. So, if you are in a big company, please recruit yourself for yourself and keep on saying "I really want to go out on a smartphone and do something like this!" So if you can do it, there are far more money and brands than doing with a small company like us.

Aiming company was made 3 months ago, so nobody knows. Well, if Aiming and SQUARE ENIX get the same game which one you buy, you know what to think? (Major) I have what I have. Especially in future, not all, but as various items become basic free, major brands are superbly funny. Like Aiming said now, if Aiming issues a free app, it seems "doubtful" "This is something dangerous". But if Square Enix and others give out free games there is a messy trust. I think you should take it in your hand. So, a major company actually has a great opportunity.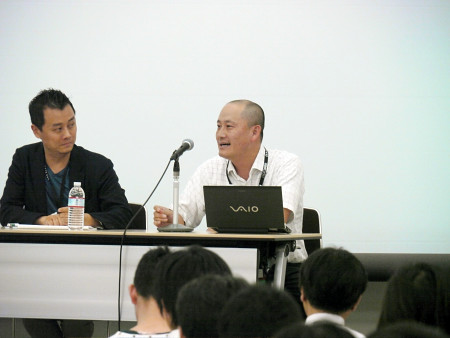 If you do not have the speed, will you compete with quality or will you compete with the brand? However, I can not absolutely win unless I try to speed up. Because, if you were making (game) over 2 years, it will be another market when you can do it. I think that there is a feeling that the color is completely different from what it was a year ago if there are those who do mobile social. Because it is such a world, it will be over 2 years.

It is easy to quit. Those who think that quitting is early will certainly search for a company called Aiming and it is fine if you can come at any time though it is fine (laugh) But that can be done anytime, before that, what is the merit or strength of the company now I think that I would like you to come after thinking about where you are and challenging it.

Tsuruya:
By the way, Aiming mentioned earlier that we were supposed to have 140 employees soon. Did you have any money (such as personnel expenses) from the beginning?

Shiiba:
First of all, I think I will announce something soon. It will be time to connect all the terminals online and play games. A company that is challenging such a place, because there is scale and power there is not so, so it is actually the case that you do not have trouble with money.

Tsuruya:
How many lines are you running now?

Shiiba:
It will be in the next year, only about 10 smartphones are on the plan. Besides, because the scale is quite large, we do not make 2, 30 million social games, so it's a little crazy then.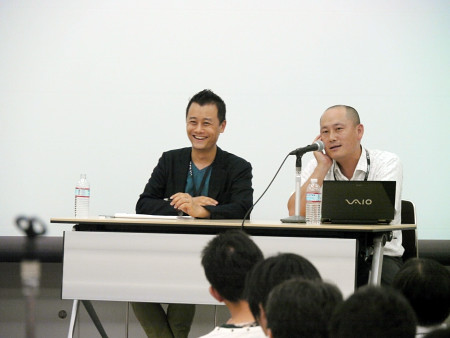 Tsuruya:
Are you doing both your company title and entrusted?

Shiiba:
There are few contracts, but there are some. I think most of the title of next year is almost original.

Tsuruya:
To be alone with a smartphone, you can do other than smartphone.

Shiiba:
Well, I'm just going to earn money by browser game until the end of the year. This company of us has money to challenge, so I think that if it is a basic challenge it will be like a smartphone.

Tsuruya:
I see. Recently Mr. Konami and Koei have entered, certainly it makes me feel that major players are getting stronger recently.

However, I will tell you to encourage, but I think that standing on the major side, on the contrary, Mr. Shiiba know that so-called mobile social casual users do not stick to that brand so much, so I am doing business It makes me feel like it is habitually (laugh)

Shiiba:
That's not true, it's true-hearted. It does not matter if the mobile social application created by Mr. Osamu is superior to any other unknown company, is not it? There is not much difference. I thought it was a difference like 65 points and 68 points, but there was a difference in the result. I think that those who are doing social as it is now is a little bit tricky now.

Moreover, thinking on the global size, the company that is active in mobile social in Japan has been making an enormous effort, but at the moment when it comes to global size, it starts from a state with no name at all. Major has a name. If you think that a unified platform can be created globally, it is tremendously strong. I think that's our weakness.

Tsuruya:
In other words, it is told that Mr. Honjo will be in trouble, Mr. Shiiba.

Honjo:
Well (laugh)

Tsuruya:
I have to reply (laugh)

Honjo:
Beyond that, the market of the mobile is different from that of the US as Mr. Fukuda said earlier, so the growth of the market is better, I think that the last few years may be bigger than the wall of the culture Because we are. If it fails, I will survive in commission.

Tsuruya:
Also humble (haha)

Fukada:
We are a venture company, myself and I know only that industry, but a company currently doing social game is pretty tough. When major companies enter more and more, the fact that the first trust is built is quite large from the user's point of view, perhaps the venture is probably tough. It is quite solid, and it is a problem of the organization and it becomes painful internally. Especially when there are multiple lines, there is no human resources capable of managing such things such as not being able to manage it, that such capabilities are nothing to the manager as it is normally occurring, and there are many lines The more physical competition you have to do, the more venture suffering comes out. Many companies are suffering from whether or not they can escape.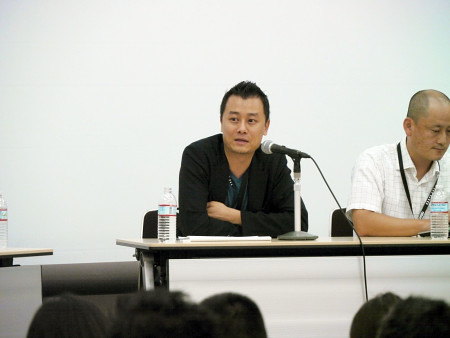 Tsuruya:
By the way, about the market and the target Shiiba said before. Self interpretation in this is good, so how many people belong to major companies? "I'm a major player!" (Laugh) After that it is less than medium sized, how much do you want ... .... Oh, about half, thank you.

Three great people do not have a chance to talk about boasting, so I'd like to hear that there was a title that I did not say yet because I made a big mistake because I did not succeed conversely, but. Mr. Shiiba who seems to be confident from a little earlier does not make any big mistake? In recent years.

Shiiba:
Well, there are games you have not served, last year, not last year, this year? I heard that about 50 million past games have been stopped about this New Year's New Year.

Tsuruya:
It takes 50 million and it stops ... ... (lol)

Shiiba:
Well, it's a story about how many portable social songs can be made. Because impossible things are impossible, I stopped because there is no choice (laugh)
Genre is football. Although I was making it with a browser game, well, soccer was somewhat high in difficulty and I did not intend to take a formal license, so I have to compete with games alone. I tried a little impossible challenge, the staff also got tired and I was sorry.

Tsuruya:
What is the biggest cause of that failure?

Shiiba:
It is difficult. In the first place, I realized that the genre is difficult. However, there was not anything decent because there was nothing else to do but it made it with some feeling that it would manage somehow, but the flow of the world was earlier than I imagined.

I think that those who are fighting in the mobile social's Mobage platform are thinking the same way, but the social game of the web browser is the same, about a year and a half ago, even on Facebook, Zynga, Rock You, There is a case where it was arranged side by side like Playfish, but now it is Zynga one company after all. I never thought it would be this way in a year.

Even in Japan, I have a sense that I can put on a web browser game a bit more, but in reality it is not. Right now, if I'm trying to get quite some needs, Yahoo! I think that there is only Mobage. There is no other way to say (laugh) But actually it is a fact, it's a fact that the game has become an inevitable market so much, but in terms of seeing the market, I did not expect it to be so early There was evilness of eyesight.

Tsuruya:
Is not the Han game useless?

Shiiba:
I do not say because it may come to the Han Game (lol) I think that it would be nice if you could judge in a place that everyone can see, but Han Game will go to the site and give out the number of users connecting at that time I am. Even recently released games, browser games and others, you can understand if you can confirm the number of people being accessed at the moment, but after all there are many games, so it is not easy to concentrate on one game I guess you are getting it. Please judge it in numbers by everyone.

Tsuruya:
Depending on the scale of the company, depending on the operation post and operation method, there may be some companies that can make it surplus even so. If there is a place where "users need to have 10,000 people", there may be companies that say "1,000 people should go at daily", so it probably means that each one.

By the way, Mr. Fukada, do you have a big mistake?

Fukada:
Indeed, it was a great failure to advance into social games. It was a challenge a year ago. I put money in tens of millions of yen and put out 2, but after all it was a big muggage, I could not recover it at all and I received a painful damage.

As I thought back in time, what I was afraid was that I thought that being late was the biggest factor. Actually it was the first challenge that we started with GREE's platform last June. In that sense, as I said before, I had been challenging from the stage of opening the mixi appli, like being told that it was being studied from the beginning, unless it is done with such a sense of speed in the first place It was useless. It is exactly the fact that the speed of the evolution of the market is not fully understood, and it is big as a factor of the most failure to misunderstand it. I promised to stick to trying to quarrel if I did not really do such a thing absolutely or not.

Tsuruya:
It is very clever Mr. Fukada, and maybe I think it is bad, but there is a place like a game station researcher like a monetization researcher, and really am learning the know-how around the world is not it?

I'd like to ask all three people, but I'd like you to tell me the three most important things for succeeding monetization frankly.

We can have up to nine if we do not overlap, we (lol) We are thinking about this panel, because we have not made arrangements in advance. I will think about proper escape when meeting in advance, so we have no meeting.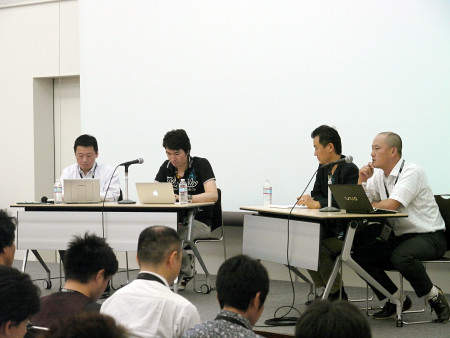 Shiiba:
No, I am busy and I can not make arrangements ... (lol)

As I mentioned earlier, I believe that things thousands of times, tens of thousands times and adding small additions are correct. If it says something that is not so, it is an avatar. To sell an avatar you have to make it every time, and if you keep it, it does not turn around thousands of times. Well, it's just one approach to put in an avatar and make it a thousand turns.

The other one may be a kind of idea that is a little bit different from words, but I always say that I am thinking "I'm getting money with my friends." As a matter of saying, even if you get bored with her, you will not get tired of your friends. Even though there are friends who are far away, I do not think there are any friends who have gotten bored. This is somewhat different from social, but social is a game that is sitting on a social relationship where my friends came together, but we are reversed in ideas, they got acquainted with each other who does not know at all in the game and amazing Thinking about making a strong friend relationship. For that reason, I am thinking about what kind of accomplishment and what kind of process I trace and make friends with each other.

As you said, if you drop users together as friends, it will last year by year. One more, one more ... What will it be, tomorrow may be floating about six more, but I think now that I think that the price is high, I always think of it as a technique Right.

Tsuruya:
Do you mean increasing the price of items?

Shiiba:
I agree. Anything is expensive. Because we can lower it, we can not hold it for the time being, so I can not raise it.

I do not think price competition is what I think is great in this online game business. The weapon here is 5000 yen and the weapon there is 500 yen, so the user does not have the option of doing a game where weapons can be bought at 500 yen. Since the item in the game I am addicted is unique, the point is that it becomes the original item.

Most products in the world have similar products. Even water is so. There is a choice to make it Volvic or Crystal Geyser. If it's the same kind of things I would buy the cheapest one, but it's not in online games, basically. Because I can only buy it. So I will set the base a little higher, I think that it is better to lower it. I always have that policy.

Tsuruya:
The user has no alternative. I have no choice but to evaluate in that game.

Shiiba:
Well, it is important to give the world the only one that exists.

Tsuruya:
Is there no conflict in that game?

Shiiba:
I agree. For example, the browser gangcha gacha of 300 yen and 600 yen has somewhat I think that I made a de facto standard of this industry, but it seems that I was watching "Browser Three Kingdoms" and setting of a rattling Because there seems to be some people doing it.

600 yen is quite expensive. Everyone can not buy 600 yen this! Everyone was saying, I thought so. It is not because I bought it because I bought it.

There is a great discontinuity between the price of 0 yen and more (the price you use). A free person has a high probability of 0 yen for a lifetime, if you pay even 1 yen, the possibility that you will pay later will rise suddenly. I think that DeNA and GREE are taking statistics about this, so do not let users of 0 yen go away.

If you try to make it even for 0 yen users, you only have to increase the price of Gacha. The higher the number, the smaller the number of turns, the smaller the difference. Well, I reduced it by the number of times, but it turned into a way of thinking that I should show how to show it to the user or design the game.

I do not need free users, free users are good friends, and I can also say how to say good things. It is not a terrible way of saying, but it is also a future customer. I think that game design and charging style that forces such a burden impossible to free users in such a place is the worst, so Gacha is high.

Tsuruya:
You are troubled if you are being touched. I have to make sure that the free user does not think "I am duck", but for the charged users it is not a satisfying feeling to motivate billing and the feeling or reward obtained by that charge must not. I think that the balance there is suffering a lot, so there are also some tips on this part. How about Fukada, you can see various cases.

Fukada:
As I am referring to the current story, as I am watching the game all the time with a gaze of whether I can use other things like game fun like else, so what kind of feeling is the habit of using money as if there is motivation? If studying while looking at the game, it seems that they are supposed to be turned into practical examples of places like psychology in many cases.

I recently wrote it in my blog, but I think that it is very important that "What is desire" is like. There are various human desires, but it seems there is an answer psychologically, it seems to be divided into 16 basic needs. I understood that such results are learning a lot of things, but when you look at it, it seems that it is written that it is the point of social game monetization completely.

For example, there is "desire to store". When I saw that it was actually wrapping up the fundamental desire of human beings to save, so it seemed like everybody wanted to be compressed, I felt like I did not understand it , Anyway it seems like that, it was a very stubborn point. There are various kinds of things such as "desire for approval" of wanting to be recognized by someone, whether to want to rule someone, to be strong, and so on, so the point to spend on the game and the point to spend money are in line with that desire, so use it , As a part that you can see. If there is what desire as a game design should be kept, it is very easy to see what kind of desire it is going to go on, so it is not easy to design, it is one thing You are aware.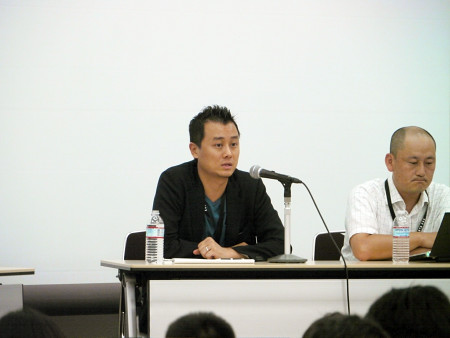 Another thing is that there is a useless part because there is only a desire, so that the something like rocking emotions, which is exaggerating it, was particularly good at social games. There was also a story of competing and cooperating, and there was a story of the community just before, but I do not want to bother the members of the team so it can not be helped, so the feeling of my emotions has risen dramatically in places I'd like to buy. Or if you do not do this so far you can not get this item or you can not win the competition. When such time is separated, the emotion of human becomes more shaking, so it is apparent that by using basic wishes as a base, by creating a mechanism that makes tremors of emotion, the user is obliged to use money It seems that everyone seems to be doing it, mostly people are finding out that they are doing that kind of way.

If you look at social games from that point of view, you know that such a thing seems to have been made that there are various ways to make shaking of middle emotions. In that sense, desire and emotion are two very important points.

Tsuruya:
It is like a mechanism of human desire and human emotion. By the way is it in this book that was just before?

Fukada:
Yes.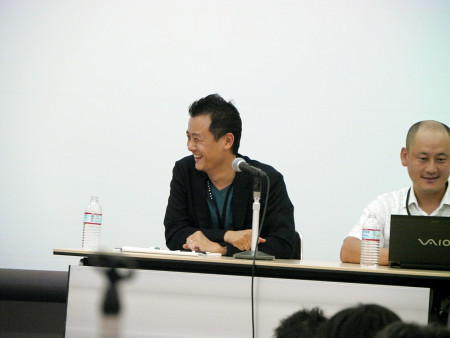 Tsuruya:
It seems to be writing so let 's study a bit for everyone (lol), Honjo - san.

Honjo:
Yes. Just tomorrow I will do an online game lecture presentation, but in essence what is the condition of the online game, I was just thinking about the same, there are three.

It is simple, but first thing is interesting as a game. The second thing is that the most interesting part of the game is charged. The third one, I want to play again tomorrow. I think that it will be a good game if all three are included.

First of all, the place to say whether it is interesting as a game is that it is basically absolutely fun because basically it will not be money for the user to quit as long as you do not get boring.

Next, it is quite omnipotent to say that charging is properly included in the most interesting part of the game, it is interesting as a game, but somehow it is selling avatars, or there are quite a few I will. I think that it is important that the thing that it is good to have money to pay at the moment that the user is interesting and the heart is being moved.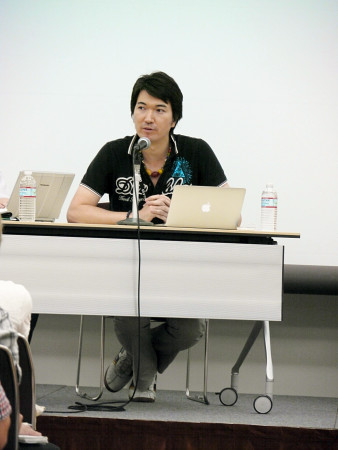 Also, what I want to play tomorrow is that I can communicate a little with Mr. Shiiba's making a game I can play for years. Since customers are playing games for free, if I do not think I will come tomorrow either, I will not come back by themselves. So, at the moment the game is over, I feel a bit surprised, I wrote something with my friends to exchange mails, or something to compile in a bit, I saved a little surprise and I had another one tomorrow I want you to do it, make it somewhere every day every day, and give it up. I think that these three points are the points.

Tsuruya:
It is such feeling that it seems to continue saying "Wow!?" At the end of the drama series. Thank you very much.

Finally it is, you guys are quite sensitive to the smell of gold, so I'd like to ask you out now, but this year from next year to next year I will profit! I'd like you to tell me where I can take care of the parts here.

Shiiba:
I have worked for an online game for about 8 or 9 years, but it does not change. I think that 100% of those who are at this venue can understand that all the terminals are connected to the net and become a game by that. Among them, if you say something the most people have, it will be a smartphone.

I did not think that my smaho managed to manage anything until last year's end of the year, so I was totally denied, but I guess what I would like to do after all this year is what I really want to do but.

Even if smartphones spread everywhere, the place to play games on terminals connected to the net including smartphones does not change at all, and what you do in the middle of that will be playing games like games that you can play every year I just do things like making things firmly, do not you think? As Mr. Honjo says that there is no choice but to make an interesting game, there are arguments about how to create interesting games, but there is no choice but to do it.

Funny things need to be recognized by users and targets, so if you think about it, then who are the people who have smartphones in the future? I wonder what kind of time a person with a smartphone will play, I guess I must think a bit. Basically, making an online game with a terminal that leads to the most popular net is pretty simple.

Tsuruya:
I told you to make 10 lines to run, surely, I will do it from the MOO of cooldown. So, Ms. Fukada.

Fukada:
Yes, I'm talking a couple of times, but since I've been doing in the mobile area all the time, it is a bit new word right now but I use the word OtoO, "online to offline" Such a market is growing very much now. To tell you the truth, it is only that story that it is now possible to use the Internet on a real, non-personal computer. Then it is a shop that has not been in the past, it is a daily movement, a moment of commuting to school, every moment is online.
Human behavior and activities in offline will be affected by the majority of the Internet.

In terms of money, when you say that people are using money, 98% of them are using offline money. How to incorporate the market there online is a very interesting market right now and as we are doing mobile we think that there is no point unless we go there and as a market we aim at that .

I thought that it was "gami fiction" as a section, I'm doing that kind of thing, there are really few companies that can do it. The concept itself is also new, and when I look at it from a global perspective, it is almost like a company that wants to do "gamification" from the field of personal computers, and it seems like the value of Japanese mobile To make it possible for users to come to the shop more easily with mobile or outside areas that make the best use of it, we should do such a thing, and as a company we have a base in Japan, as a company based in the world I think that the target and market that can be watched from the viewpoint is such a place and it is our idea to try to target there.

In that sense I think that the know-how of the game is very important. Where you want to tell me that you are going to pay attention to the fact that everyone's know-how that is making games is to be demanded rapidly from now on except for games is.

Tsuruya:
Thank you very much. So, Honjo.

Honjo:
Originally I wanted to make an online game and I had a history of making a company, I've been researching the network for a long time, but I really look at the spread of this smartphone, everyone who has finally dreamed can play online games I became environment, I am very moved and excited. I do not make as many as 10 Shiiba san, but our company is also specializing almost to the place of online games and social games of smart phones and we will issue titles for that. We will make it not only for domestic but also for the world market.

Although there was a story about whether the circle of medium and small social applications is quite painful, on the contrary, the platform side is, even if you associate with a big maker, you are cheating on various things So, we want to join a specific platform, or a major manufacturer, like the one we like, and doing the distribution on our shoulders on giant's shoulder and distributing our contents all over the world.

Our company has a technically real-time communication server, it is a company that can make online games. I would like to expand the place of online games on smartphones for the core using that, and social games in the future to the smartphone widely.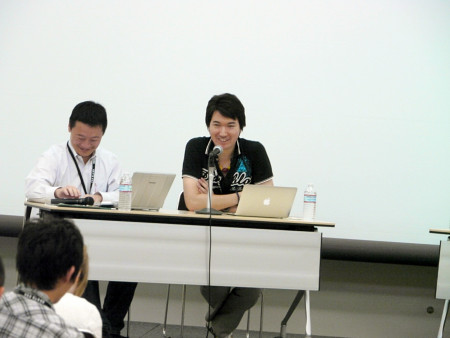 Tsuruya:
Everyone is said to be a smartphone, I think that it is quite a battle situation with probably about 1000 titles and 2000 titles in Japan alone probably next year.

So time has come closer, so everyone wants to receive only two people from the end at the end, but please raise hands.

Q1:
I think that major players will enter the smartphone from now on, but I would like to hear if there is something in mind that differentiates themselves and wants to appeal such points. I would like to ask Mr. Shiiba.

Shiiba:
Thank you for your nomination (lol)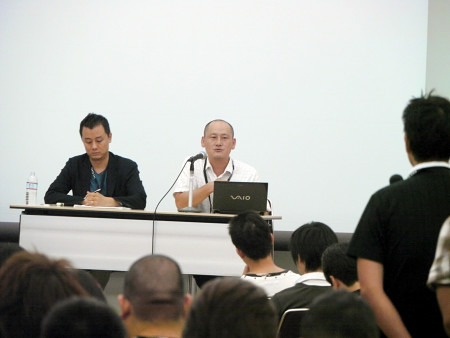 Currently, there are almost no answers to the question of whether or not there is a company that is making online games, online games, basic free games that are fundamental free in genres. That is our pride and I think it is the fact.

Because we have different careers, I think that the ability to make basic free online games is much more than other companies.
It is not too long, life expectancy. Everyone in the world will be able to do so when everything happens. I thought that I would like to compete in about a net year, and I think that the story that ten out in one year is already winning the major. Since 10 major projectors can be launched right now, and if you can say that you can start a project with a fair amount of money all at once, you probably can not.

I thought that was also the case in the global. Especially the business model called "basic free" is pretty irritating in Europe and the United States, I think that there are plenty of people who think that Zynga's game can be doubled in sales. We do not have a nice structure like monetization ability, and in that sense we think that European and American companies are still weak in basic free.

On the contrary, since the PC online is too strong for Korean China, I think there is a gap there too. I think that a major Japanese company is hesitating now, but I think that it will take months after just being lost as to what kind of things to create in what genre, just by passing the company through settlement. I will be able to make it as soon as I will try this project tomorrow, so I will win with that speed feeling.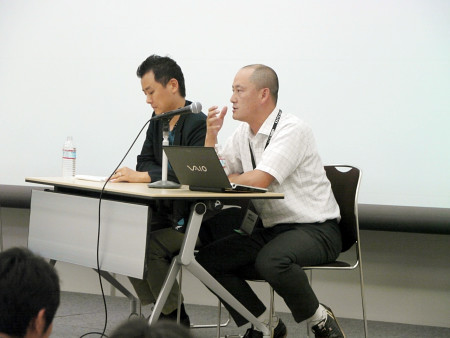 Q2:
I am a bottom-down question, but I'd like to hear the majority of the people here. I think that there are users who do not pay money as a matter of fact and users who pay money, but I'd like to tell you how much users pay for it and how much they pay per person.

Shiiba:
I do not have any difficulty with that question at all, for example, saying "RED STONE" on game on says what number is the month, about 100 thousand per month, about 40 thousand charged users. Numbers at this point are funny, 40% charged. One person pays 8000 yen, if multiplied, it is 320 million, that number. "Browser Three Kingdoms" can not be said, though. There are something numbers that are not "browser Sangokushi" ......

Tsuruya:
A certain game (haha)

Shiiba:
The figures for "some games" are, the price per customer is over 10,000 yen. If it is ARPPU (Average Revenue Per Payed user), it will exceed 10,000 yen, for the month. To sell 300 million yen, 30 thousand chargeers are necessary. The billing rate has become such a figure as 20% after all.

Tsuruya:
Is it a browser? this is

Shiiba:
I agree. Perhaps this is a natural number as people who are doing traditional PC online. It is said that it is better if it is 7 to 15% if it is initial basic free. But in this case it is said to be 20, it has gotten used to making makers, and maybe they have also paid for the money.

Perhaps even those who are doing social are probably different numbers, so it is still dark, so the users who are targeting in the first place are always having problems. I think that I can not take it if I say that 10 million people can be taken like "Kaitou Royale". On the contrary, I think that there are places where this figure comes out by doing targeting narrowly and taking users.

Tsuruya:
I think that it will be an example of general mobile social.

Honjo:
Although I do not know whether it is general or not, in the case of mobile social that we are doing, actually it is not much like a month, I just follow the numbers of only Daily. If it is a month, perhaps it is tens of thousands of active and the charge rate does not go up by 10%.

ARPPU, I think that it does not cost 2000 yen. On the contrary, since I am watching it on a daily basis, I have something like a last day of the event or a girl who uses 50,000 - 60,000 yen in just one day, and I am focusing on that place and operating it.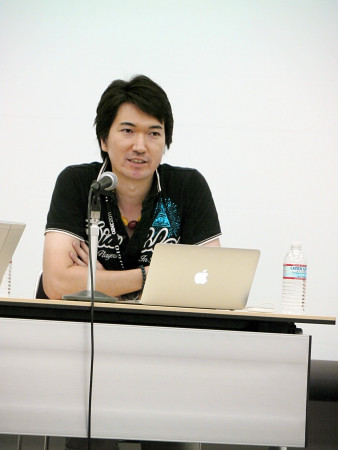 Tsuruya:
So, I overrated it slightly, but that is over. I really thanked you for everything, but this is also for the audience so that I just played the villain. Basically it's a good person. I also want to watch the activities of the Mikata from behind. Really thank you for today.