I actually ate "Ice coffee noodle" which coffee was mixed in ramen and topped with fruits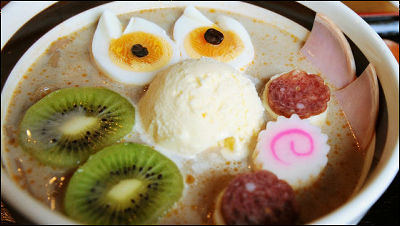 Ramen shops and coffee shops are everywhere throughout Japan, but I have never heard of cooking that combines the two. However,ZhenmaIn the shop called (aroma), I decided to go to the shop and actually try to eat it, because Ice coffee is mixed with soup and cooking that has also been incorporated into noodles.

The location of the store2-19-16 Takara-cho, Katsushika-ku, Tokyo. It is a shop in the downtown of Tokyo not too far from the sky tree.

View Larger Map

The nearest station is "Osebana shop in Keisei Electric Railway".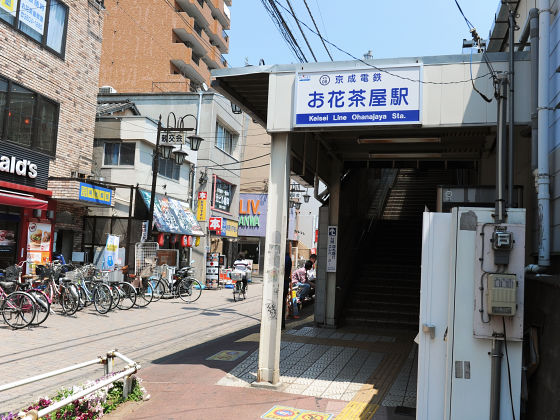 After about 10 minutes in ordinary residential area ... ....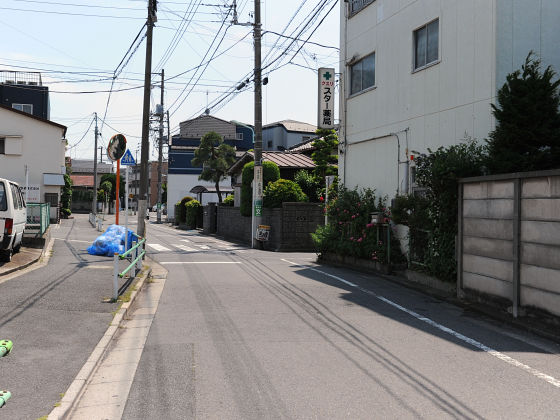 You can see the sign of "Auruma".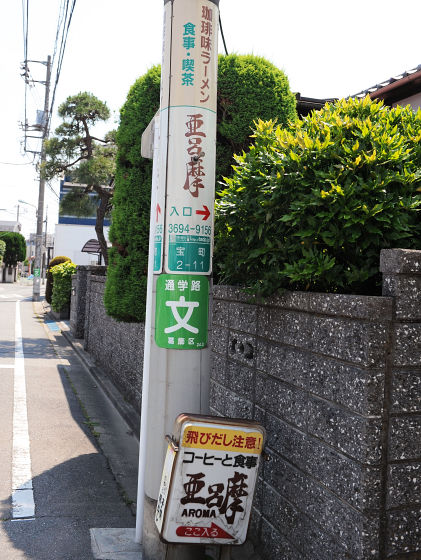 The shop front is like a normal coffee shop.



The interior of the shop is quite dark for energy saving, but it is open.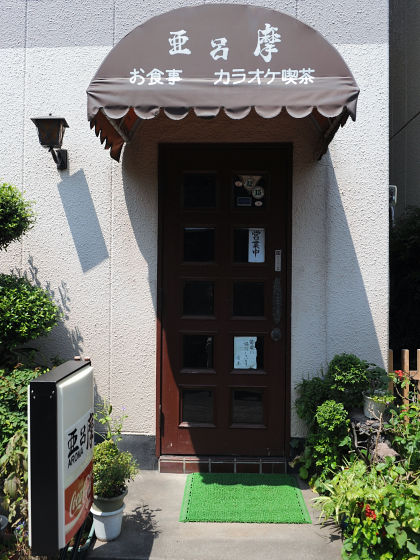 The interior is like this. It is a shop with a homey atmosphere.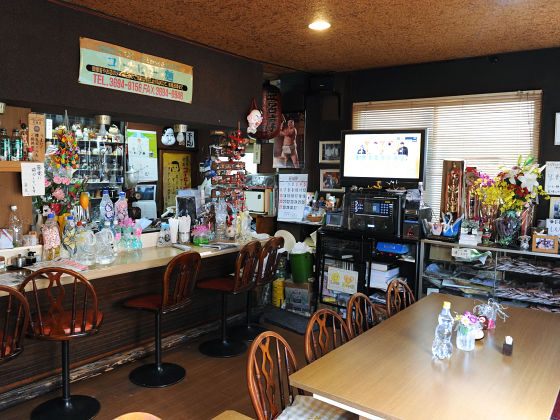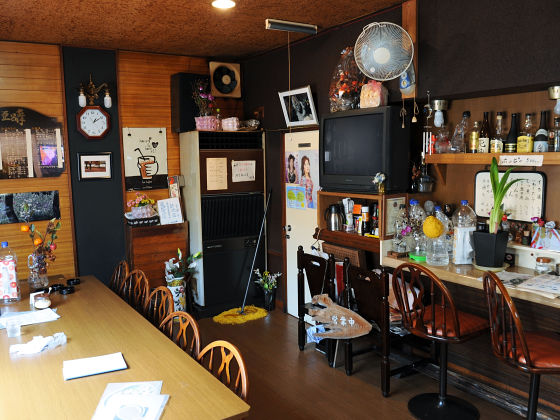 The photo menu with "Ice coffee noodle (700 yen)" looks something like this.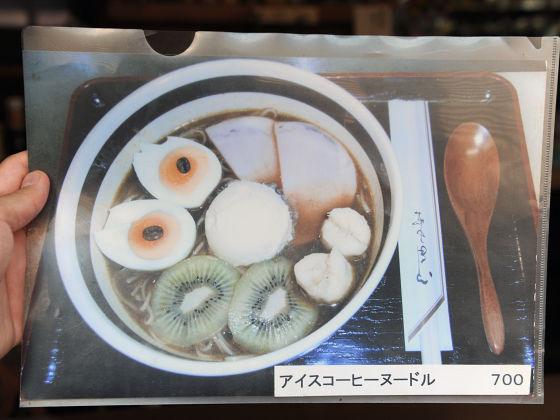 General meals are also offered, including Calbi Baked Meal (1000 yen) and Soba Miso Set menu (700 yen).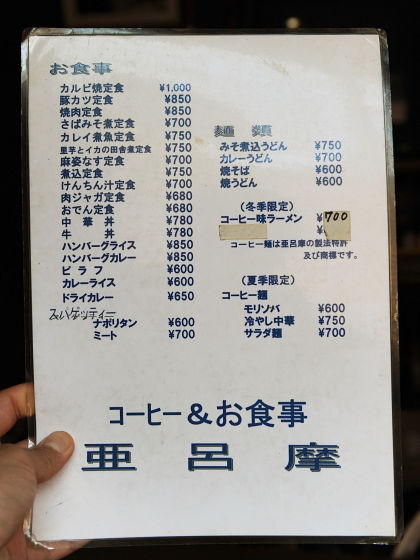 Since it was originally a coffee shop, drinks such as American (400 yen) and iced coffee (450 yen) are enriched, too.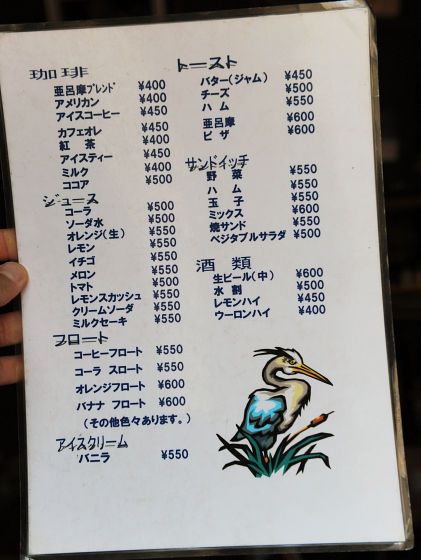 In the shop are signs of Yoko Ikino and Hidehiko Ishizuka ... ...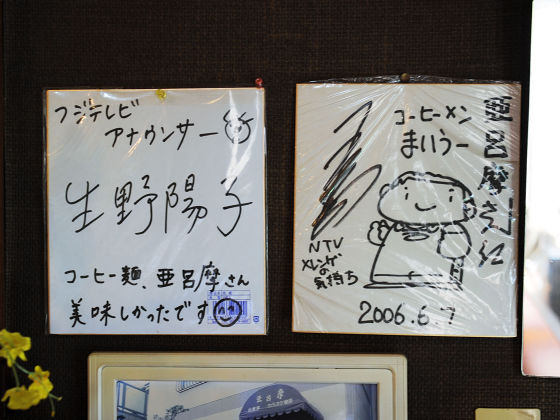 Mr. Ishizuka's picture is displayed.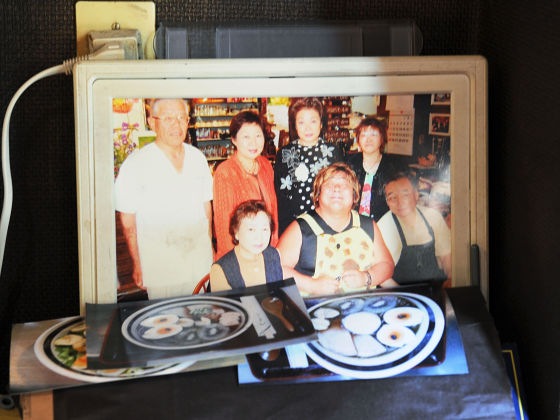 Information notes are also put ... ...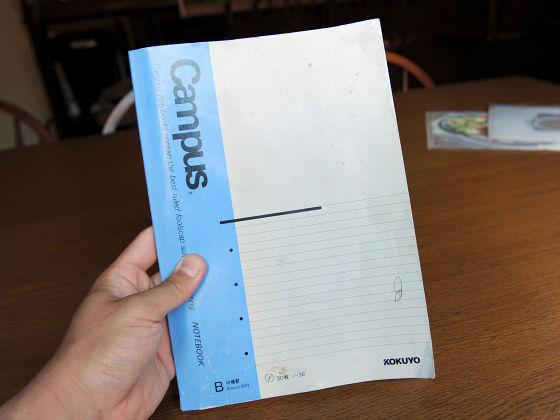 A lot of comments by people who came to eat coffee noodles are written.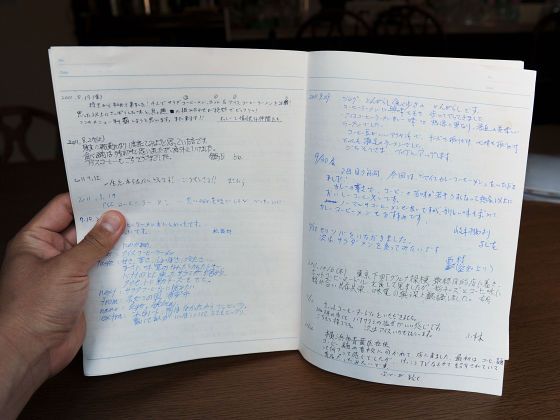 Some also said that they came from Oita prefecture in Kyushu ... ....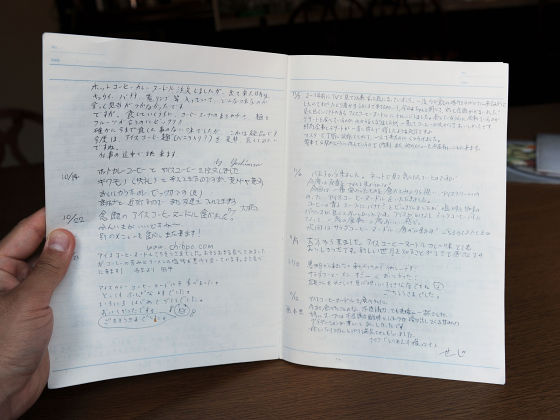 For some reason, there are many vase-like objects which processed PET bottles in the store.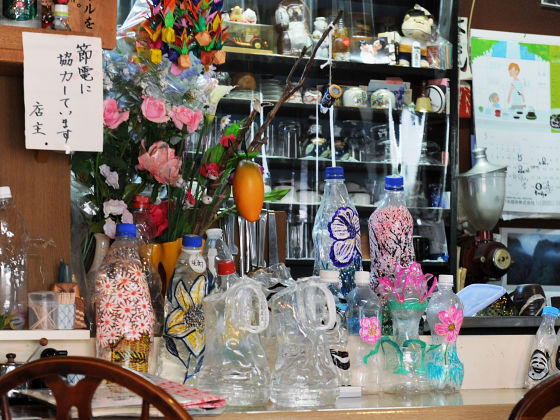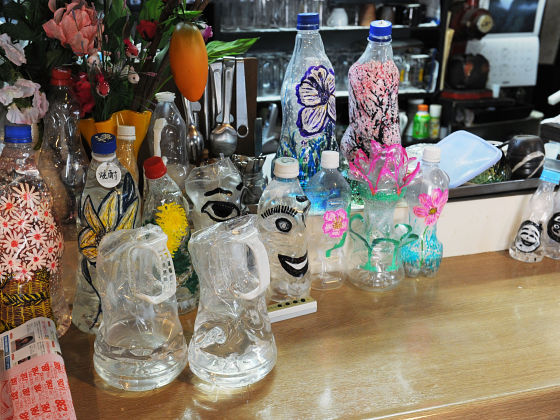 Put the tissue in a plastic bottle too.



And there is also a lantern for some reason.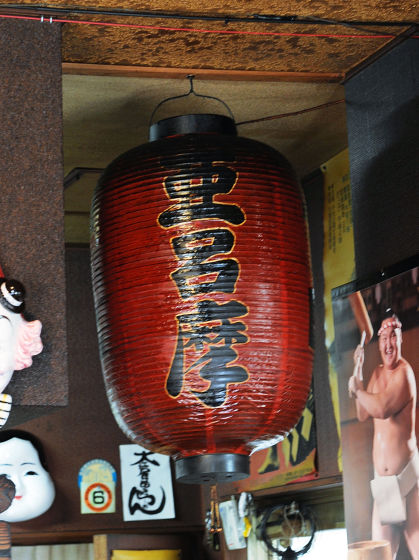 "Ice coffee noodle" appeared in about 10 minutes from the order. The ingredients are quite different from boiled eggs, salami, naruto, kiwi and ham on ice. In addition, this ramen is tailored to the cold.



A slice of salad is ... ....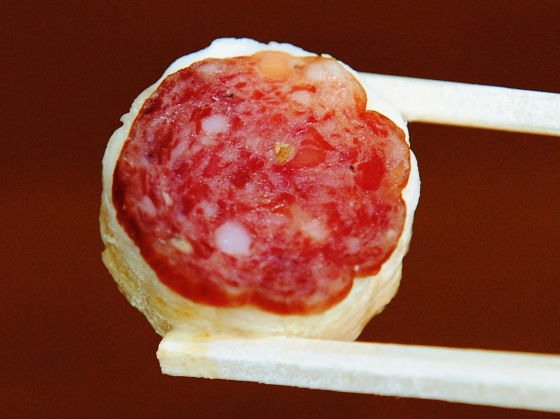 Somehow pasted on top of the banana.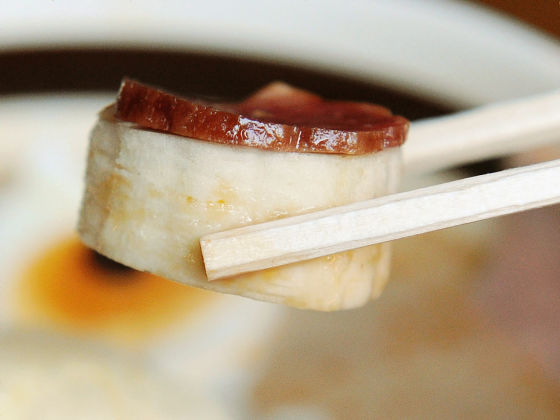 Naruto ....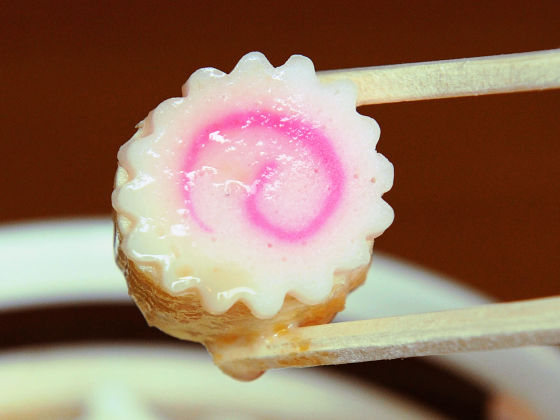 Set with banana.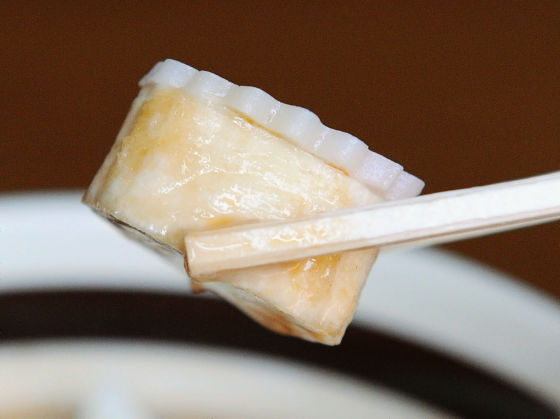 There is a banana in round and round with "Peron".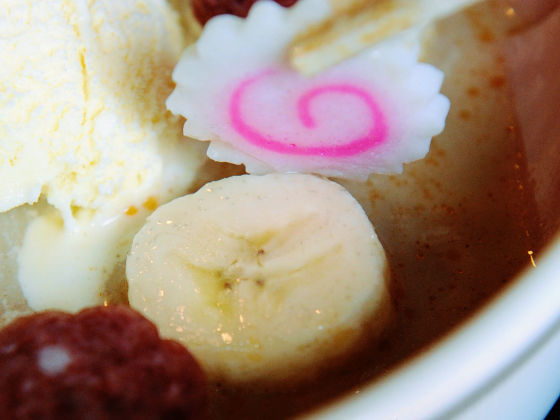 Kiwi is like this.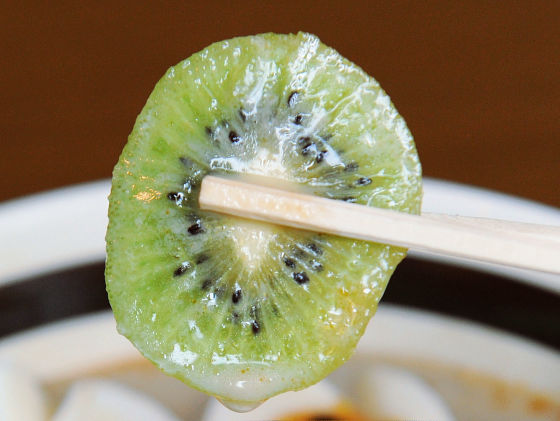 Boiled eggs are hard boiled.



And coffee beans are embedded in the center of the yolk.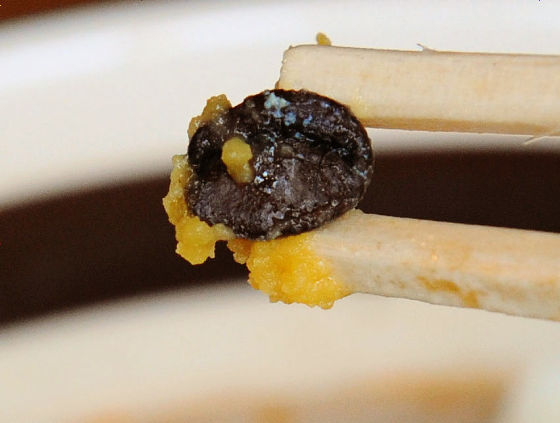 One scoop of vanilla ice is settled in the center.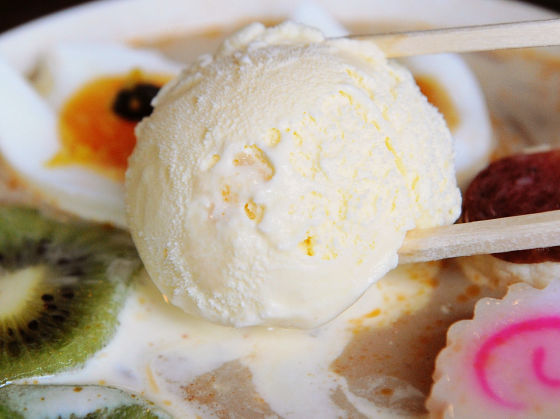 Half moon shaped ham is like this.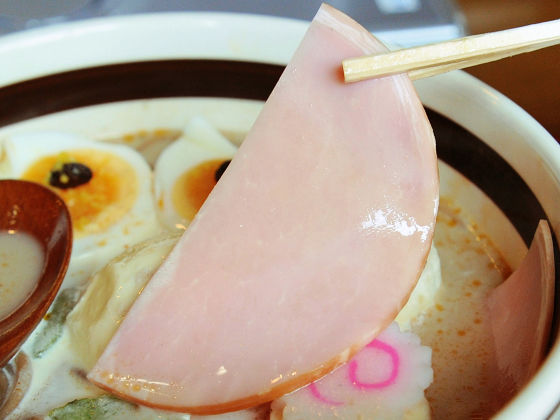 Homemade noodles in which coffee is kneaded are as follows. Although it is a texture close to buckwheat rather than ramen, as it smells like "buki" and coffee at the moment of putting it in the mouth, it has become a peculiar taste that can not be compared to anything else.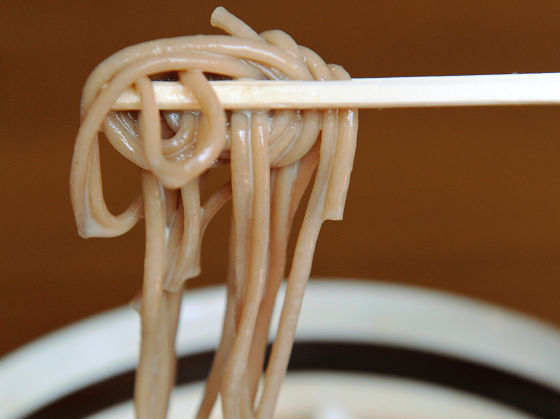 The soup is a cup of cup and half a cup of coffee and buckwheat noodles and milk. It is a pretty sweet seasoning, so it makes me feel like drinking iced coffee with syrup, but of course there is salty so it is so complicated that I can not understand what I am eating any longer.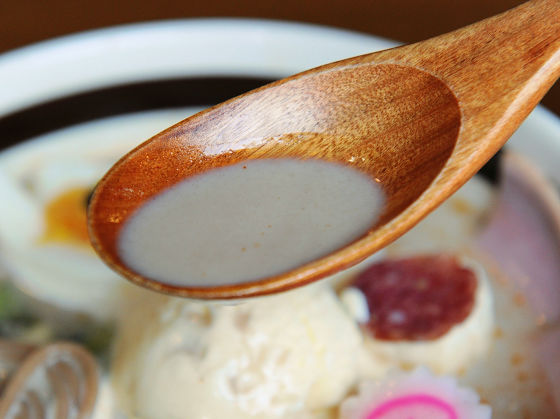 Further sweetness increases as ice melts ... ....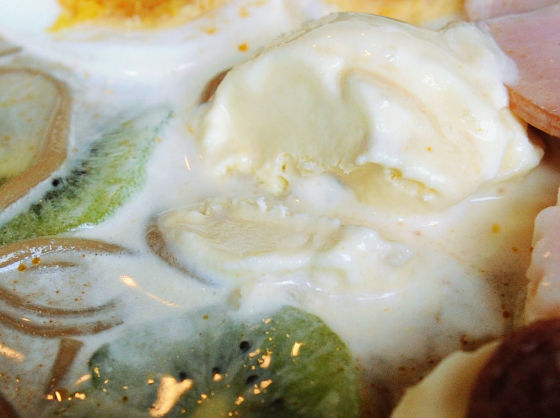 You can eat "something" that you have reached a new area that you can not talk about in traditional cuisine division that you do not know whether it is sweet or buckwheat when it is tied up with noodles.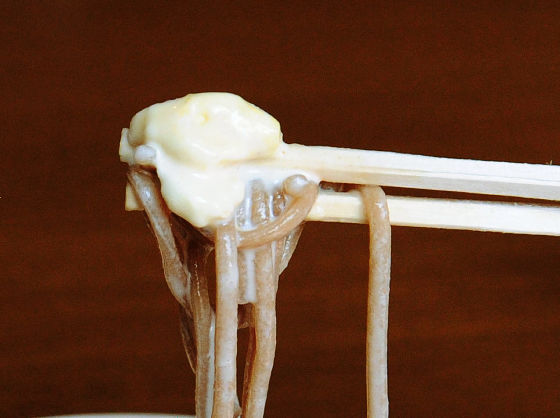 It is said that something red floating on the soup is not sesame oil but sesame oil, but there is little presence as it has a strong scent of coffee.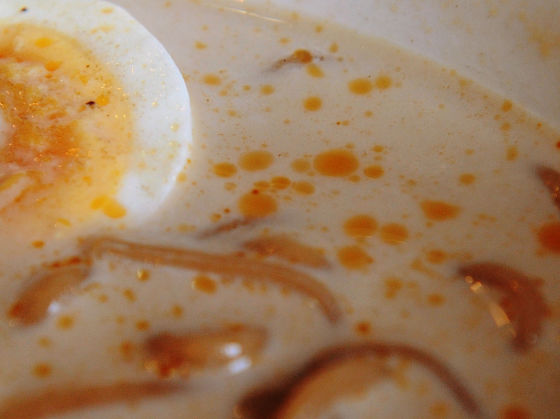 Furthermore, cheese can also be topped.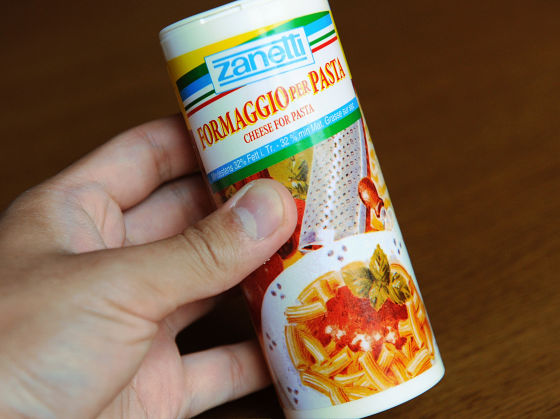 The odorous peculiar fragrance is so tight that it is safe to avoid avoiding quite a cheese.



By the way, when I asked the master how to add this "coffee noodle" to the menu, "I wanted to have a coffee shop originally, but thinking that there is no feature in a coffee-only shop is weak, so use coffee So I tried to do something plus alpha.At 30 years ago I made coffee men and so I started coffee noodles at the ramen boom about 10 years ago so I put it in a normal soup at first I was doing, but I am somewhat uninteresting, so I made it out of my soup with coffee. "

Although it is not included in the menu, I had a cup of iced coffee served after the meal. It is a cup that will make your mouth refreshing with strong sourness and strong aroma.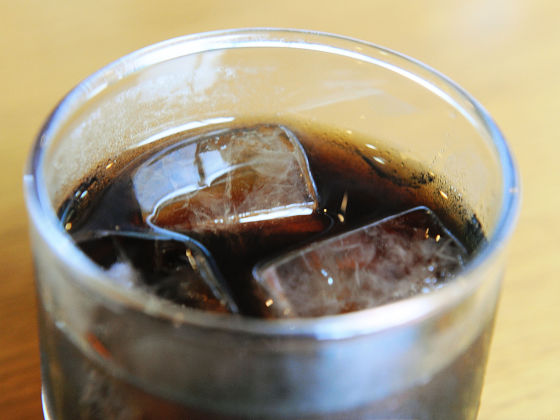 "Coffee noodles" can also be purchased by telephone or fax.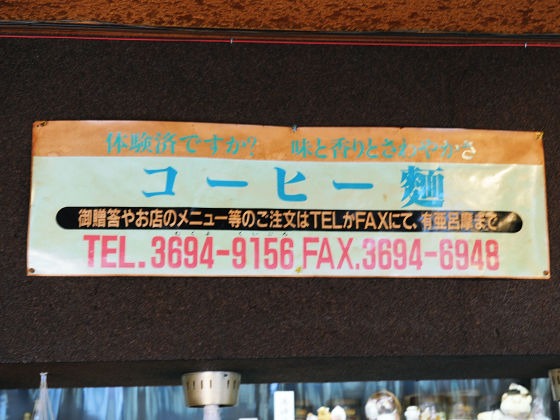 Even inside the store, it is sold at 300 yen including tax per bag.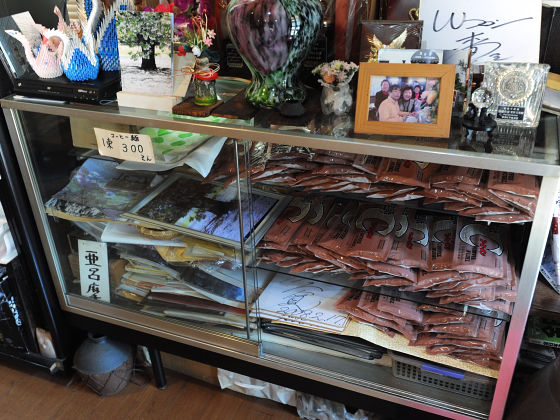 The package looks something like this.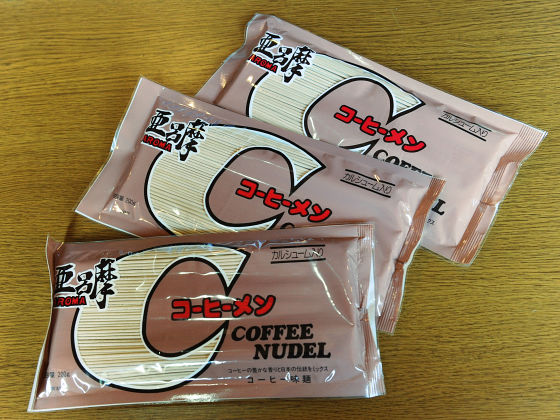 Simply boil for 5 to 6 minutes with boiling water OK.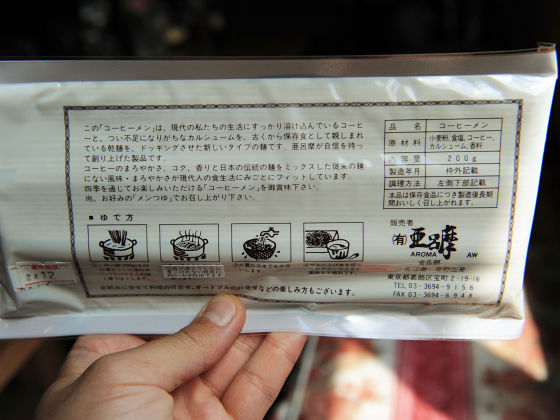 The content is about 200 grams.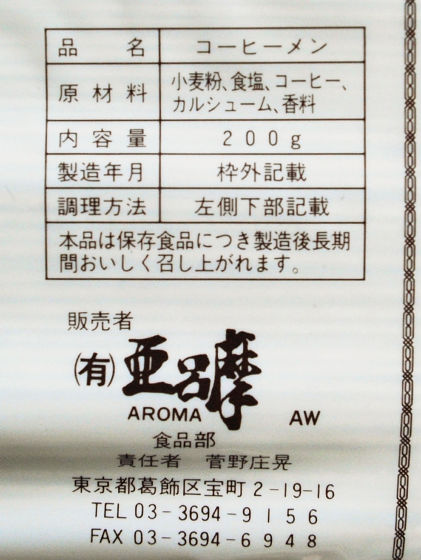 In addition, "Coffee Men" has been on sale for thirty years ago, and that he is registering trademarks. Moreover, in the future it is planned to commercialize coffee bean pickles such as "Cafe nouma".

Therefore, "Ice coffee noodle" is definitely different from original drinks and dishes while combining rice coffee and coffee, as well as cooking all over the world. So, it is not a taste that tastes good not only because it likes ramen and coffee individually but it is not a taste that can be compared to something else but because I want to try a dish that changed anyway "," I want to eat rare dishes "Recommended for those who like.