"Shander rail" in which nothing is contained in the crepe but can only be made with cloth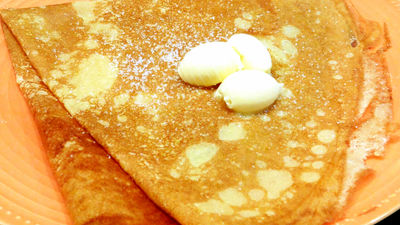 Speaking of crepes, take-out shops are common, but you can eat crepes at the level you should use knives and forks like restaurant cuisine "Chandeleur (chandeliers)"There is a crepe that is competing only with the skin of the dough without any ingredients in it", so I went to see how much it was.

Crepey Stand · Chandeliers | HOME | Creperie Stand Chandeleur
http://www.chandeleur-crepe.jp/

The place is "Umeda Gate Tower 1F" 1-9 Tsuruno cho Kita-ku Osaka-shi Osaka prefecture 530-0014 Osaka prefecture.

View Larger Map

Suddenly arrived safely before the heavy rain · heavy rain.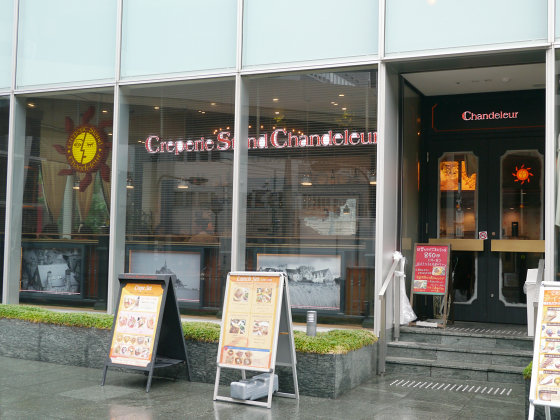 When entering the shop, the burning smell of crepe covers the inside of the shop, and surely it is unbearable in favor of sweet things.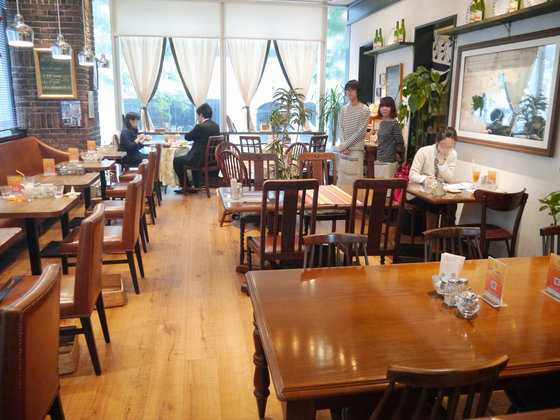 The customer base is of course mainly women, but sometimes a combination of male and female.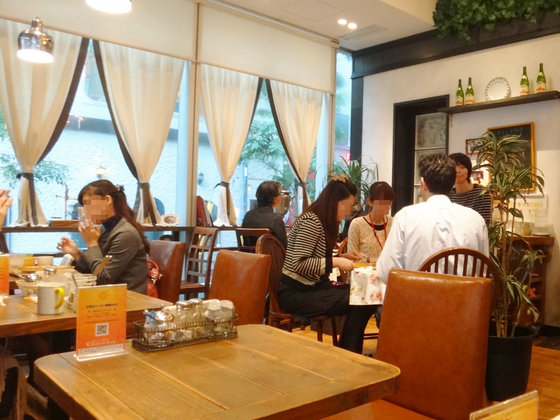 This is "Shukure" (600 yen including tax) which does not contain any ingredients inside.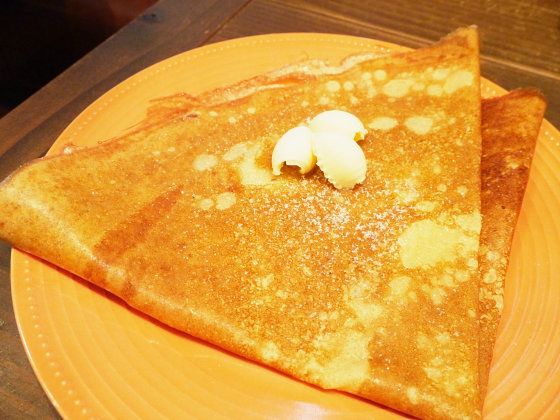 Topping is fermented butter of French "Esirebata" and sugar only.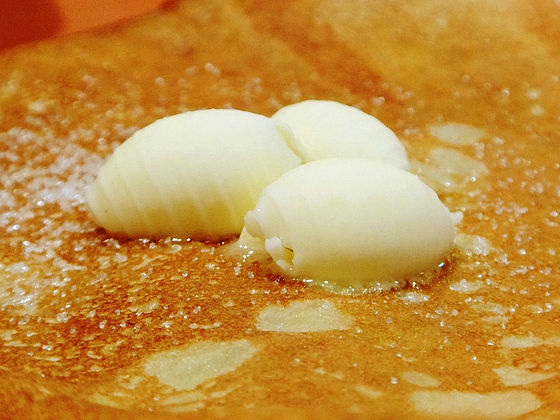 I will blend the butter into the dough.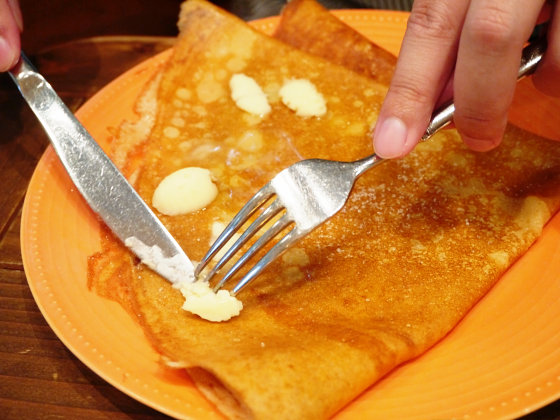 Butter which melts out and it melts. As you can see at this point, it is considerably hot impression than ordinary crepe fabric. The normal crepe makes the fabric considerably thin and puts cold ingredients in it and winds it, so the temperature drops quickly, but this crepe thickens the fabric, and by folding it as it is, the heat gets inside As a result, when putting butter and sugar on top it melts with its heat, and the taste adapts to the whole. I am well done.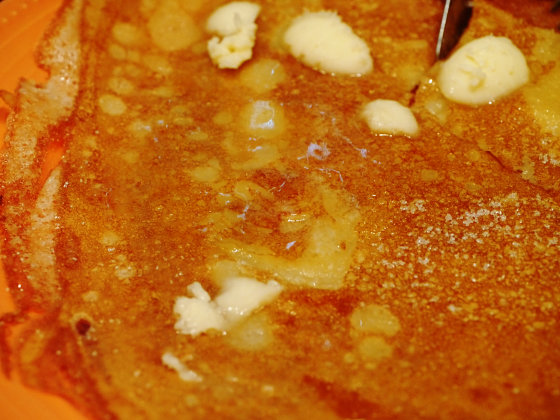 Okay, we will. When you put the knife in it, you can cut it off with a snap, but when you eat it, you can enjoy the mouth feeling of thin but mochi. Because of the rich buttery umami, sweetness of sugar plus some salty taste, you can feel the taste that is deeply deeply unexpected from a simple look. I feel like I wrapped it with soft cloth like waffle of fawker and cookie sweetness.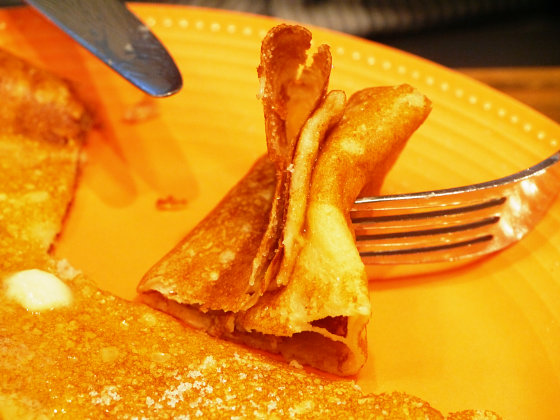 Although you can tell by looking at the picture of the crepe set menu, the point is that ingredients are not placed on the crepe as a common "image picture of crepes", but they are really offered as they are. There is also a seasonal menu, and will be replaced with new ones for each season.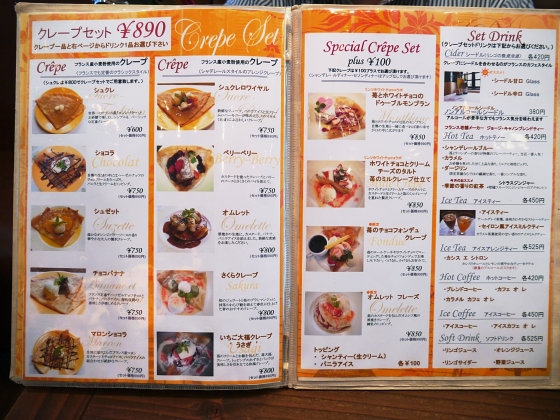 That is why I used this cloth which showed extraordinary degree of completeness even if I was a single unit before this "White chocolate with Linz 's Doubles Mont Blanc with strawberries" (850 yen tax excluded)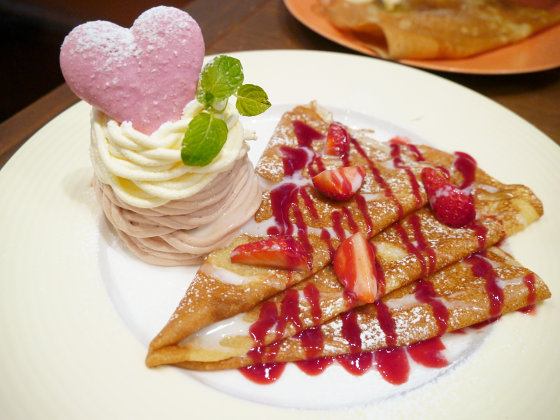 Place the strawberry on a soft cloth and attach a Mont Blanc mousse. Even if the taste of the mousse is added, the acidity and sweetness of the strawberry are felt firmly. However, because the taste of the ingredients is strong, it is a bit disappointing that the taste of the original fabric can not be tasted firmly after eating "Shukure".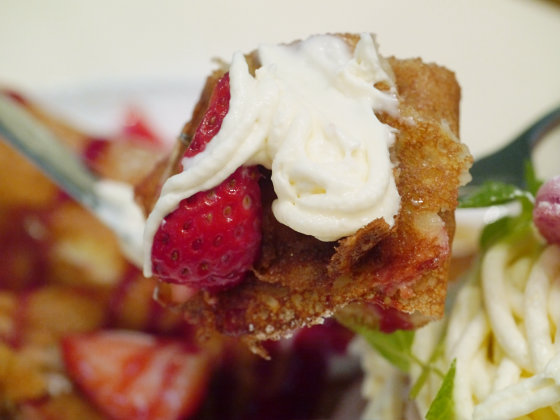 Even so to speak, the combination of strawberry and mousse is excellent and neither sweetness of each other is drowned out, and it is wonderful that it is gathered up as one taste well.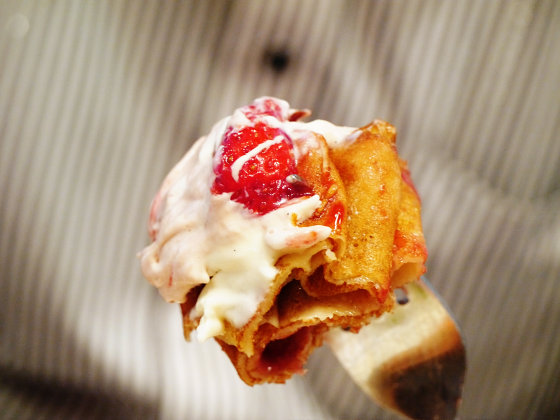 The inside of Mont Blanc was ice cream on the top and Macaron on the bottom. Even though it is said to be crepe, there is considerable eating response with full volume, and it is perfectly recognized as 'simple meal' rather than sweets.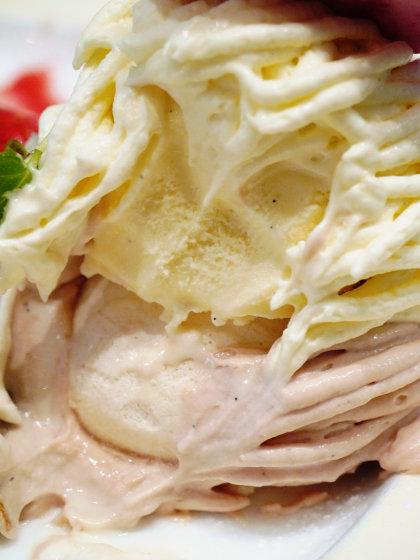 Also, not only crepeGaletteBecause there is also, it is possible to order lunch set menu from 11: 00-17: 00.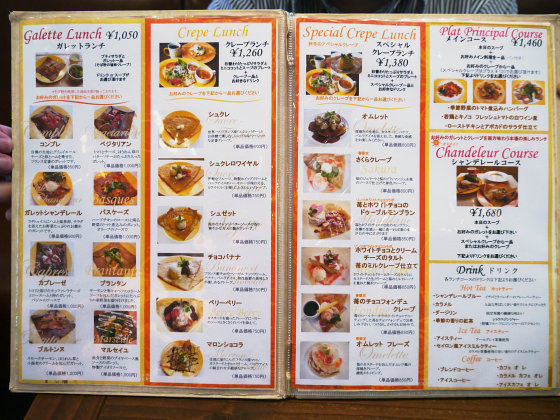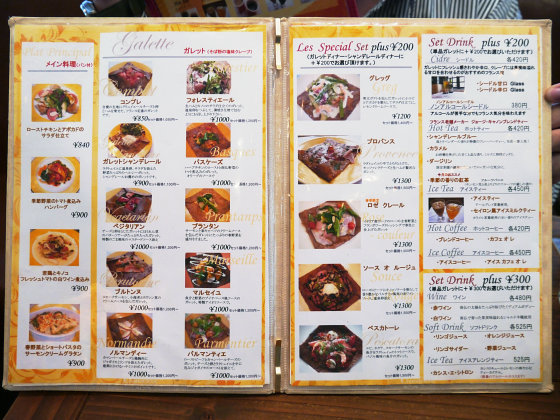 The business menu for weekdays only is not crepe, but "main garret" is the main, there is also a daily menu.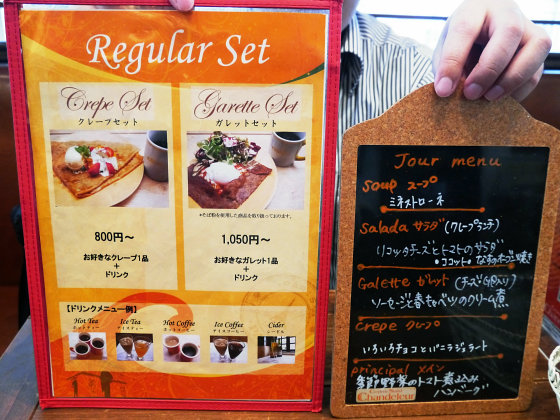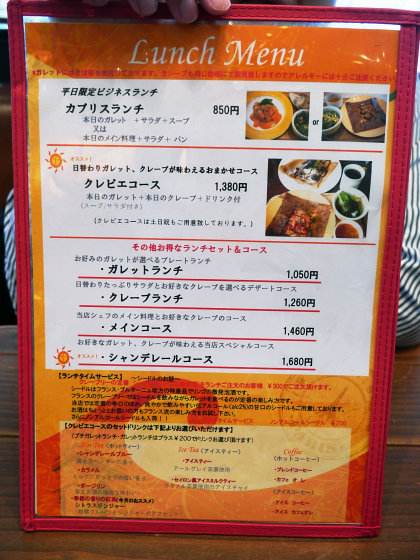 This is a seasonal menu "Rose Cruel" (1300 yen including tax)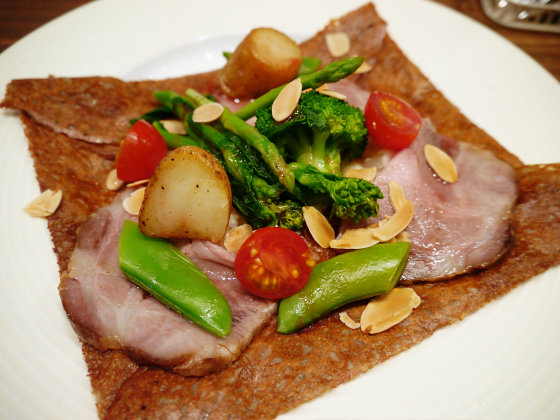 Roast pork which is the main ingredient. There is grease, there is a response to eat.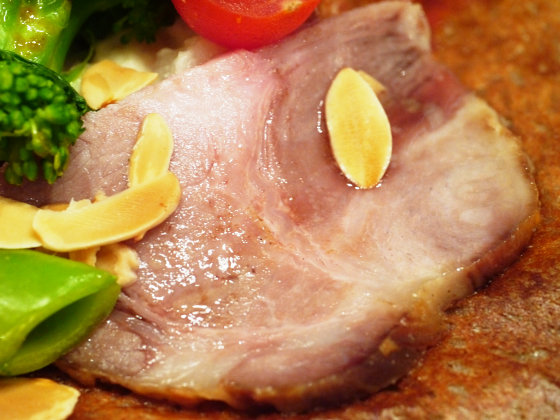 Vegetables are broccoli and asparagus, and potatoes, tomatoes, peas.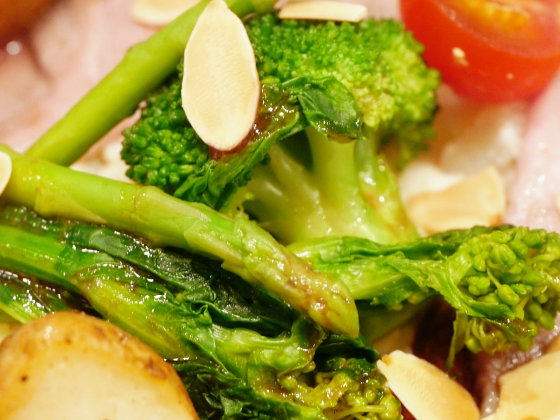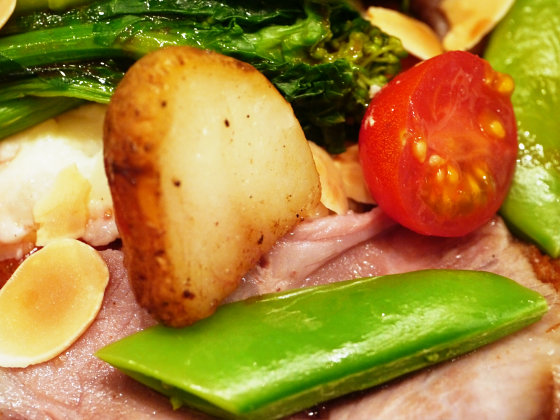 The front side of the fabric is crispy, but the inside has a moist and dusty feel. The seasoning of the roast pork is refreshing for the appearance, and by matching with the vegetables, the moderate pork umami and salty are mixed with the potato taste, and the volume is unexpected as it looks. Although Galette seems to be petty, there are ingredients properly in the inside, and furthermore there are a lot more on the top, so it is quite a lot when thinking carefully.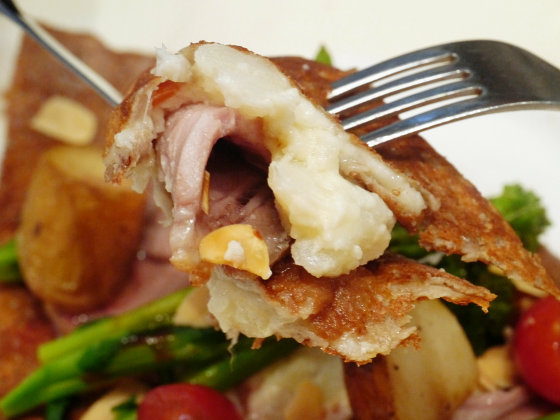 This is "Garrett Chanderail" (900 yen including tax)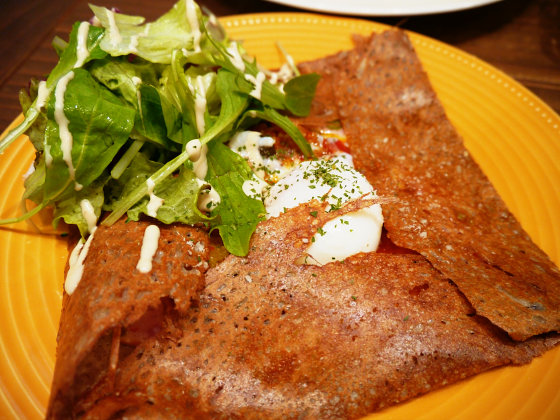 I wrap Ratatouille, a cooked dish of vegetables, with cloth, on which spa eggs are on board.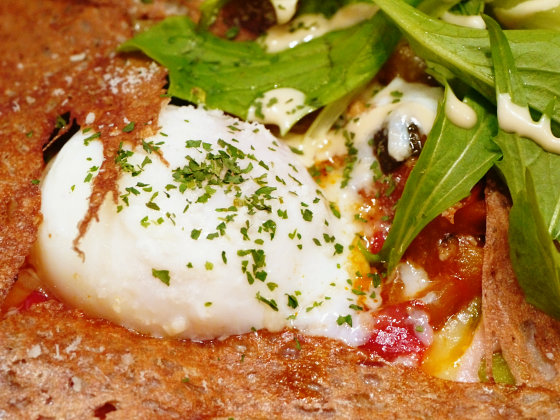 When putting a knife in hot spring eggs, the yolks of Trotoro will flow out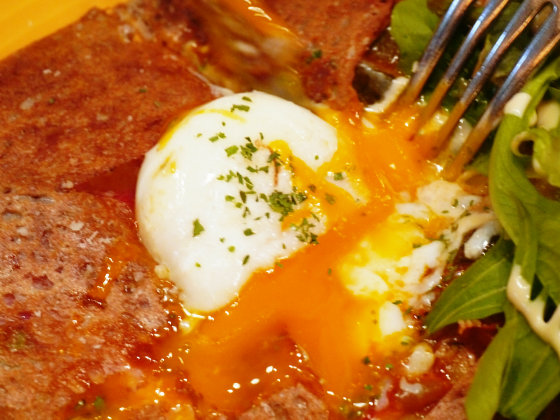 It will depend on this flowing yellow body to steer well.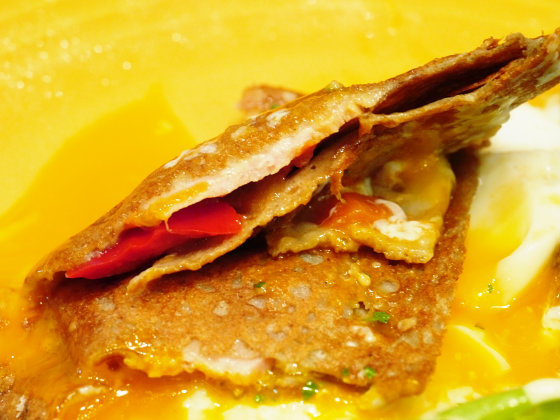 With such a feeling, attach a hot spring egg as a trolley. The sweetness of the egg melts into the tomato's sour taste, so the taste has increased in depth, and the texture of the dough with mochi is added to it, and the response to eating is enough. Also, because there are hurdles to eat the ingredients and fabrics together well, the number of bite will increase as a result + that it will not enter much in the mouth at once, it takes surprisingly long to eat. It is an image that takes time when you arrange the ingredients and covered sauce moss burger on the dish and eat it.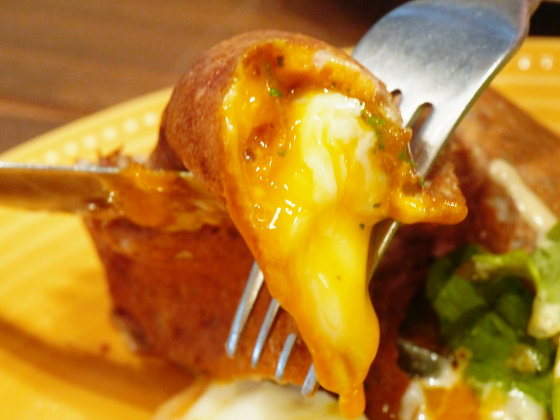 Moreover, although I do not know from the appearance of the store at all, since there is also a takeout menu like an ordinary crepe shop, first I ordered a 300 yen "butter and sugar", "Nothing included in crepe It is ok if you order after leaving your interest, after confirming that you can go with cloth only though it is not.