It suddenly repelled broken PC memory when using CFD's "permanent guarantee" repair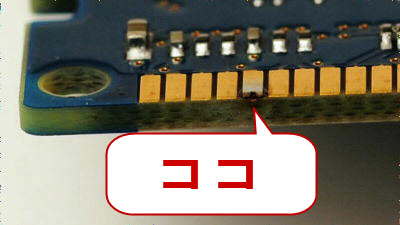 I noticed that the operation of the PC used in the editing department was somewhat heavy, and when I looked at various things, it turned out that the installed memory was not correctly recognized.

When I tried out the problem memory, it looks like no problem ... ...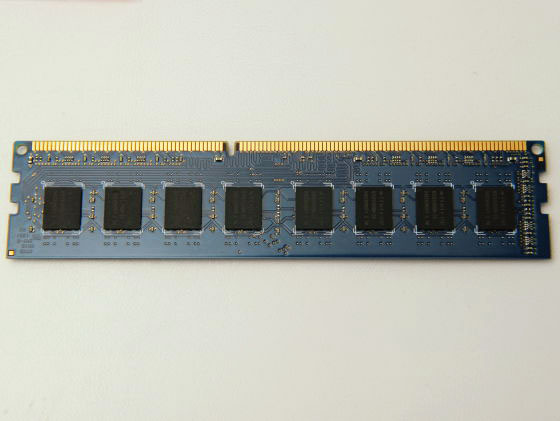 Looking at the other side, the left terminal is discolored.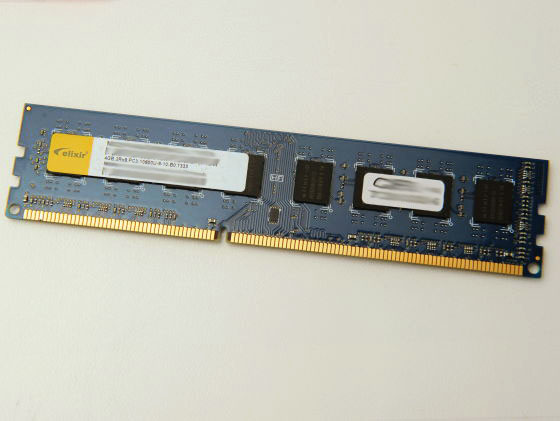 Looking like this when it is near. Although the cause is unknown, it can be confirmed that parts are missing as discolored as burned.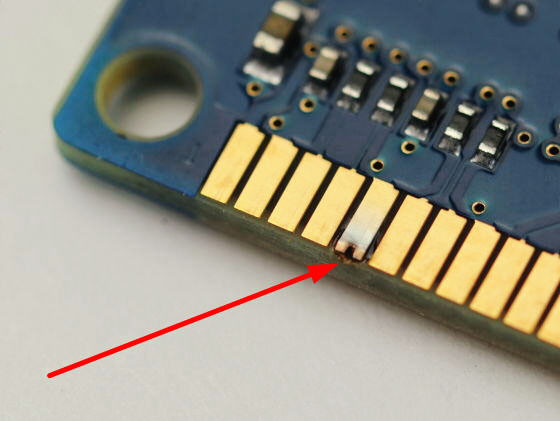 So, when I thought about considering replacement, this memory was sold byCFD saleI remembered that it was doing "permanent guarantee", so I decided to ask for repair.

First of allE-mail address written on this pageSend inquiries to.

About "Sea F · Day sale Elixir desktop memory DDR3 T3U1333Q-4G DDR3 PC 10660 CL9 4GB 3 piece set"

I confirmed that one of the 3 cards I purchased at Amazon was not recognized from my desktop computer.
Therefore, I'd like you to exchange, but what kind of procedure should I do?

Then, there was a reply like this.

This time, thank you very much for your purchase of our products sold.
Moreover, we are sorry very much for inconvenience.

We will inform you about the repair procedure of our sales products.

Regarding repair, in addition to products requested for repair,
Fill out the necessary items on the "Repair Request Form" attached to this e-mail,
Please send the following to us.
* When you send us, please fill out the "repair receipt number" in the remarks column of the cover letter.

Repair receipt number: XXXXXX (It has been modified with original text amended)

· Repair request product
· Request for repair (Those who have printed the attached document of this mail, you agreed.)
· Our company or manufacturer warranty card
· Copy of proof of purchase (receipt etc)

[Sender]
〒 457 0831
4-6-1 Arahama-cho Minami-ku Nagoya-shi, Aichi
CFD Sales Co., Ltd. Refund Center Return to repair staff

※ Sorry for your inconvenience but please be sure to sign the agreement column of "Repair Request Form".
If there is no entry, we will return the repaired item.

After the defective product arrives at the repair window,
We will deliver it in about 2 to 3 weeks.

Since the record which I purchased at Amazon was still in PDF, I print it first.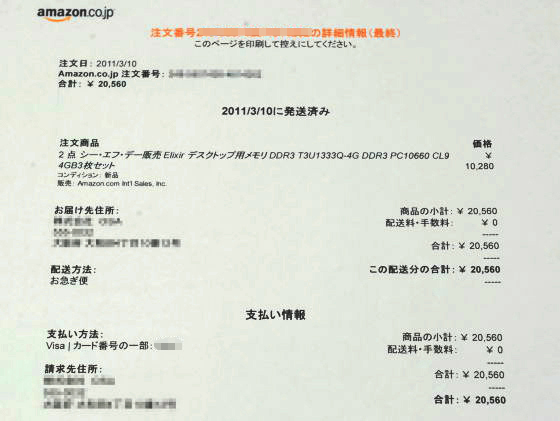 In addition, print out the repair item request form attached to the previous e-mail, fill in the necessary information and sign.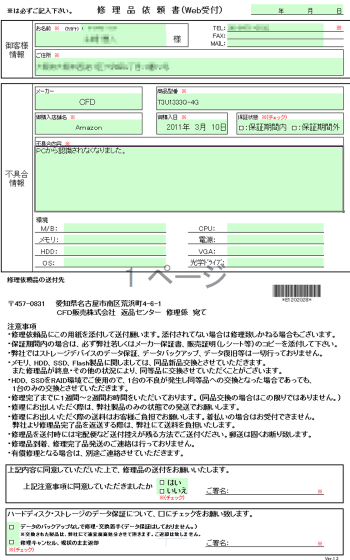 Afterward, you should send the broken memory and the above documents to CFD by post.

A parcel was sent back after 5 days, with Saturdays and Sundays in between. Impression that you can respond quite quickly as it becomes real calculation, the shipping is over in 1 day.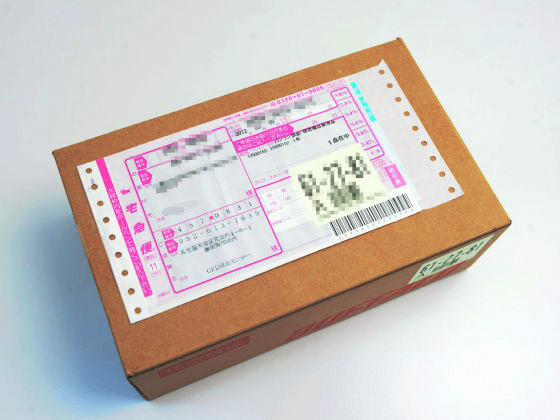 It is wrapped firmly in the air cushion.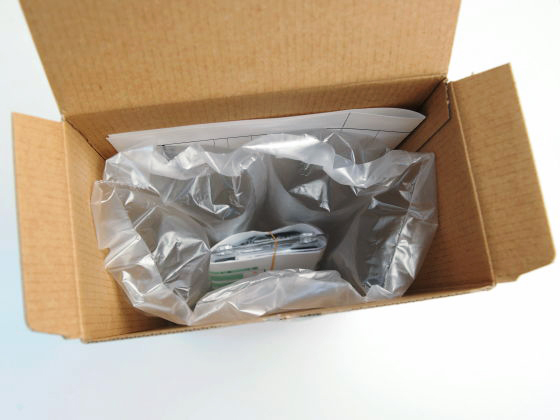 The attached document has clearly the word "free repair". Although it costs a shipping cost only at the time of sending the defective part at the beginning, the additional part fee and the shipping fee of the replacement part are unnecessary. In addition, it seems that it is not necessarily translated in any case, so be careful.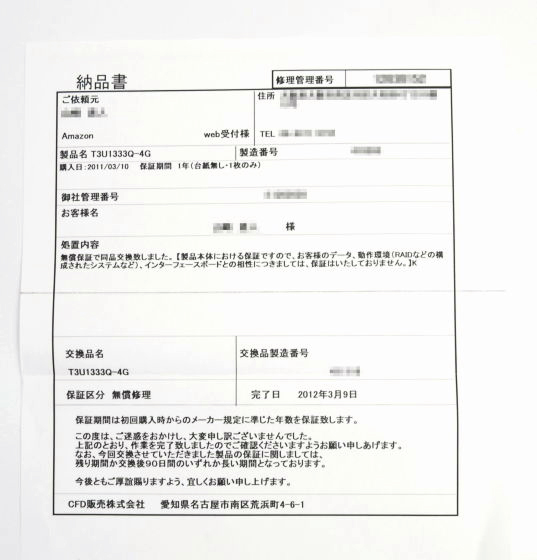 A new memory arrived in the case arrives as follows.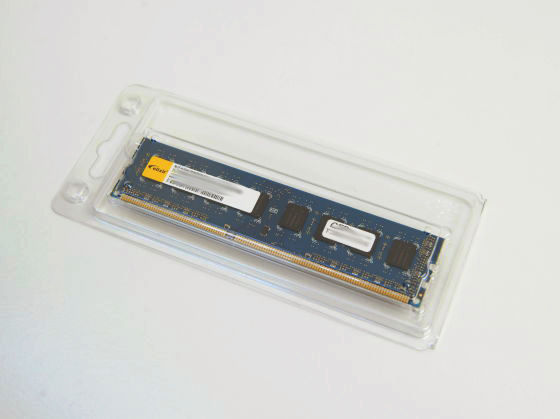 After that it should work without problems if you replace it.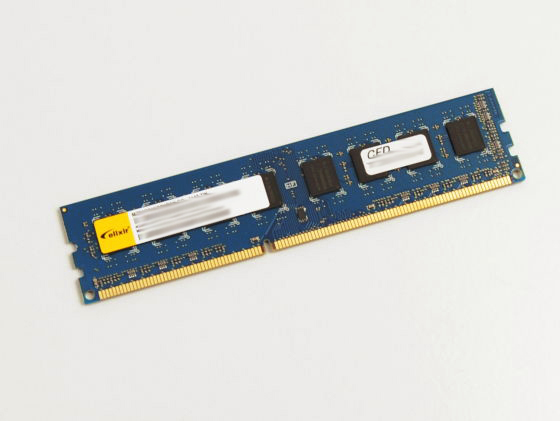 It is commonplace to say that it is natural to say that it is a product that sells free repair so that it can be exchanged, but it is still convenient to be able to respond properly in this way. Of course, it never happened that the parts did not break, but it is safe to be able to exchange without trouble even in case of emergency.