Panasonic, Blu-ray recorder "DIGA" mistakenly loaded with half the HDD capacity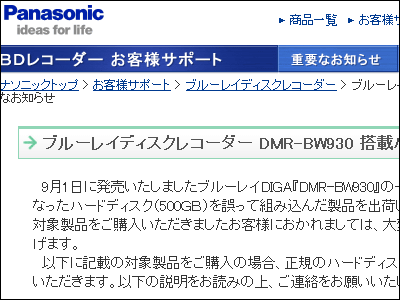 It seems that the trouble occurred that Panasonic's latest model of the Blu - ray recorder "DIGA" that is on sale, mistyped the capacity of the installed HDD.

According to this, the capacity of HDD is half the specification.

Details are as follows.
Important Notice on Hard Disk Errors Installed with Blu-ray Disc Recorder DMR-BW ​​930 | BD Recorder | Panasonic Customer Support | Panasonic

According to this page, the latest model of the Blu-ray recorder "DIGA" released on September 1DMR-BW ​​930"It is said that 500 GB of HDD was installed instead of the 1 TB HDD that was planned to be installed in part of the shipment (49 units).

The serial number of the target is "KS8GA001001" - "KS8GA001049", and the serial number can be confirmed with the seal on the left side of the main body rear side or the guarantee envelope, packaging box.

Although the target product is said to be exchanged for a product with a regular hard disk, it is said that the program recorded on HDD with the product before replacement can not be transferred to the product after exchange.