Machi ★ Asobi Vol.8 is scheduled to be held from May 3rd to 5th, the implementation of the museum under the bridge also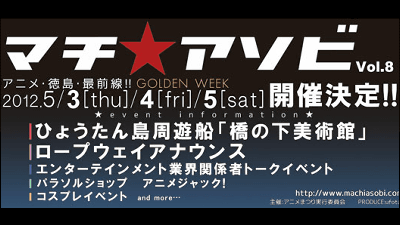 Event held from October 2009 "Gusset ★ AsobiVol.8 ofHeld from May 3rd to May 5thIt was announced that it will be done. It is an event that 50,000 people gathered at the last time (Vol.7), but how many people will visit Tokushima during the GW period?

Machi ★ Asobi vol.8
http://www.machiasobi.com/vol8.html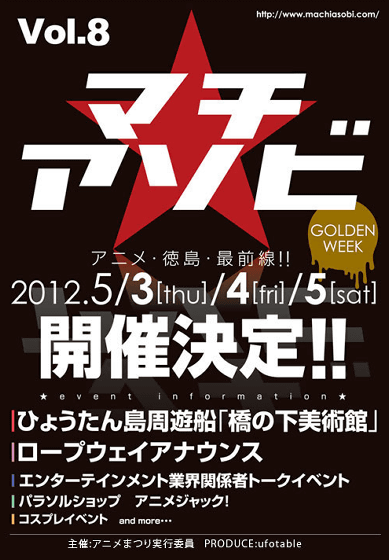 Although it was written secretly in the leaflet that was bundled with Fate / Zero 's Blu - ray Disc Box released on March 7, the schedule of the Machi ★ Asobi Vol. 8 will be from May 3 - Three days of May 5th. At the moment we are announcing the implementation of "Hyogo-jima Roundtable Boat" Under the Bridge "," Ropeway Announcement "," Entertainment Industry Participant Talk Event "," Parasol Shop Anime Jack "and" Cosplay Event ".

This is the eighth time we have "Tokijima asso-bashi assobi" event "Machi ★ Assobi", but in the same way we held the 2010 "Machi ★ Assortment 3, "2011"Machi ★ Assov 6"there is. Since it was held three times a year so far, it is not amusing at Vol.9, but the winter gore ★ Asobi held in January to February was a holiday, so the numbers are out of order.

"Bridge under the bridge"Was an event that saw the museum under the bridge. As Tokushima city is just river flowing around the center, I will stretch a big illustration under the bridge and see it on a roundabout ship.

Vol.3 was just before the release of "Evangelion New Theatrical Version: Destruction" Blu - ray, so the illustration etc was extended.

"Eva under the bridge, Hatsune Miku," Bridge under the bridge "where Illustrations of both ceremonies are seen from the ship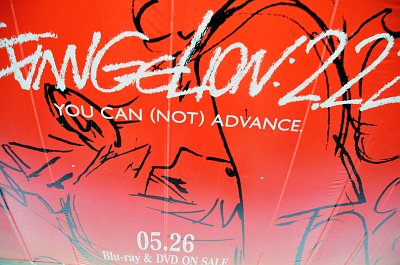 An illustration such as "Carnival / Fantasm" which was just before the release in Vol.6 appeared.

"Magical girl Madoka ☆ Magica" and "Fate / Zero" color the under the bridge "Bridge under the bridge"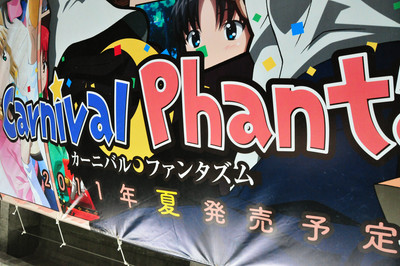 "Ropeway announcement"Is a familiar event at Asobi. Machi ★ In the center of Tokushima city which is the stage of Asobi, there is a mountain called Mt. Bishan, and a ropeway to the summit is in operation, but this announcement is in charge of voice announcements and artists for a limited time. Mr. Maaya Sakamoto, Takashi Kondo, Ms. Nana Mizuki, Aiki Toyosaki, Mr. Suzumura Kenichi, Mr. Sawashiro Miyuki are in charge. In Vol.7, Yukari Horie of "Gakuen Yu Pia A Manabi Straight!", Mr. Kenya Koyama and Ayako Kawasumi of "Fate / Zero" Miyami Kiri Tsuyoshi each as a character guidance We did.

"Entertainment industry stakeholder talk eventIs a talk event saying that people who are active in the industry such as animation and games talk about including stories that can not be said if they are very usual. For example, "Fate / Zero" was done at the stage when it was produced and released yetTalk event in May 2011 (Vol.6)So, it is told that Fate / Zero has been made with the high quality seen in PV, this story is also talked about, and it took more than one year since "Gyo" released in the animation library got into drawing, OVA っIt was told that it is becoming a ridiculous work that is not a level.

A part of the venue is along the Shinmachi River running through the city, but there are manyUmbrella shopWill be opened. Of course it is a store space and a food store,Autograph Author of Kaori GenIt is done,Autograph session by Makoto ShinkaiIt is also a mysterious space to be done.

"Cosplay Event"Because clothing lending is done under the cooperation of animation shop, you can see how cosplay people are overflowing here and there.Cosplay fashion showEven people who do not usually do cosplay will be able to enjoy cosplay with friends in a casual way by inviting friends.

Moreover, although it is not included in the announcement,CGM Marketplace 2012 Spring held also decideddoing. This is the same as Wonder Festival, an exhibition spot sale event of voluntary production that copyright is available on the day, at the time of implementation in 2011A ridiculous queue formed by nitroplus exhibiting "Kyubebe sticker"It was done.

Opening of ufotable cinema is decided on 18th March, there may be implementation of the plan linked with this, and it is completely unpredictable how many participants gather. Participating guests will be announced from now on, so please look forward to it.
in Anime, Posted by logc_nt