"Megaupload" closure & FBI arrested the operator, found out the surprise management status and amount of earnings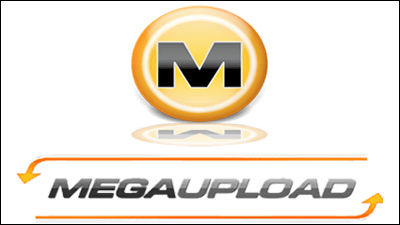 A major storage service capable of sharing files onlineMegaupload"Investigation by the US Justice Department and the Federal Bureau of Investigation (FBI) entered, seven administrators were indicted. As a result, the site is closed.

BBC News - Megaupload file - sharing site shut down



The Mega empire: Details of the MegaUpload indictment - Tech News and Analysis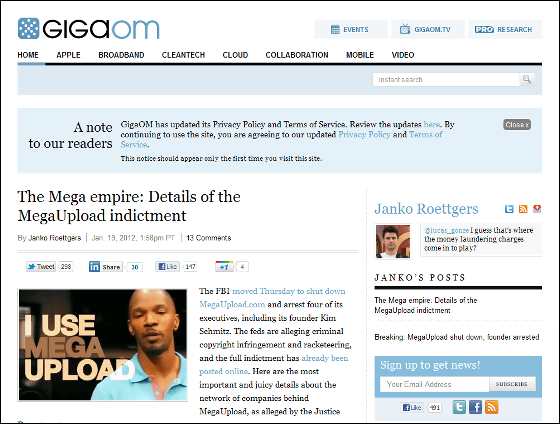 Megaupload is one of the famous online storage services, a service that can upload files of 500 MB per file for unregistered users and 1 file 2 GB for registered users. Storage capacity of free registered users was 200 GB, unlimited use was possible if they were paid members.

According to the Justice Department and the FBI, the total damage caused by Megaupload's copyright infringement exceeds 500 million dollars (about 38.5 billion yen). Currently, the US Congress is discussing a "Stop Online Piracy Act (SOPA)" bill that prohibits online piracy, but Megaupload has already been arranged two weeks ago.

Co-founders Kim Dotcom (Kim Schmitz) and Mathias Ortmann were arrested in Oakland, New Zealand, with two other employees. A search warrant issued more than 20 in nine countries, and 50 million dollars (about 3.8 billion yen) was seized.

Current,Megaupload.comWhen accessing, the FBI pirated disk warning document is displayed.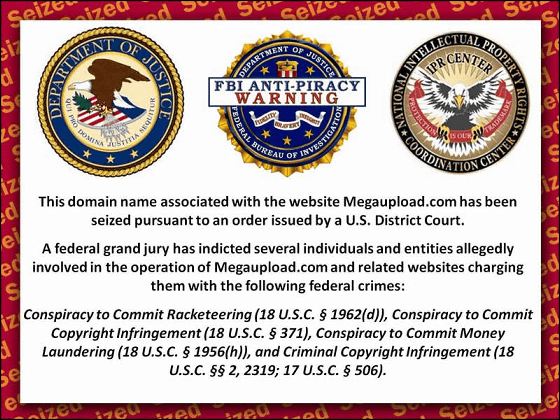 A complaint has been uploaded to Scribd.com. According to this, Megaupload gains profits of more than $ 150 million (about 11.6 billion yen) from paid members, $ 25 million (about 1.9 billion yen) in advertisements, and more than $ 175 million (about 13.5 billion yen) He said he was raising it.

Mega Indictment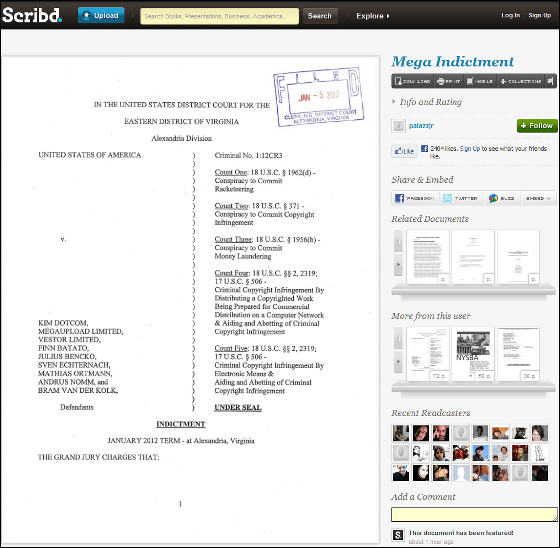 According to the summary of GigaOM,
· Megaupload had a main server at the hosting provider "Carpathia Hosting" in Virginia. The number of servers is over 1000, the total capacity is 25 petabytes.
The second largest data center is in the Netherlands, borrowing over 700 servers from a company called Leaseweb.
· Users paid over 110 million dollars (about 8.5 billion yen) via PayPal.
· More than 30 employees worked in nine countries.
· FBI and national police institutions seized more than 30 cars and motorbikes including 60 bank accounts, massive PayPal accounts, Mercedes Benz and others.
· According to Kim Schmitz's claim he owns Megaupload.com, Megapix.com, an image hosting site, 68% of Megaclick.com, an affiliate site, Megavideo.com and Megaporn.com, 100% of Megapay.com.
· CTO Mathias Ortmann owns 25% of this Mega Empire.
· Megaupload employees copied movies from YouTube to promote the use of the site, as evidence "Keep downloading YouTube movies valid, Kim Schmitz said that this is the top priority "Kim really wants to copy the contents of YouTube one-on-one (whole)" There is a mail left.
· In other mails, it is recorded that the executives were discussing how to reward users who uploaded a specific DVD or work.
· We have also found an e-mail that resemble ourselves as a modern pirate.
- Megaupload programmer uploaded many DVDs to the site.
It seems that the facts are known.

If it is just saying "the illegal file was ready to be up"YouTubeAlthough it is likely to close as well in the same way, the 10th page "21", "22" of the complaint probably comes close to the core, even if the copyright owner deletes it using the deletion request tool, it actually uploads There are multiple link URLs in the file,Files on the actual server are not deleted, only one of the URLs is deletedAnd thisThe deletion request tool was practically not functioningIt seems.

たとえば、ある「A」というファイルについて「http://www.megaupload.com/?d=1」「http://www.megaupload.com/?d=2」「http://www.megaupload.com/?d=3」というようにしていくつもURLが生成され、このうち著作権者が「http://www.megaupload.com/?d=1」に対して削除依頼を出した場合、あくまで「http://www.megaupload.com/?d=1」というURL経由でのアクセスができなくなるだけで、アップロードされたファイル自体は削除されていないので、相変わらず「http://www.megaupload.com/?d=2」「http://www.megaupload.com/?d=3」ではダウンロード可能な状態になっていたというわけです。

Megaupload temporarily canceled the download speed limit which had been used just before closing the site, so it temporarily occupied 57% of the bandwidth of the world. By doing thisDropboxIt has crossed the traffic of.

Before shutdown, Megaupload ate up more corporate bandwidth than Dropbox

Just the other day, Megaupload has posted a CM movie sung by artists such as "I love Megaupload!" On YouTube, and it has become a trial with a record company which deleted it.

Megaupload is in conflict with a record company over advertisement, CEO turns out to be a famous music producer - Engadget Japanese

The movie of that problem is kore.

Megaupload Mega Song HD - YouTube


There are many other online storage services, but there seems to be a need to watch closely together with the SOPA case as to whether there is any movement due to this closure.