US police and law enforcement agency confidential document 270GB stolen and open to the public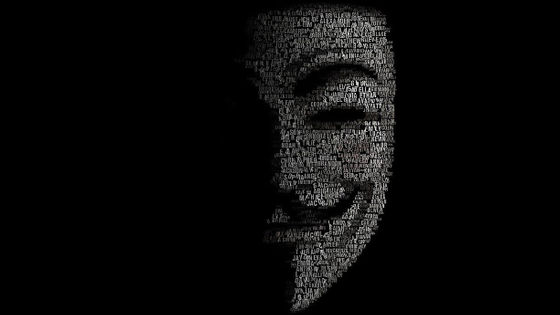 Activist group 'Distributed Denial Of Secrets (DDo Secrets)' has released data stolen from more than 200 police stations and law enforcement agencies in the United States. This data is named 'BlueLeaks' and contains 1 million scanned documents, videos, e-mails, audio files, and 270GB files. The case is believed to be the largest data breach by law enforcement agencies in American history.

Anonymous Stole and Leaked a Megatrove of Police Documents | WIRED
https://www.wired.com/story/blueleaks-anonymous-law-enforcement-hack/

BlueLeaks: Data from 200 US police departments & fusion centers published online | ZDNet
https://www.zdnet.com/article/blueleaks-data-from-200-us-police-departments-fusion-centers-published-online/

'BlueLeaks': Group Releases 270GB of Sensitive Police Documents-VICE
https://www.vice.com/en_us/article/akz3qg/blueleaks-group-releases-270gb-of-sensitive-police-documents

DDoSecrets is a group of activists working to leak sensitive information for the public good, also known as ' Wikileaks alternatives.' On June 19, 2020, DDo Secrets released more than 1 million pieces of data stolen from US police stations and law enforcement agencies as 'Blue Leaks.' According to Emma Best, founder of DDo Secrets, BlueLeaks data came from the hacker group Anonymous . BlueLeaks can be accessed from the following URL.

BlueLeaks-Hunter Memorial Library
https://hunter.ddosecrets.com/datasets/102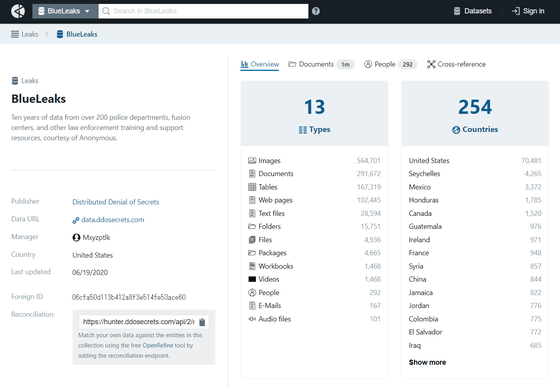 Security journalist Brian Krebs, who runs the security blog 'Krebs on Security,' said the Blue Leaks report on the National Fusion Center Association (NFCA) dated 20 June 2020, which encourages law enforcement agencies in metropolitan areas to collaborate. Pointed out that it is included. According to the NFCA, the leaked data is for almost 24 years from August 1996 to June 19, 2020, and the leaked document contains a lot of personal information such as name, email address, telephone number, and image. It is said that. In addition, Krebs said that some of the email attachments contained personally identifiable information such as international bank account numbers and financial data, and law enforcement data even contained images of suspects. I mentioned.

The NFCA said data released by BlueLeaks was leaked after a security breach in Houston-based web development company Netsential . Netsential director Stefan Gartrell declined to comment on Krebs' interview.

Published BlueLeaks data was scrutinized by participants in a series of protests over anti-city blockades against DDoSecrets, Anonymous, and the new coronavirus, and George Floyd, a black man who had been whitewashed by a white police officer. It is said that there is. BlueLeaks reveals how law enforcement interprets a series of protests and antifascist movements such as Antifa . In one example, the FBI reports that 'Protesters in the George Floyd case were controlled by Antifa and were paid in Bitcoin.' The FBI cites two websites as proof, one of which is clearly fake.

#BlueLeaks shows FBI + law enforcement buying into far-Right conspiracy theories.In #SanAntonio ,FBI reported that #GeorgeFloyd protesters were being paid in Bitcoin and 'managed by members of Antifa.' Their evidence is two websites, one which openly claims to be fake. A thread.pic.twitter.com/VsRCt9SAO1

— It's Going Down (@IGD_News) June 22, 2020


Below, it is shown that the FBI monitored Twitter and reported users who made inappropriate tweets to local police.

The FBI is watching all tweets regarding the protests, and sending them to your local police. #BlueLeaks pic.twitter.com/XJlUVocuGe

— Elijah daniel (@elijahdaniel) June 20, 2020


On the social media, the hashtag of ' #blueleaks ' is used to report the results of surveys that analyze BlueLeaks data. DDo Secrets admitted that 'BlueLeaks files are unclassified.' 'Searching for BlueLeaks does not necessarily reveal illegal police behavior.' It's focused on what you're doing, and BlueLeaks helps in that regard.'