Sony's change in rule of new graduation hiring, within 3 years after graduation OK · Suits unnecessary · Education unquestionable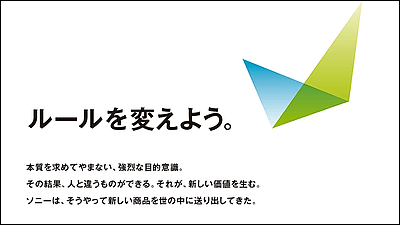 With "let's change rules," quite a variety of attempts have been made at Sony's new graduate recruitment site.

Sony Japan | New graduate recruitment | Sony Corporation Recruitment information
http://www.sony.co.jp/SonyInfo/Jobs/newgrads/concept/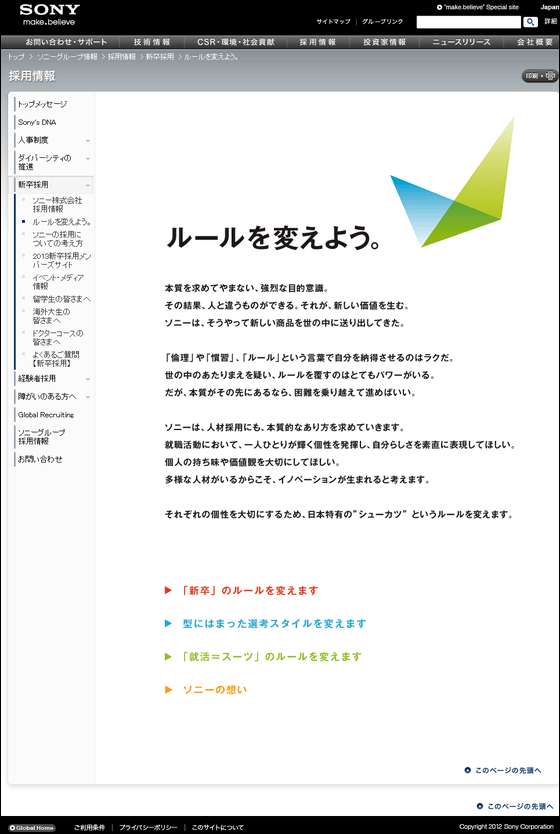 The above site is written as follows.

It is an intense purpose conscious not to stop asking essence.
As a result, we can do something different from people. That creates new value.
Sony has sent out new products to the world.

It is easy to convince yourself with the words "ethics," "customs," and "rules."
Suspecting the world is doubtful, reversing the rules is very powerful.
However, if the essence is ahead, you can overcome the difficulties and proceed.

Sony will also seek the essential way of recruiting talent.
In job hunting activities, I want each person to demonstrate the shining individuality and to express honesty their own likeness.
I want you to value personal values ​​and values.
We think that innovation will be born only because there are diverse human resources.

In order to cherish each individuality, I change the rule "shikatsu" peculiar to Japan.

And Sony's message is written over the following four pages. First of allI will change the rule of "new graduate"So, even while studying abroad, even within 3 years after graduation it is OK and we say "We are welcoming martial arts after graduation."

I will change the rule of "new graduate"
http://www.sony.co.jp/SonyInfo/Jobs/newgrads/concept/contents1.html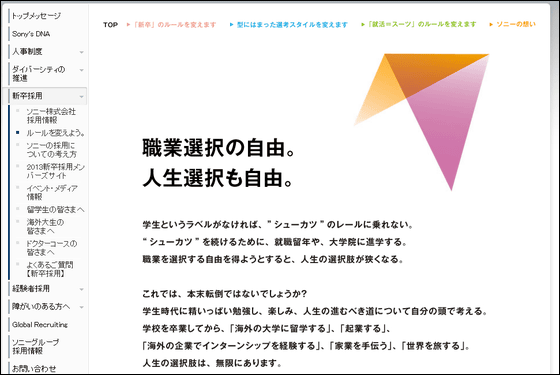 Freedom of occupation selection.
Life choice is also free.

Without the label of a student, I can not get on the rail of "shikatsu".
In order to continue "shikatsu", go on to graduate school and graduate school.
Trying to gain freedom to choose a profession narrows the choices of life.

With this, is not it a headache?
Study as precisely as a student, consider pleasure, the way of life to go with your own head.
After graduating from school, "to study abroad at universities", "to start a business"
"Experience internship at overseas companies", "Helping family business", "Traveling the world".
The choices of life are infinite.

Sony wants to meet people who have made various choices.
For new graduate recruitment, we will cover students who are enrolled and those within 3 years after graduation.
Whether you have work experience or not is not questionable. Warrior training after graduation, welcome.

next"I will change the selection style that I got into the type"I write as follows.

I will change the selection style that I got into the type
http://www.sony.co.jp/SonyInfo/Jobs/newgrads/concept/contents2.html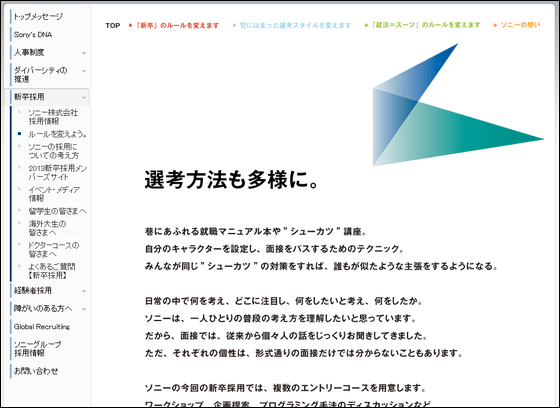 The selection method also varies.

Employment manual book and "shikatsu" course full of streets.
Technique to set your character and pass the interview.
If everyone measures the same "shikatsu", everyone will make similar allegations.

What did you think about in daily life, where you looked for, what you wanted to do and what did you do.
Sony wants to understand each of usual ways of thinking.
So, at the interview, we've been listening carefully over the stories of individuals.
However, sometimes I do not understand each personality by merely interviewing as a form.

In this new graduate recruitment of Sony, we prepare multiple entry courses.
Workshops, project proposals, discussion of programming techniques, etc.,
Applicants themselves will be able to choose the selection method.

Both opinion and specialty fields are disjointed. Rather it is rather disgusting.
It becomes a great force when various personality collides.
Products and services that impact people's lives are born because of diversity.

The third "I change the rule of "job hunting = suit""Clearly shows that it is not necessary to be a suit.

I change the rule of "job hunting = suit"
http://www.sony.co.jp/SonyInfo/Jobs/newgrads/concept/contents3.html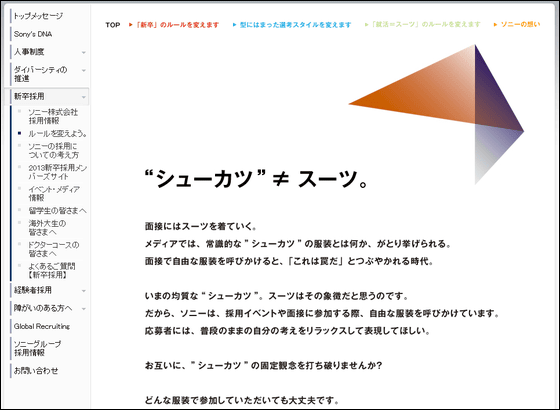 "Shikatsu" ≠ suits.
I will wear a suit for an interview.
In the media, what is the common sense sense of "shikatsu" 's clothing can be cited.
When calling for free clothes at an interview, it is time to murmur "This is a trap".

Now homogeneous "shikatsu". I think the suit is a symbol of that.
So, Sony is calling for free clothing when participating in hiring events and interviews.
I would like applicants to relax and express their own thoughts as usual.

Do not break each other 's stereotype of "shikatsu"?

You can participate in any dress.
What matters is what it is.
Please come by usual clothes that you can pass on to yourself obediently.
People who say "most like me" to join in a suit may wear a suit.
"Shikatsu" = Suit. Such a rule is not necessary.

The end is "Sony's thoughts" and concludes as follows.

Sony's thoughts
http://www.sony.co.jp/SonyInfo/Jobs/newgrads/concept/contents4.html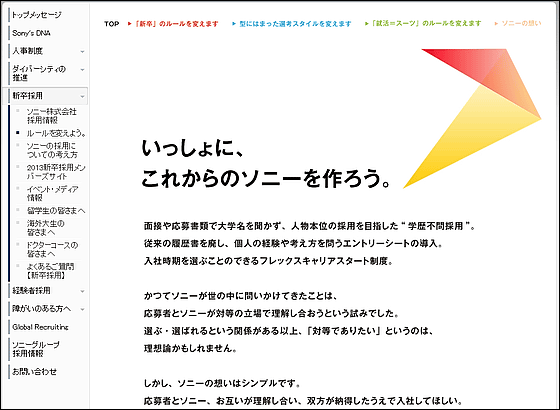 Let 's make a future Sony together.

"Employment inquiry recruited" aimed at adopting person-oriented, without asking the name of the university by interview and application documents.
Introduction of an entry sheet that eliminates the conventional resume and questions personal experience and way of thinking.
Flex career start system that allows you to choose the time to join the company.

What Sony asked the world once,
It was an attempt to comprehend the applicant and Sony in an equal fashion.
As long as there is a relationship of choosing and choosing, "wanting to be equal"
It may be idealism.

But Sony's thought is simple.
Applicants and Sony want each other to understand each other, agree with each other and join the company.
And I want you to come to people who like Sony.

Sony is the future company.
Would you like to create a new Sony together?
in Note, Posted by darkhorse