Making a new country in Rwanda, "tragedy of genocide" to "a miracle of Africa"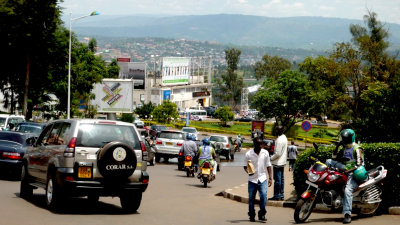 Hello, Bike around the worldTakuya SAITO @ Chalidermanis. Called "a thousand hill country"Rwanda. A pleasant nature spreads to the lake on the lake, inflating the belly with the specialty buffet, having a good encounter with the locals and making it a wonderful journey. However, that alone can not be over. Do not forget the tragedy of the genocide that the world had abandoned. And from there, continuing strong economic growth there is also what is called "a miracle of Africa". There are not many countries in Africa so far. In Rwanda, plastic bags are prohibited.

Here is the capital city of Rwanda, Kigali (Kigali) who caused "a miracle of Africa".

View Larger Map

Rwanda, also known as "a thousand hill country", the capital cityKigali (Kigari)It is also made up of several hills. A hill that draws a beautiful arc symmetrical about the highest point. When it is night, it shines with the light of the house. It's like a huge Christmas tree. Planetarium if you look from the top of the hill. Anyway, a pleasant scenery was spreading.

Residential district.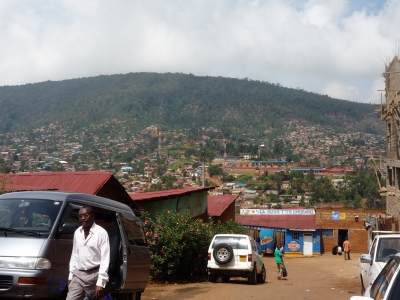 Along the valley ......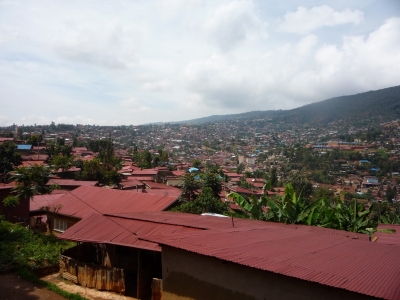 The houses are dense.



The red roof is slippery.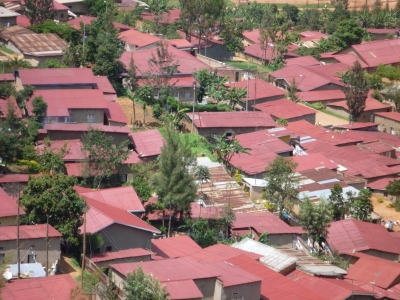 A scene of hills.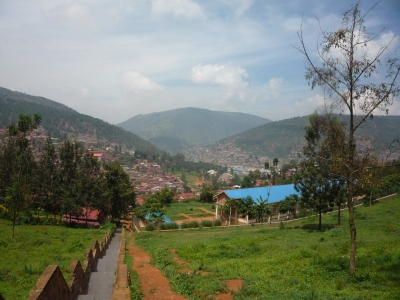 This is also a hill.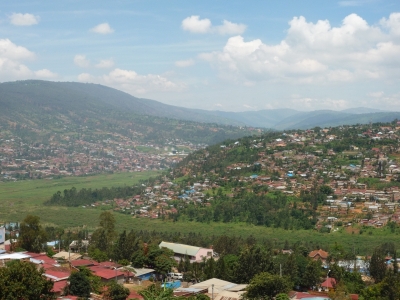 Buildings are built to the top of the hill.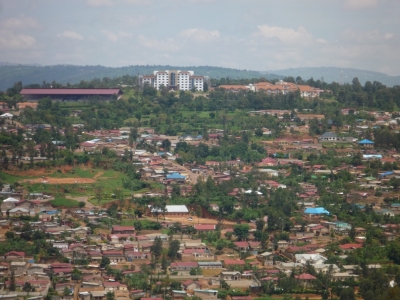 The hill in front of the inn, at night it was like a Christmas tree with light in the building.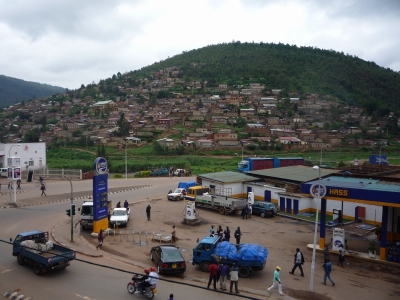 There was an inn in Nyabugogo (Nyabugogo) where there was a bus terminal, and from there it had to run up with the minibus and motorcycle taxi to go to the city center of Kigali on the top of the hill. It takes about 30 minutes to walk.

The center town where high-rise buildings are built.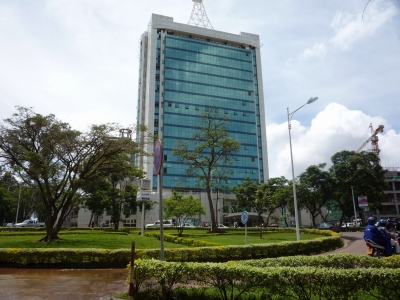 In places where visibility can be opened, you can see it far away.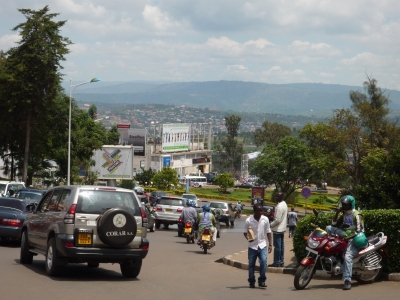 A well-maintained road.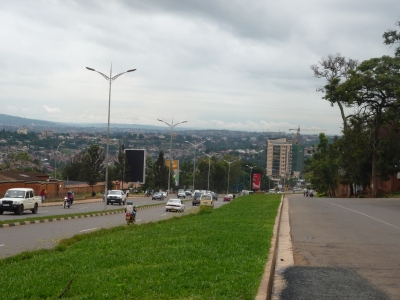 There is even a shopping mall that also includes a supermarket open 24 hours.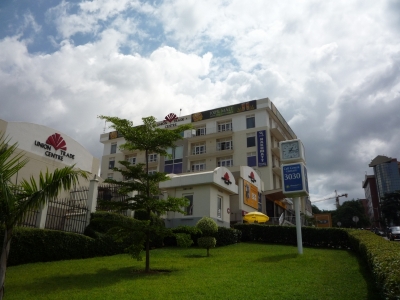 I will leave extra baggage in the hotel and go out to the short lip that goes around Rwanda west and Burundi north with Kigali as the starting point. Originally I planned to enter Tanzania through Rwanda and Burundi. However, I am concerned about the situation in Burundi domestically, that the planned route from Burundi to Tanzania is unpaved, that I can get Rwanda visa again in multi, I can enter again again, I can reduce my luggage It became a short trip for the above reason, that I wanted to run around with a light bicycle.

I entered the mountain area as soon as I left Kigali.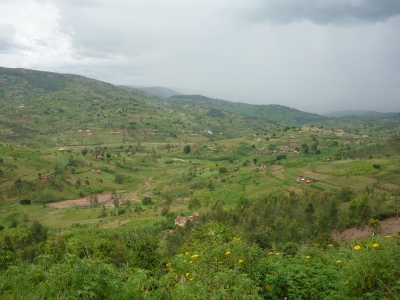 The city of Gitarama (Gitarama) in the west of Kigali.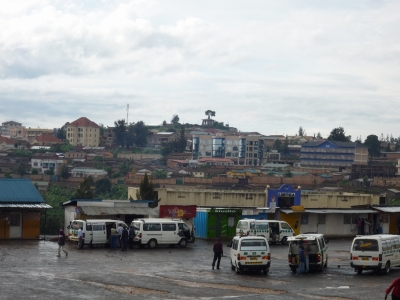 Going further west from Gitarama, I crossed a big big pass exceeding the altitude of 2000 m. This pass corresponds to the Nile river that flows northward from the continent of Africa into the Mediterranean Sea and the division of the Zaire river that flows to the west and pours into the Atlantic Ocean. The scale is different when it is around the world. As you go up to the pass, field of vision gradually spreads under your eyes. I felt the size of the earth far in the distance which was slightly rounded.

There is no altitude yet here.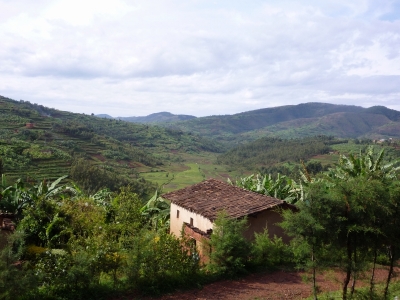 A row of shades like gojagaki.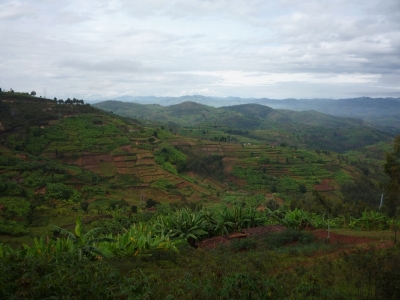 Mountainous areas.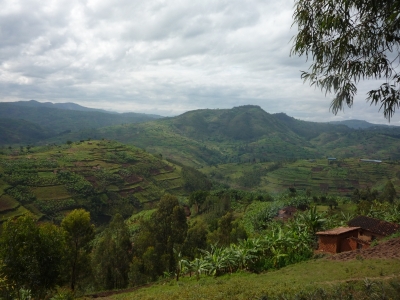 You have to climb up to the mountain rising in the back. With the naked eye, the slope of the soil color cut for the road is seen a little. Although it is a serious pass, it is still easier for me to feel the identity of the enemy.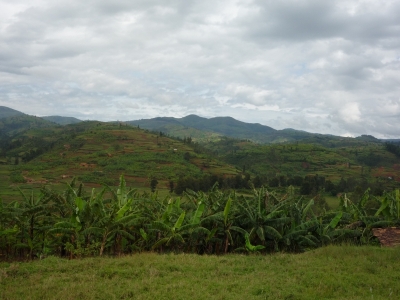 A way of penetrating the terraced fields in a zigzag manner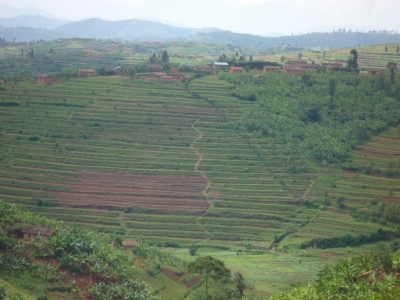 If you step off your feet, you plow to slopes that are likely to slide.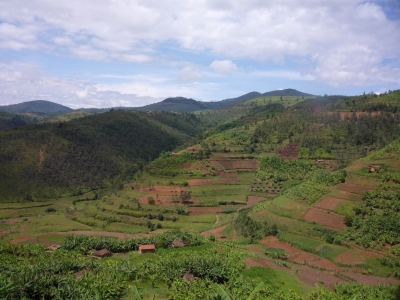 Currently climbing the hill ...... I am capturing the pass.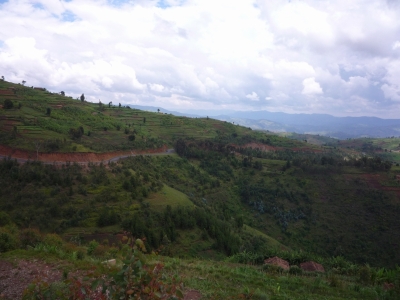 To any place higher than any hill.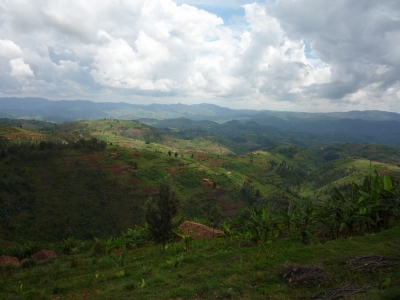 I felt the size of the earth. it's the best.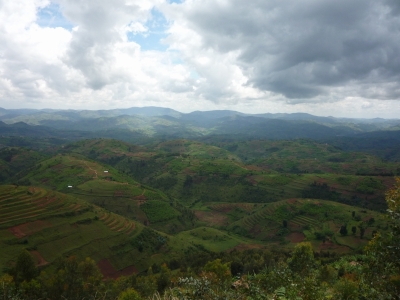 A house is built on a slope that is unthinkable in Japan. I understood when I thought, "Why can you do this?" As Rwanda does not snow, such a location is also possible. There are lots of people living in the country, so it is necessary to live in such places as well.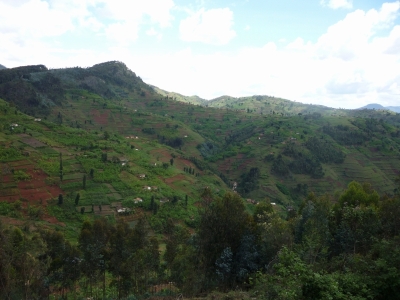 One of the purposes of this short trip was to see "Lake Kivu over Rwanda and the Democratic Republic of Congo (Old Zaire)". thisLake KivuIs at an altitude of 1460 m and is a mountainous lake. An adventure land where a brave person must bring a sword. Actually there are active volcanoes where lava such as Mt Nyiragongo (Mt. Nyiragongo) and Mt Nyamuragira (Mount Nyamuragira) are jetted near this lakeThe state of the lavas at Nyiragongo mountain looks like this). It was a place not an exaggeration to call it a secret.

Lake Kibu appeared in the middle of a long downhill.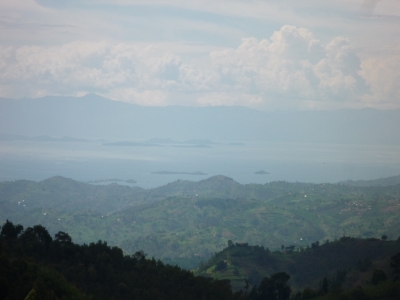 The mountains rising in the back of the lake are mountains of Democratic Congo.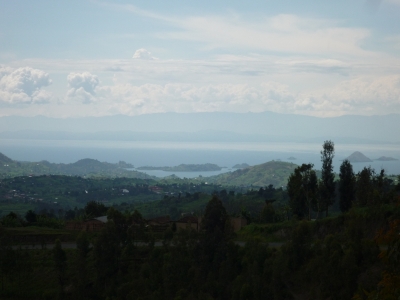 Creek.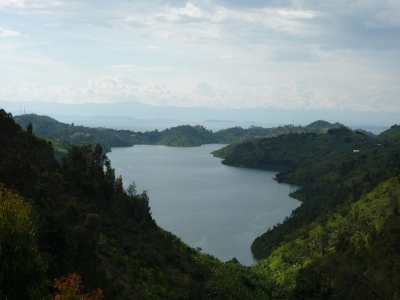 Near the lake.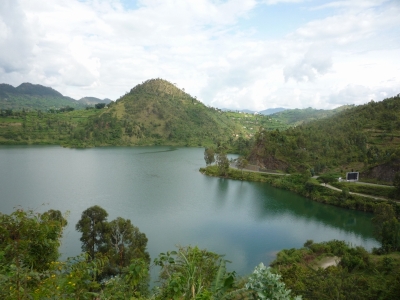 Proceed on the shores of Lake Kivu.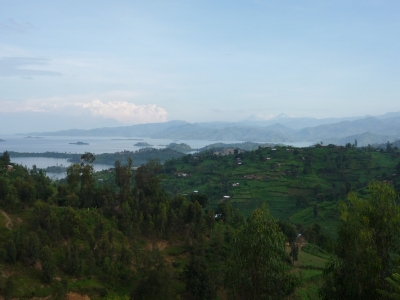 I looked down at the lake from a much higher place.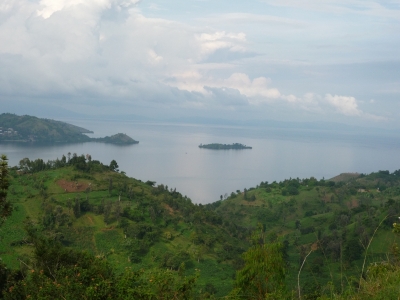 Ahead is a beautiful downhill.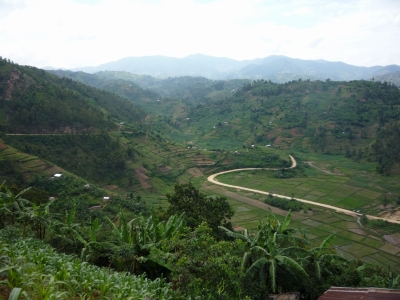 I will get off to the lake side of Kibu lake. But the road ahead is ......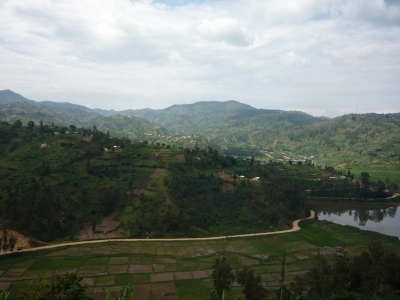 Even if you see it it continues to the mountains. That's too bad.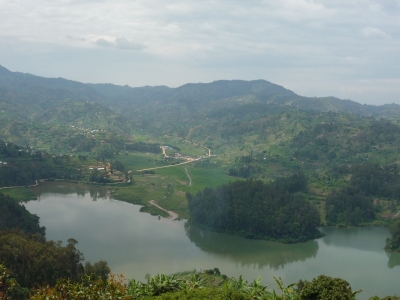 A lake that looks a little far.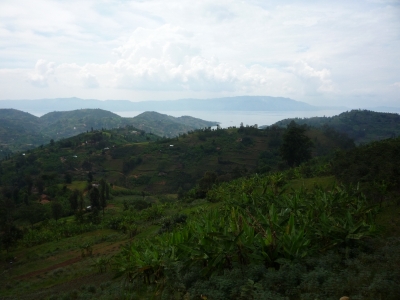 The road on the shores of Lake Kivu is very tired like ups and downs like the Japanese rias style coast. However, Kibu Lake where altitude is raised and it can see is exceptional.

The settlement that passes by.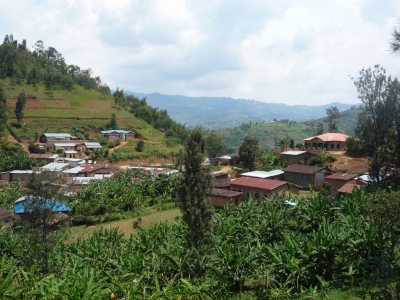 The unpaved road of rattling road which can not get speed on descending was tough.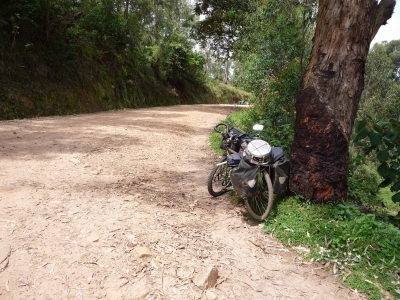 I often saw such a gate at the entrance of the village.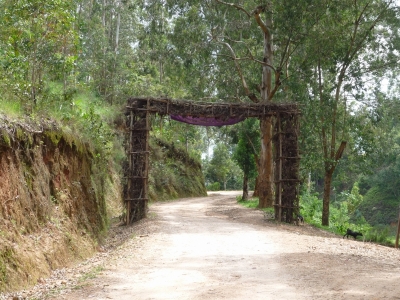 Paddy field like a green carpet.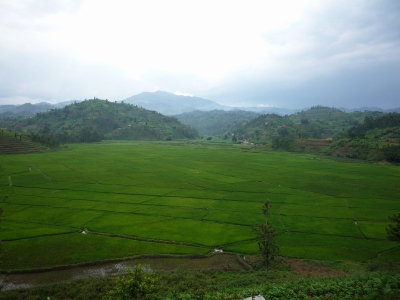 I came to Cyangugu at the southern end of Kibu. This is the main city of eastern Democratic Republic of CongoBukavu (Bukavu)It is bordered. In Congo capital Brazaville (Brazzaville)I can not get my visa and I can not go to the Democratic Congo, Nairobi in Kenya (Nairobi) I used an airplane. Last time there was a Democratic Congo on the side of the River of Zaire, this time it approached in a way that it went around behind from the eastern part. Democratic Democratic Congo, written by someone as "the most fun, the most painful, the most disliking, the most liked", its charm attracts me. I hope someday I can travel.

The streets of Cyangugu (Changgwu) lake shore but far from the lake.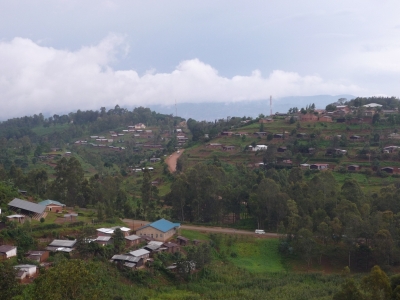 The streets of Bukavu (Bukavu) spread in front of you.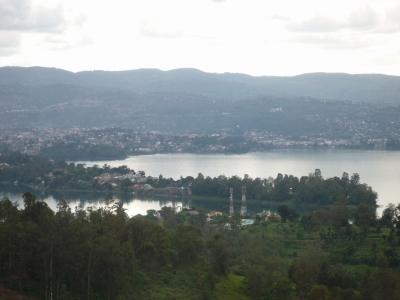 I picked up the antenna of the Democratic mobile company of Democratic Congo when I explored the radio waves of the mobile phone.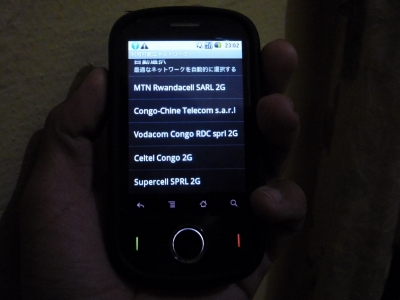 I was inflating my heart to hear that "Rwanda has a buffet." And, I inflated my belly and went out to Tanzania. I ate too much. There is no half amount of meal in this country. Whatever it may be, it is served anyhow. The Rwanda buffet is free to take rice, pasta, fried potatoes, potatoes, matoke (banana), potatoes, beans etc. at 1000 Rwanda Franc (about 130 yen). I put a piece of meat in it and sprinkle sauce and ate it. Meat is special, I can not eat much. Also, this all-you-can-eat as you can see is one of the most exciting times. Please be careful as you can not say ...... once again after eating like Japan.

A buffet full of yourself.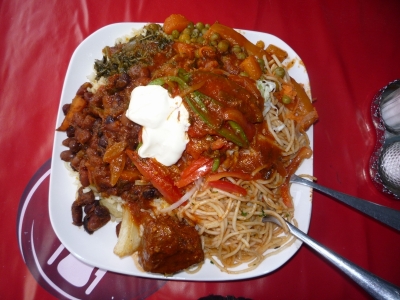 I was delighted to eat while saying "one calendar of calendar".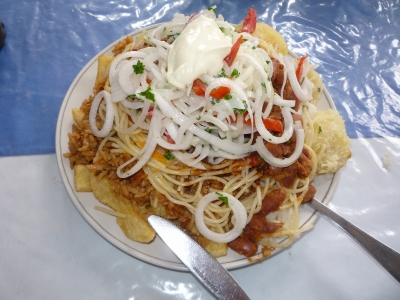 Even where we do not have a buffet, what we are eating was together.



Mixed rice called Melange (melange)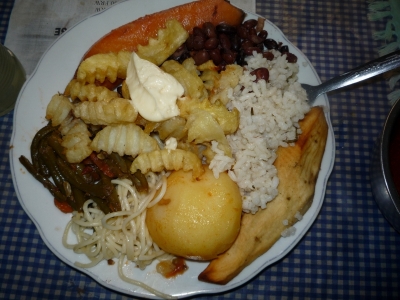 It was the amount that we just protruded into the dish. No country has eaten so much rice.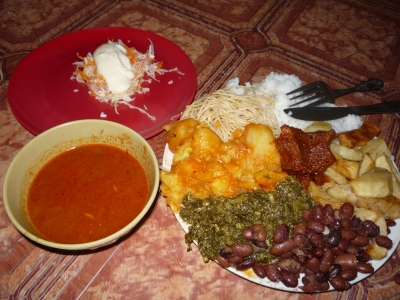 This is Rwanda-like meat and potato.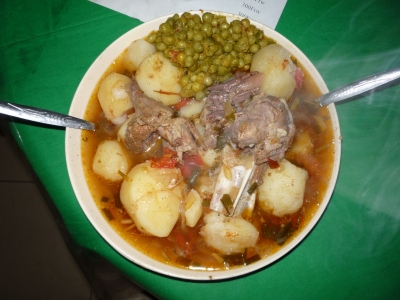 Also, in Rwanda you can eat delicious bread at a store. There is a small desk and chair, it looks like a coffee shop. Samosa whose minced meat is wrapped in the picture.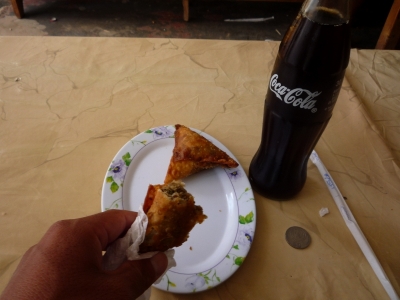 And you can drink homemade yogurt in a poly tank.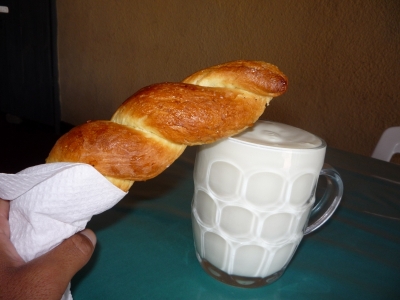 Rwanda is the most densely populated country in Africa, with people living anywhere. "Muzung, Muzung (Caucasian)" was always surrounded by many people. You can be embarrassed if you look so much. I have not got anything on my face. When walking away, you have to make a way through which your bicycle can pass, with the action of pinching people by hand. It is like Moses who breaks the ocean. In neighboring Burundi I sat on the ground and was eating pineapple while being surrounded by the crowd. I understood the feeling of pandas eating bamboo grass. If you have a cage, let's get in. It is surely treated carefully.

Speaking of people, Rwanda had been chased by bad children. It's not as fast as it is uphill, it's the same as walking fast. Footsteps and children's footsteps are barefooted like a ninja, and if you look back on "saying even one of the complaints", it is refreshingly refreshing sugarcane using gums. I gave up as "I can not blame this". It is regrettable somewhat. "Riding in tone" "Getting a little money", children in Rwanda were very hard. Is it called, I chased with a stick.

Still, I will come to this smile.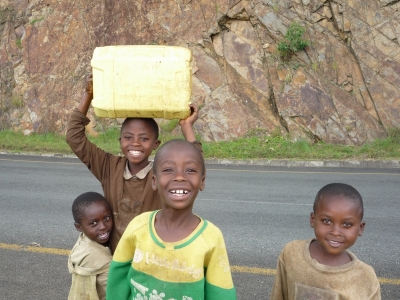 Children who caught with rain together.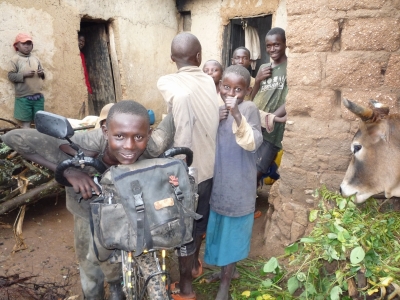 I will chase with this feeling.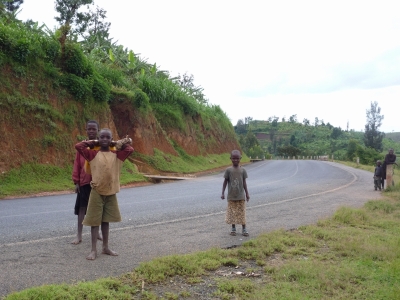 I was surrounded by a rural village.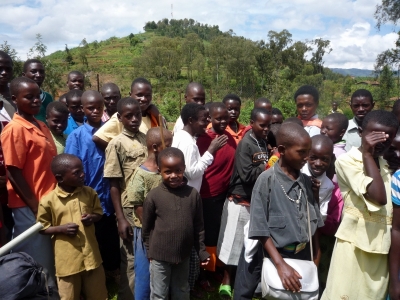 A boy and a girl who passed each other.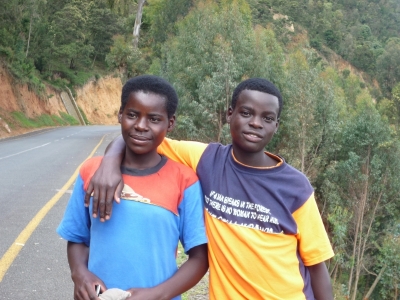 A young man who talked a little bit.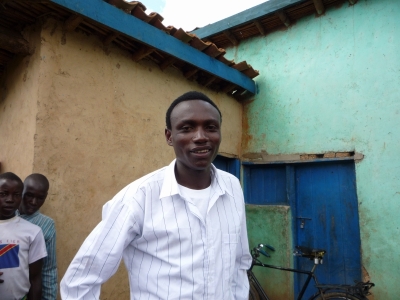 My little child is my favorite.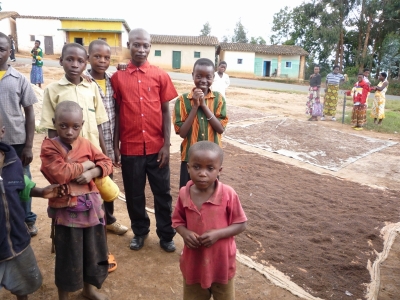 Energetic Gakincho.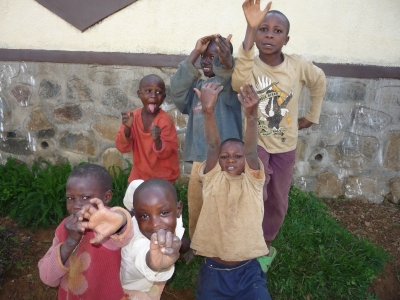 It was just a nice encounter.

The journey of nature, food, people, and Rwanda has become fun. But, just having fun will not be over. Do not forget the tragedy that hit this country, the genocide that took place in 1994. It was hell that was here. A lot of people were killed.

In Rwanda there were two ethnic groups: Tsutsui and Hutsu. Tsuchi said that "the skin is thin, the tall is high, the nose is thin", and Hutu was said to be "the skin is dark, the back is low, the nose is wide." When you actually walk in Rwanda, you see a vague difference. People who are black like physics such as Congo and Gabon and those with slender body like Kenya and Ethiopia that are near brown, are there any differences in this atmosphere? Since this European colonization, one of these Tsutsui and Hutsu was given preferential treatment for the convenience of the ruler, and deepened the root of discrimination. And, in 1994, when the airplane on which President Hutu was riding was shot down, Genocide to Tsutsu started with Extremists. Not only Tsuchi but also the moderate Hutu people were killed. Tutsian anti-government organization Rwanda Aiko Front (RPF) will continue until Rwanda is controlled. About 100,000 people, about 10% of the population of the time, were sacrificed in about 100 days when genocide was held. The number of this victim is also not precisely known.

There is a genocide museum in Kigali, and you can catch a glimpse of the terrible situation at the time. A picture of tears flowing as a grain from a girl who is cutting his head and treating it, a panel of young children with an explanation that "the last one saw the mother being killed", the panel of the murdered people being exhibited Remains and skulls, deeply left in my mind. When traveling again, I dropped by a small village called Nyange (Nyangge) from a sign written "Genocide Memorial". There was a trace of an old church, and many people who ran away here were sacrificed. Even a small village in the mountains like this was caught up in genocide.

This genocide is written in the following items of Wikipedia in various ways.

·Rwandan genocide
·Rwanda conflict
·Rwanda Aikokon Front (RPF)
·Tsutsui
·Hutu
·Murumbi Genocide Memorial Hall
·Nyarbuay massacre
·Habyarimana and Tarutamira assassination cases

You should not forget this genocide as a human being. I could not do anything. I did not do anything. And do not repeat the same thing. The first young man who arrived at Kigali was riding a road bike with one foot.

Genocide museum in the city of Kigali.



Church trace of Nyange (Nyanghe).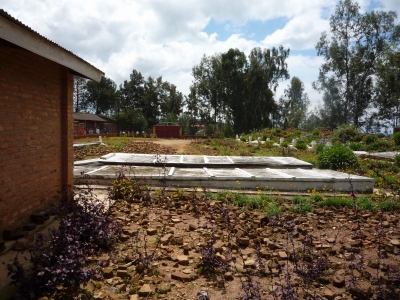 With this genocide Rwanda broke. But now it's "African miracleWe have achieved a powerful economic growth, also called. Actually, skyscrapers in the center of Kigali seemed to reflect favorable economic growth, just as they had been able to do. We are seeing some sites under construction as well. The Rwandan government has set a long-term goal of "Vision 2020". A number of policies were implemented according to the clear policy of the government of Rwanda.

The Rwandan government is focusing on environmental measures. On this day called "Uganda" on last Saturday of every month, all citizens must engage in cleanup activities. The store has also closed, and the car is not running either. It is not thought in Japan, but it is necessary to raise awareness in this way. Because most African countries have garbage abandoned and the streets are dirty. Due to being soiled, plastic bags are prohibited in Rwanda. Vinyl does not return naturally any way. The vinyl that stays at the end of the city was a familiar scene in Africa. In this way the town of Rwanda is kept clean.

The morning of "Uganda" quietly quieted.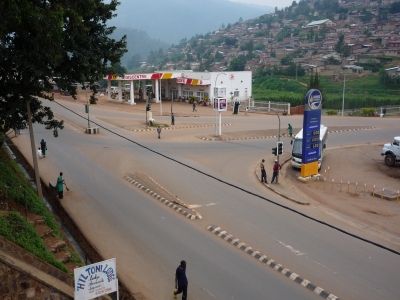 Vinyl is forbidden, so packaging is a paper bag.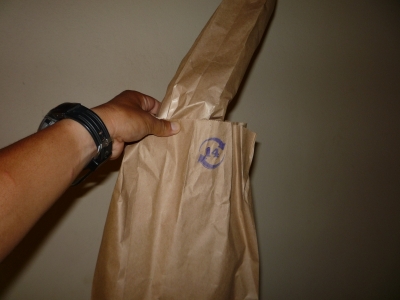 Rwanda government is also putting efforts into maintenance. Infrastructure improvement such as electricity and water supply was prevailing to the rural area as well as the urban areas. Even with a lodging in a village on the shores of Lake Kivu which is difficult to expect such infrastructure on the experience of Africa up to now, it was surprised to have electricity and water supply. The pavement of the road is also progressing, and construction has also begun between unpaved kibuye (Kibue) and Cyangugu. In recent years, the establishment of an optical fiber network aiming at the IT nation is proceeding as well. There were also many newly maintained places for bus stops and markets. It is important to clean up here because people gather and become cluttered. Changing this bus from a wagon car to a large car is the basic policy, I often saw a beautiful large bus, which is rare for Africa.

New market.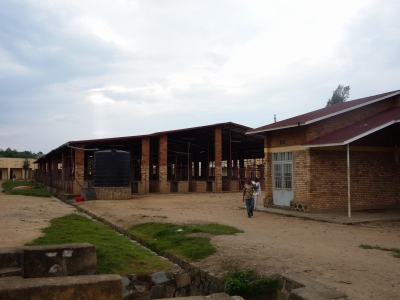 Paving work in progress.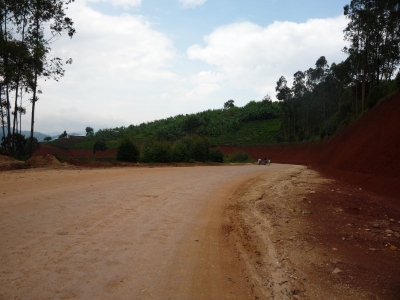 "Motorcycle Helmet" is a common sense of Japan, but it is not so in developing countries, it is not unusual to run as two nobles or no more than three knots in the state of noh. However, Rwanda's motorbike taxi is strictly prohibited.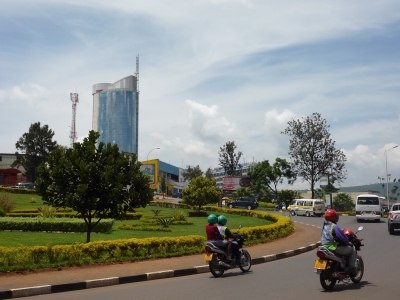 To the state-run tea factory for export was established to export raw silk in Japan in the early Meiji eraTomioka Silk millOverlapped. It is fostering industry. I saw this tea plant all over the land. You can buy this Rwanda tea at Kigali's supermarket. How about souvenirs?

Tea plantation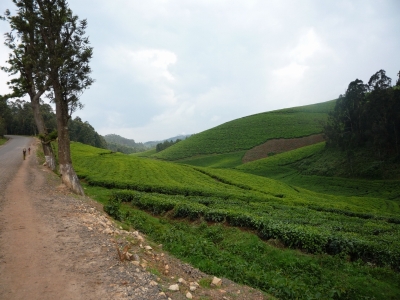 Hill of a tea plantation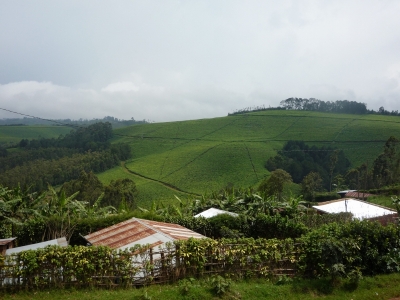 Signboard of tea factory.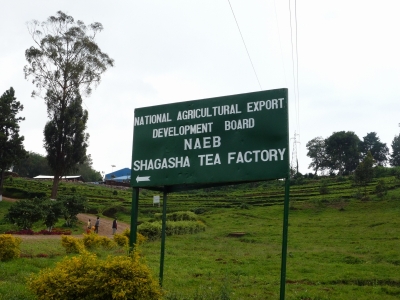 Rwanda tea which is being sold.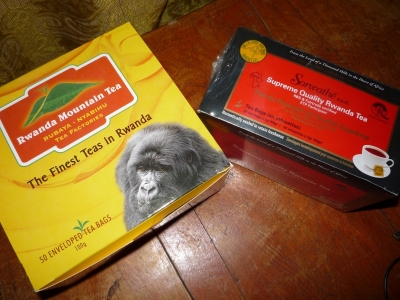 French was used in Rwanda in relation to former French colonies. However, in recent years, I am switching to English. I started to teach school education in English. Rwanda's Englishization is an economic cooperation in this regionEAC (East African Community)It is reason to deepen the connection with. Kenya, Tanzania, Uganda, the major countries of the EAC (East African Community) belong to the English-speaking countries. At the same time we can also see how to avoid French influence. In Korea there are cases of changing Hanul from Kanji, from Russian letters from Uzbekistan to Latin letters and language policies to avoid the influence of major powers.

In this way Rwanda is doing a powerful new country making by the government. Recently, to stop the rapid population increase,Campaign news calling men pipe cutIt flowed. I do not know the country that is going to be reborn to such an extent in Africa. The young man met on the way talked, "This country is still there, but it is steadily advancing one by one." I can not help expecting such Rwanda from now on. If this success goes well, the same is possible in other African countries. Rwanda is running at the beginning of departure from the poverty of Africa.

(Sentence / photo: Takuya S. Narou Charriderman
Cycling around the world for a bicyclehttp://shuutak.com)