For 50,000 Ameba users forced to withdraw due to unauthorized access, more than 5,400 comments to staff blogs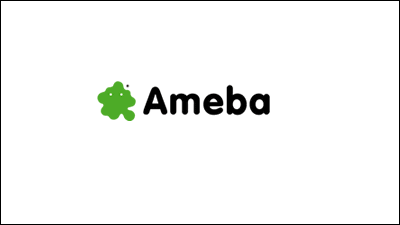 According to Ameba's staff blog, recently it was Christmas Eve, on December 24 (Saturday) at 21:31, we received unauthorized access (in essence an attack by someone), Ameba's ID was forcibly "forced to leave" It is said that it has become. At the moment the comment section of the staff blog is overwhelming and it is supposed to reach about 5,400 cases around 19:40 at the time of article writing.

December 25, 2011 14:36:14(Since the first comment is "2011-12-25 09: 26: 48", it seems that there was the first update around 9:26 am)
※ Additional notes AmebaID becomes unsubscribe (can not log in) About the trouble | Staff blog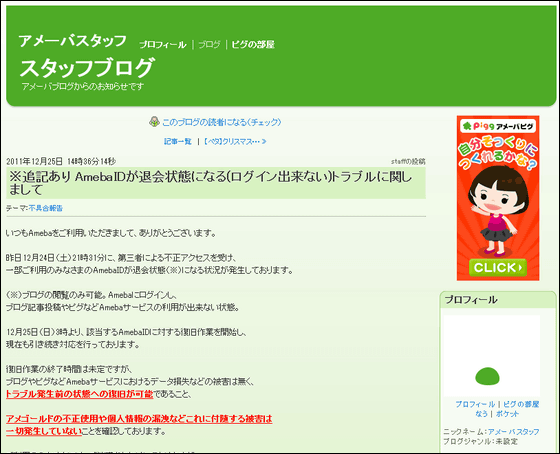 Thank you for always using Ameba.

Yesterday, on December 24 (Saturday) at 21:31, I received unauthorized access by a third party,
We are experiencing situations where AmebaID for some of you are in a withdrawal status (*).

(※) Only available for viewing blog. Log in to Ameba,
It is not possible to use Ameba service such as posting blog posts and pigs.

Starting the recovery work for the corresponding Ameba ID from 3 pm on Sunday, December 25,
Currently we continue to respond.

Although the end time of recovery work is unknown,
There is no damage such as data loss etc. in Ameba service such as blog and pig,
It is possible to recover to the state before trouble occurrence,

The damage accompanying such as unauthorized use of Amigold and leakage of personal information
We have confirmed that it has not happened at all.

We are sorry for the inconvenience,
As soon as we know the status of recovery for the corresponding AmebaID,
I will report it again in this blog.

Thank you very much.

It is unknown how many users in the staff blog have been forced to leave due to attack by unauthorized access, but Yomiuri Shimbun and NHK report "50,000 people".

December 25, 2011 19:10
Unauthorized access to Ameba, 50,000 people withdraw from withdrawal status: Society: YOMIURI ONLINE (Yomiuri Shimbun)
http://www.yomiuri.co.jp/national/news/20111225-OYT1T00408.htm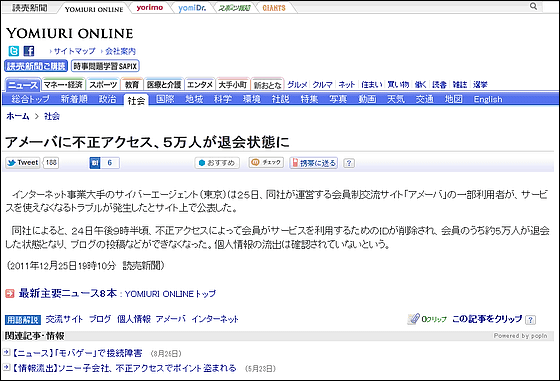 December 25 19:29
"Ameba" Connected to 50,000 people Obstacle NHK News
http://www3.nhk.or.jp/news/html/20111225/k10014895031000.html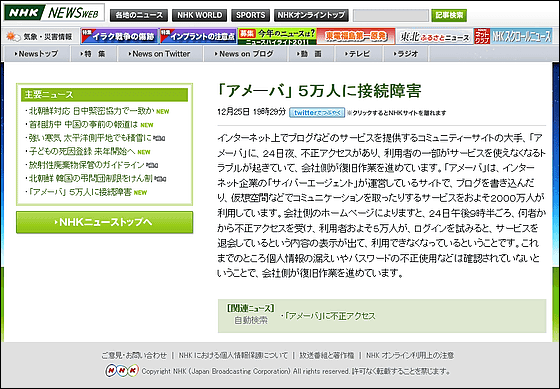 In addition, the staff blog has the following postscript and it is said that it will be restored at 8 o'clock tomorrow morning.


【December 25th 14:36 ​​additions】
I will report 2 points on the progress of the restoration work.

1) Recovery time scheduled for December 26 (Monday) 8:00

2) In order to make every effort to proceed with restoration work
Emergency maintenance is carried out from 2:00 to 8:00 on Monday, December 26
During this time, all ameba services will be unavailable.

Confirmation of work contents / work time of restoration work of the corresponding Ameba ID is completed,
Currently, we are promoting restoration work with top priority.

We apologize for any inconvenience this may cause to you,
We appreciate your understanding and cooperation.
Further notice of restoration has been issued as follows.
※ There is additional notice Part of the withdrawal status (can not log in) Notice of recovery completion regarding troubles | Staff blog

It is said that various events will be extended along with this.

【Notice】 AmebaID responds to withdrawal situation trouble | Ameba pig staff blog