Yahoo Chiebukuro sued slander and defamation counterparts who suffered harmful rumors, appeal to peers at court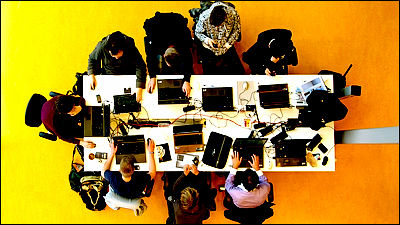 ByArjen Stilklik

A company conducting countermeasures against ramification damage and slander prevention measures "Yahoo! Parents"Since I made a writless writing, I asked for IP address of those who wrote to Yahoo so they found out that I was the representative director of the same rival company and anti-slander counterpart rival company, He seems to have filed a lawsuit in Tokyo District Court for damages due to damage, credit impairment and power obstruction.

Identify the competitor president who slandered our company on the net. Charges claims for damages due to defamation and power obstruction | Siemple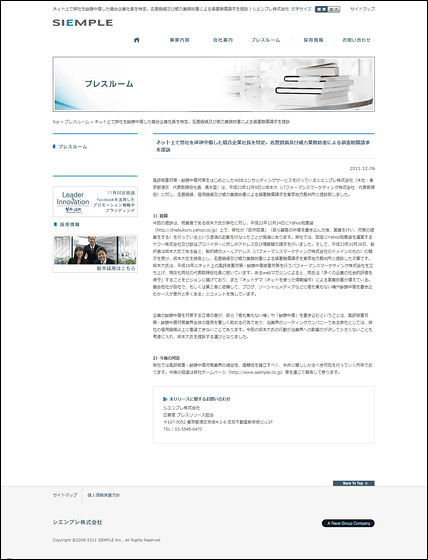 The circumstances are as follows.


今回の提訴は、同業者である坂本大氏が弊社に対し、平成22年12月14日にYahoo知恵袋(http://chiebukuro.yahoo.co.jp)上で、弊社が「自作自演」(自ら顧客の中傷を書き込んだ後、営業を行い、対策の提案をする)を行っているという虚偽の記載を行なったことが発端にあります。弊社では、即座にYahoo知恵袋を運営するヤフー株式会社及び該当プロバイダーに対しIPアドレス及び情報開示請求を行いました。そして、平成23年10月26日、契約者は坂本大氏である旨と、契約時のメールアドレス(パフォーマンスマーケティング株式会社のドメインのもの)の開示を受け、坂本大氏を被告とし、名誉毀損及び威力業務妨害による損害賠償請求を東京地方裁判所に提訴した次第です。

A site that is skipped when accessing the address "slander prevention .net" and "www.pmarketing.jp" address that the performance marketing corporation appealed in the past wrote in the release.

Slander prevention measures · Specialized consultant on net crisis management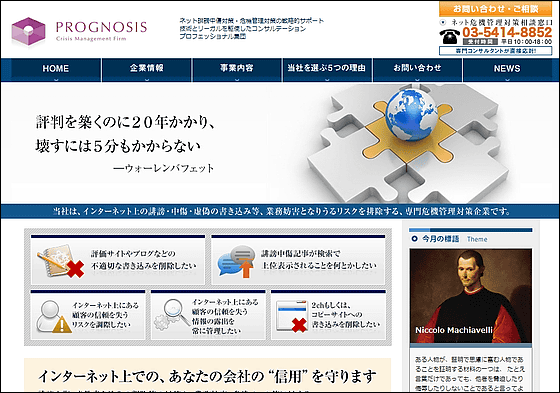 Company information page(cache) Is a different company name from "Performance Marketing Co., Ltd." "PROGNOSIS Co., Ltd.", the address and the name of the representative director are completely different.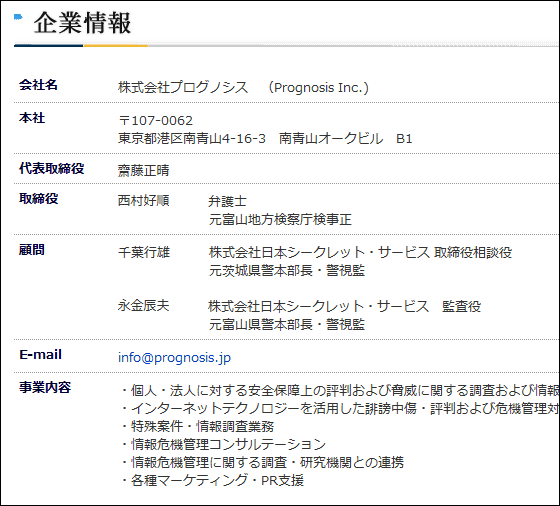 The last update date of the above page is "December 14, 2011 0:18:03", and somehow it becomes an image as to why the name of the representative director and the name of the director are for search avoidance It is.






※ 2011/12/16 18: 27 additional note, "Nihon Secret Service Co., Ltd." which was named above isOfficial site(cache) At the bottom, "Company name, officer name, title, career, career history of our company that was posted on the corporate information page was posted without notice to our company at all" "Relationship with" There is not any relation regardless of business " Denied. Also, since it became clear that Prognosys Co., Ltd. used unauthorized use of the name of another person, the pageRewrite like this, I am erasing the name of Japan secret service from advisor.

However, in past press releases, for example see below, the link is on the above page, it is obvious that you used the above domain in the past.

WEB Reputation Risk Monitoring, Survey and Analysis Service Start | Performance · Marketing Press Release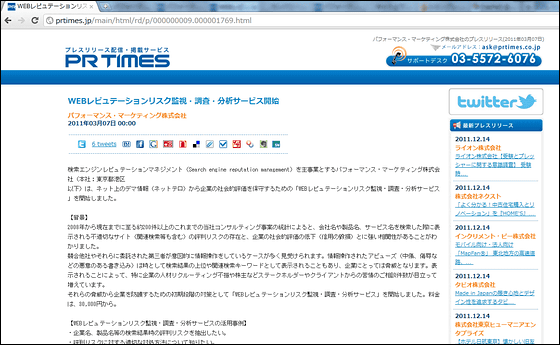 We are surely linking from the bottom of the page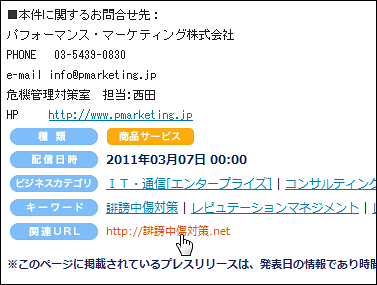 Also, as for the name of the representative director, it is clearly stated when seeing the past press release.

Performance · marketing, slander prevention measures "Blog writing deleted" start | Performance · Marketing Press release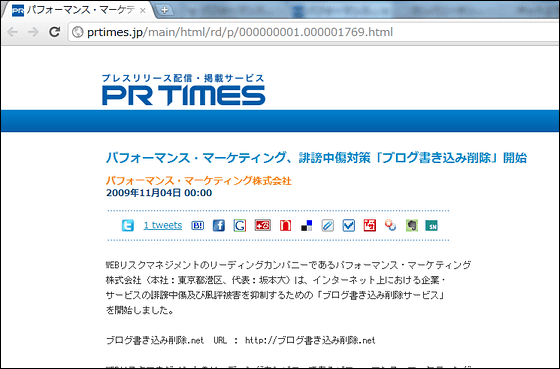 Furthermore, looking at the web fishery, the past corporate information (as of 1:22 am on February 16, 2010) came out as follows.

http://xn--fiqt5dqxqbs5avcqeqa.net/kigyo.html - 2010年2月16日 01:22 - ウェブ魚拓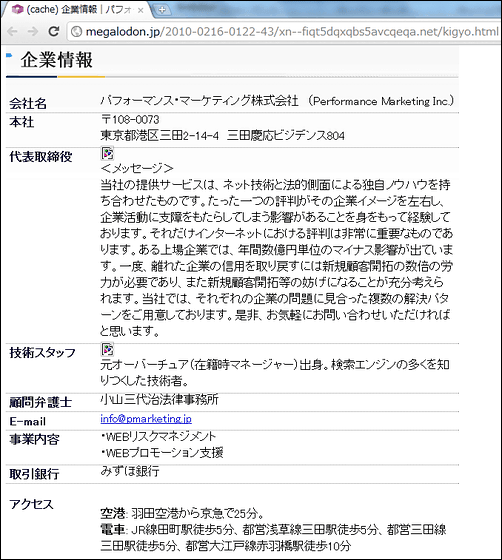 It also has the following information.

Performance · Marketing Co., Ltd. Representative Director Sakamoto Daigo | Find a Professional | Management Communication Web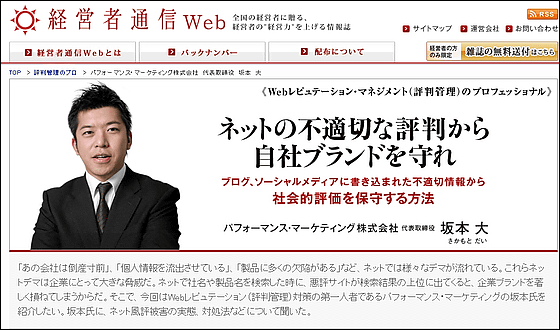 Since the site under the site specifies that "This site is faithfully posting the content provided by the company of the interviewee," the content of the above page is written by the performance marketing corporation itself himself It is supposed to be a thing, the link to the site is properly written at the bottom of the 2nd page, and the profile is also posted. According to it, in the past I run affiliate A8.netFan Communications Inc.(2011/12/15 15: 06 postscript, according to the contact from Fun Communications Inc. "Although Mr. Sakamoto is certainly a former employee of our company, it has passed many years after retirement It is said that we are working in another company after our company. "

Performance · Marketing Co., Ltd. Representative Director Sakamoto Daigo | Find a Professional | Management Communication Web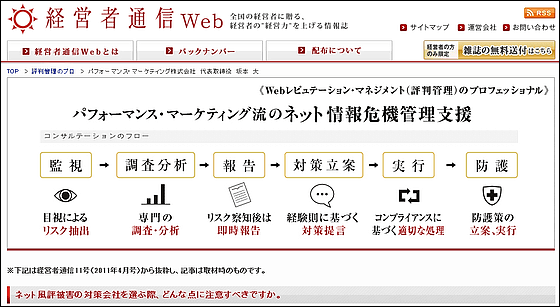 In addition, regarding the events that occurred in another company that worked after retiring from Fan Communications, I answered in detail the following interview updated on May 1, 2011 (in detail, December 15, 2011 15:04 appendix, fan According to the communication from the President's Office of Communications, it is said, "It is not about our company but rather when I was enrolled in another company."

Company Tank - Information magazine conveying the spirit of executives ~ | Interview | Representative Director, Performance · Marketing Co., Ltd. Sakamoto Dai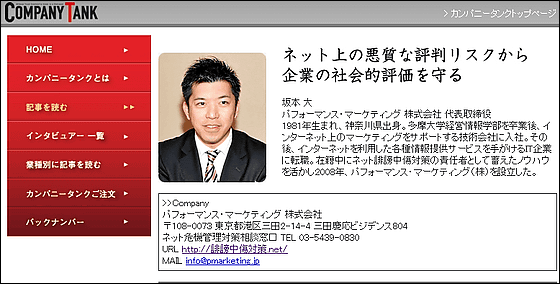 Here is the part.


SakamotoBefore entrepreneurship, I worked for a net affiliate affiliated with a listed company group. The main work content is to provide various information services via the Internet. When I was enrolled in the company, I suddenly suddenly canceled contracts from so many unnatural clients. As I was searching for the cause, I noticed that articles such as blogs that slandered my company were uploaded. As a result, annual sales of about 1 billion decreased by about 180 million, and the company suffered considerable damage.

DaimonDid it get written that it is different from the fact with malice?

SakamotoYeah, the content is "fraudulent accounting", "shed personal information" and so on, it is absolutely true fact. However, even after explaining the real thing to the business partner, it is the future festival. It was difficult to dispel the minus image that had been planted once, and it was a reality that few customers can contract again. It is about 2007 one year ago when I became independent.

DaimonThat's no longer possible for any company. It is not a fire on the other side. It has become a convenient time by the IT revolution, but the Internet has a terrible aspect as well.

SakamotoYes. At that time, I was appointed as a responsible person for measures against slander of the Internet and took various countermeasures. Originally I was searching for a method that relied on net technology, but I came up to business in 2008 with the know-how of defamation and slander countermeasures accumulated there, such as independently creating another method which is not so.
Also, is not a slander countermeasure company doing a match pump? I answer as follows to the question:


DaimonI see. Although it is a slightly worrisome question, because of its anonymity, does the SEO countermeasure company itself get work and sometimes writes maliciously? If you are comparing to a bicycle shop that does not have a mind, such as bruising a bicycle parked in the neighbor on purpose.

SakamotoYeah, sometimes we have doubts that we are doing something like ourselves. It is like a match pump. We do not operate from here and correspond only with inquiries, so there is no such thing as a matter of course. However, as there are many latecomers in the same industry, there may be companies that do their own self-made performances, perhaps. For example, as the awareness of safety of "food" is increasing, if the food and beverage enterprises are to write the facts such as "food poisoning at restaurants operated by ○ ○", the damage is tremendous is. Generally speaking, people who do such things are also called net yakuza.
According to Siemple, Inc., who appealed Mr. Daisuke Sakamoto, President of Performance Marketing Co., Ltd.,

A person in a position to take measures against slander and slander by a company himself / herself writing "nothing rooted rumor" or "slander slander" itself is an act of remarkably deteriorating credibility of the rumor damage countermeasure / slander prevention measures industry, As a leading company in the industry, our company is unable to overlook more than our credibility damage. Taking into consideration that Mr. Daisuke Sakamoto's behavior is not small in the industry at all, taking charge of Mr. Sakamoto in case of suing.
It is not limited to this case, and the item of Wikipedia of this performance marketing company also follows a mysterious background.

Performance · Marketing - Wikipedia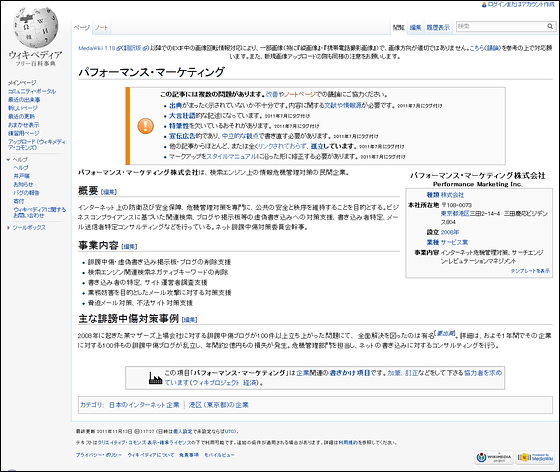 "Sources are not shown at all or insufficient" "It is a buddhist description" "It is advertising, it needs to be rewritten from a neutral point of view" "Mostly or totally linked from other articles In the following sentence written as a main slander repelling case example, it is written as "citation needed" in such a way that it is thrust like a mountain like "Is it isolated?"

It was famous that it tried to solve the whole problem on the issue that more than 100 blogs slanderous against a certain Mothers listed company that occurred in 2008 occurred. For details, in about a year, there are 100 slander blogs for the company and a loss of about 200 million yen annually. He is in charge of crisis management department and consulting on writing of net.
Apparently when you click "History display" of WikipediaFriday 11th December 2009 10:57It seems that it was made to,About 1 and a half hours laterIn a quick hurry to "There is a possibility that the subject described in this article lacks" special handiness ". If the subject described by this article has sufficient special attention to be listed in the encyclopedia, please indicate the source to prove it ". However, ignoring it and adding it little by little,January 1, 2010 (Fri) 04: 10In "Issue needed in a later" that will be written "written in the slogan against Mothers listed company in 2008 was solved over 100 in the problem that more than 100 struggled blogging has been written" has been written. Also,Friday 22 July 2011 21:07Suddenly the representative director's name and the link to the site have disappeared.

In addition, one sentence that is concerned is "secretary of network slander injury countermeasure committee". I thought that there was such a thing and searching it, the following page comes out. It is just a press release on Performance · Marketing Co., Ltd.

Press Releases / Press Releases on the Internet Slander Countermeasure Committee · Publication of PR Times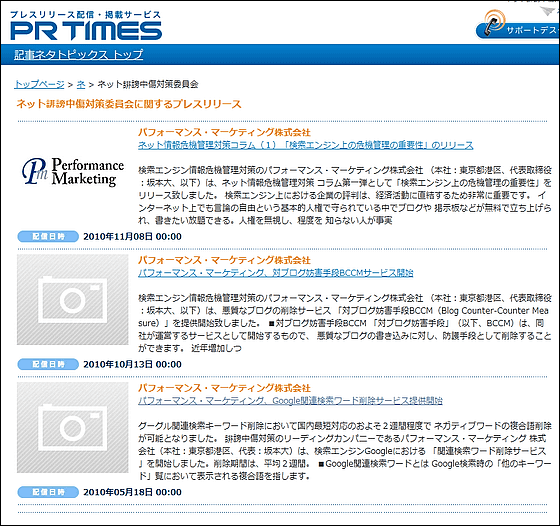 もう一つ出てくるのがamebloに開設された以下のブログ。記事は2009年9月21日と22日のわずか2本のみで、いずれも最終的には「http://sakujyo.com/」への誘導となっており、さらに「パフォーマンスマーケティング運営」ということで、「誹謗中傷対策.net」「削除.jp」「誹謗中傷.com」「関連検索削除.net」があげられています。

Blog of slander prevention committee
http://ameblo.jp/no-hiboutyuusyou/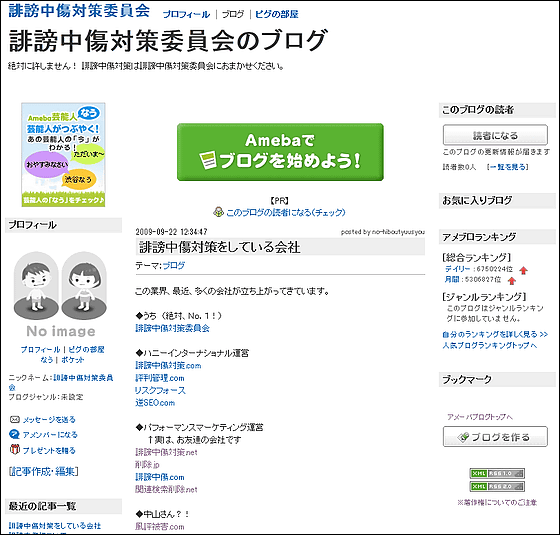 Furthermore, the actor to Mr. Daisuke Sakamoto, Representative Director of Performance · Marketing Co., Ltd.Masaaki OdomonWhy does Mr. Daimon's reason for interviewing by Mr. Mr. Mr. are not on the following page? It is inferred.

Shipleyu Co., Ltd. Representative Director Shimizu Wataru | Interview with executives | Web magazine for enjoying work, B-plus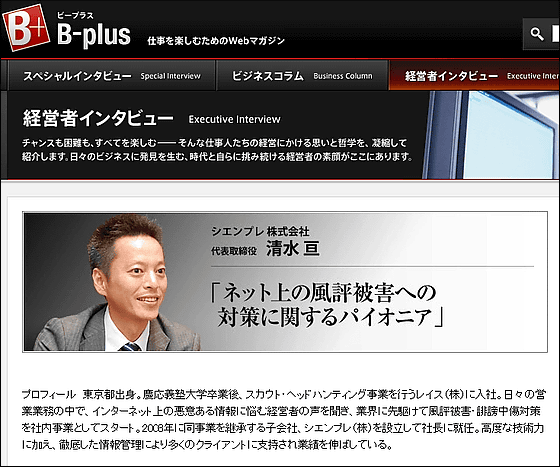 This time, Mr. Masaaki Omemuri of the actor interviewed Shipleple Co., Ltd., representative director of performance and marketing Co., Ltd., Mr. Masaru Sakamoto, its representative director Mr. Wataru Shimizu. In other words, Performance / Marketing Co. chose the actor Mr. Masaaki Omemori as an interviewer to make the same sense of confidence as Simple Inc. It is also possible to guess.

This is Mr. Wataru Shimizu, Representative Director of Siempre Corporation, and Mr. Masaaki Omen of the actor who appears as an interviewer in the article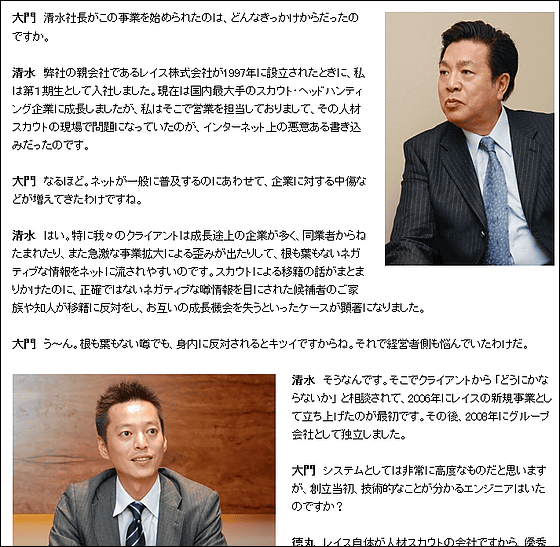 Daio Sakamoto, Representative Director of Performance and Marketing Co., Mr. Masaaki Omen of the actor who comes out as an interviewer in the article positively shakes hands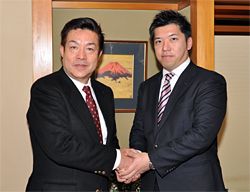 Basically, based on experience of the past, "a memorial photograph that shakes hands with celebrities and lined with themselves together" is called "Halo effectIt is a method often used when trying to twist an image aiming at "It is expected that this technique was used this time to improve reliability.

The more you examine it, the more you see "?" About performance and marketing corporation, but on the other hand, for those who appealed to the contrary, something like this will not come out on the net It is about the degree that is named in the summary blog below.

"Net writes negatively affect corporate image, take countermeasures ahead of time" Net Association company representative Siemble · Mr. Wataru Shimizu: anxious 2 chan (n'· ω · `n)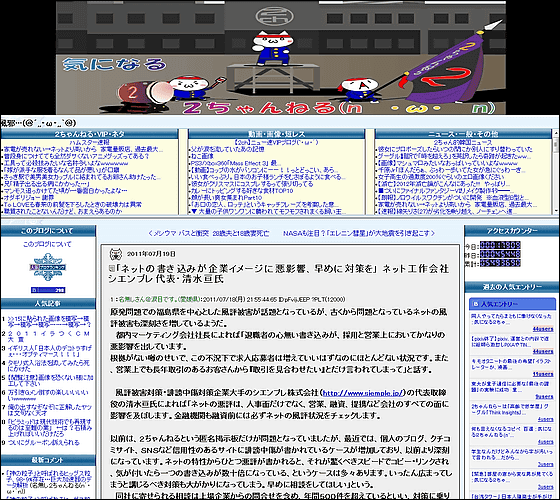 Are you erasing unfavorable information from one end? Although it seems to be thoughtful, if it is so, it becomes a terrible know-how and execution power, and considering it as measures against ramification damage and slander injury, it seems that it is not the case that the company which many rags come out when examined on the net It is a story about which company should be judged as asking which one to ask.

In this way, the very advanced information warfare has been realized in real terms, but from now on, will performance or marketing from something against SIMPLE Inc. happen, or will performance / marketing as mentioned above There are also a lot of "?" Information on the question of whether it is a well-prepared career that was set up over time by someone else somewhere, or someone who intends to make it so ......
in Note, Posted by darkhorse