A service to delete malicious reviews of Amazon.co.jp appeared, and also targeted for price .com and Rakuten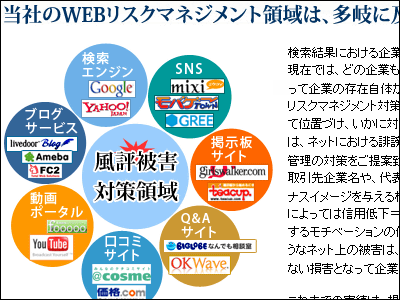 A major online shopping site Amazon.co.jp has a user's review (it is possible to write even if you do not actually purchase it), but it is not easy to use it because it involves information manipulation by third parties and competitors, malicious writing, An enterprise service to delete malicious reviews that lead to enterprises has appeared.

Before"WEB checker" which forcibly deleted the 2 chan channel posts and identifies individuals who wrote in 1 million yenWe informed you that there is a service called, but the potential demand for such services seems to be never few.

Details are as below.
Performance · marketing, reputation management measures "Amazon reputation management" launched - Performance · Marketing Co., Ltd.

According to this release, a company called performance / marketing that deals with damaging damage on the Internet deletes a malicious review posted on Amazon.co.jp "Amazon Reputation Management Service (Amazon RMS)It is said that it started.

Since "Amazon Reputation Management Service" allows anyone to participate in reviews of Amazon.co.jp, as a result of written information operations, malicious reviews, etc. by third parties and competitors, publishing companies It is a service that received the fact that there are many cases where authors and manufacturers suffer from rumor harm.

Although it is not clear what kind of method to use actually, proprietary know-how such as optimization of search results applying SEO measures handled by the company, related search deletion of negative words, blog, deletion of bulletin board is used It seems to be. In addition, it is said that in the future, we plan to offer similar services to major comparison sites and travel related portal sites besides Amazon.co.jp.

Official website of performance and marketing. Notice that not only Amazon.co.jp on the top page, but also the review of Rakuten and price .com is subject to the service offered by the company.
Anti-slander measures · Rumor damage · Reputation management | Performance · Marketing Co., Ltd.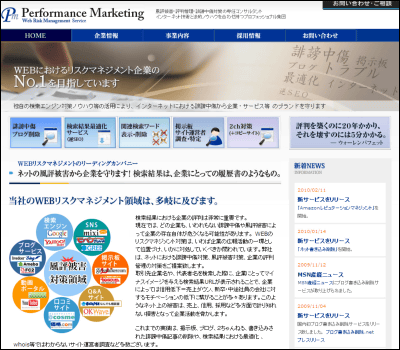 An example of the company's service. It is to delete malicious writing on blogs and bulletin boards. The deletion success rate is 98% (for 183 requests) as of 12:40 on February 17th.
Defamation slander / blog deletion | Performance · Marketing Co., Ltd.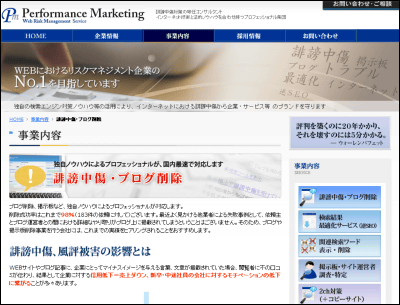 Next, the search result optimization service. It is content that pushes the WEB page publishing the bad reputation etc. of the product to the lower order of the search result.
Search Result Optimization (Reverse SEO) | Performance · Marketing Co., Ltd.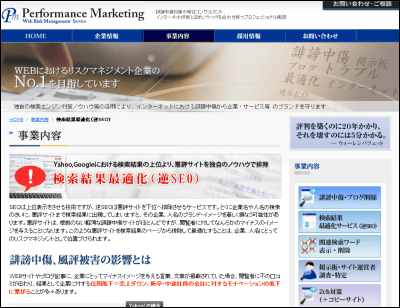 A service that deletes the display of related search words when related word such as "bankruptcy" "black" "vice" etc. is displayed when searching by company name etc.
Related search word display / delete | Performance · Marketing Co., Ltd.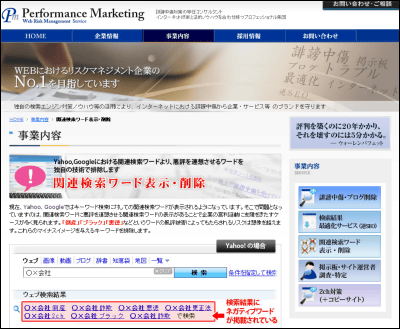 A service to investigate and identify bulletin boards and publishers.
Bulletin board · Publisher survey · Identification | Performance · Marketing Co., Ltd.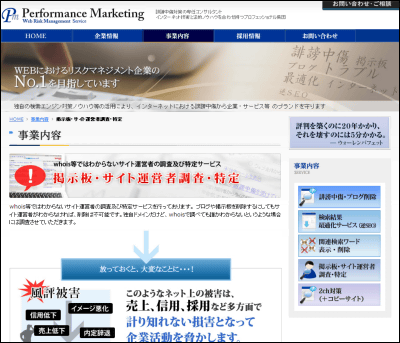 A service to delete contents written on the huge bulletin board "2 Channel". By the way, it seems to use force technique such as continuing to write less until the corresponding thread is buried because it is said to take measures against "dat drop" and "past log warehouse".
2ch countermeasure · 2channel prevention measures | Performance · Marketing Co., Ltd.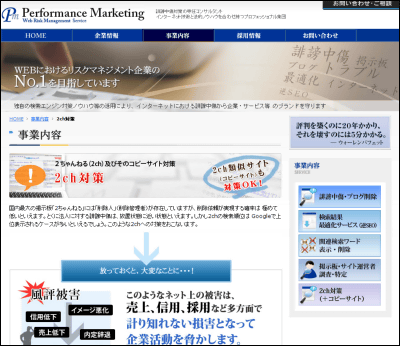 Although information that could lead to harmful rumors will be deleted, the possibility that information necessary for users such as product defects may be deleted as being "malicious", or by forcing a thread to fall dat, Considering that there is a possibility that it may become impossible to browse informed information that was written, I would like to wish to become an internet society that does not require such services.