MobaGee's DeNA decides to sue Glee at trial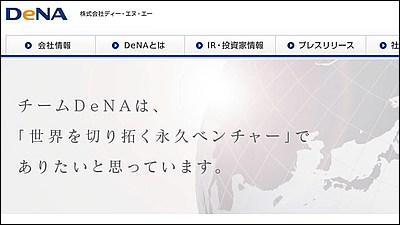 Today at 17:30, DeNA, the operation source of Mobage (Mobage), is on the Tokyo Stock ExchangeTimely disclosed information browsing serviceI announced that I will appeal Glee at trial on above.

Notice on filing a lawsuit
https://www.release.tdnet.info/inbs/140120120131074493.pdf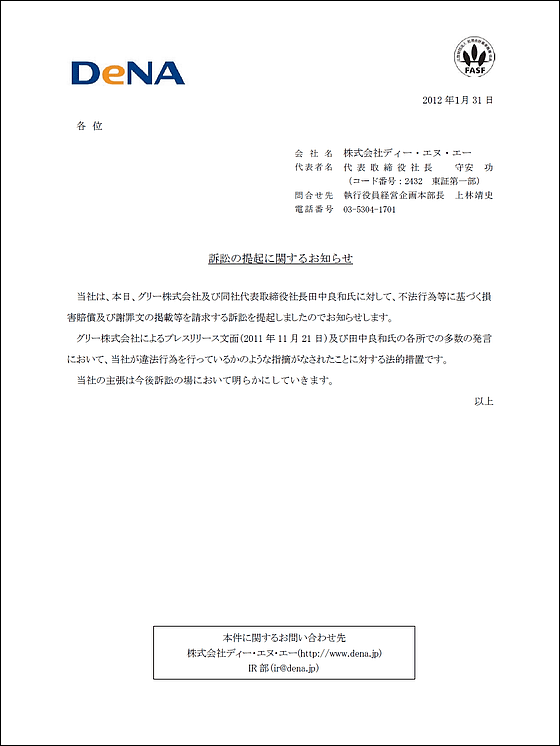 The contents are as follows.


Notice on filing a lawsuit

We announced today that we filed a lawsuit against Glee Co., Ltd. and Mr. Yoshikazu Tanaka, President and Representative Director of the company, for damages and publication of apologies based on torts, etc.

It is a legal measure against the fact that we pointed out that the company is conducting illegal acts in numerous remarks in press releases by Glee Inc. (November 21, 2011) and Mr. Yoshikazu Tanaka.

Our company's claims will be clarified in the litigation.

that's all
The press release of Gree's lawsuit filed against DeNA on 21st November last year is as follows.

GREE Inc. | News Releases | Press Release 2011 | Notice Regarding Prosecution
http://www.gree.co.jp/news/press/2011/1121_02.html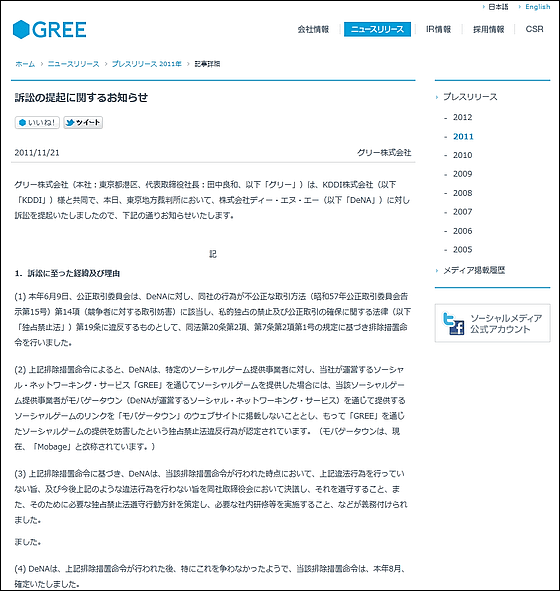 I think that it is probably not the following part that caught possibly.


(5) We have carefully examined what kind of response should be taken against the above illegal acts by DeNA after confirming the above exclusion order order,
· There is a problem in terms of executing the responsibilities of our management team to our shareholders not to take any legal measures as our company against the acts that the national authority of the Fair Trade Commission has found to be illegal
· The above illegal acts have a large negative impact not only on our business, but also on a number of social game providers, carriers and the Internet industry, and the influence is still going on, so it is sound A major problem continuing in terms of ensuring a competitive environment
· Therefore, there is a risk of distorting the sound development of the Internet industry itself, which is regarded as a leading driver of the Japanese industry in the future, and also harming the public interest in terms of narrowing the choices of consumers, Being a very problematic act in the meaning
· DeNA showed a policy to cancel the above illegal action in December last year, but on the other hand, when a social game provider offering games at Mobage tries to provide games even at GREE, What seems to be disturbing
Considering the circumstances, etc., we decided to file a lawsuit against DeNA ("this case"). In addition, KDDI who co-sponsors "au one GREE" with us, we agreed with the objective of securing sound competitive environment and decided to participate in this case as a joint plaintiff It was.
Also, Mr. Yoshikazu Tanaka, President and Representative Director of Glee at "TechCrunch Tokyo 2011" on November 29, 2011, said that as described below, was this also caught? I think.

President Grie Tanaka talks about DeNA lawsuit "People say that even if you commit a crime and win a crime, it rampant" | Nico Nico News
http://news.nicovideo.jp/watch/nw154083

"It will not be for the future of the Internet industry" - President Grie Tanaka criticizes DeNA for blame (BLOGOS Editorial Department) - BLOGOS (Blogos)
http://blogos.com/article/25736/

【TechCrunch Tokyo 2011】 President Grie Tanaka "I will not win even if I make a crime" will never allow - INTERNET Watch
http://internet.watch.impress.co.jp/docs/event/tct2011/20111129_494194.html

Mr. Tanaka complained about the problem of DeNA with a strong spirit and appealed as follows.

"There are many industries that are maturing in the world, but there are no such industries as to whether illegal behavior is rampant over the years.I have a job that has a dream in the internet industry, and the net is a world It is a pride that we are doing it because it's a changing work.It was the idea that everyone used to make this industry before.I was not thinking that it would be better to win even by committing a crime.In this 10 to 15 year , It is my opinion that people who are committing crimes from such pastoral times have come to be rampant as people wishing to win. "

"The thing that I most fear is that I do not want to hate when my favorite internet industry will be like this in ten years, for example 10 years later, if I worked in a company, a young person came and said," Mr. Tanaka, As I compete with the company right now, I will win more and more illegal acts and let's win. "When I say," Why? Illegal behavior is bad, "I said," Because the company DeNA was a long time ago It seems that you tried to do the illegal thing and tried to grab Glee so it is better for us to do illegal activities. "Anything is said," That's right, Glee I lost with that, it would have been better to answer illegal things. "

"I thought that if I overlooked the illegal act now, if our business becomes negative, I think that it will become such a world in the future, I do not want to make Japan such world, I can not forgive that kind of feeling I feel that way I would like to say that illegal activities are bad things through this case.Please let people think that illegal activities are not good for the world.We have the slogan to change the world through the net I am doing it, but I believe that this (a complaint against DeNA) is a good thing I can do against Japan, I am involved with confidence and pride. "
In the interview at Nikkei Business January 16, 2012 issue 48 - 51 page I answer as follows.

Real intention to appeal DeNA: Nikkei Business Digital
http://business.nikkeibp.co.jp/article/NBD/20120109/225930/?ST=pc

Well, before asking for a lawsuit, "Why did not you make the opportunity to discuss with DeNA?" But here again there is a big misunderstanding.
We are victims suffering damage. In general, it is common sense to apologize and repay victims from perpetrators. I think it is strange that it is strange that we do not say anything.

Certainly, I may have gotten emotional and accused the opponent too much. I am sorry to reply frankly. But first of all, should apologies from perpetrators be present? I think that such a feeling also holds a game development company.

However, we can not actually take action (such as litigation). Is not it because the anxiety overwhelming "may it get more serious?"

I am not trying to file a lawsuit because I wanted to do it. Those who are focused on core business will be much better for the company.

However, I think it important to let the world know about "what I can do and what I should do". The Internet industry is the domestic leading growth industry. In the future, I thought that it would be better to pose a problem here in order to make it a representative industry in Japan.

Now that the industry has grown to a certain scale, it is important to clarify the rules to protect. There are parts where the boundary is ambiguous whether it is legal or illegal in the rapidly growing industry.

I do not pursue "justice" but I think that it is important to check the legal line of business when doing business in the country. For that, the trial will be useful.

Of course, it is difficult to predict how the judgment of the court will be made. There may be something different from my own thoughts. If such a judgment is made, we will follow it. Again, for me, I want to clarify the rules of the new industry. I think that the case of this time has such social significance.
in Mobile, Posted by darkhorse