The whole picture of "Olympus · Shock" and summary of past credit loss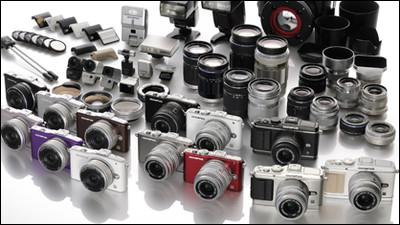 Mr. Koji Miyata, former senior managing director of Olympus, has launched a site calling for the company to manage the company again. Miyata 's hot message that Miyata' s standing up for loving Olympus strikes so many people that access is concentrated temporarily and the site goes down. But really can Olympus change really? I summarized the whole picture of "Olympus · Shock" this time.

Olympus Grassroots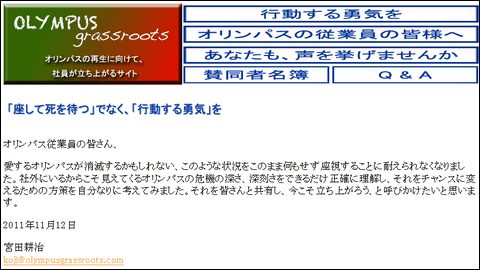 "Olympus Grassroots" is a former Senior Managing Director of Olympus Corporation and a site launched by Mr. Koji Miyata who is the former president of Olympus Medical Systems Co., Ltd. Hot messages for Olympus employees are posted.

It is OB's Koji Miyata who worked at Olympus until 2006. In recent weeks, news that want to close the ears about Olympus has been reported on newspapers and television, and the possibility that Olympus can survive as an independent company objectively is decreasing day by day.

My beloved Olympus may disappear, I could not bear to sit in this situation without doing anything like this, I made public my feelings in the interview of the Asahi Newspaper yesterday. I am sure that everyone is wishing everyday in a state of shock, "I can not believe it, there should not be such a thing, I bet it will be somehow ..." However, the Olympus Maru is on the verge of sinking, and officials who have continued to support Olympus will continue to move away. I would like to call on everyone who does not have a choice to leave or think about "I still have a chance, if I act now". I tried to understand the depth and seriousness of Olympus' crisis because it is outside the company as accurately as possible and think about the strategy to turn it into an opportunity as much as possible. I will share it with you and I will call on it to start right now.
Actually, Olympus occupies about 75% of the global market share of endoscopes, but it is first pointed out that it is not a stone.

However, a more realistic time limit should be considered "before the endoscopic business is subjected to fatal damage". Unfortunately, only the endoscope business will think that it is regrettable that Olympus's business now disappears society. If the endoscopic business is abandoned from major customers and it is totally locked out from national and public bidding, it will cause great damage. Please do not misunderstand that the endoscope is stone. Customers do not want to continue to buy products from a dirty company, and there are as many alternatives as possible.
It shows briefly how bad the governance system is.

To the Japanese Prime Minister, Olympus's governance is said to be "the shape is fine but the soul enters so that the severity of Olympus' governance is not seen from the world as it is to other Japanese companies ..." It has become synonymous with the governance regime. From this state, we must build a first-class governance system with a soul that can convince society "no recurrence anymore" in a short period of time and to put it into practice. Will this management team be able to do this? This is the second hurdle.
And I summarize what to do at the end.

As I mentioned in 1-5, in order to understand the seriousness of the Olympus crisis I understand and the opportunity of the Olympus resurgence within the remaining time, the following things are necessary.

1) To frankly admit that we were ashamed of our unknown, did not have the courage to act, then sincerely apologize for libelous slander, defamation against Mr. Woodford.

2) To plead for Mr. Mr. reinstatement with one voice to cause "miracle" of Olympus resurgence.

3) And when Mr. Woodford is reinstated and he can clear the above-mentioned tasks 2-4, Olympus is a clean body completely pushed, has a fine governance system that never again causes scandals, and To stand up to believe that a way to become a model case of "a truly global enterprise" that will challenge major reforms as a whole is reached in order to regain the damaged shareholder value as soon as possible.

I launched this website for those who think to take action in response to my call. By applying to this site, I would like to tell Mr. Woodford about the size of our voice to Japanese and world people, and more than anyone else. We welcome not only active employees but also OB. If possible, it is a real name, and if it is difficult, please fill in the application field anonymously. Also, if you have a question to me to convince before that, I would like to set up a section of Q & A that will answer as much as possible. As I started in limited knowledge and time, I can easily imagine running and faced with various problems. But I thought it was more "to sit down and wait for death" and started running.

Please give me a hand.

IncidentallyOlympus Grassroots Official Twitter accountAccording to this site, it seems that this site started from November 10.

The curtain rises with FACTA coverage
It was FACTA's July 2011 issue that first cut into the Olympus issue. We also deal with Olympus in the August issue, which you can read on the net as well.

Olympus "reckless M & A" huge loss loss monster: FACTA online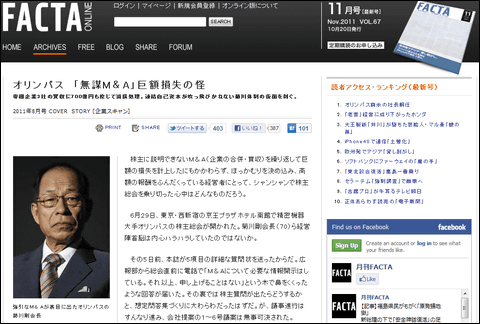 A general shareholders' meeting of Olympus, a leading precision instrument, was held at the Keio Plaza Hotel South Building in Nishi-Shinjuku, Tokyo on June 29. Mr. Tsuyoshi Kikugawa chairman (70) The leaders of the management team may have been inexhaustible.
Five days ago, the journal sent a detailed questionnaire of 5 items. From the Public Relations Division just before the General Assembly, I got a phone announcement that "I have disclosed necessary information about M & A, I have nothing to say," with a tree nestling. Behind that, it should have been great to create a collection of expected questions and answers as to what to do if shareholders ask questions. However, the agenda progresses smoothly and the proposals No. 1 to No. 6 proposed by the company are successfully passed.
It is too early to stroke my chest. This magazine is not the eyes such as the annual general meeting. Todome of the investigation report is about to come.

◆ From the dismissal of President Woodford on October 14th until the retirement of President Kikukawa on October 26
At this point, there were still many people who thought "FACTA is saying M & amp; A? However, you can see from a later point that FACTA already held numerous allegations. Mr. Woodford, who was dismissed from the president on 14th October, told the Financial Times on 15th and 16th October 2011 that FACTA's "not a serious annual meeting etc" was true We support.

Olympus, dismissed Mr. Woodford talks about the truth Can not understand the real situation Cayman Islands company has disappeared $ 600 million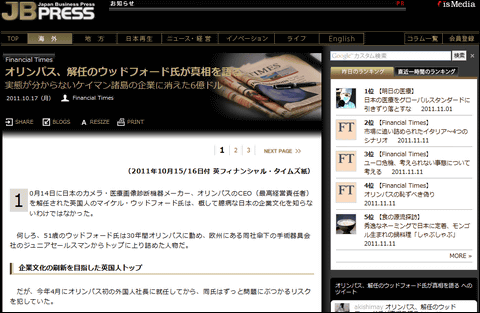 In the story of Mr. Woodford, he pursued the problem after that, but the answer he got was ambiguous and lacking concreteness. In the process of investigating variously, he said he began to be concerned about a large payment to a financial advisor involved in the acquisition of Gyrus in 2008, a medical device manufacturer in the UK.

According to himself, Mr. Woodford confirms that Olympus is the ultimate owner for Olympus totaling about 687 million dollars - an amount equivalent to about one-third of the purchase price of $ 2.2 billion - I have not paid to the company AXAM registered in the Cayman Islands. "No matter what criteria we look at, it's a ridiculous amount of money," he insists.
Olympus former president, insisted that the removal was investigating past acquisitions - British FT paper - Bloomberg

Mr. Michael Woodford, who dismissed the president on April 14, said that the reason for the dismissal was that he conducted a survey on the acquisitions made by the company in 2006 and 2008 before the assumption of the president in April , Based on the interview, the British Paper Financial Times 15th.
Following Woodford's dismissal, Olympus plunged from 14th. Each securities company will cut investment decisions.

Olympus cuts down the successive evaluation by dismissing the president, Nomura went to target stock price 39% cut / stock NEWS / Morningstar

Mr. Woodford, who showed a strong will to cut costs and restructure the camera business, withdrew from the top, and each security is expected to have a negative impact on the company's future profits. Some analysts point out concerns about the management structure itself of the company due to the unusual situation of his dismissal just having assumed office in April this year.
Olympus shares will come down to the low of the coming May 2009, the previous president will dismiss the investment judgment successively - Bloomberg

Toshiya Ogata, analyst with Goldman Sachs who lowered its investment decision from "buying" to "neutral", said the Olympus Board of Directors decided on the results of Mr. Woodford as Chief Operating Officer (COO) appointed April 1 The biggest surprise for the market "pointed out at the investor's report on Friday, only to the events that appointed CEO on October 1st. Mr. Seiki, who returns to the CEO, said at a press conference, "The cost reduction will continue", but when considering the chairman's track record, "Market will take this remark on the face value as the market The possibility is low. "
On 17th, Olympus announced comments on these reports.

Olympus Announcement: About some reports on our company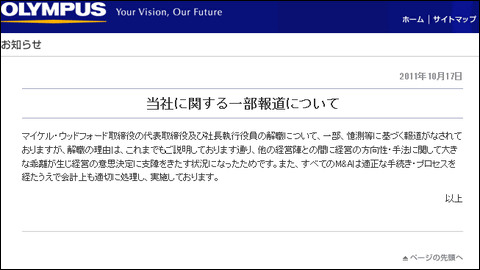 Although some reports on the dismissal of the representative director and president executive officers of Michael Woodford have been made based on speculation, the reason for the dismissal is that, as explained so far, other management teams Because there was a large gap in direction and method of management between the company and the company, which made it difficult for management decision making. In addition, all M & amp; A properly process and carry out accounting through appropriate procedures and processes.
All M & A properly processed and implemented = Olympus | Reuters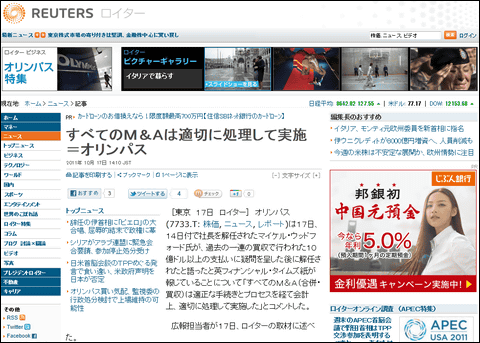 However, the words of Olympus can not be trusted anymore, and the follow - up jumps in rapidly.

Olympus investigated with an advisory fee for the acquisition of the British company, authorities concerned also - external report (2) - Bloomberg

The PwC report cites Gyrus's preferred stock as a factor in increasing payments. The preferred stock was issued in 2008 as part of the advisory fee and was initially valued at $ 177 million. However, after FA's request, in the end, Olympus bought back this preferred stock in March last year at 620 million dollars.
The report pointed out that the ultimate acquisition cost was extremely large. Although I can not be convinced that inappropriate behavior was done, I can not eliminate that possibility at this stage. In addition to this there are many items that need to consider whether there is illegality. Among them are fraudulent accounting, financial support, and violation of the duty of care of the board.
In addition, Mr. Woodford's interview will be posted on the Wall Street Journal. According to this, Mr. Woodford reads the July FACTA registry questioning the acquisition of the three small enterprises who are going to the Olympus and met with Mr. Kikukawa and the vice president of Mori, but "It is not necessary to worry" It is said that. As articles came to be included in FACTA, Mr. Woodford ceased to doubt the doubts of Mr. Kikukawa and others and sent a letter requesting resignation to President Kikukawa and Vice President Mori.

【Interview】 Olympus president's dismissal play background = Woodford former president - WSJ Japan version - www.WSJ.com

Mr. Woodford said that he felt concerned about the high remuneration paid to the acquisition adviser company, among others, Gyrus deals. He also said that there was very little information about this advisor company.
He asked PricewaterhouseCoopers about two weeks ago to investigate the acquisition in detail. According to Mr. Hayashi, a report on 30 pages was settled last week, and this paper has browsed the document to be copied.
In this report, Pricewaterhouse stated that "we can not be convinced that inappropriate acts were done, but we believe that it is unlikely that the possibility of inappropriate acts being carried out at this stage can not be ruled out" There. It also points out that possibilities such as false accounting processing and violation of director duties may be considered.
Mr. Woodford sent a letter asking Mr. Kikukawa to resign from Mr. Kikukawa and Mr. Mori with this report on Monday night.
In his letter offered to Mr. Masahiro this time, "It is clear that it is no longer possible to defend the current situation, and as for measures to proceed positively from now on, it is necessary for you two people to resign from the board of directors It was written that shareholders suffered a shocking amount of losses as a result of "a great deal of miserable errors and extraordinarily poor judgment" in these acquisitions.
In addition, "If you are not willing to resign, under the obligation to believe, I will bring up the basic concerns I have about our company's governance to appropriate organizations."
Regarding Olympus shock, FACTA was preceded anyway, but on October 20, modern business opened "allegations of board of directors materials" as a scoop. This article was written by Yoshimasa Yamaguchi, an economic journalist who wrote "Olympus' reckless M & A" massive loss monster "that can be found on the aforementioned FACTA August issue.

This is the core of Fushin management! Journalist who got the scoop publicly announced Olympus "suspicious board of directors materials" which bought a company with little value worth 70 billion yen urgent article | blind spot of economy | modern business [Kodansha]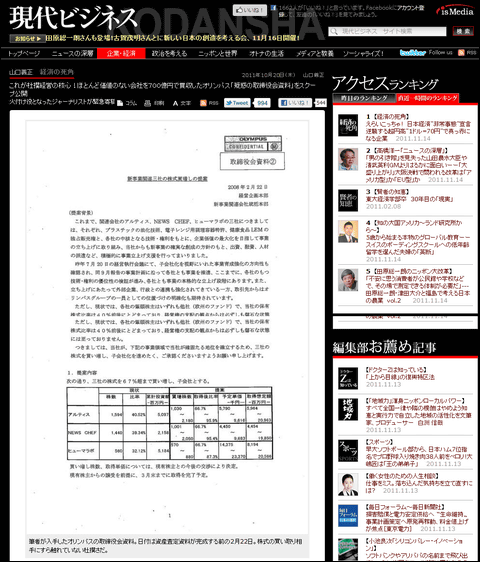 The Financial Times, who first posted an interview with Mr. Woodford, has put quite a tough debate.

[FT] The crisis of Olympus invited by unseen pretending: Nihon Keizai Shimbun

The crisis incorporating Olympus is definitely eye-catching. It is completely unknown to Japan that domestic conflict broke out at the top of the company, involving huge losses due to insufficient explanation. The UK CEO (chief executive) who was dismissed the other day submitted evidence documents concerning the company's activities to the UK Criminal Investigation Agency (SFO). Consensus management is no longer anymore.
The Wall Street Journal is interviewing the three companies actually acquired.

Olympus, acquisition of three domestic companies totaled 73,490 million yen - WSJ Japan version - jp. WSJ.com

Looking at any office building in Tokyo where three companies have offices, we can see how these companies and the parent company are far apart.
According to the interview, the executives of the three companies said they were surprised that the company suddenly took a lot of attention and said this is the first time to talk to the media. Three senior executives appeared at the gathering place where they brought them and called themselves "brothers" with laughter. Three of them said they did not know the details of the acquisition because they joined after the acquisition of Olympus.
In addition, we do not consider that there is a great synergistic effect between Olympus' main business such as cameras and endoscopes and the manufacturing business of anti-aging creams and plastic food containers that they handle.
The news chef, Koichiro Hayashi, director of operations said, "I feel like talking about a different world, which is meaningless because there is no business involved even if telling general customers that it is a subsidiary of Olympus."
While facts are steadily revealed, Mr. Woodford feels uneasy about safety and clarifies the intention of seeking protection from the London Metropolitan Police Department. By the way, Mr. Woodford advised economic journalists who reported suspicions of Olympus through people to take care of their safety.

再送:「身の安全に不安感じる」 オリンパス<7733.T>前社長、警察保護求める意向 | マネーニュース | 最新経済ニュース | Reuters

Michael Woodford, former president of the company, said on Friday that he was uneasy about his safety since uncertainty and huge payments came out in the light of about 4 acquisitions involving the company around 2008, I clarified my intention to seek protection.
And finally the shareholders move.

Olympus shareholders' US investment company requests investigation to the company side - Sankei Biz (Sankei Biz)

Olympus shareholders US investment management firm Harris Associates announced on May 20 that they sent a letter seeking detailed explanation to the Olympus Board of Directors on an acquisition proposal pointed out by former Woodford dismissed as uncertain did.
For recent projects including English medical device makers, asked the third party to ask the third party how to determine the purchase price and who involved in the decision making.
Mr. William Pesek, a columnist in Bloomberg, expressed this disturbance as "Olympus shock." I criticize Japanese corporate culture severely.

【Column】 "Olympus · Shock" is the world's teacher - Pesek (1) - Bloomberg

Japan's corporate governance (corporate governance) is inadequate and severe monitoring is necessary. It is rare for discussions to be heated at the board of directors of Japanese companies. One reason for that is because executives of Japanese companies have not earned enough rewards for Americans who are getting quite high. Shareholders think that executives are smart and are doing their utmost for Japan co., Ltd. That's why shareholders rarely rush hard questions.
Meanwhile, Olympus, the parties, tried to take legal action as Mr. Woodford shed internal documents outside. Mr. Woodford accepts this as "I'm hoping".

Exclusive interview with Magazine Michael Woodford · President Olimpus "Legal measure for me?" ── Weekly diamond Special pre-release from October 29 issue | Close-Up Enterprise | Diamond Online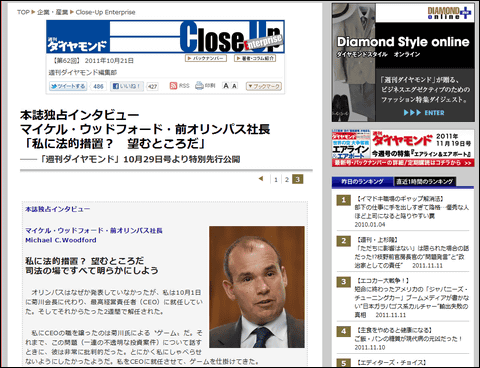 Olympus says that I will take legal action as if I sent internal documents outside.
That's what I wanted. Please come to the court in London by all means. That will make the public more aware of it. But more importantly, the Japanese judiciary starts to move. If none happens, it means that the country itself is funny.
On October 26, Kikukawa, the chairman and president of the entrance retiring, retired, and Takayama Managing Director was appointed president.

Olympus, Chairman and President of Kikukawa retired President Takayama: Nikkei newspaper

On the 26th, Mr. Kikukawa said on June 26, "We are annoying customers and shareholders, etc. due to a series of reports that start from the president's change (as of the 14th) and a sluggish stock price etc. We will make efforts to restore confidence in the future We decided that we should promote with a new regime. "

◆ "Loss postponement (skip)" turns out
Even in November, as new facts are steadily increasing, the acquiring mediators of the three companies turned out to be the persons involved in the "postponement of loss (bounce)" during the bubble period.

Olympus buyout intermediary has been involved in "postponing loss" from the 1980s = Relations source | Reuters

During the bubble period in the 1980s, he taught financial services to general corporations. After that, when the enterprises who were deeply impaired in financial turmoil in the collapse of the bubble triggered by the collapse of the Nikkei 225 stock price triggered a loss at one stroke in 1990, they were involved in the composition of "loss postponement scheme" .
The scheme is a technique such as temporarily selling securities with investment losses to different companies and funds with different fiscal year. The government prohibited "compensation for losses" that the securities company compensates for the investment loss of the client company due to the 1992 revision of the Securities and Exchange Law but whether or not the loss postponement scheme is deemed to be "compensating for loss" depends on its content, Gray zone of trading "(executives of foreign-affiliated securities), Japanese companies wanting to avoid loss reporting in the 1990s used a lot, domestic and overseas securities companies had provided them to companies.
And I admit that Olympus was using the acquisition funds to postpone this loss.

Olympus uses acquisition funds to postpone losses, recognizes inclusion losses accepted | Reuters

By the way, it is clear on November 9 that one of the acquiring intermediaries is unknown.

Center person in Olympus suspicion, unknown - WSJ Japan version - www.WSJ.com

Regarding Mr. Sakawa who established Axis America, one of the two companies who received extraordinarily high compensation from the company on advice to Olympus concerning acquisition of the company, although the real image becomes gradually clearer, unknown There are also many points.
It was paid to two companies (who also served as Director of Axam Investments of another company) how he became deeply involved with Olympus by Wall Street former bunker, 688 million I still do not know exactly how we handled the dollar. Furthermore, it is unknown where he is now.
Mori Hisashi executive vice president was dismissed, Hideo Yamada stepped down as a full-time corporate auditor because the loss concealment was found out.

【Olympus Loss Hidden】 Dismissed Vice President of Losing Hidden Involvement Yamada Corporate Auditor Resigns as well - MSN Sankei News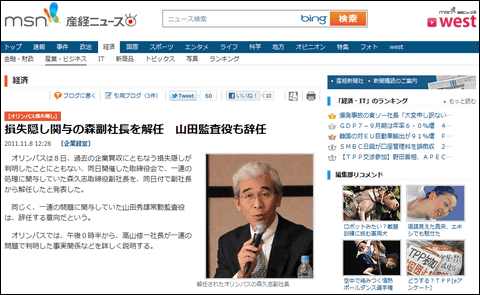 Olympus shock was also taken up in NHK's theory of public opinion. Among them, commentators on the lower boundary commentator point out that such problems can also occur in addition to Olympus.

Shocking public opinion "The impact of Olympus' fancy settlement accounts" | Time public opinion | commentary committee blog: NHK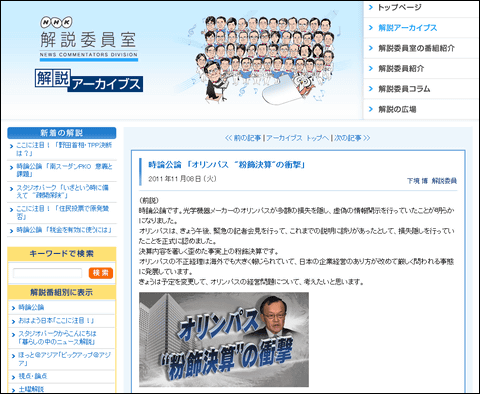 The problem like Olympus is that it can happen in any company.
There are few companies that are dragging the former bubble burst and the negative legacy of the financial crisis.
Even companies that seem to have recovered from the collapse of the bubble economy or the financial crisis still need to undertake appropriate accounting and information disclosure if they are suffering from a negative heritage.
The loss that Olympus had at the time of the collapse of the bubble amounted to nearly 100 billion yen, but skipped before the change in the accounting standards in 2000, only about 17 billion yen was posted as extraordinary loss.

Olympus, "skipping" before new accounting standards: economic news: money · economy: YOMIURI ONLINE (Yomiuri Shimbun)

From the fiscal year ended March 31, 2001, the accounting standards have been changed and the method of indicating at the market price (fair value) at that time from the method of filling in the book value (book value) which is the price at the time of acquiring financial instruments such as stock etc. It was renewed. As a result, the company was forced to process bulk inclusion losses in bulk.
However, in anticipation of introducing this new method, the company posted only about 17 billion yen as an extraordinary loss in the securities report for the fiscal year ended March 31, 2000, which is said to be close to 100 billion yen. There is no doubt that other losses are described, and there is a suspicion that it postponed by a skipping method or the like.
Bubble's backstage behind ... Olympus huge loss hidden: economic news: money · economy: YOMIURI ONLINE (Yomiuri Shimbun)

Three domestic companies have purchased at a high price, it was decided that it costed a large amount once, there was a possibility that impairment processing was done on the assumption that corporate value fell the following year. As a result, the "loss from investment" has been replaced by "loss due to misjudgment of corporate value".
Mr. Toshiro Shimoyama, president of Olympus during the bubble period, responded that he did not remember whether there was loss hiding in the interview of the Nikkei newspaper.

Olympus Shimoyama, former president, hiding loss "Not in memory": Nihon Keizai Shimbun

Not all reports on financial affairs will come to the president, and I do not remember it. If there were any, the finance department did it. Mr. Masatoshi Kishimoto (president from 1993 to 2001) was then the executive in charge of financial affairs. I am an operating field, I have not heard details of financial affairs
The audit corporation was also aware of this loss hiding, but KPMG AZSA & Co., which pointed out this corruption in 2009, was canceled. It was the same figure that Mr. Woodford who had doubts about the acquisition problem was dismissed.

Asahi.com (Asahi Shimbun): Canceled audit corporation surrender Olympus 2009 - Business · Economics

◆ Future Olympus

Subsequent investigation found that the loss of the loss of Olympus peaked at 130 billion yen.
Hidden loss at two stages in Olympus Expands to maximum 130 billion yen - 47 NEWS (Yona no News)
On November 10, at last the stock of Olympus entered the supervision post. Reuters believes that there are companies that want the endoscope business, but on the other hand, the camera business is sluggish, pointed out that the brand image of Olympus is considerably impaired in this incident. Mr. Woodford said that by returning to the president, there is a possibility of corporate rebuilding with certain technical capabilities, while summarizing that the future is uncertain.

Olympus waiting thorough path, endoscope aiming acquisition and camera separation | Reuters

By the way, although Reuters' article is on 11th November, it is said that "the delisting is rich", but Bloomberg of the day tells the market trend that the prospect of being able to avoid delisting is strengthening I will.

Viewpoint that Olympus shares can stop buying high and avoid delisting (1) - Bloomberg

If Olympus can change from inside, there will no longer be any incidents that all the useless parts of Japanese corporate culture have come out like this one. If delisting can be avoided, it may be able to become a new Olympus. A survey report of the Third Party Committee is scheduled to appear in early December.