I tried using the "will test kit" with Kokuyo's caddy roll prepared for any chance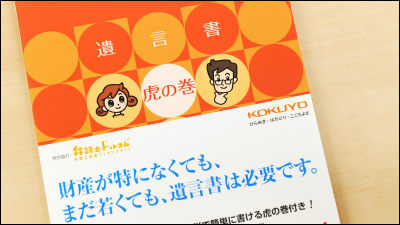 When saying "the will", the elderly in a rich man wrote down, the bereaved families who found it can put a conspiracy over the share of each other .... The classic development of suspense comes to mind. However, the actual place is that even if you do not have confusing problems with special property or family relationships, you can write down the testamentary canon to lighten the burden on people left in the unlikely event It is not well known.

This time, I will examine the meaning of writing a testamentary letter, what kind of testament will be written, how to write it, Kokuyo S & amp; T's"Will test kit"I actually tried to write a will.

Testamentary Kits - Life Event Support Series - Kokuyo S & amp; T

This is Kokuyo S & amp; T's will test kit. It was 2415 yen with tax.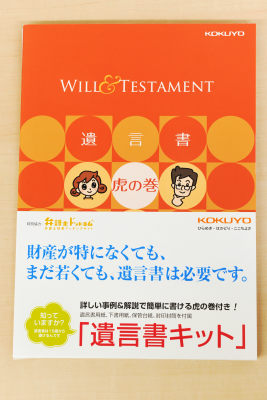 Inside, there are "Will wills, Toronomonori" and 4 wills and 4 wills, 2 wills drafts, 1 storage for storage, 1 seal envelope.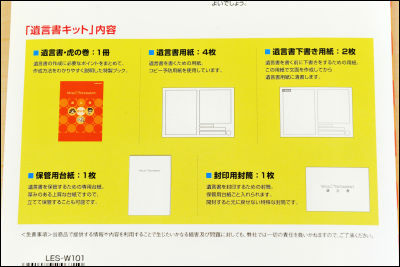 "Testamentary Writer - Torpedo". The merit of writing a testamentary letter and the actual way of writing are commented in comic books in an easy-to-understand manner.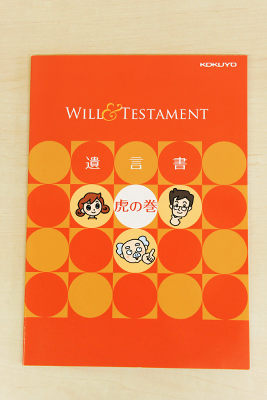 Storage mount.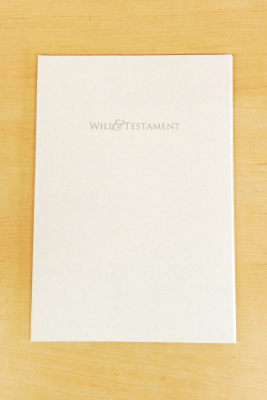 Envelope for sealing.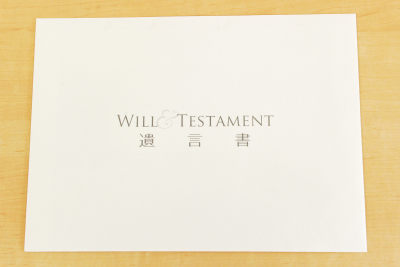 Two sheets for draft.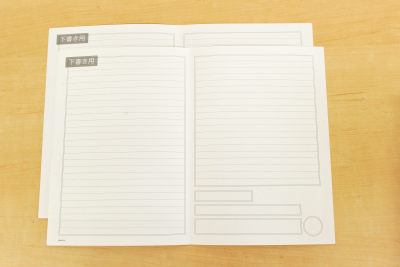 Four willsheets.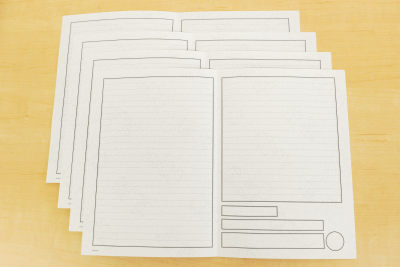 The back side looks like this. It is a type of envelope that can not be returned to original when opened.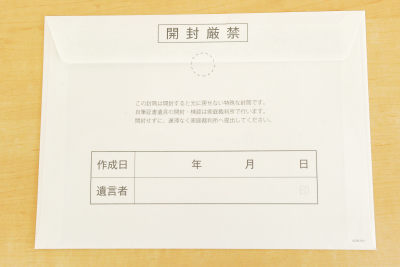 In "Will will / Toranomori", I first explain in "Manga" about "why you should write a will".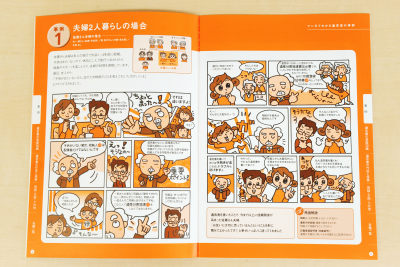 Ichiro Sato who just got married, Ryoko san and his wife. In the case of a family without children, I was relieved that my spouse would inherit all the property, but in fact it knows that my parents, brothers, nephews may be heirs in addition to my spouse , I will notice the need for will.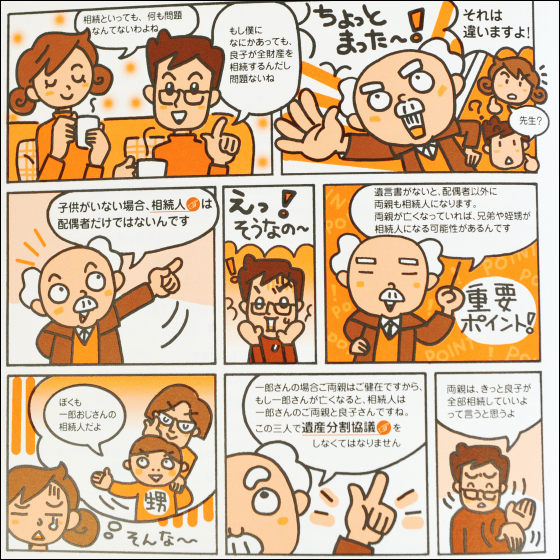 Even if it is predicted that relationships with parents and relatives are moderate and problems will not occur in property inheritance, if there is no will"Heritage Split Consultation"Then,'Heritage Splitting Consultation'We have to create and have them press the seal. If you have a will, you can simplify the procedure that is troublesome and easy to become a source of concern.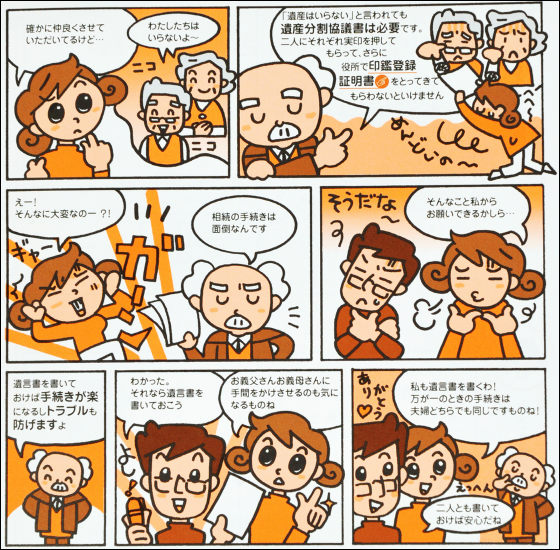 The written will is written below. In the "Annotations" of No. 4, "I wrote this to prevent parents and Ryoko from having a hard feeling with procedures, etc. when I was in. I am glad that you can understand." It is written.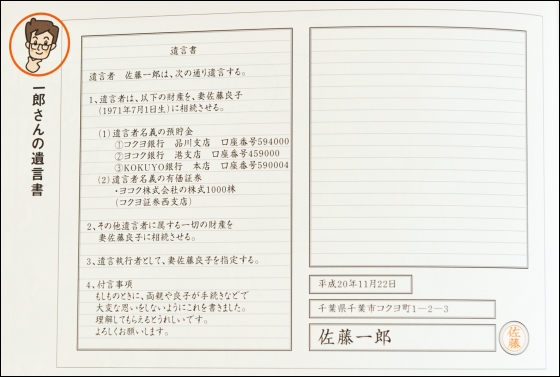 Ryoko also wrote a will with her husband, Ichiro.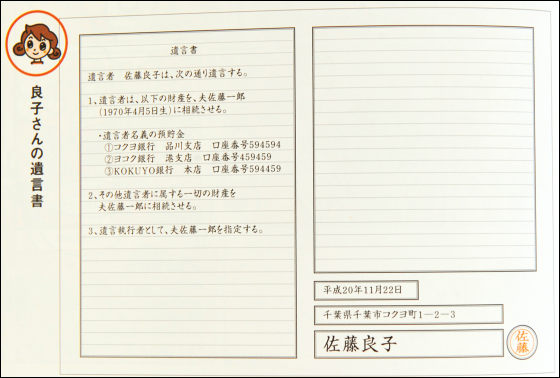 The will will be useful even for families with children. This manga is the case of Toshiyuki Yamaguchi, Emiko and his husband, who have two children.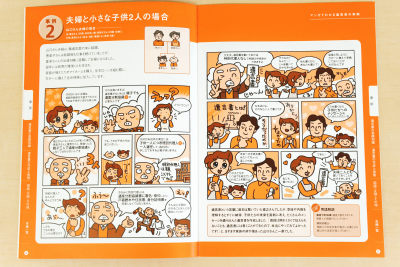 If the child is a minor, it is necessary for each child to have one "special agent" other than the parent. The special agent must sign and seal the heritage division consultation on behalf of the child, prepare a registered copy or ID card.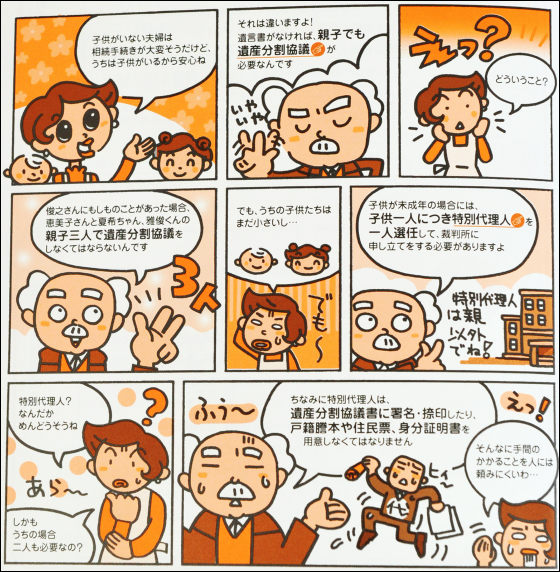 If a will is prepared, inheritance procedures will be possible without a special representative. Even if it is simple, by writing a will, you can lighten the burden of the spouse or child left behind in the event of a chance.



Toshiyuki's will will inherit all his property to his wife Emiko. In (1) of No. 1, another term is stated with regard to real estate. In this way, you can also prevent trouble by describing the main things in the property in a special and clear way.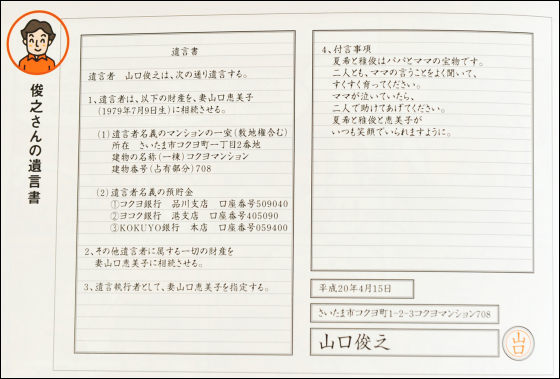 Emiko's will. The message of the appendix is ​​easy as "Natsuki, Masatoshi, Dad, I wish for everyone's happiness", but in the case that I died without calling with an unexpected accident, It may be a support for the heart of you.



There are two major categories of "will written letter testamentary" and "fair deed written testament" in the testamentary will. An autograph certificate is a person himself wrote the full sentence with his autograph, and a notarial deed is a thing created by the notary in the notary office. Each has advantages and disadvantages, but this time we will create in "will test kit" is "autograph certificate will".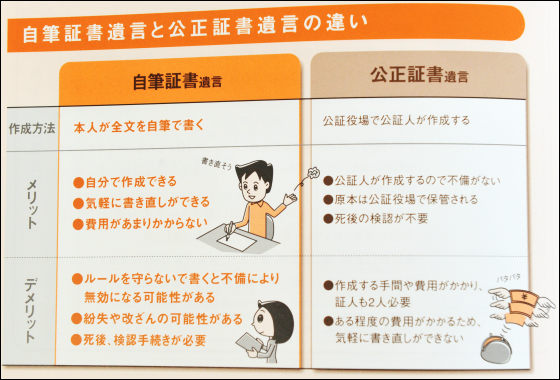 The flow of making a will will be as shown in the figure below. In the case of a self-written certificate will, write it yourself and keep it yourself. In the case of the death of the principal, the will will not be opened, it must be brought to the family court and checked.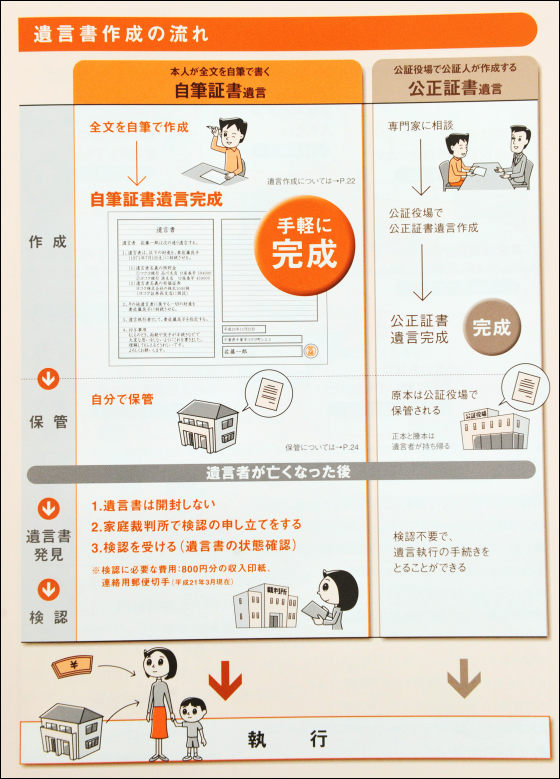 In the will, you can designate the method of division of the heritage, ask for care of the pet, request the management of the grave, or designate a guardian such as a child.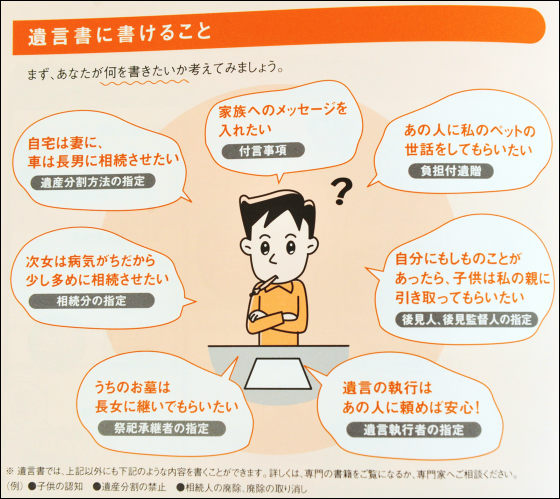 When actually writing the will will write like the picture below. Especially"Write with all your own autographs" "Write the exact date of the day you created the will", "Sign the name" "Press the seal"It is necessary to pay attention to it because the will will be legally invalidated if one of them is leaked.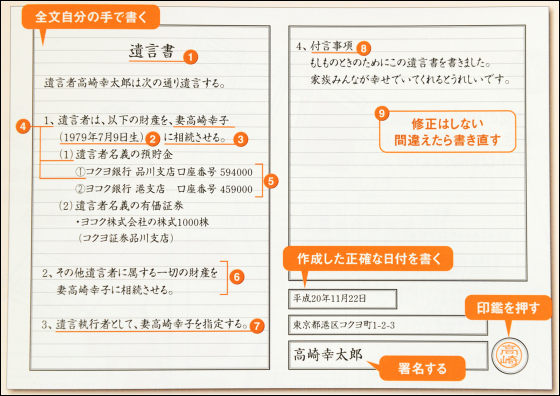 In addition to the detailed information on what has been posted here, Q & amp; A, a family court list in the whole country, a list of Bar Associations are also posted in "Will will / Toranomori".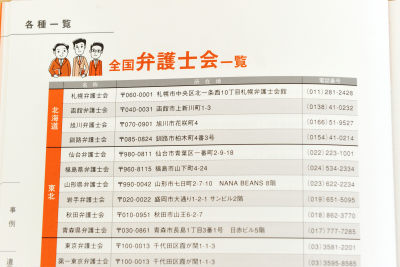 I decided to write a testament on my own by trying.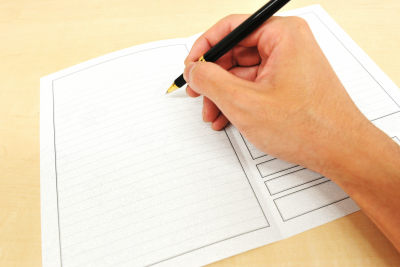 Completion.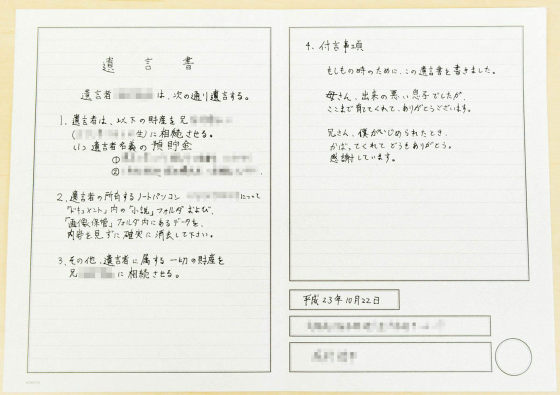 Put this in a storage base paper, put it in an envelope, seal it and store it in a place that you can easily find after death. It is safe when you encounter any emergency situation.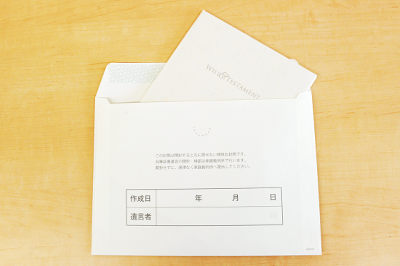 When I tried again making a testamentary letter, surprisingly I felt somewhat positive feelings. If you write with "will test kit", if you have decided to write it, the will will be written in about 10 minutes. On a daily basis, for those who can not convey the feeling of thankfulness, try writing a testament to each other, you should be able to see the opponent with a fresh feeling.
in Review, Posted by darkhorse_log