"EV-DO Advanced" of KDDI that realizes 'Easy to connect iPhone 4S'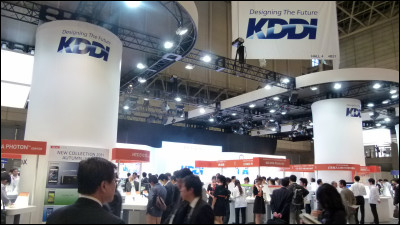 At lastThe KDDI version iPhone 4S will be releasedBut, as Softbank Mobile faces the emergence of the iPhone "3 G line becomes difficult to connect due to an increase in traffic volumeThere should be few people who are worried that KDDI will bring about the issue of 'KDDI'.

Even so, cellular phone companies are struggling with the increase in communication volume due to the rapid popularization of smartphones, but even in such a situation, even in such a situation, the technology "realizing a" easy-to-connect smartphone "EV-DO Advanced"But"CEATEC JAPAN 2011"It was on display at the KDDI booth.

"EV - DO Advanced" exhibition corner of KDDI booth. Unfortunately the base station equipment etc was not exhibited.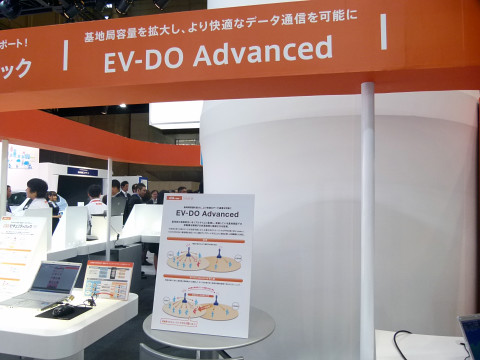 Technical overview. Conventionally, because it adopted a mechanism that "cellular phone with strong radio waves" communicates with mobile phones, communication concentrates on the base station where radio waves are the strongest in densely populated areas, and as a result the speed drops or it is difficult to connect ... .... However, "EV-DO Advanced" introduced from April 2012 confirms not only "strength of radio waves" but also "base station congestion degree" in real time, and it is adjacent You will be able to communicate with free base stations and so on.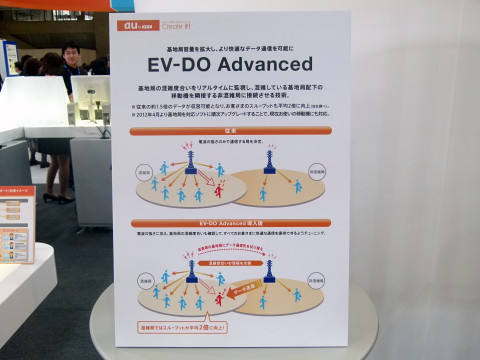 With the introduction of "EV-DO Advanced", the base station can accommodate about 1.5 times the conventional data, and it is said that the throughput (execution speed) of the user is also doubled on average, and this technology is particularly suitable for smart phones It can be said that users benefit greatly.

According to the explanation staff, the technology is basically a technology that can obtain higher effect in populated areas such as busy streets, but "it is not only in downtown areas but also in apartment houses like suburban housing complexes "EV - DO Advanced" will be effective technology in both the city center and the suburbs.

By the way, in other companies there are cases that stick only to the "number" of base stations, but the explanation stated that "KDDI has installed base stations considering efficiency as well as number." Furthermore, as a future development, UQ Communications of the current subsidiary is developingMobile WiMAX with downlink maximum of 40 MbpsYaThe largest nationwide free public wireless LAN service "au Wi-Fi SPOT", And LTE which is scheduled to start service in 2012, we are going to make a total battle with multi-network.

Information on service area information and efforts to improve radio wave is as follows.

Service Area | au by KDDI