Fry fried powder from oil-free "Rinse at fingers", just within 10 minutes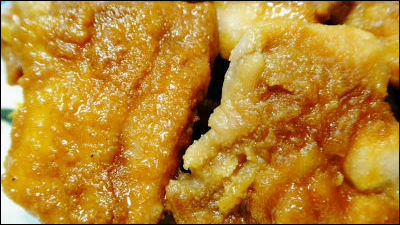 Being fried without frying in a frying pan just to bake it in the Showa Sangyo's "Because I chin in the range fried powder"(The suggested retail price is 180 yen without tax). As the name implies, just a chance at the range to finish deep fried rice is easy to handle, and the formulation of fried powder from the Showa Sangyo has become unique, it is patent pending. Somehow it seems to be awesome, so actually I bought it and made it.

This is "frying powder as it flushes at the range" of rumors, soy sauce flavor



It is equivalent to 24 fried chicken with this one bag. Only prepare chicken thigh meat · bag for wearing · kitchen paper · dish only.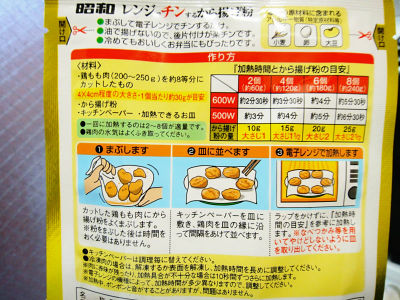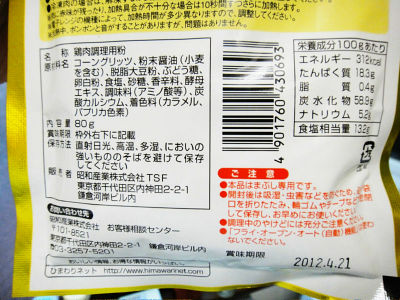 According to the explanation on the reverse side, it seems to need 250 grams for 8 pieces, so this time we are searching for chicken thighs close to 750 grams and purchasing 720 grams to make 24 pieces at once. The price is 777 yen, but it seems that auspiciousness seems to be somewhat good.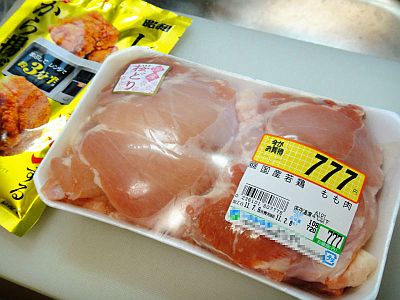 I cut it from the beginning as a chicken thigh meat for fried, but since it is uncut, I cut it with a knife.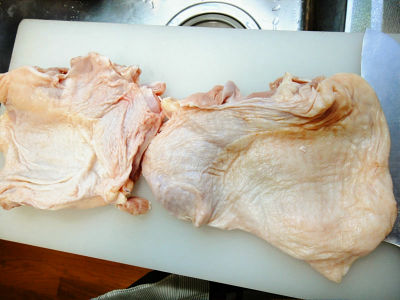 Cut completed for 24 pieces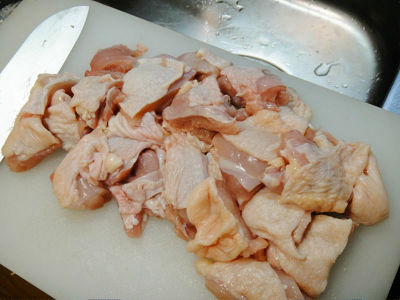 I put the cut chicken thigh in the plastic bag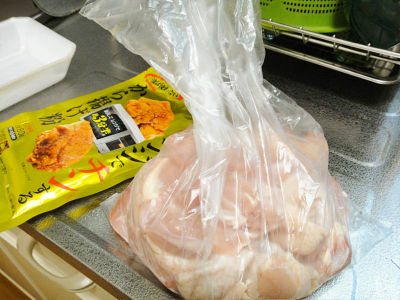 This is the contents of "fried powder as it tries at the range"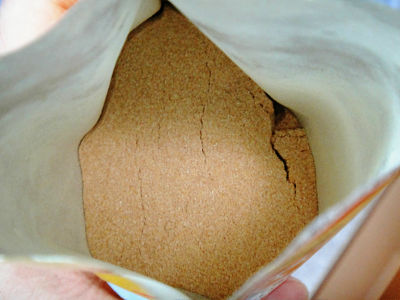 Put in a plastic bag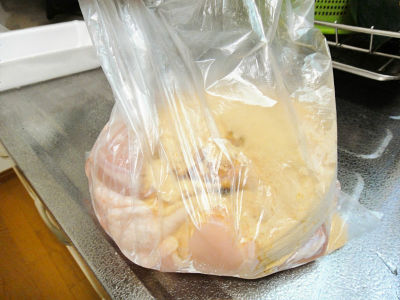 I swing around and shake it. There is no need to put in pickles, if you cover it is OK with that. It is oddly handy.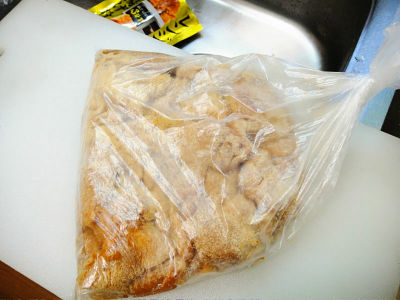 Put kitchen paper on a plate and arrange chicken thighs.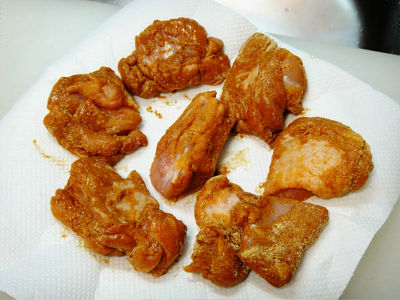 If it is 2, it is 2 minutes and half with 600 W, 3 minutes half if 4 pieces, 5 minutes and half if 8 pieces, Chin in range. It is not necessary to rapping it, so it's also here.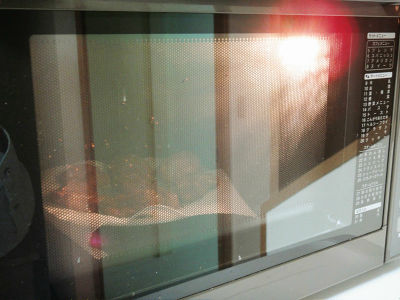 Completion One minute and a half to cut, one minute and half to cover it, one minute to prepare to range with the range, five minutes and half to the range, completed in 9 minutes and a half. I can make this much in less than 10 minutes.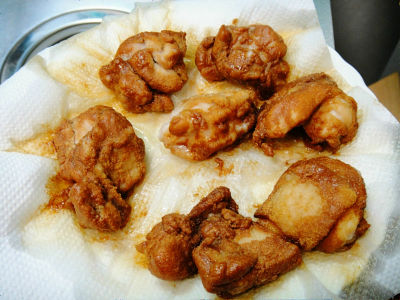 Oil that the chicken thigh itself has soaked in the underlying kitchen paper, which seems to be in a fake atmosphere like that.



Kitchen paper covered with so much oil. There is nothing to say but awesome.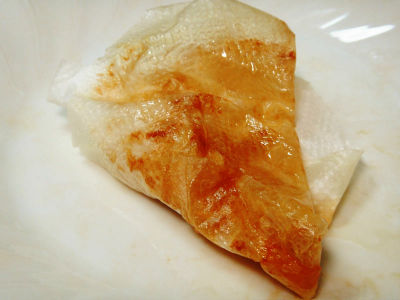 As a result, there is no extra oil, but juicy is still left.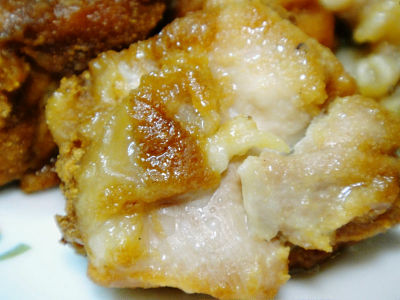 Fried powder itself sticks by tingling, creating an atmosphere like peel after deep-fried with oil, excellence.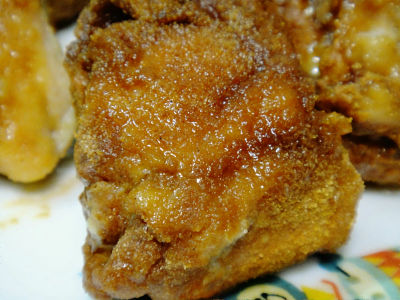 I will build on and on and on and on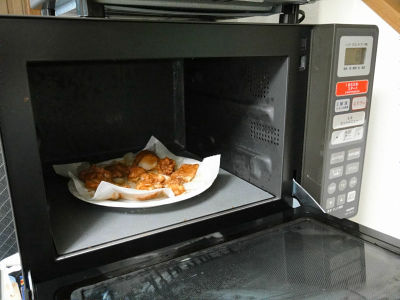 While chinning in the range, it is also characterized by some scent like chicken ramen, while you are chinting you can hear a sound like you can play with pom pom, but as you can see the fried itself is safe .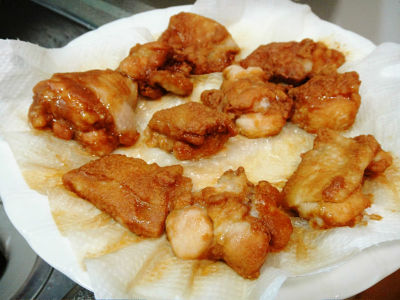 Completed at once in a stroke. It is amazing that fire has passed properly through the inside.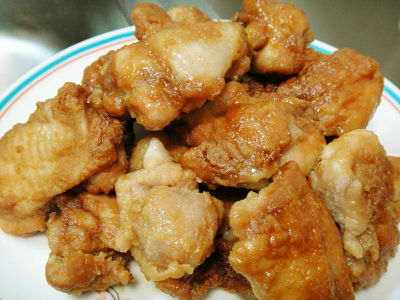 As fried chicken fried mouthfeel, there is not only feeling crisp crunchy, because it depends on the performance of microwave oven, but other than that it is undoubtedly fried chicken. The taste is also deep-fried chicken itself, not too thick, not too thin, just a taste of good touch.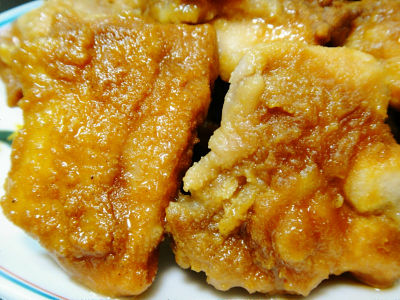 Perfect for people who do not like fried food because they are juicy because they are fine.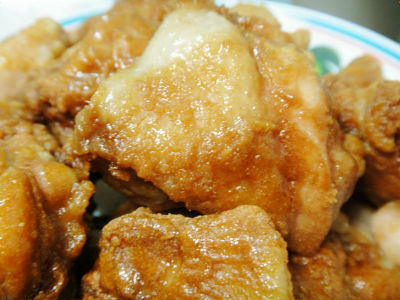 Also, even if it cools down, the taste does not change at all, after having saved it in the refrigerator for a day, it warms up again by range and it is also wonderful that there is almost no change in taste.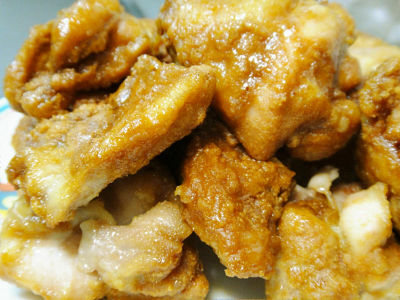 It can be used for all kinds of uses, such as snacks, small dishes of lunch, etc., because it is completed by just choking with 2 ranges without needing pickling placement, and there is juicy but extra oil can be cut It keeps its taste not only when it is cold but also it is delicious even when it will be the next day. This is an overwhelming perfection that I must say "Kitakore!" In such a fried food relationship after a long time.

The only trick to make it delicious is just one, "Make the microwave wattage and cooking time anyway as described on the back (if the time is too much, taste it, if it is too little it gets fired). It is important to note that it is only possible to do lazily if you make it to a bad name. However, it only matches the wattage and the time tightly. Unlike baking and frying, there is no need to watch during cooking, but it also raises points.

In addition, as a type to chin in range, things that use containers are present as separate goods, but with the feeling that the aiming direction is different, I would like to raise the army as much as I can easily and quickly Feeling. Because the frying pan and oil are not used, the point is high because the cleanup after cooking is frankly rakuchin, which is quite recommended.