"UQ WiMAX" achieved the number of base stations of 15,000 stations, improvement of the railway lines, improvement of indoor areas such as underground shopping malls, houses, offices etc.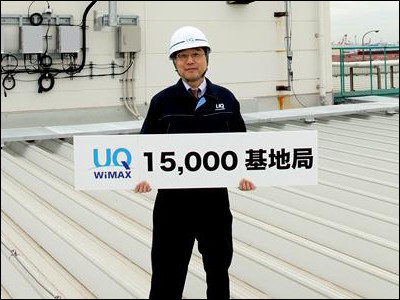 At the "Wireless Japan 2011" that was held the other dayRaising the number of base stations to 20,000 stationsUp to 40 Mbps downlink, 10 Mbps maximum uplink,High-speed communication service without bandwidth limitation "UQ WiMAX"Has achieved 15,000 base stations.

In future it is said that we are planning to improve the emphasis of railway lines and indoor areas such as underground malls, houses, offices, etc., and it seems that it will be more comfortable to use.

Details of the trends in the number of base stations constructed so far are as follows.
Notice of 15,000 brands of WiMAX outdoor base station achievement | UQ WiMAX - Provide high-speed mobile communication, high-speed mobile Internet data communication card

According to the press release of UQ Communications which develops "UQ WiMAX", the company's total number of outdoor base station openings has reached 15,000 stations cumulatively.

Trends in the number of base station constructions. WiMAX base station was completed on August 29, 2008 in Yokohama City, Kanagawa Prefecture, the first station was completed, 10,000 stations in August 2010, and then reached 15,000 stations in approximately nine months.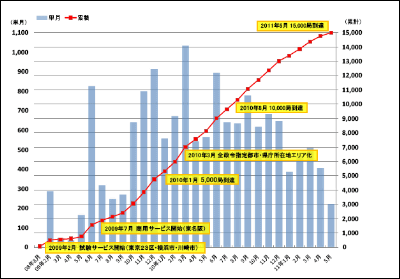 As of May 31, 2011, the number of municipalities that can use "UQ WiMAX" expanded to 575 municipalities nationwide, the real population coverage ratio also reached 71% nationwide and 99% in major cities in Tomei-Osaka, The area expansion is progressing rapidly.

A commemorative photo for the opening of 15,000 bureau. It is the company president Nogasaka that has a plate. The 15,000th station was built in Kobe City, Hyogo Prefecture.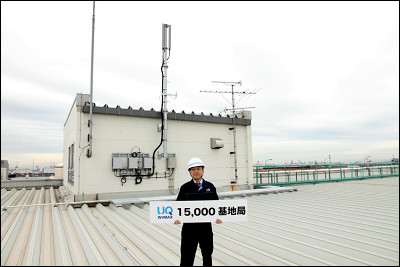 For future expansion, we will build 20,000 outdoor base stations by the end of March 2012 and will also develop indoor areas such as underground shopping areas, residential areas, offices and other wireless LAN services "UQ Wi -Fi "use area as well as to railway lines in the Tokyo metropolitan area and the Chubu and Kansai areas, we are striving to maintain a more stable communication.
in Mobile, Posted by darkhorse_log