G'zOne smartphone "G'zOne COMMANDO" appeared, Impact · water resistant · resistant to rain · dust · vibration · anti-vibration · moisture · salt tolerance · anti-shielding performance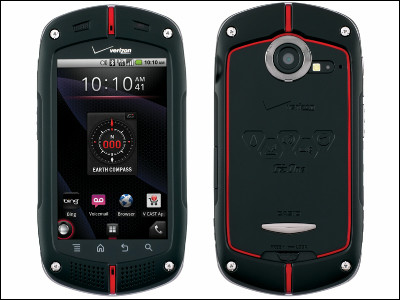 A smartphone that excels in shock resistance and waterproofness, etc., which made use of the concept of "G'zOne mobile", which is getting strong support from users seeking high durability "G'zOne COMMANDO (ジ ー ズ ン ワ ン コ ー ー ー)"Has been officially announced.

It realizes impact resistance, water resistance, rain protection, dust prevention, vibration isolation, moisture resistance, salt tolerance and resistance to shock, making it ideal for those who continue fighting in every part of the world, just like "smart phones for polar warfare" I am exhibiting.

Details are as below.
Supplies "CASIO G'zOne COMMANDO" for Verizon Wireless USA Toughness smartphone with waterproof and shock resistance conforming to MIL standard (April 27, 2011): Press Release | NEC Casio Mobile Communications

According to the press release of NEC Casio Mobile Communications, the company is to release a toughness specification smartphone "CASIO G'zOne COMMANDO" from April 28 for the largest cell phone carrier, Verizon, America.

"CASIO G'zOne COMMANDO" is the first overseas smartphone of NEC Casio Mobile Communications and Casio Computer Co., Ltd. It is waterproof and impact resistant according to the US Department of Defense standard (MIL-STD-810G) which conducts testing under harsh environments Performance and resistance to rain, dust, vibration proof, moisture resistance, salt tolerance and resistance to radiation are realized.

This is the "CASIO G'zOne COMMANDO" body. 3.6 inch WVGA (800 × 480) color TFT liquid crystal, 5 million pixel camera, LED light, IEEE 802.11 b / g / n compatible wireless LAN, Bluetooh 2.1 + EDR, 1460 mAh battery loaded models Android 2.2. Communication method adopted same CDMA2000 1x EV-DO Rev. A method as KDDI in Japan.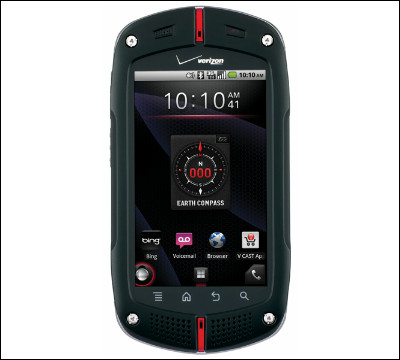 back. The main body size is 65.6 mm × 129 mm × 15.3 mm and weighs 154.6 grams.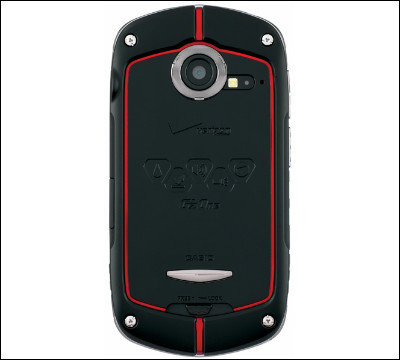 Also, the display has high visibility liquid crystal with high visibility, Corning Gorilla glass which is hard to crack and hard to crack, the main body adopts a shock absorbing bumper structure, and the smart phone highest level loudspeaker is adopted, Good touch feeling, feeling grip feeling "good feeling paint" on, after applying G'zOne series popular application "G'zGEAR", pursuing ease of use in outdoor.

Details of 'G'zGEAR' looks like this. Is not it perfect for the outdoor faction that runs around the world?


● EARTH COMPASS
In addition to the usual electronic compass using a direction sensor, GPS position information is used to display the actual mountain names and distances such as natural heritage in the displayed direction.
● THERMOMETER
Measure the current temperature. Temperature comparison and cities in 30 cities in the world can also display cities with the temperature closest to the current temperature.
● TIDES
The low tide and high tide tide that changes according to each day are displayed. It is also possible to search tidal hourly hour and tide level of 100 cities in the whole country.
● TRIP MEMORY
It is possible to leave the location information and the temperature of the current location, the type and comment etc of the activity done there as a trail of the trip. You can also upload information and comments to SNS such as Twitter and Facebook.
● ADVENTURE TRAINING
You can enjoy competition with land record holders and various animals. It is also possible to trace past records and routes. If you run on a waist with a holster, you can also analyze the running form.
● SUN / MOON
You can know the sunrise and sunrise times and the sun's trajectory, the position and height of the moon, violence and trajectory. Correspond to cities across the country.
● STAR GAZER
Display real constellation in the direction that held the mobile phone, you can browse myths and legends about that constellation. You can also search for the position of the constellation you want to see with a motion sensor.
● WALKING COUNTER
Together with the pedometer, you can walk virtually world famous trails. It is also possible to save weekly and monthly records.

It is quite an interesting smart phone, but what I care is planned to be released in Japan. Although KDDI has the highest possibility of releasing domestically from the relation of communication system, will it appear at the summer model presentation meeting?

· Next article
"G'zOne IS11CA" Super quick hit photo review, Commando of impact, water resistant, rain resistant, dustproof, vibration proof, moisture resistant, salt tolerance and solar heat finally finally appeared - GIGAZINE

Ultra heavy "G'zOne IS11CA" movie review, tried dropping or soaking in water - GIGAZINE
in Mobile, Posted by darkhorse_log