A tablet terminal "Eee Pad Transformer" that can be combined with and separated from the keyboard has appeared, and Android 3.0 is adopted as the OS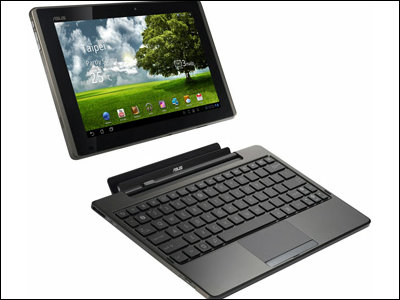 Although the tablet terminal market including the iPad is showing excitement, there are many users who wish to use a familiar hardware keyboard rather than a software keyboard.

Android 3.0 tablet which can fulfill such user's wishes, merge and separate with keyboard "Eee Pad Transformer"Has appeared.

Details are as below.
ASUS Launches the Eee Pad Transformer

According to the press release of ASUS, the company has started shipping 680 grams, 12.98 mm thin and lightweight Android 3.0 tablet "Eee Pad Transformer" from today.

"Eee Pad Transformer" is a NVIDIA dual-core CPU "Tegra 2 processor (1 GHz)" capable of playing 1080p full HD movies, a 10.1 inch IPS liquid crystal display with a viewing angle of 178 degrees using highly durable glass, 5 million pixels Rear camera, 1.2 million pixel front camera, HDMI terminal, SRS Sound technology to realize 3-D stereo, etc. are loaded.

This is the "Eee Pad Transformer" body. By connecting with a docking station equipped with QWERTY keyboard, comfortable typing can be used, and the battery driving time can be extended from 9.5 hours to 16 hours. Furthermore, by providing 3.5mm earphone jack and SD memory card reader, usability is improved more.