To the emergence of the next generation "Snapdragon" with a maximum of 2.5 GHz drive with 4 cores, the performance of smartphones dramatically improved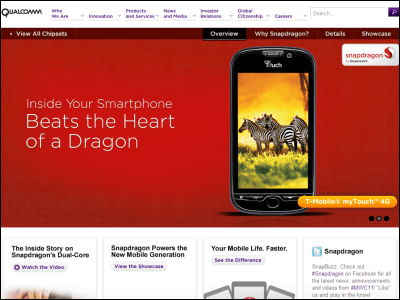 Qualcomm 's "Snapdragon" has a sense of penetration as a standard processor for high - performance smartphones,Dual core third generation Snapdragon announced last yearPrior to the popularization of models equipped with the next generation model appeared.

In addition to having a quad-core (4-core) processor capable of driving up to 2.5 GHz, the graphic performance has been improved to a level that is not comparable with the first generation, and furthermore, it has succeeded in reducing the power consumption .

Details are as below.
Qualcomm News and Events - Press Releases - Qualcomm Announces Next - generation Snapdragon Mobile Chipset Family

According to QUALCOMM's press release, the company has newly developed the next generation Snapdragon with the codename "Krait".

The next-generation Snapdragon can drive up to 2.5 GHz, achieves a performance increase of 150%, and succeeds in reducing the power consumption by 65% ​​compared with a general ARM-based CPU core, and the single core 'MSM 8930' , Dual-core "MSM 8960", quad-core "APQ 8064" lineup.

In addition, Snapdragon's built-in GPU "Adreno" has been enhanced, and Windows Phone 7 "Xbox LIVE" and Sony's "PlayStation CertifiedIn addition to being able to support gaming platforms such as wireless LAN, GPS, Bluetooth, FM, 3D movie / photo recording and playback, near field communication technology "NFC", high speed communication standard "LTE" The features of each model are as follows.

· MSM 8930 (single core)
A model that realizes LTE compatible smartphone for general users. Adreno 305 "which realizes the performance which is more than 6 times of the first" Adreno "to GPU is adopted.

· MSM 8960 (dual core)
A model designed for multitasking on smartphones and tablet terminals. Each core can operate independently to maximize processing efficiency and support dual channel LP DDR memory. The GPU adopts "Adreno 225" which achieves 8 times the performance compared to the first generation.

· APQ 8064 (quad core)
It is a model to realize next-generation processing capability and required specifications of games-ready machines with minimum power consumption, maximizing efficiency by operating each core independently as with dual core model.

Furthermore, by adopting the quad-core GPU "Adreno 320" which is equivalent to 15 times the first generation, which is comparable to the latest game machine, it can output full HD (1080p) using HDMI, and it can also output PCI express interface and multiple USB ports We also support.

By the way, sample shipments of "MSM 8960" are expected to be conducted in the second quarter of 2011, sample shipments of "MSM 8930" and "APQ 8064" are anticipated at the beginning of 2012, so the smartphone equipped with Quad Core's next generation Snapdragon It will appear later than next year.
in Mobile, Posted by darkhorse_log