Spicy and delicious, exquisite masterpiece Spider-Man "Man Spicy Series" "Curry" "Tofu Rice Crackers" "Eat Larry Oil" Tasting Review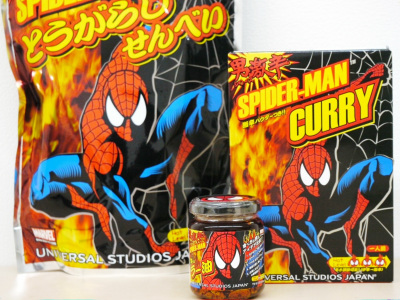 It is sold as a souvenir at Universal Studios JapanSpider-Man "Man Spicy Series"However, I tried to eat it at once that it was popular among visitors.

Men spicy series, USJ's popular attraction "Amazing Adventure of Spider-Man The RideA souvenir with a motif. Rice cracker uses secret sauce soy sauce, retort curry with spice which can be adjusted spicy, lacquer oil is the topic "eating lucrous" type, it has become a series of variations, but what about taste Is it?

So, the appearance and taste of Spider-Man "Man Spicy Series" is from the following.Spider-Man "Man Spicy Series": YS J., Inc.

First of all, "Tofu rice crackers"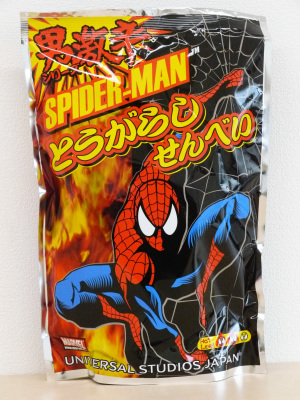 Flame is designed on the back of Spider-Man.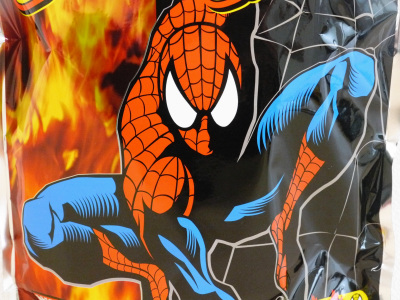 In the package "Hot Level" is expressed by the number of flames attached to the face of Spider-Man, and red pepper cracker has two faces.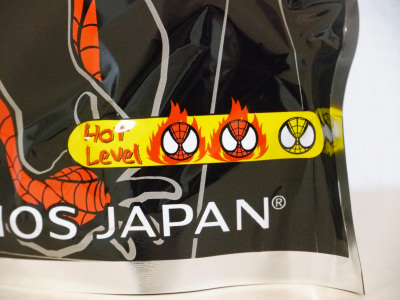 The back side is like this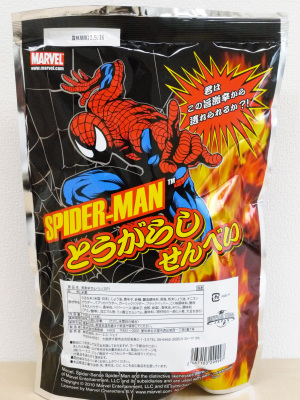 To the American-comic-like balloon "the line you can escape from this spicy!"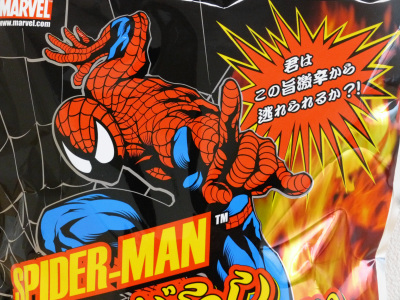 Raw material notation. Base is rice noodles, which contains onion powder, paprika powder, garlic powder, black pepper, taste seasoning etc. in addition to soy sauce and chilli.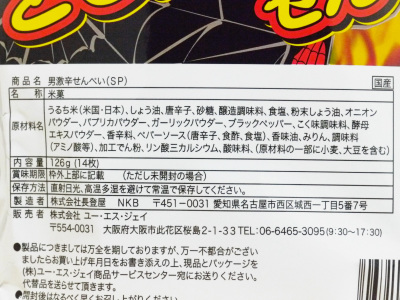 When opening it inside was individually wrapped individually one by one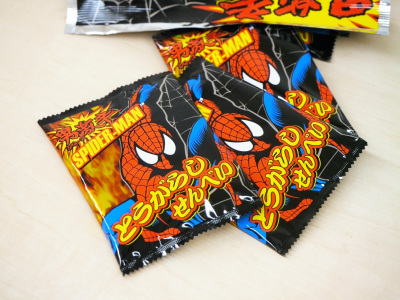 The back side is like this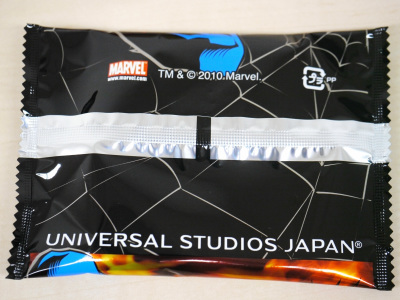 Crackers inside are bright red ......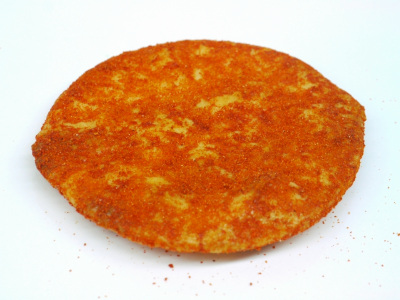 Approaching it looks as if it were on Mars' ground plane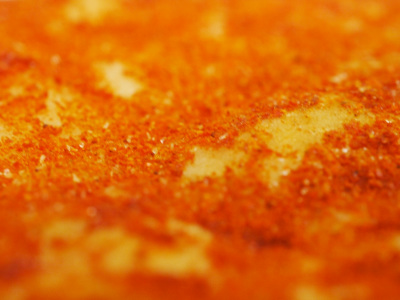 When it breaks with crispness it smells good soy sauce. When I try to eat it is not so hot as it looks, but rather it feels stronger and delicious, and it feels like good crackers. It was a pretty good impression simply as a sweet.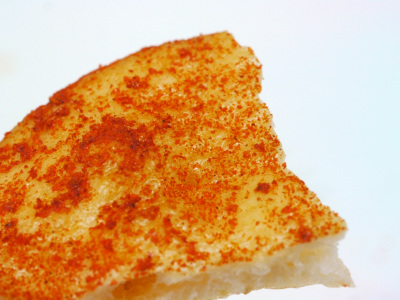 This is "Eating Rice Oil"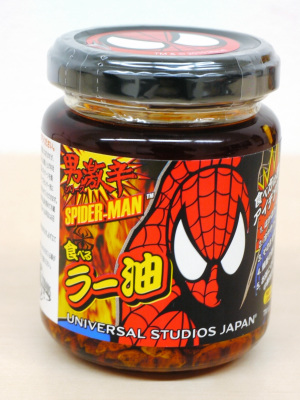 The words "How to eat depends on your idea !!" is spoken in ballikers. It is good to have it on rice, good for cold and parentheses, good even if you can eat as it is ....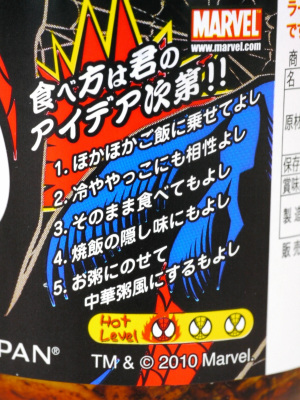 Raw material indication. Fried garlic, fried onion, pea mackerel and so on are included.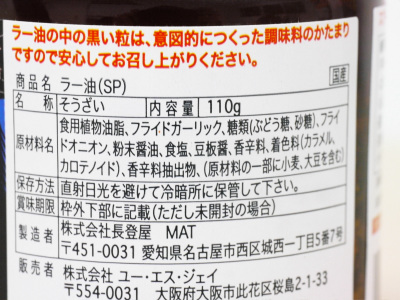 When you open the lid, the fragrance of garlic and rice oil will spread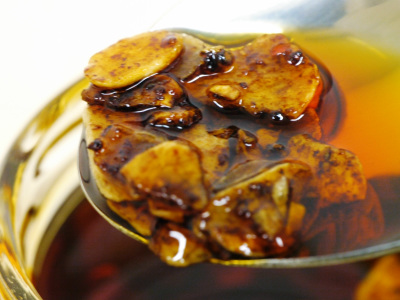 This time I will put on rice. Fried garlic's crispy texture and fragrance, plus a little salty taste, I feel that I can eat rice deliciously just by this. Although it does not go far with Momoya's eating oil, it is a feeling that it is well done as a linseed oil to eat as well.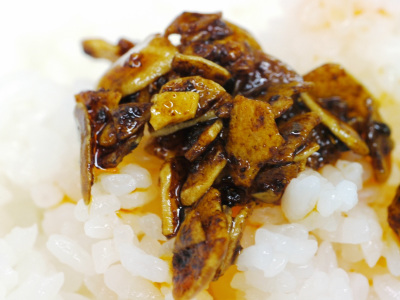 Next is "Curry"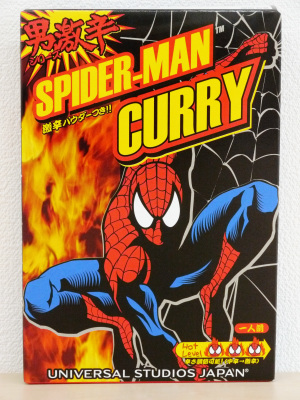 With things like spicy powder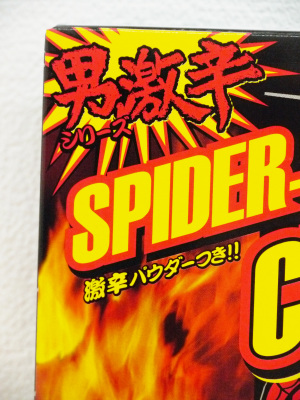 Hot Level has three faces. It is written that the hotness is adjustable from medium to hot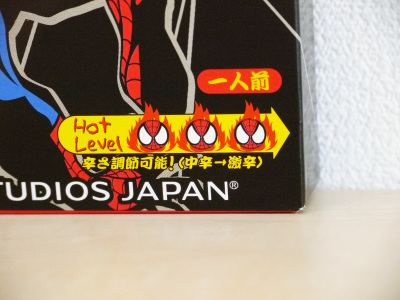 The back side is like this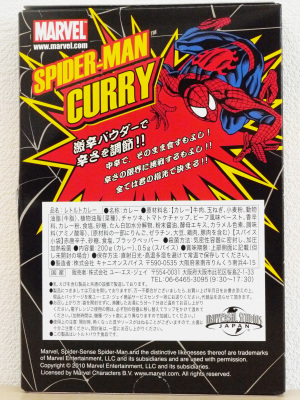 It seems that you can adjust the hotness according to the amount of spicy powder.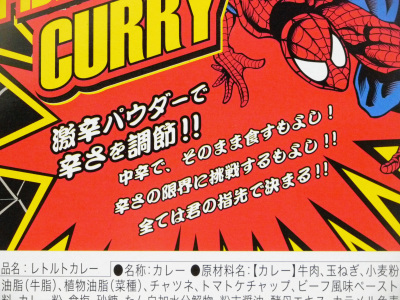 Raw material indication. Includes beef. Chutney, tomato ketchup, black pepper and so on are included as a seasoning.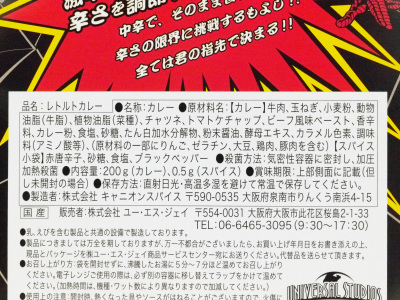 Inside is a retort pouch and spicy powder



"You should adjust your spiciness with the amount of powder!"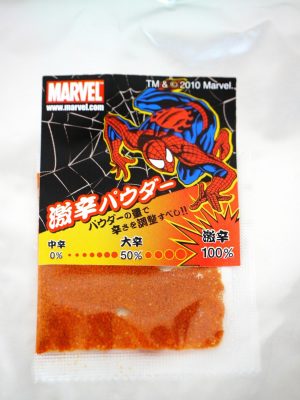 About 7 minutes to remove powder and warm it with boiling water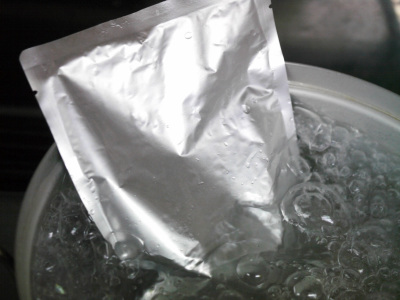 I moved to a plate. Because it is beef curry, the color of Rou has become dark.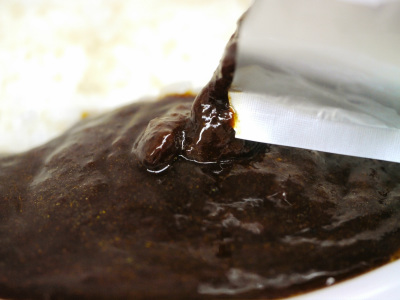 It looks like it looks so spicy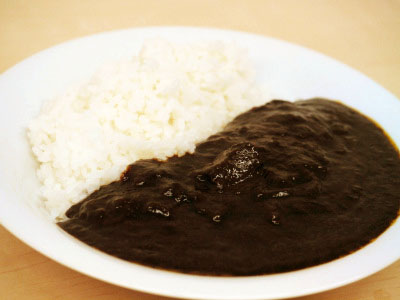 It contains goro and beef. Very luxurious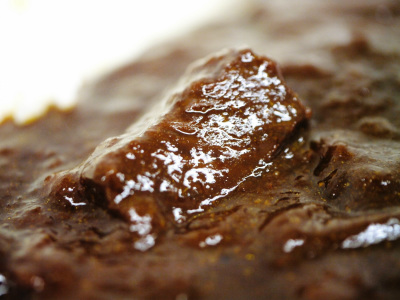 For now, it is one thing in this state. There is a very rich feeling that the umami taste is packed tightly.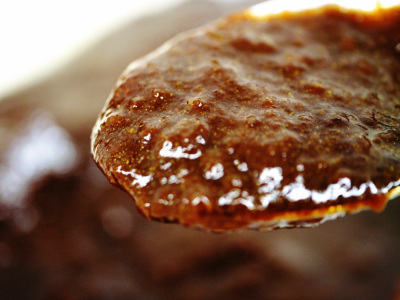 I will accompany you with rice. Thanks to the solid taste, compatibility with rice is outstanding. This may be a taste that can be digested considerably to the top among the retort curry.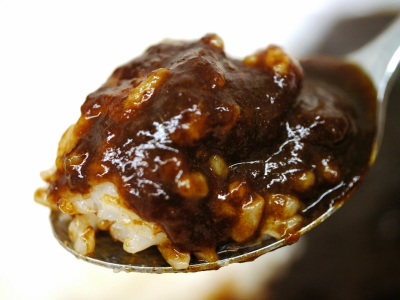 It is regrettable, but I can not finish it without putting hot spicy powder.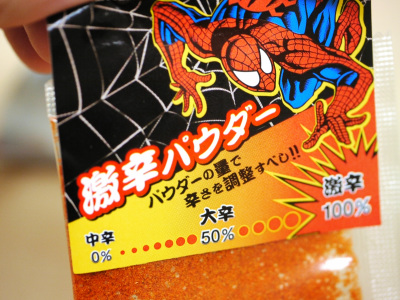 When it is said to be spicy, is it a work of a person to want to taste only by this? Actually trying it out, my tongue got bangy, so I can not recommend it much.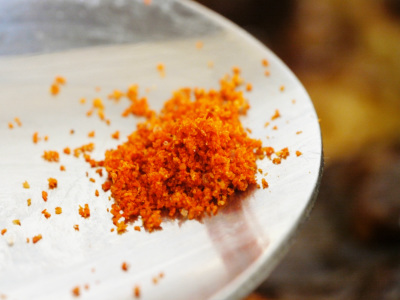 I have totally played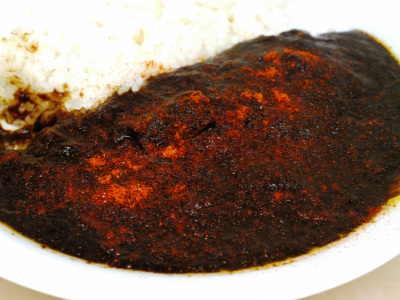 It is empty.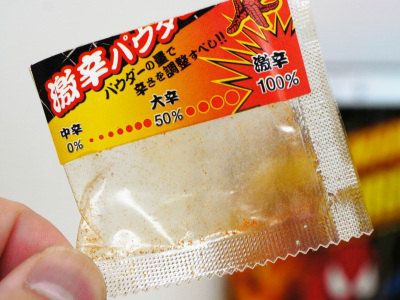 The curry that was so tasty is red ... ...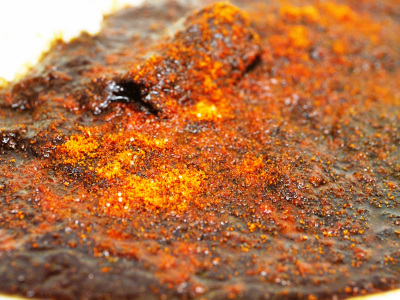 Beef is also an indelible figure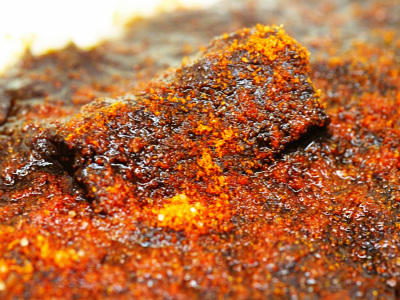 Let's get it. It is painful indeed, but it is not so surprisingly spicy that I feel that there is something of this hotness even among the dry curry on the market.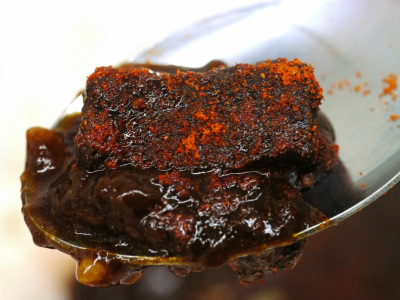 I will accompany you with rice. As I was eating, my body gradually got hotter. And as hotness and richness got mixed up, it gets better and more pleasant as delicious.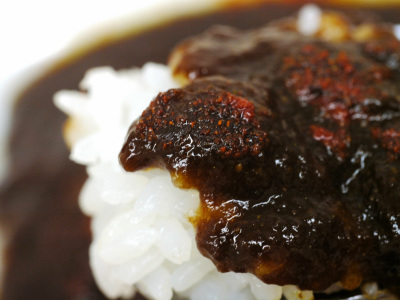 It seems that hotness tends to boost the meat's umami, and the rice disappears at a pace that is not extraordinary.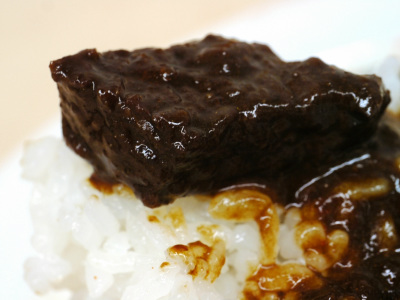 Rice is gone ahead of me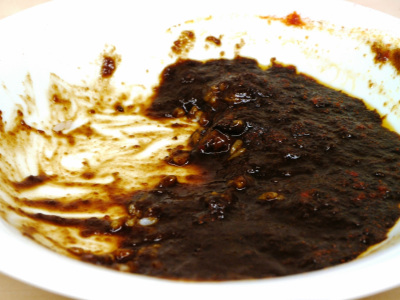 I already ate a cup of rice with larcena before, but instead of getting lost because of curry's smoothness.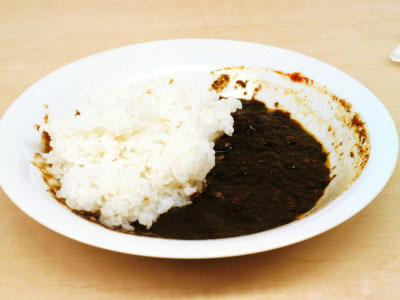 After all, I took all of the spicy powder and finished it completely. It is finished in a very high level curry, and once it is confirmed how much the price is, it is 550 yen per piece. Since ordinary retort curry is about 200 yen, considering the price of about 2 times normal, the high quality of this is also convincing. It seems that there are not many products that can taste so far with retort, so if you are a hot-spirited person, you may try it when you stop by USJ.