"Bakemonogatari" The sequel "Wounded story" is not a TV animation but a movie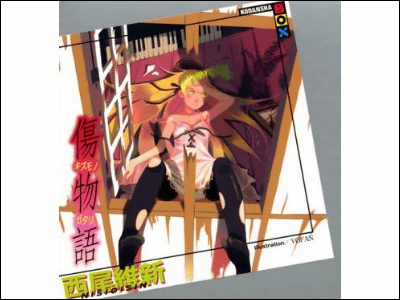 "Bakemonogatari"Katanagatari"Nishio Ishin New animation project created as the third animation project "The Wounded Story"It may be not a TV animation but a movie.

This was clarified from the description of the animation staff's blog, and if it is not misunderstanding etc., it seems to be a big eye movie from late 2011 to 2012.

Details are as below.
Ume dato meteor shower It town · night of launch

The source of the information was the following sentence which was in the blog of Anime Director, Yasumi Umezu.

Sometimes I met with Shinobu and president Kubota, but I met again with Mr. Ogishi for the first time in a while. Continuation of Bakemonogatari We listened closely to the talk of movies as well as chatting movies and favorite movie chat about each other, it was fascinating to understand Mr. Ogishi's thought a little.
Umezu is a TV animation broadcasted from October 2010 to December 2010Still, the town is going roundIn the opening animation of "I am responsible for drawing contests, directing and drawing director. When that "it town" was launched,Tatsuya OzashiWithBakemonogatari sequel filmI heard that he talked about.

"Bakemonogatari" is animated as a first step of Nishio Ishin Animation Project from July 2009,Blu - ray each volume is surprisingly sellingIt is a work. The animation of the "Wounded Story" that falls on the previous day has been anxious among fans since "Bakemonogatari" broadcasting, and in July 2010Anime production decisionHe made the fans a great deal.

Director Koji Masunari and Hideyuki KurataAs I mentioned in an interview, recently animation movies are getting more and more, even if I hear that this "wounded story" becomes a movie, I think that there is "Sumo are there," but what is the truth? If the shaft produces it (if the schedule problem is cleared) the content seems to be safe.