Launched Wireless HDMI Kit "EZR 601 FHD" that enables full HD movie on PC to be enjoyed on large screen LCD TV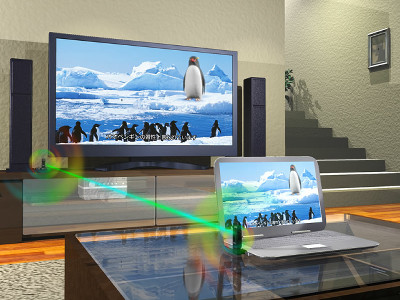 Recently PC monitors have come to get pretty big ones cheaply but if you can see full HD movies etc on large screen LCD TVs there is nothing to say. Wireless HDMI kit that realizes thatWither JapanIt appeared from.

It is unnecessary to set up difficult devices even when purchasing and installing equipment, so it seems that you can use it immediately.

Details of the wireless HDMI kit are as follows.
Wireless HDMI kit: EZAIR

This isWither JapanWireless HDMI kit "EZR 601 FHD".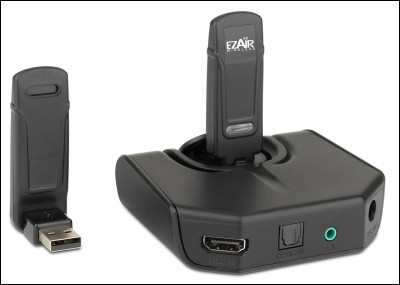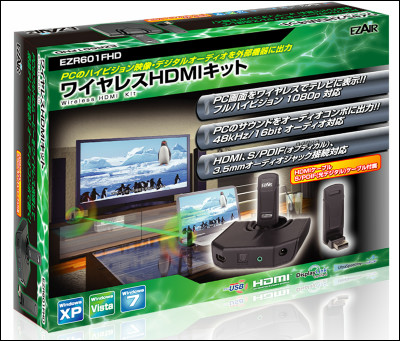 EZR 601 FHD is a wireless HDMI kit for enjoying PC full HD movies on large screen TVs and projectors. Since the PC and the TV projector become wireless, it will not happen that someone passes through and catches their feet.

Ultra wide band (UWB) that we are using, the transmission speed is 54 Mpbs of wireless LAN and 480 Mbps (theoretical value) exceeding 3 Mpbs of Bluetooth. In this UWB system, send the full HD video signal and digital audio signal from the PC adapter connected to the USB port of the PC to the full HD adapter on the receiving side, connect this full HD adapter to the TV, audio amplifier, home theater rack, etc. You can enjoy full HD videos and high-quality digital audio with.

For connection between full HD adapter and video equipment, the HDMI terminal outputs full HD 1080p (1920 × 1080) video and audio, and the S / PDIF audio terminal outputs optical digital high quality sound. In addition, 3.5 mm stereo jack of analog audio output terminal is also equipped.

The display mode can be set to "duplicate (mirror) mode" which displays the desktop screen as it is, and "extended (move) mode" which can be used as multi display.

Since the PC adapter for transmission and the full HD adapter for reception are paired at the factory and HDMI cable and S / PDIF optical digital cable are attached, it is unnecessary to purchase confusing settings and purchase of cables, You can use it immediately.

The price is open price (actual price is approximately 18,000 yen) and shipped from January 27.online, Home electronics mass retailers, PC shops, etc.

Detailed product specifications are as follows.

Communication distance: Maximum 10 m (Forecast) ※ Communication distance is approximate
Encryption method: 128-bit AES encryption security
Supported OS: Windows 7, Windows Vista, Windows XP
Recommended environment:
· [When viewing 1920 × 1080 movies]
Windows XP SP3 (32 bit)
1.8 GHz Core 2 Duo processor, memory 1 GB or more
Windows Vista SP 2 (32 bit · 64 bit) and Windows 7 (32 bit · 64 bit)
2.4 GHz Core 2 Duo processor, memory 2 GB or more
[Video card] Intel GMA X4500 / ATI Radeon HD 3 x xx / NVIDIA GeForce 9 x x x and above
[WEI score] 4.5 or more

· [During normal use such as Web browsing]
Windows XP SP3 (32 bit)
1.6 GHz Atom / Celeron processor, memory 512 MB or more
Windows Vista SP 2 (32 bit · 64 bit) and Windows 7 (32 bit · 64 bit)
1.6 GHz Core 2 Duo processor, memory 1 GB or more
[WEI score] 3.0 or more

Operating environment: 0 ° C to 40 ° C
AC adapter: Input / 100 - 240 V, 50 - / 60 H output / DC 5 V


Video audio connection: HDMI connector (Ver.1.3) (HDMI cable included)
Resolution: Up to 1920 × 1080 pixels (for full HD movie)
Audio output: S / PDIF (optical digital cable included), 3.5 mm stereo jack
Audio: Linear PCM (48 KHz / 16 bit)


Connection: USB 2.0 (A) male
Antenna: Built-in omnidirectional antenna
LED indicator: Power on / constant lighting Data transfer / flashing
Wireless communication method: Certified Wireless USB 1.0 compliant
WiMedia PHY / MAC compliant (PHY channel 15)
Used bandwidth: 4.224 to 4.752 GHz Band # 3 (TFC 7)
* Ultra Wideband Wireless System Certification Number
PC adapter: 003UWB100069
Device adapter: 003UWB100070