New products that feel distinctly different compared to previous mistakes "Baked Donut" "Chilled Donut" Tasting Review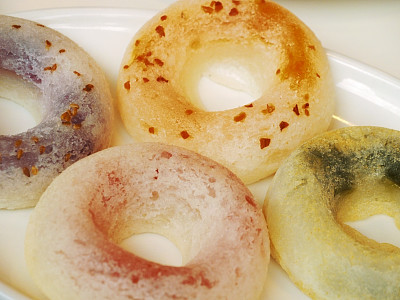 New release from December 27Angel Teddy BreadWhenWinning donutAlthough we were satisfied with eating, we have received a suggestion from the reader that "there is a new product being test-sale limited to the store," and we decided to visit the Mr. Donut's store again.

The new product is "Mister Donut 41 years old new donut"It was expressed as a new type of donut which has never been seen before.

Such a new product "Baked donut"Chilled donutThe review from below.
Mister Donut
http://www.misterdonut.jp/

According to Talekomi, the test sales of the new product "Yaki Donuts" is being conductedEsaka Yoshino-cho Shop,Koshien shop,Tennoji North Exit Shop,Onohara Shop,Minoh shopの5つで、そのうち甲子園、天王寺北口、小野原の3つでは「冷やしドーナツ」も販売しているとのことだったので、甲子園ショップへ行ってみました。すると……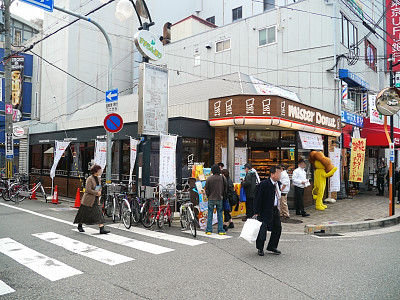 Pon de lion's costume is!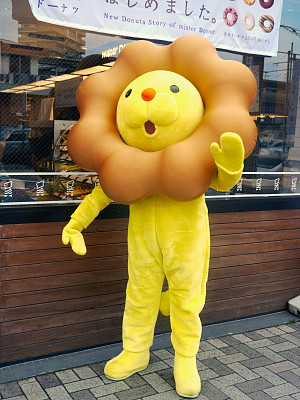 In the presence of the shop Misudo lucky bags were also on sale.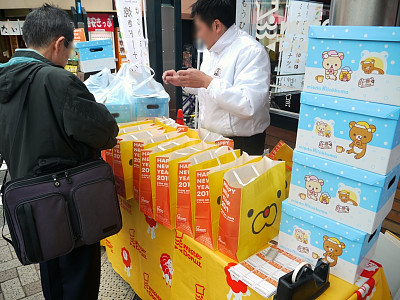 When you are watching the show window, there are donuts that I have never seen besides the "baked donuts" and "chilled donuts" that had stolen things ....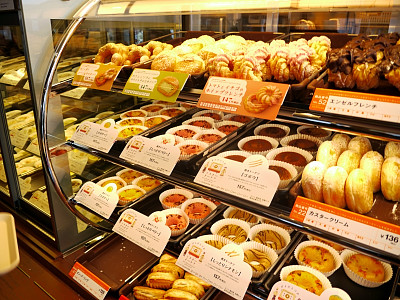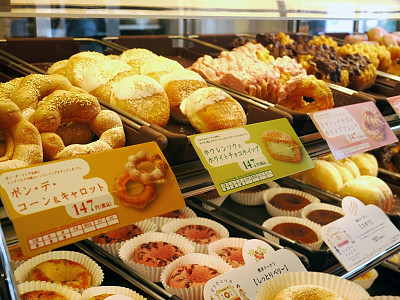 By saying "another Mr. Donut", this new product seems to be "a new donut of 41 years".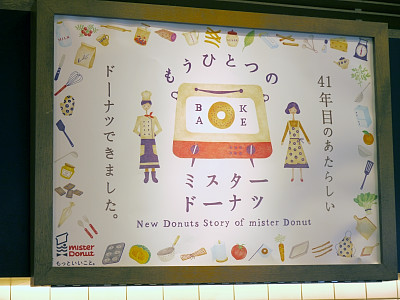 "Why did not you encounter earlier, vegetables and grilled donuts?"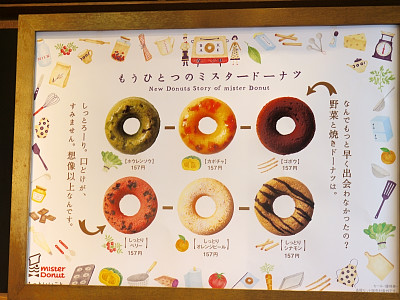 The cold donut is "Rice tofu? Daifuku? Japanese sweets are surprised, but it is a grilled donut."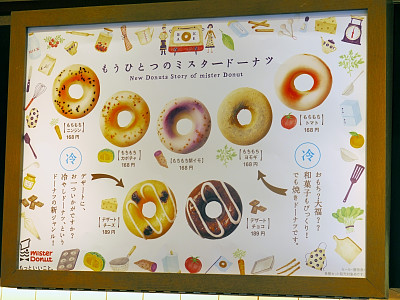 Here is a showcase for chilled donuts.



The temperature is 6 ° C. Due to this case, it seems that there are three retail stores.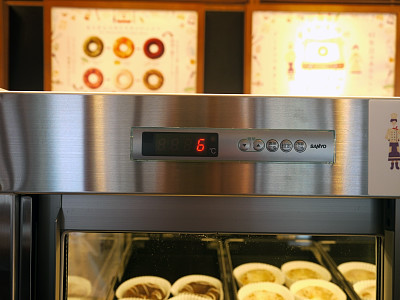 That's why I bought 16 kinds of 16 kinds of baked donuts of new products, 7 chilled donuts and 3 different new products I did not know.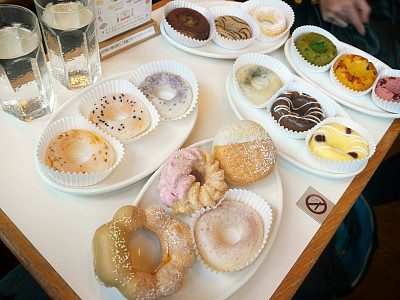 First I will try to eat it from a baked donut. Very brilliant green colle is "Baked donut spinach (157 yen)".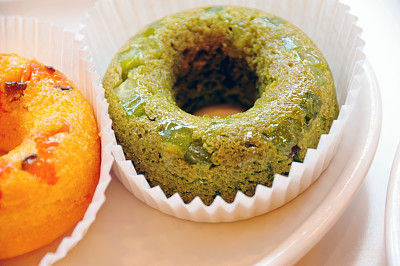 It feels quite vegetable-like bluish, but the filled sweet potatoes (?) Supplement the sweetness well. Is it like "delicious green juice"? Even children who dislike vegetables may eat it if this is the case.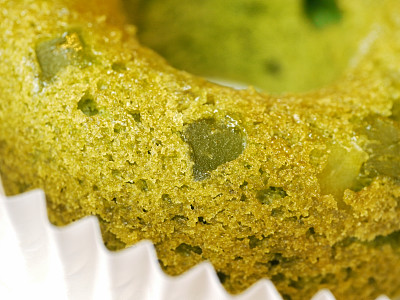 "Grilled donut pumpkin (157 yen)".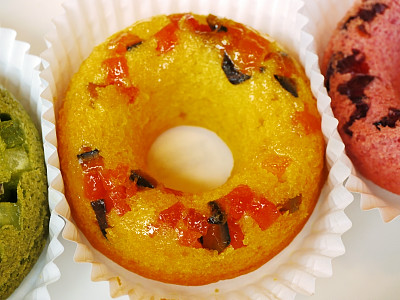 Pumpkin is originally a sweet vegetable, so there is no sense of incongruity when becoming a donut. Skin is also used and there are places where it is chewy.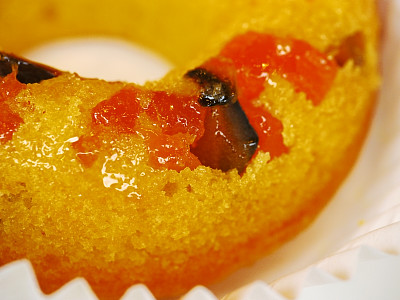 "Baked donut burdock (157 yen)".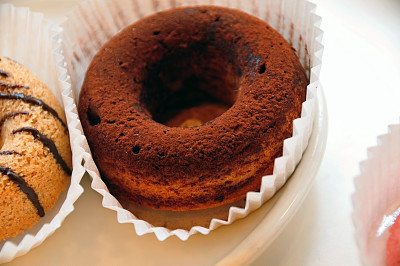 Although cocoa powder is sprinkled, the sweetness is almost zero. Although there was no burdock, it was absurdly bitter, after all I was told that it is impossible to have a burdock and a donut. This is indeed ... ....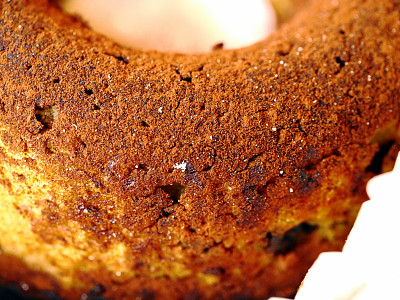 Next, "Grilled donut moist berry (157 yen)". Unlike the previous baked donuts, the dough is moist.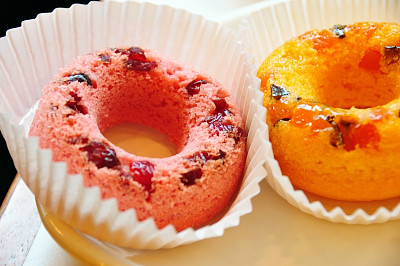 Although strawberry chocolate is not used, the moist and gentle sweetness is not found in Mr. Donut so far, it has a taste like a cake of some kind.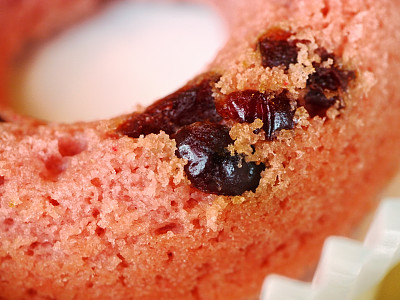 "Grilled donut moist moist orange peel (157 yen)"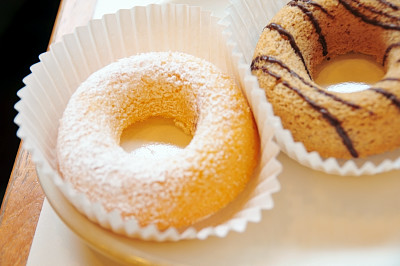 Orange peel is contained in the center, and acidity refines sweetness freshly.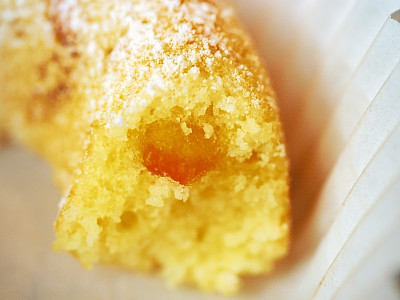 "Grilled donut moist cinnamon (157 yen)"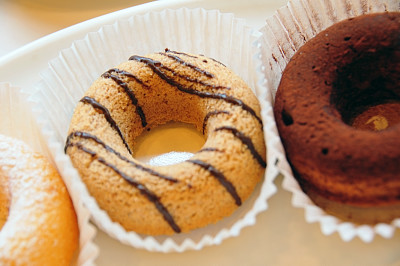 A donut with an elegant sweetness and a good aroma like a cake ordered at a small cake shop. This makes me want tea rather than coffee. To be honest, when you eat this you have no choice but to apologize for the phrase "new donut". Delicious.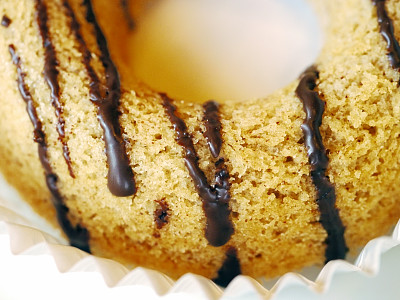 From here it is a cool donut. First of all, "Chilled donut dessert chocolate (189 yen)".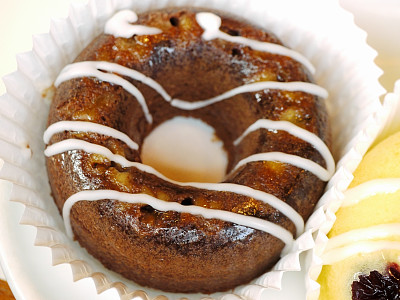 It is a rather moist cloth, but it is not a sweetness that looks sticky as it looks. The nut texture is nice.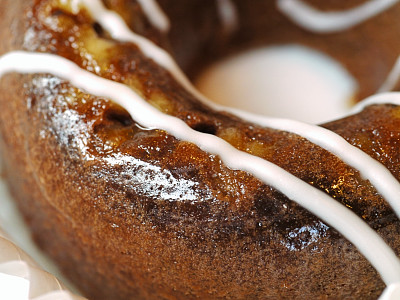 "Chilled donut dessert cheese (189 yen)"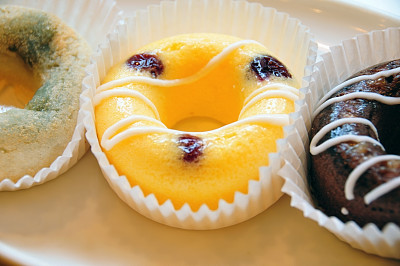 It might be like this if you change the cheesecake well to a donut. There may be a likes and dislikes for the sourness of blueberries.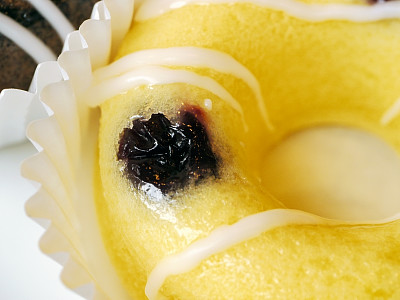 "Chilled donut mochi carrot (168 yen)"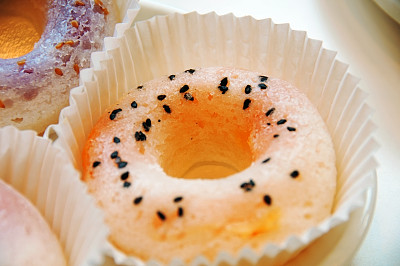 Speaking of "rice cake" is often used when expressing the texture of Pon de Ring, but the richness of this cold donut far exceeds the fabric of Pon de Ring. Or rather 'rice cake'.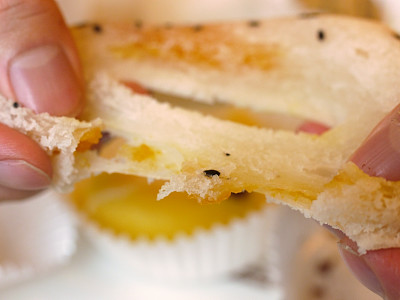 It is like a rice cake that uses carrot bean paste, and the degree of completion is very high. This may not notice that carrots will be eaten without knowing the product name.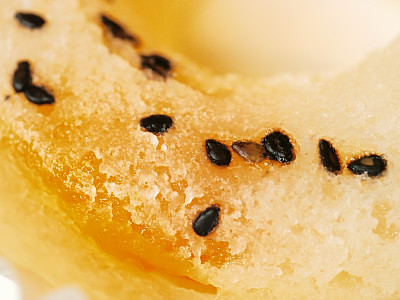 "Chilled Donut Ochimichi Pumpkin (168 yen)"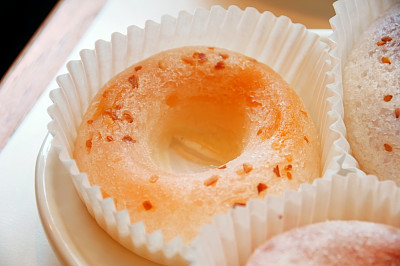 Pumpkin is used in multiple items this time, but all have a solid sweet taste, especially received a good impression with donuts. It is strange that I have not been used so far.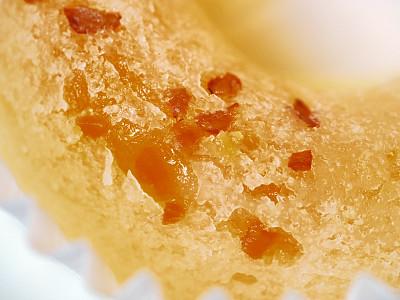 "Chilled Donut Mochi Mochi Purple (168 yen)"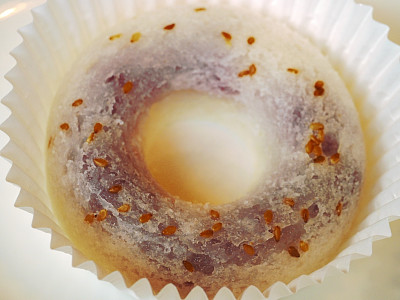 The color is slightly poisonous because it is a purple potato, but sweet potatoes that are cozy even though it is cozy are sweet potatoes indeed.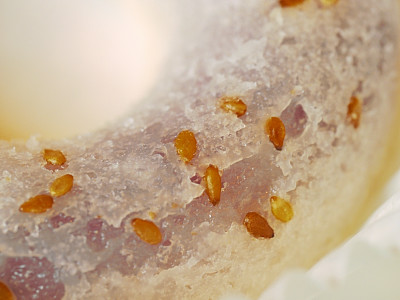 The only thing I thought of "cool ......" in a cold donut was "cold donut octopus octopus tomato (168 yen)".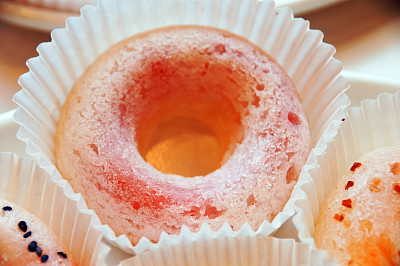 The color is red and beautiful, but there is not much sweetness, and there is a taste to understand that it is exactly tomato. I expected tomato just because carrots and pumpkin were well processed, but this was a bit of a knockdown.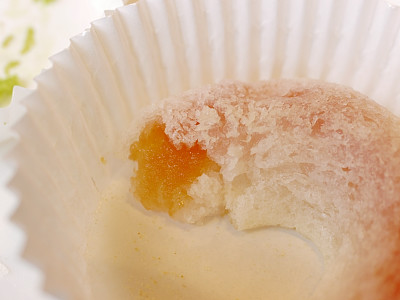 The last cold donut is "Chilled Donut Mochi Mochi Momogi (168 yen)"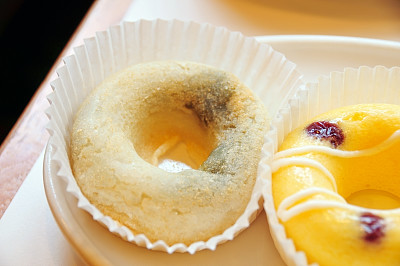 It looks like a Japanese sweet looks, but the sweetness is like a wormwood rice cake that tastes are also sold at the supermarket. Even though I ate it for the first time, it feels like I ate a standard item.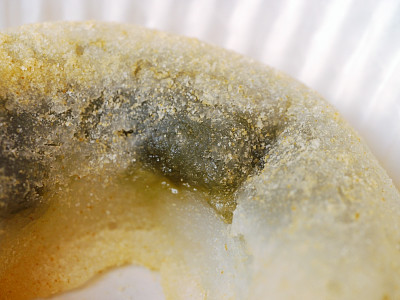 By the way, the back side looks like this. I feel that it is closer to Japanese sweets than donuts.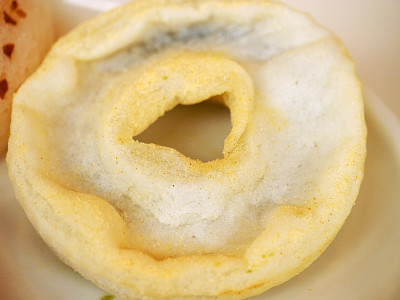 And finally, I think that this is also a test sale item, but there are three types of donuts never seen in other stores. It is common with baked donuts that vegetables are used.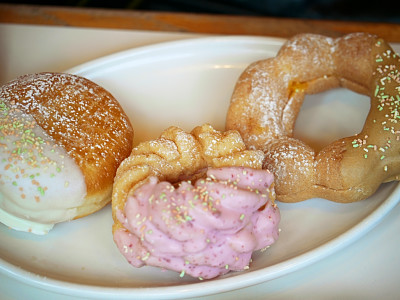 "Pon de Corn & Carrot"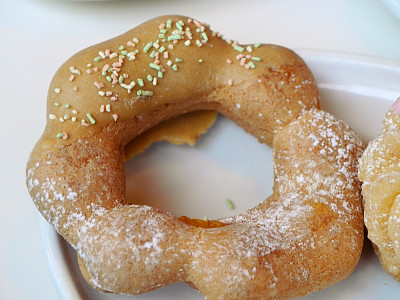 A cream made with corn and carrot is sandwiched on the fabric of Pon de Ring. Since the corn and carrot are similar sweetness, it is well harmonized, and it is a taste that it is quite easy to mix even if it mixes in the Pon de Ring series which is now in existence.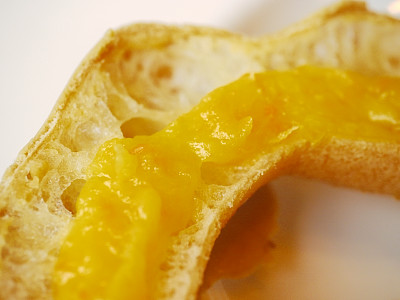 "Whipped crunch of tomatoes and strawberries"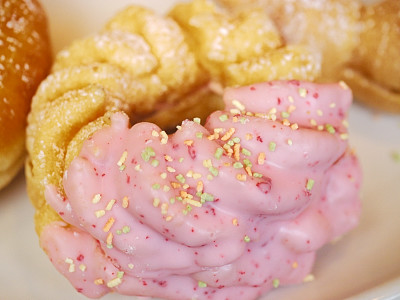 Both tomatoes and strawberries are using reddish whipped cream. Tomato also played the role of suppressing sweetness and I received the impression that it is a donut so far but I am a little troubled if it is told that it is delicious. I think there were more fruitlike sweet tomatoes ... ....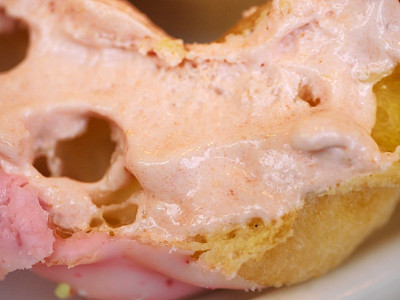 Finally "White chocolate whipped spinach"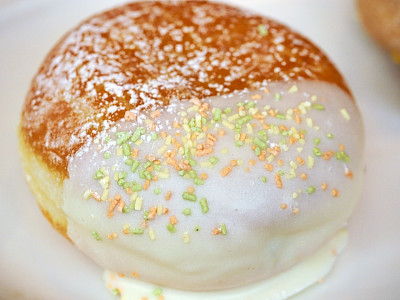 I never thought that the donut was green, but a bit creepy when the cream was green. There are plenty of strange creams that are different from Matcha, which seems to have no sweetness. Pretty taste seems to be divided ... ....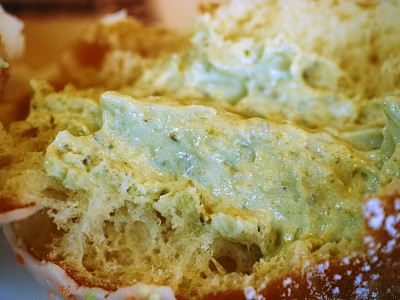 These products probably will appear as new products after January, but as the cold donuts require the facilities as described above, the shops may be limited. However, since it is a product that distinctly distinguishes it from the previous misdo such as a giant donut that is different from Pon de Ring and a moist donut like a cake shop, it is once it is seen Please try this.