SOFTBANK MOBILE uses unlimited paid images of material sites on the official page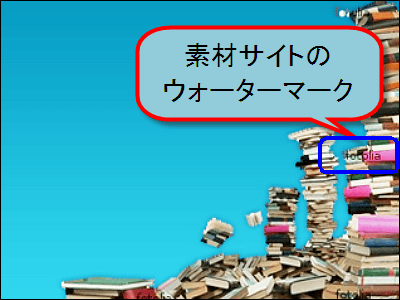 todayWi-Fi spot of SOFTBANK MOBILE became available around Comike venueI told you that it is clear that the image used for the announcement page may be the unauthorized use of paid images on the material site.

* Answer from SOFTBANK MOBILE was added.

Details are as below.
This is SOFTBANK MOBILE's announcement page
About Wi-Fi Spot around Tokyo Big Sight | SOFTBANK MOBILE(Web pioneering)



Banner used for announcement page



Paid material distribution site "Fotolia"Watermark (watermark) is included.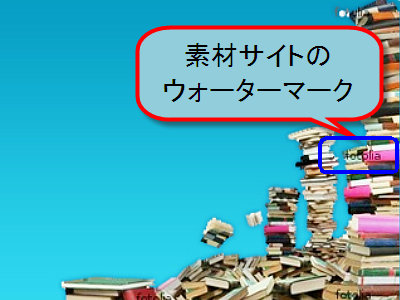 Pictures that seems to be a material are actually published in "fotolia", and it is on sale at 113 to 1130 yen depending on the size.
Photo: This is books scramble. Many books on white background. (Copyright) Vladimir Melnikov # 9228752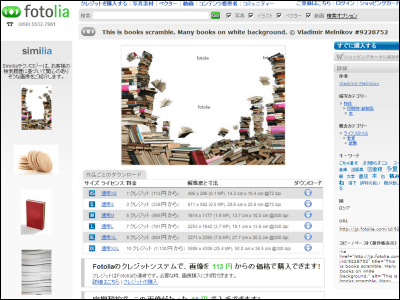 Calling "fotolia" at GIGAZINE editorial department, I got an inquiry, and the watermark is included in the sample image, and it is said that it does not enter when purchasing it. So SOFTBANK MOBILE has used the sample image as the material of the official page.

Also, regardless of the presence or absence of a watermark, it is forbidden to use the sample images posted on the page as materials of web pages without purchasing images.

To the end it is just saying "there is a possibility of unauthorized use", but I will ask you to inquire at SoftBank Mobile Public Relations Office from now.

· 15:30 postscript
I confirmed by phone to SoftBank Mobile Public Relations Office that "I bought the image, but since there is a possibility that I used the sample image by mistake, I will confirm it"It was a reply saying.

· 16: 45 additional note
When I confirmed it in the editorial department, the image was replaced with one without a watermark.




· 16:52 additional recording
According to Fotolia's regulations, the following rights expression is necessary although the image was replaced. That is, it seems that there is incompleteness in the notation.

Stock Photo - Fotolia


When using images, it is necessary to display the copyright provided by Fotolia in the form of "c Photographer's name - Fotolia.com".
· 23:57 postscript
SOFTBANK MOBILE Public Relations Office received the following answers.


Although it is the matter you contacted, I confirmed it,
Although I had purchased it in advance, the fact that there was a leakage replacement is a factor.

I apologize for the trouble at this time.
Also, at the bottom of the pageClick here for trademark"Although there was not a mention in the evening, since it is night," It is using the visual material of the following author by the release of Fotolia.com ", so this time including the current case is displayed so far A series of credit notations that were not being added was added.