New animation list of the winter season (New Year) broadcasting started in 2011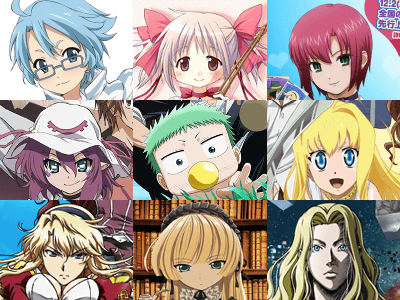 Finally, 2010 also entered the last January. Although it may be a difficult period to have work with various things because of teacher training, animation is also an article which starts hard work starting new work one by one. Nonetheless, the number of works started in winter is not so much in every year, and this time the number of new works by TV & Internet distribution is more than 20, which is not so much compared with the spring and autumn lineup.

Although there are few original works this season, the latest work directed by Shinobu Akiyuki "Mahou Shoujo Madoka ★ Magica"By Hiroshi Yamamoto, Higashi Hiroki and Yuri Okadafractal"Subaru and Gainax Collaboration Project"Pleiades after school"Featured works such as" Hello!

As the original work, Yoshihiro Togashi's masterpiece was animated, "Level E", Weekly Shonen Jump Tutorial"Beelzebub"It seems like they are gaining popularity.

Series sequel thing "Kimi ni Todoke 2ND SEASON"Mitsudomoe growing!"Suite PreCure ♪Three works.

The list is from the following.

---
● TV · net delivery
◆
Crawling! Nyaruani Remember · My Love (Mr. Kraft)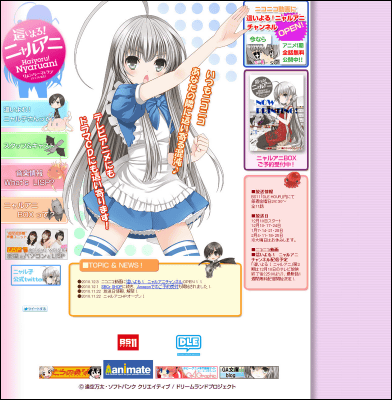 · Outline of the work
The original is the 1st
GA Bunko grand prize
"A crawl! Nyaruko-san" who won the Excellence Award of. Nyaruko of the heroine is a Nyarlatohap star ... .... That is, an alien with the name of God of Quturo mythology. The original version released in 2010 Vol. 4 Anime (first stage) to the special box DVD accompanying a total of nine stories was attached, but in its first phase
Free delivery on the "crawl! Nyaruani" channel
Has been done.
Here is the official Twitter account
.
· Synopsis
One day, hero · Yasaka Shinji fell in love with a beautiful girl "Nyaruko" of silver hair and blue eyes. Although she was an agent of the planetary protection mechanism, she is the agent of the reckless God appearing in the Cthulhu myth, but she sits in Yasaka family with some reason and reason. Shingki, love at first glance at Nyaruko, will be involved one after another in casual cases of cosmic scale.
· Broadcast information
BS 11: 12/10 (Fri) 24: 30 ~
"Crawl! Nyaruani" channel
: 12/10 (Friday) 25: 00 ~ Free talk for the latest talk for 1 week Free delivery
·staff
Original: Akasaka Tadan ("Creepy! Nyaruko-san" Series GA Bunko / Softbank Creative)
Character draft: Kobe
Director: Yato
Screenplay: Susumu Kobayakawa, Mamoru Nakano, Yachido, Tanaka Tachibana
Graphic design: RFV design
Drawing: Ryosuke Suzuki, Tsuyoshi Nishiyama
Acoustic director: Hashutachi (sound team · Don Juan)
Music: SLF !!
Animation production: DLE
Production: Softbank Creative
·cast
Nyaruko: Kana Aumi
Makihiro: Kitamura Eri
Cucina: Matsuki Miyu
Ato: Azusa Kataoka
Nyaru Megumi: Yuri Hara
Theme Song: LISP "Catharsis of Koisuru Otome"
---
◆
Starry ☆ Sky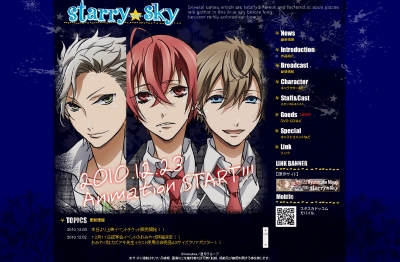 · Outline of the work
A media mix work "Starry ☆ Sky" for women where drama CDs, games, books, etc. are deployed is finally animated. The reverse harem work where a lot of male characters are colored around the female protagonist, 12 main characters have the characteristics of twelve constellations fortune telling.
· Synopsis
With the guidance of the constellation - now, feelings overlap. Set at the "Star Moon Gakuen" where you learn knowledge about celestial bodies, a school love that draws up an exchange between the hero "Yuku Tsukiko", the only female student, and the twelve attractive boy with the character and character of the constellation story. As a single girl at school, the school life spent with them - Which constellation do you fall in love with? The love story leading by constellation starts now!
· Broadcast information
Animate TV: 12/23 (Thurs) 16: 00 ~
Mobile animate: 12/23 (Thu) 16: 00 ~
·staff
Director: Norihiro Takamoto
Series composition: Makoto Nakamura
Character design: Maki Fujii
Animation Production: Studio Dean
·cast
Tsuchiyu: Midorikawa
Tenpaki Tsubasa: Kenichi Suzumura
Yaita Nanami: Tomokazu Sugita
Kazuki Shirahi: Yuichi Nakamura
Kanakubo Honor: Hoshi Soichiro
Iku Mizushima: Koji Yusa
Toshiya Higashi Tsuyoshi: Onosuke
Sunshine Lion: Daite Kishio
Aozora Hito: Daisuke Hirakawa
Amano Toshiro Ishida: Akira Ishida
Ryunosuke Miyaji: Hiroshi Kamiya
Azusa Kinase: Jun Fukuyama
Kagurazaka Shiki: Mamoru Miyano
---
◆
Rio - Rainbow Gate! - Rio Rainbow Gate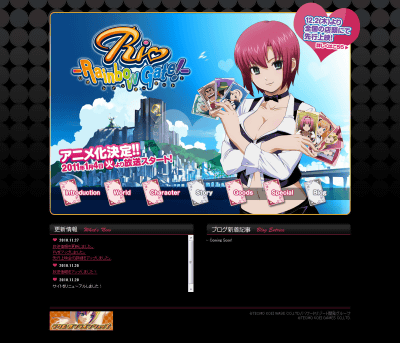 · Outline of the work
An animation work of the pachislot machine "Rio series". In recent years, animation is often pachinkoized, but works animated from pachinko / slot are "
Yoshimune
"
Let's go! Mr. Gen
"
Umi Mononoke - Kotto you were there -
"Followed by the fourth work. Drama CDs are on sale in 2009, this time the same cast as that time plays the character.
· Synopsis
Entertainment resort hotel "Howard resort" where people all over the world gather to gain huge wealth. Rio Rollins was a pretty girl dealer at the casino and was called "the goddess of victory". In order to get closer to the mother who is a great dealer, Rio challenges the collection of 13 legendary cards "gates" to be awarded the title of MVCD (Most Valuable Casio Dealer).
· Broadcast information
TOKYO MX: 1/4 (Mon) 23: 00 ~
TV Aichi: 1/5 (Tuesday) 26: 28 ~
Every day broadcasting: 1/6 (Wed) 25: 55 ~
BS 11: 1/7 (Fri) 23: 00 ~
AT - X: January -
Nico Nico Douga: January -
·staff
Original: Koei Tecmo Wave
Director: Hideo Kato
Series composition: Masanori Sekima
Character design: Hisashi Shimura
Animation Production: XEBEC
Production: Howard Resort Development Group
·cast
Rio: Mary Inoue
Mint: Ayana Taketa
Rosa: Kaori Shimizu
Linda: Yoko Higakasa
Rina: Takahashi Tomoaki
Anya: Yukari Fukui
Tiffany: Nakajima Sayaki
OP: Luo ♥ Rurettz (Rio (Mari Inoue), Mint (Ayana Takehara), Lina (Takahashi Tomoaki), Linda (Yoko Higaka) "Let's Together with the World!"
ED: ULTRA-PRISM "Miracleu ☆ Chan"
---
◆
Kimi ni Todoke 2ND SEASON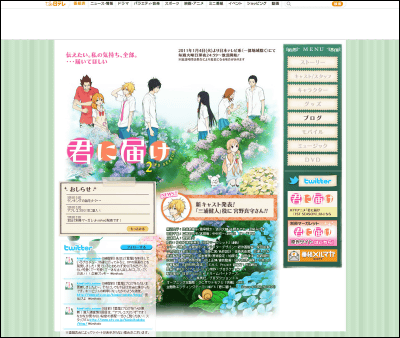 · Outline of the work
It was broadcasted from October to December 2009
Continuation of animation "Kimi ni Todoke". The original is a separate Margaret series work, and it has been selected as "1st place of Onna edition 2008" this "manga is amazing".
The Twitter official account is @kimitodo_anime
.
· Synopsis
Kurouma Sakiko was nicknamed "Sadako" from its darkness and appearance, and he was not familiar with the class. However, Shota Kazuhaya, the centerpiece of the class, was concerned about Soshiko from the time she was taught the way to Reiko on the day of the entrance ceremony. As for Soshiko, I was curious about Kazehaya from the time I made the directions.
· Broadcast information
Nippon TV series: 1/4 (Tue) 24: 59 ~ (excluding ※ Kansai area)
·staff
Original: Shiina Koha
Director: Hiro Toriki
Deputy Director: Norihiro Naganuma
Series composition: Tomoko Kinro
Character design · total drawing director: Yuka Shibata
Production work: Nippon TV / D.N. Dream Partners, VAP, Shueisha, Production I. G
Animation Production: Production I. G
·cast
Kuroumaga Shuko: Mamiko Noto
Shota Kazuhaya: Daisuke Namikawa
Ayane Yano: Miyuki Sawashiro
Yoshida Chizuru: Yuko Sanika
Ryu Sanada: Yuichi Nakamura
Umesawa Ume: Aya Hirano
Miura Kenito: Mamoru Miyano
OP: Tanizawa Tomofumi "Refreshing Wind"
ED: MAY'S "Kimi ni Todoke ..."
---
◆
Mahou Shoujo Madoka ★ Magica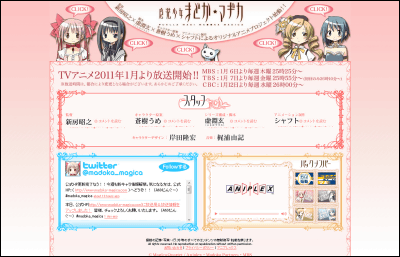 · Outline of the work
Announcement poster that appeared in Akihabara
He called a hot topic,
A lot of people waited for the official website to open despite late night
The work finally starts broadcasting. What kind of chemical change does the combination of Shinbun Akiyuki (Director) × Kabuchi Gen (series composition · script) × Aoki Ume (character draft) × Shaft (animation production) produce?
The Twitter official account is @ madoka_ magica
.
· Synopsis
ー
· Broadcast information
MBS: 1/6 (Thursday) 25: 25 ~
TBS: 1/7 (Fri) 25: 55 ~
CBC: 1/12 (Wed) 26: 00 ~
·staff
Director: Akiyuki Shinbuchi
Series composition · Screenplay: Fictobasten
Character draft: Aoki Ume
Character design: Takahiro Kishida
Music: Yuki Kajiura
Animation Production: Shaft
·cast
Kaname Madoka: Yuki Aki
Akemi Homura: Chiwa Saito
Kyubey: Ei Mi Kato
Tomoe Mami: Kaori Mizuhashi
Sayaka Miki: Eri Kitamura
---
◆
IS
· Outline of the work
I made animated light novel of Bowstring Izur published from MF Bunko J. It is a royal road harem thing with a boy who attended a girls' school as the main character, and there are elements that appeal to SF lovers like girls x mecha, works that seem to be animated.
· Synopsis
A flying powered suit that can only be handled by women "IS
". Since being developed and announced in Japan, the world has become a society of women dominance. The school "IS Gakuen" for nurturing IS operators gathered representative candidates gathered from all over the world, but since the main character and loupe summer was a man but IS was able to be activated, I will be forced to enter this girls' school. Suicide attacking enemies, the mysteries secreted by IS, and the way of love of one girls over the summer?

· Broadcast information
TBS: 1/6 (Thu) 25: 25 ~
CBC: 1/13 (Thursday) 26: 00 ~
Sun TV: 1/17 (Monday) 25: 40 ~
KBS Kyoto: 1/19 (Wed) 25: 00 ~
BS-TBS: 1/29 (Sat) 24: 30 ~

·staff
Original: Bowstring Izuru (MF Bunko J / Media Factory)
Character draft: okiura
Director: Yasuhito Kikuchi
Series composition · Screenplay: Shimo Fumihiko
Screenplay: Atsuhiro Tomioka, Chinatsu Hojyo
Character design · total drawing director: Takeshi Kurashima
Mechanic design: Takeshi Takakura
CGI animation director: Eiji Inogen
Animation production: Eight bit

·cast
Ikki Iku Summer: Uchiyama Takashi
Shinonono Bull: Yoko Higaka
Cecilia Alcott: Yukana
Huang Lin Ino: Asami Shimoda
Charles · Dunoa: Hanazawa Kana
Laura Bodewig: Mary Inoue
Chiba Miyako: Megumi Toyoguchi
Yamada Maya: Noriko Shimoya
Shinonomiyuki: Yukari Tamura
Gotanda Orchid: Oshumiko Noriko
Gotanda bullet: Makoto Honemura


---

◆Wolverine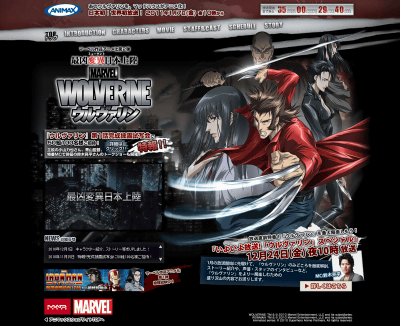 · Outline of the work
"Iron Man" broadcasted from October to December 2010Following Marvel's second animation project is "Wolverine" who was a member of X Men and others and made a leading role movie in 2009. From 22 o'clock on December 24th, the commentary on "points of interest, etc." will be broadcasted "Ulvarin" Special "will be broadcasted.

· Synopsis
Logan (Wolverine) looked for a Japanese woman named Mariko who disappeared after falling in love in New York and came to Japan. Mariko 's father is Yakuza' s chief, Shigeta Yada Shida, and Logan sneaked into Shingen 's mansion finds Mariko, but he knows that Shingen is trying to marry Mariko with a politician in a criminal city state Madriburu. It was Logan who challenged Shingen to fight, but healing ability was reduced due to special poison, losing battle with Shingen. Dying logan gets help of a mysterious woman called Snowo and aims at Shingen's house again for revenge ....

· Broadcast information
Animax: 1/7 (Friday) 22: 00 ~

·staff
Original: Marvel Comics
Story: Warren Ellis
Project: Masao Maruyama
Director: Hiroshi Aoyama
Assistant Director: Hajime Otani
Series composition · Screenplay: Kenji Kaji
Character design: Henry Abe
Animation Producer: Nobuyoshi Nozawa
Production · work: Superhero Anime Partners Sony Pictures Entertainment (Japan) Inc. MADHOUSE

·cast
Logan: Koyama Koya
Yukio: Park Yumi
Mariko Yashida: Fumiko Orikasa
Shibata Shingen: Shibata Hidekatsu
Kuro Hagi Hideki: Kazuki Yao
Mikage Kikyo: Higorihara Saint


---

◆GOSICK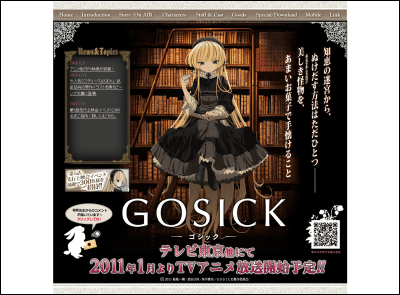 · Outline of the work
Anime made a mystery novel by Kazuki Sakuraba published in Fujimi Mystery Paperback and Kadokawa Bunko.

· Synopsis
Europe after the First World War. Kazuya Hisashi was enrolled as an international student at the St. Margris school which is a boarding school for the noble family of the sovare nobleman. Meanwhile, in the room covered in green above the library tower of the school, waiting for the chaos of the world that a fairy-like girl Victorica would satisfy her own boredom. The encounter between the two people is the beginning of everything.

· Broadcast information
TV Tokyo: 1/7 (Friday) 25: 23 ~
TV Aichi: 1/10 (Mon) 25: 28 ~
TV Osaka: 1/11 (Tue) 25: 30 ~
Television setouchi: 1/12 (Wed) 25: 18 ~
TVQ Kyushu: 1/12 (Wed) 25: 43 ~

·staff
Original: Kazuki Sakuraba (published by Kadokawa Bunko)
Character draft: Takeda Hyuga
Director: Namba Nichido
Series composition: Yuri Okada
Character design: Toshihiro Kawamoto, Takaoka Takashi
Total drawing director: Takaoka Takashi
Design Works: Shiho Takeuchi
Visual coordinator: Takumi Kyoda
Animation Production: Bonds
Production: GOSICK Production Committee

·cast
Victorica: (announced at the event on 27th December)
Kazuya Hisaki: Takuya Eguchi
Abril: (secret until broadcasting)
Grelevle: Hidenobu Kiuchi
Cecil Professor: Yu Kano
Cordelia Gallo: Miyuki Sawashiro
Brian Roscoe: Okawa Toru
Zofi: Michiko Negitani


---

◆Card fight !! Vanguard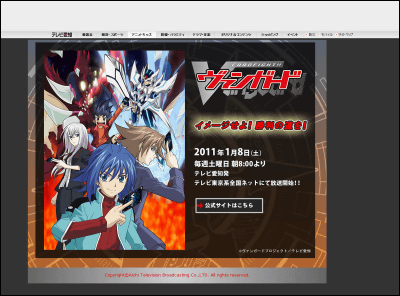 · Outline of the work
New trading card game Bushiroad announced in the summer of 2010 "Vanguard"Animated ahead of the release from 2011.

· Synopsis
ー

· Broadcast information
TV Tokyo series: 1/8 (Saturday) 8: 00 ~

·staff
Character design: Akira Ito
Animation Production: Toms Entertainment
Production: Vanguard Project, TV Aichi

·cast
ー

OP: JAM Project
ED: Natsuko Aso


---

◆Freezing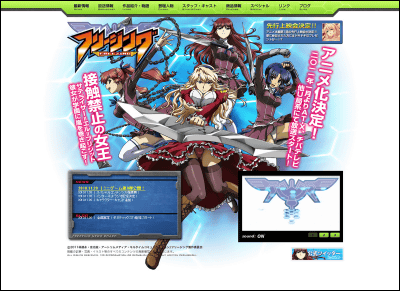 · Outline of the work
Animation of "Freezing" series that is serialized in Comic Valkyrie. Hayashi Tatsunaga of the original is also the original author of the Young Gangan serialized work "Kurojin" animated in 2009. Removal of its content is reminiscent of "Queen's Blade". Although it is broadcasting on AT - X and U stations, attention may be gathered as to where the broadcast at U station can not be regulated.

· Synopsis
Kozuya, a boy who lost her sister in a battle against a different dimension "Nova" to destroy humanity, came to a certain school as a transfer student. There was a school named "Pandora", a fighter who can only compete with Nova, and a school named "Genetics" that fosters a male student "Limiter" who will become a partner without aiding Pandora. The school also prepares for battle with Nova, a battle field where boys and girls break away from each other day to bloom their abilities. And the lower grade student must be absolutely obedient to absolutely invincible senior students. Satellizer = El-Brigit is the strongest two-year fear that disturbing its order is never permitted by other people to touch it. Kazuya looks at her, the sister of her deceased sister. Senior students who dislikes the satellite start fierce fighting to hide her from the "order" of the school as a shield. School SF action of love and struggle, opening here!

· Broadcast information
AT-X: 1/8 (Sat) 9: 30 ~, 23: 30 ~, (Wed) 15: 30 ~, 27: 30 ~
Ciba-TV: 1/9 (Sunday) 24: 30 ~
Tvk: 1/9 (Sunday) 25: 30 ~
Terebellum: 1/10 (Monday) 25: 00 ~
TOKYO MX: 1/11 (Tue) 25: 30 ~
TV Aichi: 1/11 (Tue) 25: 58 ~
Sun TV: 1/12 (Tue) 26: 10 ~

·staff
Original: Hayashi Tadanaga, Kinako Higaki (Comic Valkyrie series, Kiritime Communication)
Director: Takashi Watanabe
Series composition: Masaaki Akaki
Screenplay: Masayoshi Akasaki, Taka Yoshioka
Character design · total drawing director: Mayumi Watanabe
Action drawing director: Suga Suga
Produce: Eswood
Animation production: A, C, G, T
Production: Freezing Production Committee

·cast
Satelliteizer = El-Brigitte: Mamiko Noto
Rana Rinchen: Hanazawa Kana
Kazuya = Aoi: Mitsuhiro Mitsui
Ganesa Roland: Eri Kitamura
Arthur-Krypton: Nobuhiko Okamoto
Holly = Kaho: Rumi Okubo
Chiffon = Fairchild: Mari Inoue
Ingrid-Bernstein: Ami Koshimizu
Leo - Bernard: Kaiyoshi Shinabashi
Creo = Brand: Izumi Tachida
Arnette = McMill Run: Yu Asakawa
Atia = Simmons: Kana Ueda
Miyabi = Kannazuki: Natsuko Kuwatani
Tissy Phenille: Aya Uchida
Elizabeth Mabrie: Yuko Kaida
Kim = Yumi: Akino Watanabe
Elysse Schmidz: Fumihisa Mizusawa
Sister Margaret: Rieko Takahashi
Audrey = Duvall: Manna Kurogakara Mana
Takeuchi = Aika: Eri Mimura
Tris = McKenzie: Rie Yamaguchi


---

◆Beelzebub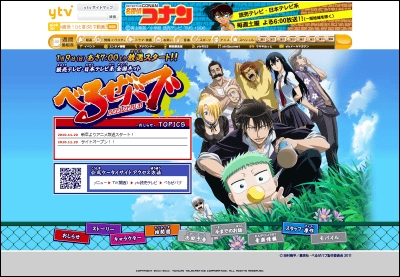 · Outline of the work
Weekly Shonen Jump series "Beppu bab" is animated. In the framework of Sunday morning at 7 o'clock on which this program is broadcasted, "Yume color patissiere (dream color patissiere SP)" has been broadcasted over a period of over a year, but it is a change from girls to a targeting spreading form. By the way, "Battle Spirits Brave" has been broadcast in the TV Asahi series during the same time period, so that the work for juveniles will crash.

· Synopsis
Even the super faulty high school "Ishaya Maho High School", especially the strongest failure to take the alias "Abareolega" Tatsumi Oga was fighting one day, a big osan came from the river. When trying to help, the Osan broke into two, and a baby came out from inside. Oga liked by the baby, but in fact the baby was Kaiser de Emperana Beelzebab IV (Belle Boy), the son of Maou Demon sent from Makai to destroy mankind.

· Broadcast information
Japan TV nationwide net: 1/9 (Sunday) 7: 00 ~

·staff
Original: Ryuhei Tamura
Director: Norihiro Takamoto
Series composition: Masahiro Yokoya
Character design: Takeshi Yoshioka
Production: Beelzebub Production Committee

·cast
Tatsumi Oga: Katsuyuki Konishi
Kaiser de Emperana Vezebab IV (Belle Boy): Miyuki Sawashiro
Hildegarda (Hilda): Shizuka Ito
Furuichi Takayuki: Mizushima Universe
Aoi Kunie: Toyosaki Aki
Shintaro Natsume: Daisuke Kishio
Tojo Hideo Toru: Seki Tomokazu
Kanzaki I: Tomokazu Sugita
Tatsuya Himekawa: Haruka Ogino
Batim de Emna Alain Delon (Alain Delon): Takagi Wataru
Daimao: Hiroki Takahashi


---

◆Is this a zombie?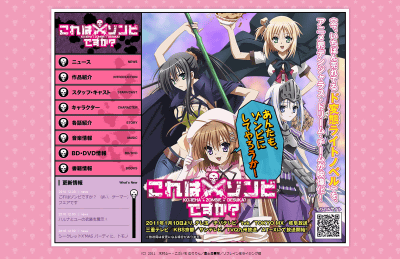 · Outline of the work
An animation of the 20th Fantasia Grand Prize winning work of Fujimi Fantasia Bunko (The title at the time of winning is "This is Zombie? Yes, Is a Magical Girl"). Although the genre is love comedy, there is laughter, there is a battle, "a chaotic evolution like a dark pot is poked" can be unfolded, how can animation staff cook that taste at all?

· Synopsis
Under the main character Aikawa Ayumi who became a zombie for some reason, Aho hair is trademark 's energetic "Demon girl" Haruna, a silent girl who always wears plate armor and Gauntlet "Necromancer" Yu, a nice buddy 's ponytail girl "blood sucking ninja" Sera, individual girls gather. And a mysterious monster "megaro" that attacks one after another. And what is a mysterious continuous murderer walking?

· Broadcast information
Terebellum: 1/10 (Mon) 25: 30 ~
Gifu Broadcasting: 1/10 (Monday) 25: 45 ~
Ciba-TV: 1/10 (Monday) 26: 00 ~
Sun TV: 1/10 (Monday) 26: 10 ~
KBS Kyoto: 1/11 (Tue) 25: 00 ~
Mie television: 1/11 (Tuesday) 26: 50 ~
TOKYO MX: 1/11 (Tue) 27: 00 ~
Tvk: 1/12 (Wed) 25: 45 ~
TVQ Kyushu Broadcasting: 1/12 (Wed) 26: 43 ~
AT - X: 1/17 (Monday) 23: 30 ~

·staff
Original: Yoshimichi Kimura
Original illustration: Kobochi Muri Rin
Director: Kanzaki Kanzaki
Series composition: Makoto Kamgangsu
Screenplay: Shigeru Morita, Wada Tadoko
Character design: Shinobu Tagashira
Total drawing director: Yuko Yahagi, Hirofumi Morimoto
Producer: Masked P Masked De Zombies
Animation Production: Studio Dean

·cast
Aikawa Ayumu: Atsushi Majima
Haruna: Iori Noguri
You (Euclid Wood · Hellsize): (Secret until 1st episode broadcast)
Sera (Seraphim): Yoko Higakasa
Tomonori: Konumoto Hoshiko
Odo: Yuzo Yoshino
Da sensei: Ai Shimizu
Kyoko: Noriko Shimoya
Hiramatsu Taeko: Rie Yamaguchi
Kana Mihara: Aki
Salas: Aya Goda

OP: Iori Nosui "Evil Ka Se Te Tonight"
ED: Rie Yamaguchi with manzo "Zombie, noticing, I am a classmate"


---

◆Dragon Crisis!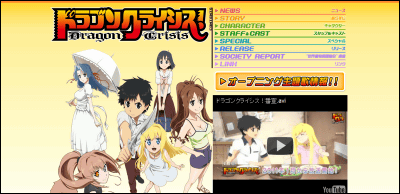 · Outline of the work
Anime that originated from light novel published from Super Dash Bunko. In Kansai "MONDAY PARK"In the first part, it will be the program after" Nurarihyon no Mago ".

· Synopsis
Ryuji, a high school student, lived alone apart from his overseas parents. However, since Emako 's Eikiri returns home, his daily life will change completely. Contact with the dark broker 'Fang', an encounter with a mysterious beautiful girl 'Rose'. Moreover, it turns out that Rose is a legendary red dragon. Rose is crazy for Ryusu who was first meeting ... ....

· Broadcast information
Ciba-TV: 1/10 (Mon) 25: 30 ~
Togi TV: 1/10 (Mon) 25: 30 ~
Ytv: 1/10 (Monday) 25: 44 ~
Tvk: 1/10 (Mon) 25: 45 ~
Kids Station: 1/11 (Tue) 24: 00 ~
TOKYO MX: 1/11 (Tuesday) 26: 30 ~
Chukyo TV: 1/11 (Tuesday) 26: 44 ~
Telephoto: 1/12 (Wed) 26: 00 ~

·staff
Original: Tsuyoshi Shirosaki (published by Shueisha Super Dash Bunko)
Illustration: Akagi Akagi
Director: Hideo Tachibana
Series composition: Hideyuki Kurata
Character design: Masashi Ishihama
Animation Production: Studio Dean

·cast
Rose: Rie Kugimiya
Ryuji Kisaragi: Hiroshi Shimono
Eriko Nanao: Yukana
Eto Misaki: Mayu Nito
Marga: Yui Horie
Ai: Inokukuichi

OP: Yui Horie "Immoralist"


---

◆Wanderer's son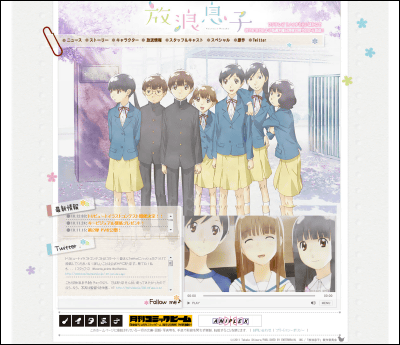 · Outline of the work
This work animated Takako Shimura 's cartoons, which became a recommended work by the review committee of the Manga Division at the 10th Annual Cultural Affairs Media Arts Festival. It is broadcasted with "futaru" in the "noitamina" frame, Yuri Okada is in charge of the series composition for both works.

· Synopsis
"A boy who wants to be a girl" Shuichi Nibori hid her feelings, but at some point she finds a woman sitting in a classmate's bookmark. Saori who had a favor with Shuichi for a long time, and then actively put on a shemale to Shuhwa, but this time she will also fall as a girlfriend. But Yoshino was "a girl who wants to be a boy."

· Broadcast information
Fuji Television: 1/13 (Thursday) 25: 15 ~

·staff
Original: Takako Shimura (Enterbrain 'Monthly Comic Beam' Series)
Director: Aoi Hiro
Series composition · Screenplay: Yuri Okada
Character design · Total drawing director: Ryuichi Makino
Main animator: Satomichi
Music: Shin Akatsuki (MONACA), Keiichi Okabe (MONACA)
Animation Production: AIC Classic
Production: "Wandering Son" Production Committee

·cast
Shuichi Nigori: Yasushi Hatakeyama
Yoshino Takatsuki: Seto Masami
Saori Chiba: Yuka Minori
Sasan Kanako: Aino Nanjo
Kikuza Chizuru: Chisa Saeko
Momoko Shirai: Aki Toyosaki
Makoto Ariga: Yuichi Iguchi
Miho Igaki: Mizuki Nana
Suehiro Anna: Yui Horie
Seiya Seiya: Matsuoka Sadyojo
Fumiya Ninomiya: Kaoru Suway
Dr. Tax Office: Kazuya Nakai
Shu-chan: Keiji Fujiwara
Yuki: Takako Honda


---

◆fractal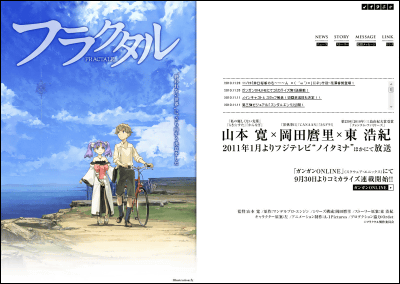 Major visuals of "Fractal" directed by Yamamoto Hiroshi started broadcasting at Noitamina in January

· Outline of the work
Fuji TV 'Noitamina' new program is directed by Hiroshi Yamamoto who is a director of "Black Rock Shooter" and is familiar with Yamakan's nickname. This work is a work made by Yamamoto Awards writer, a philosopher Higashi Hiroki and a screenwriter Yuri Okada, and is said to be "preparing to retire an animation director if this work is not good" There is a high level of fever.

· Synopsis
The stage is the "fractal system" which manages the world, the future after 1000 years since stepping into the paradise where mankind can live without working. The system was barely operational, but nobody was able to analyze the system, and I did not doubt that I believe that simply keeping it is a condition of happiness. However, in one corner of the continent the fractal began to collapse. A boy who is living a day and a crane · Crain helps a girl · Furyne who was chased by one day one day and fell under the cliff. Crain is excited to encounter the girl. However, he left the brooch and disappeared from the front of the crane. In the data left in the brooch, Avatar, Nessa, which was a girl's figure, was confined. Crane that is traveling looking for Fleet with Nessa. So he will know the secret of "system" -

· Broadcast information
Fuji Television: 1/13 (Thursday) 25: 45 ~

·staff
Director: Hiroshi Yamamoto
Original: Mandelbrot engine
Series composition: Yuri Okada
Story draft: Higeki Hiroshi
Character original plan: left
Character design, total drawing director: Masako Tashiro
Production Cooperation: Ordet
Animation Production: A-1 Pictures
Production: Fractal Production Committee

·cast
Crane: Yu Kobayashi
Fluene: Miho Tsuda
Nessa: Hanazawa Kana
Enri: Iguchi Yuka
Sunda: Shintaro Asanuma


---

◆Level E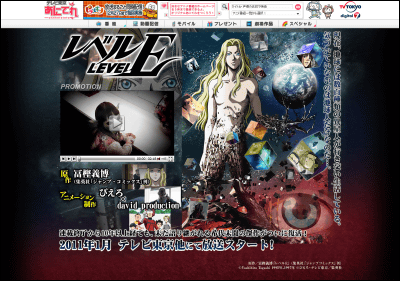 · Outline of the work
Yoshihiro Togashi animated an occult comedy work serialized in "Weekly Shonen Jump" from 1995 to 1996 after the end of the series "Yu Yu White Paper". Although 14 years have already passed since the end of the serialization, it is very popular, but since it was a serial series once a month, although there are only 16 story, from the high degree of completion, 1 of the comic book to read In many cases the name comes up.

· Synopsis
Tsutsui Tsutsui who went to high school in Yamagata prefecture will live by himself, but when Yukisaki went to the apartment, a mysterious man already settled in the room. An escort calling the mysterious man who calls himself an alien as a prince and an alien living hidden behind the earth appear one after another, and the surroundings of Yukisaki are surrounded by chaos.

· Broadcast information
TV Tokyo series: January ~

·staff
Original: Yoshihiro Togashi
Director: Toshiyuki Kato
Series composition: Zenki Hanada
Character design · total drawing director: Takeda Iko
Music: Kunihiko Ryo
Animation Production: Pierrot × david production

·cast
Oji: Namikawa Daisuke
Craft: Koyasu Takehito
Tsutsui Yukitaka: Yoshimasa Hosorya
Miho Edogawa: Satomi Akasaka
Sad: Masaya Takatsuka
Colin: Takumi Asahina
Narration: Fumihiko Tachiki


---

◆Yumekui Merry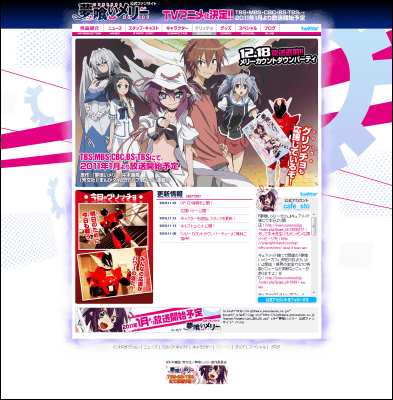 · Outline of the work
The first animated work from "Manga Time Kirara Forward" series work. It is also the first original feature film for Yoshitaka Ushiki.

· Synopsis
A high school student with a mysterious ability to see the dreams of others, Fujiwara Yumeji encounters a girl Mary who strayed from "Illusion World (Yume)" to "World (Utsuni)" one day. Who the hell is Mary? What is an illusionary world, Yumema, and the purpose of the dreams that come to the human world? Battle between two people and Yumema starts on the boundary between dream and reality.

· Broadcast information
TBS: January ~
MBS: January ~
CBC: January -
BS-TBS: January -

·staff
Original: Yoshitaka Ushiki
Director: Shigeru Yamauchi
Series composition: Hideki Shirane
Character design: Masahiro Fujii
Animation production: J.C.STAFF

·cast
Mary Nightmare: Akane Sakura
Fujiwara Yumeji: Okamoto Nobuhiko
Tachibana Yuushi: Bud love clothes
Kunimi Yui: Tomoko Akitani
Eni Three Piece: Aya Endo
John Do: Joji Nakada
Tachibana no Oto: Fujiwara Keiji
Grito: Shinji Kawada

OP: Fujiwara Maki "Daydream Syndrome"
ED: Mary Nightmare (Ayane Sakura) "Yume, Kibo and Ashita"


---

◆Mitsudomoe growing!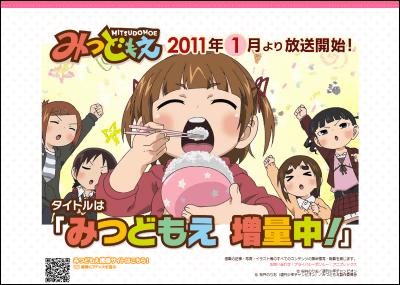 · Outline of the work
Broadcast from July to September 2010The second period series of "Mitsudomoe" that was done. The original is Norio Sakurai 's comic book, Weekly Shonen Champion serial.

· Synopsis
"A little awful sad girl!" Mitsuba, "a bit of a muscle girl !!" Futaba, "a little strange dark girl!" People's triplets and three sisters and their surrounding characters gaggle over.

· Broadcast information
CBC: January -
MBS: January ~
TOKYO MX: January -
All eight events scheduled

·staff
Original: Norio Sakurai (Weekly Shonen Champion Series "Mitsudomoe")
Director: Masahiko Ota
Series composition: Akashima Takashi
Character design: Takaharu Okuma
Animation Production: Bridge

·cast
Marubai Mitsuba: Takagaki Aya
Marui Futaba: Satomi Akasaka
Marui Hito: Haruka Tomatsu
Satoshi Yabe: Hiroshi Shimono
Miku Sugisaki: Chiwa Saito
Yuki Yoshioka: Aki Toyosaki
Miyashita: Momoko Ohara
Matsuoka Sakko: Hayama Tamimi
Nobuya Sato: Yuko Sanbe
Yuuto Chiba: Kazuomi Yamamoto
Ariashi Ogata: Minori Chihara
Mayumi Kato: Aya Uchida
Ito Yorika: Itoiguchi Yuka
Aiko Kuriyama · Chikubi: Momoko Saito
Mari Sugisaki: Kikuko Inoue
Jiro Marui: Masao Amada


---

◆I do not like something about your older brother at all!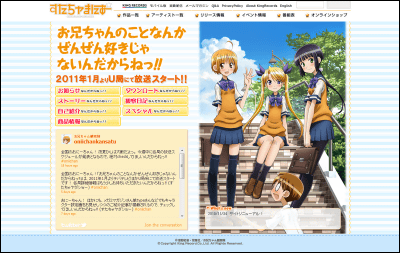 · Outline of the work
WEB comic high!Animated cartoon of the same name serialized in.Machi ★ Assobi 4Okay.Talk event held by Hideki Kitamura and others playing the heroineIt was done.

· Synopsis
Shuusuke Takanashi loves to collect horny books and DVDs, images, and a healthy boy who has nothing to do with scoops, nieces, striped breads. That line of sight is poured into one's younger sister's pants one more year, but my sister / Nao loved such a shallow brother. In front of the two people, childhood friend Tsuchiura Ayaba comes back for the first time in ten years, but Ayaba suddenly had a somewhat unusual thing to observe suzuke and looking through the room with a telescope. Furthermore, Mr. Kono Kondo who is a classmate and a girl like BL is also joining, and it is noisy around Shuzo.

· Broadcast information
UHF system: January ~

·staff
Original: Ken Kusano
Director: Keimitaro Motonaga
Series composition: Oboro Small Lily
Character design: Hirayama yen
Animation production: ZEXCS
Production: Onii Observation Corps

·cast
Shuusuke Takanashi: Toshiyuki Toyonag
Nao Takanashi: Eri petit Kitamura
Aki Tsuchiura: Mary Inoue
Kono Kono: Watanabe
Kasuhara Akino: Ryoko Shiraishi
Kato Haruka: Nakamura Riko
Shuji Takanashi: Hideki Ogihara
Takanashi Nana incense: Sayaka Ohara

OP: Naoko Takanashi (Eri Mani) "Taste of Paradise"
ED: Takanashi Nao (Kitamura Eri), Tsuchiura Ayaba (Mari Inoue), Kono Nozakaya (Aisari Future ☆)


---

◆Suite PreCure ♪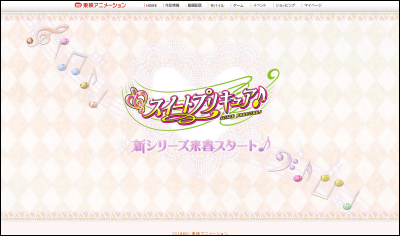 Pretty Cure New Series of 2011 Broadcasting "Sweet Pretty Cure ♪" Decided - GIGAZINE

· Outline of the work
It is the eighth work of the "Precure" series which is broadcasted on TV Asahi series.

· Synopsis
ー

· Broadcast information
TV Asahi: 2/6 (Sunday) 8: 30 ~

·staff
Original: Izumi Higashi
Animation Production: Toei Animation
Production: ABC, Toei Animation

·cast
ー


---

◆My magic and family day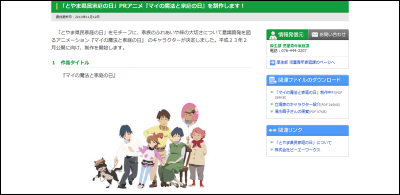 · Outline of the work
An animation work is created to raise awareness about familiar interaction and the importance of bonds, based on the original work of "Family Day" on Monday, which is a recipient prize winning work for the "Toyama Prefectural Family Day" 2005 . Ms. Moeko Shimizu who wrote this essay was a 4th grade student at Toyama City Horikawa Minami Elementary School (at the time of winning).

· Synopsis
Rikkai of my second grade student My will try to understand each family's feelings using "magic" (compassion mind). My brother 's light was sending daily struggle with her "borderless existence" born out of adolescent swaying emotions. In such a Tateya family, in order to deepen the ties of their families, say that the father will make a "home day" to carry out every Saturday decided by the whole family. In the meantime, a third child is about to be born in Yuki in her mother ....

· Broadcast information
KNB TV: February
3 broadcasting stations within Toyama prefecture, and 9 broadcasting stations scheduled to broadcast

·staff
Draft: Moeko Shimizu
Animation Production: Pie Works

·cast
Takumi Yuki: Shimamoto Shimamoto
Firefly (grandmother): Mami Oyama


---

◆Pleiades after school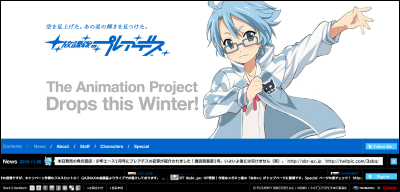 · Outline of the work
Fuji Heavy Industries' automobile brandSubaruAnd Animation Production CompanyGAINAXCollaboration project by. As its first chapter, animation "Pleiades after school" will be produced.

· Synopsis
ー

· Broadcast information
January

·staff
Director: Aki Saeki
Concept artist: Daisuke Kikuchi
Character design: Mai Otsuka
Animation Production: GAINAX
Production: SxG Animation Project Executive Committee

·cast
ー