New animation list of the spring start of the 2011 spring list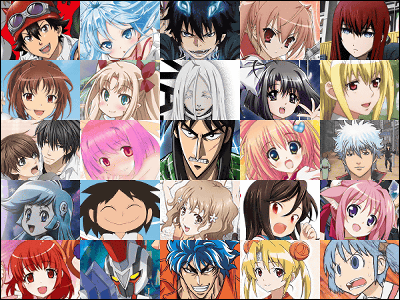 The spring reorganization period has arrived. According to the summary, the number of newly launched animation is 44 at this time. Just a year agoIn the spring of 2010, less than 40It seems that it has increased slightly.

It is hard to focus on "seeing only this" from the fact that there are many books this fiscal year, but from the weekly Shonen Jump series series "SKET DANCE"Toriko"Animated, and"GintamaIt will resurrect.

Animation production company that is keen attention every coolestKyoto animationThis term is "Everyday"AgainshaftIs "Denpa Onna to Seiuchi"When"Marie † Hold OffHe is responsible for two works. Director Kouichi Makita × Bee Train's "Cheerfulness"Yoshitomo director × character deza · Takahiro Kimura's"Dororon Enka Me ~ Lamera, Kozo Kusakawa Director X × Original · Maki Tsuzuki's Nano by CombiDOG DAYSIt seems like an interesting thing, too.

As a sequel thing "Adversity unrequited kaiji breakout record","Quicer of the Stigmata II","Fireball Charming"there is ........., ........., etc.

Besides this, "popular game based on the original"Stein's Gate", Animated popular BL comics"The world's first love"It became an animation series of series at the theater"Apple Seed XIIIThere are also remarkable works such as.

So, the new anime list starting this season is from the following.

● TV · net delivery
◆Cardboard warfare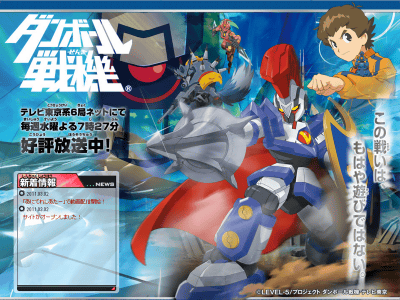 · Outline of the work
Animation is announced in 2009The "corruption cardboard" that was done is finally broadcast. Although the game which was planned to be released in 2009 is based on the original, the game release is shifted to May 2011, and animation will be developed in advance.

· Synopsis
In the year 2050 AD children were enthusiastic about the small hobby robot "LBX (Little Battler eXperience)". Although LBX had been canceled once at the strength of much performance, reinforced corrugated cardboard which absorbs 80% of all shocks appeared, so that battle is permitted only within the reinforced corrugated cardboard stage It was becoming.

Yamano van living in Misora ​​Town loved LBX, but I could not hold it because of my mother's opportunity. One day, Van is entrusted with Attache Case from a strange woman who was chased by someone. LBX I have never seen "AX - 00" in the inside. But shortly afterwards, a mysterious LBX invaded the van's house, and it attacked the van ....

· Broadcast information
TV Tokyo series: 3/2 (Tue) 19: 27 ~
BS Japan: 4/2 (Sat) 7: 00 ~

·staff
Planning, general supervision, original story: Akihiro Hino
Character design original draft, LBX design: Jun Sonobe
Director: Takahashi Naohito
Series composition: Atsuhiro Tomioka
Character design: Hiroyuki Nishimura
Music: Mine Kondo
Acoustic director: Masumi Mima

·cast
Yamano Van: Megumi Kubota
Aya Kawamura: Mina Inoue
Qingdao Kazuya: Daisuke Namikawa
Hidenori Jin: Hisashi Oda
Hidenori Kaido: Jun Fujimoto
Hiyama Ren: Hiroki Togishi
Takuya Uzaki: Yuichi Nakamura

◆All-purpose vegetables Ninin Man (P.A.works)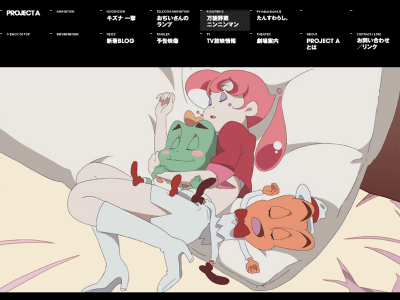 YouTube - Young Animator Training Project / Trailer(All-purpose vegetable Ninin Man)

· Outline of the work
Young Animator Development ProjectOne work of. Heartful magical animation of laughter and tears that can be enjoyed by the family, and P.A.works in Toyama prefecture that became a topic in "animation production" "true tears" "Angel Beats!" Director Masayuki Yoshihara who was in charge of directing "Ghost in the Shell S.A.C". Move characters anthropomorphized food softly and happily by drawing. "It was a dream to realize the plan for the original child who the director warmed up for many years.The atmosphere of the production site changed also through training and it was good" (Kenji Horikawa Producer). "I will decide to do what I dislike to save my friends I love.It can be embarrassing if I make it to words, if it is animated it can be expressed fairly.You look at the same goal so that such important things will be conveyed through moving While, everyone made it. "(Director Yoshihara Masayuki).

· Synopsis
Mari, a second grade elementary school student, hates carrots, green peppers, and milk, so it faints when you eat it. One day, when I ate difficulty foods, Ninin Mann, Piman, Milk and Henteco "ghosts" appeared. Ninin man tries to solve the trouble of Mari by using magic. Can Mari be reconciled with her best friend Momo who became awkward?

· Broadcast information
National Theater: 3/5 (Saturday) limited screening for one week
MBS: 3/5 (Sat) 26: 58 ~

·staff
Director, character design: Masayuki Yoshihara
Screen director: Tsunesuke Kawabe
Assistant director of drawing: Hideo Kurakawa
Original picture: Suzuki Misaki, Miyaoka Kenichi, Sato Koichi, Kubo Mitsuhisa, Oito Yuri Momi, Makino Hiromi, Tadashi Kojima, Asuka Kojima, Yasuo Fujii, Asami Hayakawa, Picturesque Okamoto, Fumiohiko Suganuma, Tomoya Nishiguchi Art Director: Yusuke Takeda
Music: Yuki Hayashi
Animation Production: P.A.works

·cast
Mari's: Saori Hayami
Ninning Man: Tomoyuki Morikawa
Piman: Rie Kugimiya
Milk: Kikuko Inoue
Momo-chan: Mikako Takahashi
Mama (Demon): Mami Oyama
Dad (羽 羽): Takehiko Higuchi

◆Oii's lamp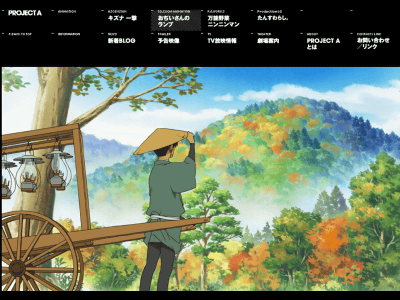 YouTube - Young Animator Training Project / Trailer(Oi's lamp)

· Outline of the work
Young Animator Development ProjectOne work of. Works of famous fairy tale writer · Shin Miniyoshi in "Gon Gintetsu" dramatized · animated. Production is telecast animation film of "Lupine the Third Cagliostro's Castle" "Moyashimon", directed by Sakichi Takiguchi of "Theatrical Version of the Sky Border / Chapter 4 Chapel's Dong". He exquisitely animates acting and posing of the real feeling of life, such as walking and movement, where the weight of a person is felt. "Each staff member examined small items such as landscapes and flints of the Meiji era and made various suggestions, it is a film that we made while gathering it" (directed by Sadakazu Takiguchi). "In the fierce period that the existing values ​​are fluctuating now, I chose the original, thinking about something that does not change even in such a period, please pay attention to the movement that can felt humanity." (Takeuchi Koji, producer ).

· Synopsis
When I heard a call of "civilization opening", there were no lights in the evening of the village still reserved. In the town he visited for the first time, he finds a lamp. The brought-out lamp shone the darkness of the night brightly. In the beginning villagers who were resistant to new things also became available soon, and Minokuke succeeded in setting up as a lamp trade. But in town a utility pole was set up, a new bright light called electric light began to replace the lamp ....

· Broadcast information
National Theater: 3/5 (Saturday) limited screening for one week
MBS: 3/19 (Sat) 26: 28 ~

·staff
Original: Shin Shin Yoshiyoshi
Director: Sadakazu Takiguchi
Character design, drawing director: Mitsuko Takasu
Acting Supervisor: Kazuhide Tomonaga
Original picture: Hisao Yokohori, Makoto Yamada, Takayuki Kitagawa, Tadayuki Minoru, Natsumi Tombe, Masami Kato, Mina Osawa, Hikaru Suzuki
Art director: Yuji Ouchi
Color design: Masazumi Otsuka
Music: Takehiro Feathera
Animation Production: Telecom · Animation Film

·cast
Hiroyuki Kamiya
Setsu: Risa Shimizu

OP: Performance · Crazy Ken Band "Oi-chan"
ED: Hidako Shiratori "To a wish lighting"

◆Kizuna one blow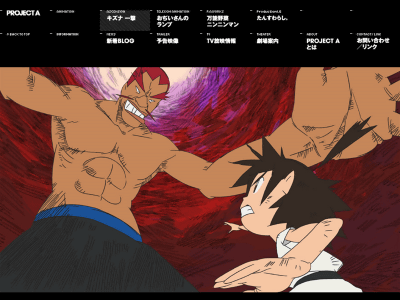 YouTube - Young Animator Training Project / Trailer(Kizuna Hit)

· Outline of the work
Young Animator Development ProjectOne work of. Unexpected full-blown fight family gag animation. Director Mitsuru Hongo "Everyday Oka", production is "colorful" Ascension. It is a work that you can enjoy a wide range of drawings, from a freedom action of flying or bouncing to a family play smiling unintentionally. "I let the animator freely do the animation which is good, I realize that animation with good movement in Hisashi is pleasant.Even if it's all too difficult it can not be too easy To set the difficulty level I had a hard time "(Misuru Hongo). "Developing the story and character drawn by Yuichiro Sueyoshi of drawing director, packing a lot of elements and packing up a lot of elements, it turned out to be a fun work for animators" (Producer Mogi).

· Synopsis
Kozuna is a 13-year-old female junior high school student. Kizuna, who grew up in a martial arts family, easily defeats the world championship championship of 10 consecutive years by using Rutenfuji (Wadachi Ryuu). Kizuna was supposed to get a prize of 100 million yen, but the winner was canceled by mistake and the prize money was paid to those who killed Kizuna. The arms of the world came to the match with Kizuna, and the peaceful garden of the roaring family became a fighting venue. Can Kizuna continue to win?

· Broadcast information
National Theater: 3/5 (Saturday) limited screening for one week
MBS: 3/19 (Sat) 26: 58 ~

·staff
Director, Screenplay: Mitsuru Hongo
Character design, drawing director: Yuichiro Sueyoshi
Assistant Director of Screening: Jun Uemura
Original: Masahiro Sato, Hironari Hashiya, Yoshihiro Osugi, Park Yu Hui, Keiko Tamaki, Hidekazu Izana, Satoshi Sano, Ryo Sakaguchi, Nori Hisaki
Art director: Takashi Nakamura
Music: Shiro Hamaguchi
Animation Production: Ascension

·cast
Rogue Kizuna: Yasuno Yasuno
Gorin kintaro: Keiji Fujiwara
Round Goal: Masaki Terasawa
Gourd Akane: Yuri Sae
Masaka Hanaka: Hayama Tamimi
Ultra mountain Everest: Koyama Oyama
Kim Kureo: Tadashi Miyazawa

◆Ladle weather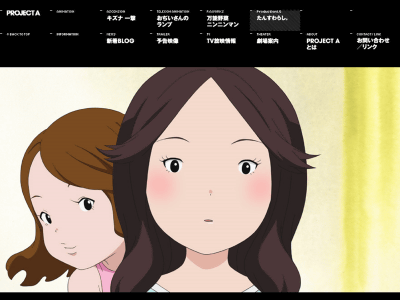 YouTube - Young Animator Training Project / Trailer(Tanzawa Warashi)

· Outline of the work
Young Animator Development ProjectOne work of. A mysterious laughter drizzbler 's everyday drama. Production is "Production IG" of "Ghost in the Shell Series" "Eden of the East". Kazuya Kazuya, a veteran animator known for "xxx HOLiC" and "innocence", will be the first coach. I. G known for its realistic and high-density style, he dares to adopt a simple character and background. "I think that it is important to think about how to respond to requests for directing thought by themselves, not mere technology, if it is to be trained, I am demanding performance that is emotional, not in accordance with the contest." (Director Kazuya Kurosawa). "Unlike the work with many details, the simplicity of giving priority to the feeling as a picture is, on the contrary, difficult, I think it is becoming a film that reflected Mr. Kose's thoughts for her child well" (Producer Terakawa Eiji)

· Synopsis
Lying OL living alone in the apartment. One day, my mother sent me a favor of a Japanese chest of drawers. When I got tired from work I came home and a child appeared from the chest. Children of individuality come out one by one, such as glutton, bakuma, kimono child etc one after another. They were "Landscapes". A big turbulence broke out, and although initially he was embarrassed, while living together, the emotions never experienced touched up.

· Broadcast information
National Theater: 3/5 (Saturday) limited screening for one week
MBS: 3/26 (Sat) 26: 58 ~

·staff
Director, original plan: Kazuya Kurosawa
Character original plan: Hiratakira
Drawing Director: Takahisa Kaiya
Assistant Director of Cinematographer: Katagiri Kiyuu
Original: Izumi Seguchi, Takaaki Hashimoto, Masayuki Honda, Miho Daisenji, Numakuma Kumiko, Fujiro Kanako, Riki Fujiki, Riko Iiyama, Rie Mizuki, Maho Yoshikawa, Yoshiaki Kyogoku, Hiromi Kuroiwa
Art director: Hiroki Ogura
Music: Yuu Sugibabayashi
Animation Production: Production I. G

·cast
Ferrari: Mamiko Noto
Masa: Oiura Fuyuka
Dai Goro: Matsumoto Megumi
Girokiti: Yasuhiro Takado
Tie: Kana Ueda
Yuki: Hiromi Imano
Hanpei: Kozakura Etsuko

◆Pretty Rhythm Aurora Dream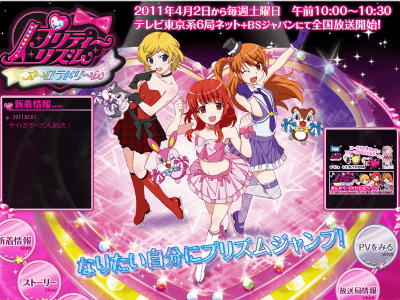 · Outline of the work
Anime based on the arcade game "Pretty Rhythm Mini Skirt" developed by Takara Tomi from July 2010. The voice actor unit LISP by three people, Aoshi Kana, Ara Saori, Kataoka Azusa plays the leading actors, and he is also in charge of the opening theme song. In addition, while the one which commissarized this work starts "Chao" from the April 2011 issue (drawing: Fujimi Rio), on the other hand, "Ribon" which is a girls' manga magazine is a series of comicized games series (Drawing: Morning Asari).

· Synopsis
Dance skating & amp; Fashionable Corde & amp; Trinity of Songs! A completely new dance skate show "Prism Show".
Prism players who appear in the show are dancing skating skills, singing skills for fashion sense, popularity, and super idol who is asked for everything.
A girls' story aiming at its top "prism Queen".
I am confident in fashion, but I am not good at exercising with a retreat! "Pilgrims" who began to prism show for a while.
Legendary jump "Aurora Rising" with the aim of going to lessons with their own "Risumu".
Two people who came by chance sometimes fights each other's dreams through a "prism show" while sometimes thrashing on a boy who sometimes worries, sometimes worrying, while dancing, singing and fashion sense I will continue.

· Broadcast information
TV Tokyo series: 4/2 (Sat) 10: 00 ~
BS Japan: 4/2 (Sat) 10: 00 ~

·staff
Original: Takara Tomy, Shin Sophia
Director: Masakazu Hishida
Series composition: Akaneko Ko
Character draft: Akio Watanabe
Character design: Takashi Kawashima
Art director: Takahashi Asaho
CG Director: Satou Yuzo
Director of Photography: Jiro Tazawa
Edit: Masaki Sakamoto
Acoustic director: Nagasaki Jun Man
Music: Mr. Nagaoka
Music Producer: Nobuterim Ikehata
Animation Production: Tatsunoko Pro
Production: PRA Production Committee

·cast
Haruhi no saira: Kana Aumi
Rikumi Amagi: Yuri Hara
Mi Takamine: Azusa Kataoka
SHOW: Takashi Kondo
Hibiki: KENN
Wataru: Okamoto Nobuhiko
Jun Takigawa: Advancement of Chiba
Akemi Kyoko: Hayami Risa
Hiroshi Haruna: Nozomu Sasaki
Harumonomi: Noriko Hidaka
Haruomi Issuki: Kumai Motor
Harunaru Haruhara: Aki Nakajima
Haruharu: Nakajima Hiro
Narration: Kanoe Ito

Opening theme: LISP "You May Dream"
Ending theme: SUPER ☆ GiRLS "Happy GO Lucky! ~ Happy ☆ Raki with Go!"

◆DOG DAYS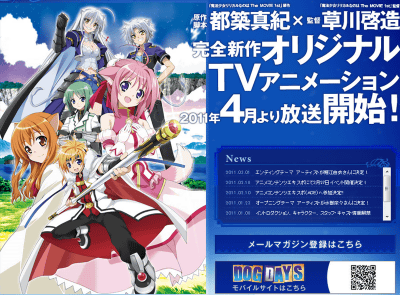 · Outline of the work
An original animation to which the combination of "Magical Girl Lyrical Nanoha The MOVIE 1st" of the original · Tsukiika Maki, director · Keiko Kusakawa will be sent by. The opening theme is Mizuki Nana, and the ending theme is in charge of Yui Horie who is the main heroine, Miruhaore.

· Synopsis
A world where "war" between countries is frequently carried out "Fuñialdo". The Biscotti Republic is subjected to a raging invasion from Garrett Lion Association country, Princess Miruhior is decided to summon a brave from another world. What was summoned is a junior high school boy sink Izumi. Sink can save the Biscotti Republic and Miruhi as a brave person in the days of "war" that is done under unusual rules.

· Broadcast information
TOKYO MX: 4/2 (Sat) 23: 30 ~
Tochigi Television: 4/2 (Sat) 23: 30 ~
Gunma TV: 4/2 (Sat) 23: 30 ~
Chiba Television: 4/2 (Sat) 25: 00 ~
Tvk: 4/2 (Sat) 25: 30 ~
Teradami: 4/2 (Sat) 25: 35 ~
MBS: 4/2 (Sat) 26: 28 ~
CBC: 4/6 (Wednesday) 26: 30 ~
BS 11: 4/9 (Sat) 23: 30 ~

·staff
Planning, Production: PROJECT DD
Original, Screenplay: Maki Tsuzuki
Directed by: Keisuke Kusakawa
Character design: Osamu Sakata
Animation Production: Seven Arks

·cast
Sink Izumi: Mamoru Miyano
Miruhio · F · Biscotti: Yui Horie
Eclair Martinoggi: Ayana Taketa
Ricotta Elmar: Mizuki Nana
Loran Martinoggi: Takeshi Koyasu
Brioche Dalkian: Yoko Higakasa
Yukikaze · Panetone: Kana Aumi
Leo (Leonhardt / Galette de Roy): Ami Koshimizu
Gow (Gaul Gallelet de Roi): Teruya Kakihara
Rebecca Anderson: Mikako Takahashi

OP: Mizuki Nana "SCARLET KNIGHT"
ED: Yui Horie "PRESENTER"

◆TIGER & BUNNY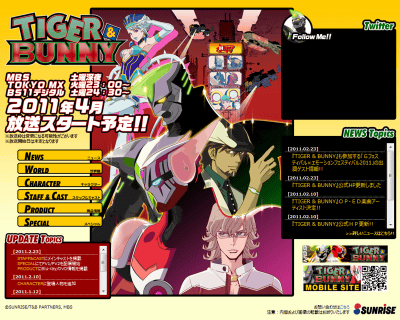 · Outline of the work
In Young Jump "Zettman"In the series, Masakazu Katsura, known for his works such as" Wingman "" I "s" "Electric Shadow Girl" etc, handled the original draft, and Sunrise of "Mobile Suit Gundam" was in charge of animation production, Buddy Hero action animation . Known as the life-sized hero action animation by Tatsunoko ProCrow - KARAS -"Directed by Mr. Sato Keiichi.

· Synopsis
There are different racial and ethnic groups, special abilities called 'NEXT' coexisting, and the city where SUPER HERO protects the peace of the city with its "NEXT" ability · Stern Built. Each of the heroes was carrying a logo of a sponsor on each and was struggling to acquire a company image and a hero point.

· Broadcast information
MBS: 4/2 (Sat) 25: 58 ~
Ustream: 4/2 (Sat) 25: 58 ~
TOKYO MX: 4/5 (Tue) 23: 00 ~
BS 11: 4/9 (Sat) 24: 30 ~

·staff
Director: Sato Keiichi
Series composition: Seiji Nishida
Character draft, hero design: Masakazu Katsura
Character designer: Kenji Hayama, Masaki Yamada
Design Works: Masami Ozone
Mechanical design: Kenji Ando
Color design: Rumiko Nagai
Art setting: Hiroki Matsumoto, Yohei Kodama
Art director: Kimichi Okubo
Background: Studio Easter
3DCG Director: Now Yoshikazu
3DCG: Sangjigen
Photography: Asahi Productions
Director of Photography: Yui Tanaka
Edit: Hirofumi Okuda
Video editing: Cue Tech
Music: Ikehiro Ike
Acoustic director: Eriko Kimura
Acoustic Production Manager: Takuya Ohno
Acoustic production: Tohokushinsha
Executive Producer: Masayuki Ozaki (Sunrise), Kenji Ushida (Bandai Visual), Koji Takeda (Mainichi Broadcasting)
Producer: Kazuhiko Tamura (Sunrise), Chinatsu Matsui (Bandai Visual), Hiroo Maruyama (Mainichi Broadcasting)
Production: Sunrise, Bandai Visual, Mainichi Broadcasting

·cast
Takagi · T · Tororō (Wild Tiger): Hiroaki Hirata
Burnaby Brooks Jr .: Seiichi Morita
Carina Lyle (Blue Rose): Misako Sumisu
Rock Bison: Kusunoki Daisuke
Dragon Kid: Mariya Ise
Fire Emblem: Kenjiro Tsuda
Sky High: Go Inoue
Origami Cyclone: ​​Nobuhiko Okamoto

◆Everyday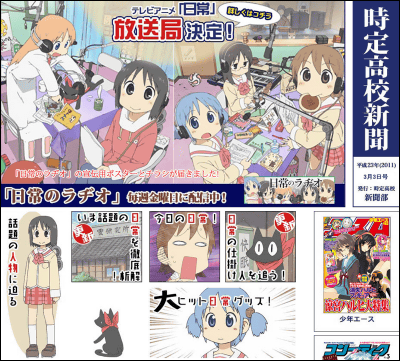 YouTube - "Everyday" PV 2 (# 0)


· Outline of the work
"K-on!", "CLANNAD", "The Melancholy of Haruhi Suzumiya" etc. were produced, so now animation production company · Kyoto animation which became considerable expectation before broadcasting only by name · in spring 2011 It is this "everyday" to broadcast. The original is an absurdity gag comic series serialized from boy ace in December 2006 (work: Arai Keiichi).

· Synopsis
There are lots of mysterious things such as robots, deer and others around the young girls who often tend to be delusions. Surprising "everyday" begins in Bimmy with a strange phenomenon spreading throughout the town, with shake fluttering, Kokeshi flying, mainly at the Timed High School.

· Broadcast information
TV Aichi: 4/2 (Sat) 26: 20 ~
Nico Nico Douga: 4/3 (Sunday) 11: 30 ~
Ciba-TV: 4/3 (Sunday) 24: 00 ~
Terebot: 4/3 (Sunday) 25: 05 ~
KBS Kyoto: 4/4 (Monday) 25: 00 ~
Tvk: 4/4 (Monday) 25: 15 ~
TV New Hiroshima: 4/4 (Mon) 25: 25 ~
Sun TV: 4/5 (Tue) 24: 00 ~
TOKYO MX: 4/6 (Wednesday) 25: 30 ~
Hokuriku Broadcasting System: 4/6 (Wednesday) 25: 55 ~
Gunma TV: April 7 (Thursday) 23: 30 ~
Fukui Broadcasting: 4/7 (Thursday) 25: 35 ~
TVQ Kyushu Broadcasting: 4/7 (Thursday) 25: 53 ~
TV set tochi: 4/7 (Thu) 26: 10 ~
TV Hokkaido: 4/8 (Friday) 26: 00 ~
Tulip TV: 4/14 (Thu) 25: 42 ~
Tohoku Broadcasting: 4/14 (Thu) 25: 45 ~

·staff
Total Production: Takeshi Yasuda
Planning: Takeshi Yasuda, Yoko Hatta, Takafumi Ishibashi, Tsuneo Takechi, Shunji Inoue, Naohiro Taifu
Original work, composition cooperation: Arai Keiichi ("Boy Ace" series)
Series composition: Zenki Hanada
Character design: Taishi Nishiya
Color design: Miyata Kana
Art director: Junji Unoguchi
Director of Photography: Kazuya Takao
Setting: Hiroyuki Takahashi
Edit: Shingo Shimura (Studio Gong)
Acoustic Director: Yota Tsuruoka (Musical Tone House)
Music: Yuji Noumi
Music Producer: Shigeru Saito (Lantis)
Producer: Atsushi Ito, Hideaki Hatta
Deputy Director: Taichi Ishidate
Director: Tatsuya Ishihara

·cast
Yuko Aio: Makiko Honda
Minoo Naganohara: Mai Aizawa
Maiko Mai: Togashi Misuzu
Hakase: Hiromi Konno
Shinonome: Shizuka Furuya
Mr. Sakamoto: Minoru Shiraishi
Tachibana, Misato: Horikawa Chika
Kojiro Sasahara: Yoshihisa Kawahara
Takeshi Nakanojo: Kazuomi Yamamoto
Nakanojo father: Hirokazu Hiramatsu
Yoshino Nagano: Motoko Kobayashi
Kenzaburo carpenters: Ryota Yoshizaki
Sekiguchi Yuria: Ai Hirosaka
Makoto Sakurai: Takahiro Higaoka
WEBOSYY: Yoko Tamaki
Fecchan: Yumi Higuchi
Mr. Annaka: Kaori Sahara
Tanaka: Kota Yamaguchi
Mr. Sakurai: Mami Kosuge
Dr. Takasaki: Toru Inada
Professor Nakamura: Kaoru Mizuhara
Principal teacher: Cho
Professor Kohei: History of Chuo Hiroshi
Narration: Milky Way

◆Suzy's Zoo I love you! Witzee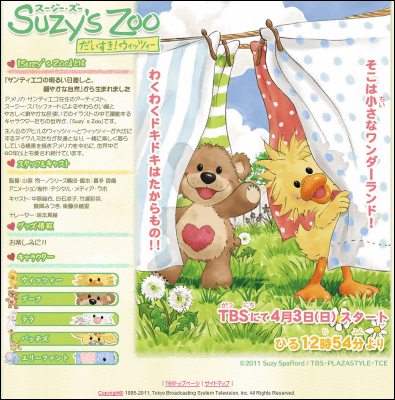 · Outline of the work
Susie Spasford lives in San Diego, and Suzie Zoo, which is loved for more than 40 years, mainly in America, became the world's first animation this year. Various goods development has been done, and in Japan goods are sold at imported living goods store PLAZA.

· Synopsis
Duck's Whitzee, the cherished stuffed toy became friends, living happily together.

· Broadcast information
TBS: 4/3 (Sunday) 12: 54 ~

·staff
Director: Shuichi Ohara
Series composition, Screenplay: Kaori Kita
Animation Production: Digital Media Lab

·cast
Whitzee: Mai Nakahara
Bouph: Shiraishi Ryoko
Lara: Ayana Taketachi
Patches: Mitsuki Saiga
Erie Fant: Shoto Haruoto
Narrator: Maaya Sakamoto

◆Hanasaku Iroha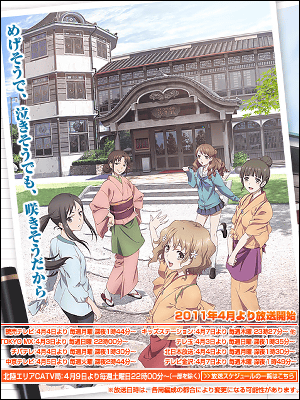 YouTube - 5th "Hanasaku Iroha" PV


· Outline of the work
"The latest tears" "CANAAN" "Angel Beats!" And the latest work of Powe works which has been working on the TV series, complete original work. "P.A. WORKS 10th Anniversary Animation Work" is broadcasted, broadcasting at each station such as TOKYO MX and Yomiuri Television, as well as cable network stations in Hokuriku 3 prefectures will be broadcast from April 9th.

· Synopsis
A 16 - year - old girl who had been dreaming of becoming a different person so far, Matsumae Oga leaves the town I'm used to, I still have less affection, I live in a grandmother who has never talked or met It will be. A new life at Onsen Ryokan · Kiyosuso (grandson) where my grandmother is a female general, and depictions of people I meet there.

· Broadcast information
TOKYO MX: 4/3 (Sunday) 22: 00 ~
Terebellum: 4/3 (Sunday) 25: 35 ~
Ytv: 4/4 (Monday) 25: 44 ~
Ciba-TV: 4/4 (Mon) 25: 30 ~
Northern Japan Broadcasting System: 4/4 (Monday) 25: 30 ~
Chukyo Television: 4/5 (Tuesday) 26: 44 ~
Kids Station: 4/7 (Thurs) 23: 27 ~
TV Kanazawa: 4/7 (Thurs) 25: 49 ~
Implantable Cable Network: 4/9 (Sat) 22: 00 ~
Cable TV Toyama: 4/9 (Sat) 22: 00 ~
Takaoka Cable Network: 4/9 (Sat) 22: 00 ~
TST Tonami: 4/9 (Sat) 22: 00 ~
Net 3: 4/9 (Sat) 22: 00 ~
NICE TV: 4/9 (Sat) 22: 00 ~
Mirae TV: 4/9 (Sat) 22: 00 ~
Asagao Television: 4/9 (Sat) 22: 00 ~
Kanazawa cable TV net: 4/9 (Sat) 22: 00 ~
TV Komatsu: April 9 (Sat) 22: 00 ~
Wajima CATV: 4/9 (Sat) 22: 00 ~
Fukui Cable TV: 4/9 (Sat) 22: 00 ~
Sakai cable TV: 4/9 (Sat) 22: 00 ~

·staff
Original: P. A. WORKS
Director: Ando Masahiro
Series composition: Yuri Okada
Character draft: Kishida Mel
Character design, total drawing director: Kaname Sekiguchi
Main animator: Yuriko Ishii
Animation Production: P.A. WORKS
Production: Hana Yorodachikai Union

·cast
Matsuma Matsumae: Kanae Ito
Tsurugi Tamako: Chieko Komigawa
Yakko Oshimizu: Aki Toyosaki
Wakura Known: Haruka Tomatsu
Wajima Tomoe: Mamiko Noto
Koichi Tamura: Hiroki Kaji
Hatsuki Matsumae: Takako Honda
Shimanto Sui: Kubota Tamio
Shimanto Edge: Kenji Hamada
Toru Miyagishi: Junji Majiri
Rinji Togashi: Taro Yamaguchi
Takako Kawashiri: Ayumi Tsunematsu
Jiro Maru Taro: Junichi Suwabe Department
Shinagawa Denko: Cho

OP: nano.RIPE "Hananoiro"
ED: Sphere "Hazy"

◆We have no wings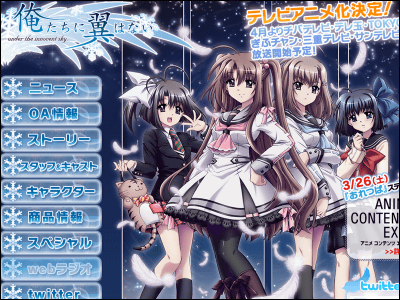 · Outline of the work
Abbreviation is "farewell". Navel's adult game "We do not have wings" animated. The game script is called "(18 notice attention)It's like a cherry blossom scattering"Wang Sparrow grandchild responsible for collecting expectations before the launch, what was initially planned to be released around 2004 - 2005 was delayed late and was released in 2009. The popularity of the work is high, and the spin-off work 'We have no wings AfterStory' is released in 2010. By the way, I'm looking for a pants design that I'd like the heroine to wear with megami magazine "Pants produced project"Was implemented, and the work adopted will actually appear in the main part.

· Synopsis
Set in a large city, Yanagihara, where numerous people and buildings are crowded, under the white sky that lost the peculiar expression of winter, youthful youths' youth group image plays are drawn.

· Broadcast information
Ciba-TV: 4/3 (Sunday) 24: 30 ~
AT-X: 4/4 (Monday) 8: 30 ~ other
TOKYO MX: 4/5 (Tue) 25: 30 ~
Terebellum: 4/6 (Wednesday) 26: 05 ~
Sun TV: 4/6 (Wednesday) 26: 05 ~
Gifu Chan: 4/7 (Thursday) 25: 45 ~
Mie television: 4/8 (Friday) 25: 50 ~

·staff
Original: Navel ("We do not have wings")
Character draft: Aoi Nishimata
Directed by: bovine sinister
Series structure: Takamitsu Kono
Character design, total drawing director: Kumi Ishii
Animation Production: NOMAD
Production: Otsubu Promotion Organization

·cast
Nagato Asuka: Mayumi Yoshida
Tamaki Tamako: Ono Ryoko
鳴 鳴: Goto Yuko
Haneda Kobato: Ai Aki
Eiko Hino: Kiyoshi Asai
Noriko Mochizuki: Takahashi Tomoaki
Hata Takashi: Shimono Hiro
Chishida Shosuke: Miura Shirou
Hayato Narita: Junichi Suwabe
Feng Xiang: Hino Satoshi
Kazumori Morisato: Hideki Ogihara
Hikaru Hunter: Hideo Ishikawa
DJ Condor: Tomokazu Sugita

OP: Aki Misato
ED: Miyuki Hashimoto

◆Gintama '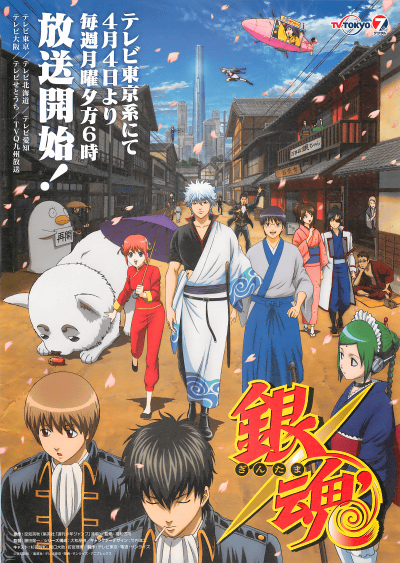 · Outline of the work
Based on the popular work of the Weekly Shonen Jump Series series, "Gintama" which was broadcasted from April 2006 to March 2010 all the four seasons 201 episodes revives after a one-year break. Even while animation broadcasting is paused, a masterpiece selection has been broadcasted as "Reinvent Gintama".

· Synopsis
Edo whose value has changed due to the celestial crowd from space. Sakata Gin Time is the last samurai with an unchanging soul in the world with anything including aliens, high-rise buildings, motorcycles, etc. Along with allies of all places, Shinkachi, Kagura and others, Mr. Gin plunged into various troubles.

· Broadcast information
TV Tokyo series: 4/4 (Monday) 18: 00 ~

·staff※ The data of the season
Original: Hideo Sorachi (Shueisha "Weekly Shonen Jump" series)
Supervision: Shinji Takamatsu
Director: Yoichi Fujita
Series composition: Akatsuki Yamatoya
Character design: Shuji Takeuchi
Design Works: Tadashi Yoda
Art director: Hiroki Nomura
Color setting: Utagawa Ritsuko
Director of Photography: Eihei Ebisu
Edit: Takeshi Seyama
CG Director: Yutaka Nakajima
Music: Audio Highs
Acoustic director: Kobayashi Kobayashi
Producer: Higashi Nakaguchi (TV Tokyo), Naoto Sasada, Hiromitsu Higuchi
Planning Manager: Yoko Okabayashi (TV Tokyo), Nao Yoshida (TV Tokyo)
Animation production: Sunrise

·cast
Sakata Gin Time: Tomokazu Sugita
Shimura Shinpachi: Daisuke Sakaguchi
Kagura: Rie Kugimiya
Fixed Spring: Mikako Takahashi
Isao Kondo: Advancement of Chiba
Hijikata Juro: Nakai Kazuya
Satoru Okita: Kenichi Suzumura
Yamazaki retirement: Tetsuji Ota
Katsutaro Katsura: Akira Ishida
Elizabeth: Shinji Takamatsu

◆Fireball Charming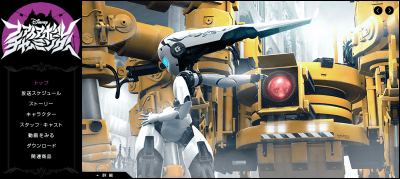 【HD】 "Fireball Charming" 2nd TVCM - YouTube

· Outline of the work
The second series of short animation "Fireball" of about 2 stories and 13 episodes each episode broadcast from April 2008 to June 2008. During the first series broadcasting, not only the TV broadcast but also the official website and the Internet distribution on YouTube were done after the broadcast, but this time on YouTube"Fireball Charming" channel has been establishedIt seems that it will be delivered on YouTube.

· Synopsis
A faraway future, at a common planet. The world was dominated by machine aristocrats called "Hyperion". This is a story depicting the Osanagakimon who lives in a castle called "Temple of the Temple" and the unusual daily life of the butler. They believed that they could lead the world in a very slightly correct way.

· Broadcast information
TOKYO MX: 4/4 (Monday) 19: 27 ~
Sun TV: 4/6 (Wed) 15: 55 ~
BS Japan: 4/7 (Thurs) 19: 55 ~
Disney Channel: 4/8 (Fri) 18: 25 ~ other

·staff(The position follows the notation of the official website)
Planning, screenwriting, director: Arakawa navigation
All non-human designs: Noriyuki Yanase
Hi Tech CG Director: Seiyuki Watanabe
As you see CG producer: Hiroki Kawashima
Fashionable design: Tanakariier Mifune Episode
Hyperion music: Yoshiyuki Itai
Fun sound effect design: Hoe Haruho
Animation Production: Genie
Production: Walt Disney Television International Japan

·cast(Follow the notation of official website)
Traditional cast: Teru Okawa (Gedehitonis) Miyukawa Kawasho (Drossel) others

◆Sengoku Otome - Momoiro Paradox ~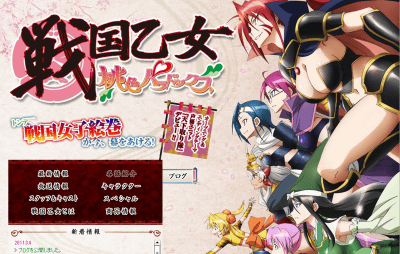 Tonemo Sengoku women's picture scroll that warried the Sengoku warlords "Sengoku Otome - Momoiro Paradox ~" Started broadcasting from April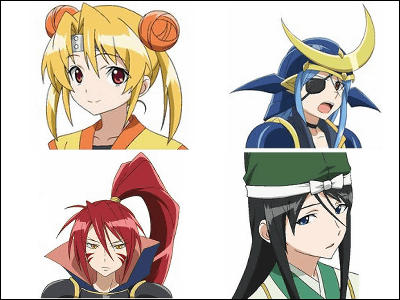 · Outline of the work
Pachinko "CR Sengoku Otome" who has been in operation since 2008 animated. From March 2009 it is a manga version by Dengeki the Great~ Hundred Flowers Rampage ~ Sengoku Otome(Screenplay · Character design: White group, Manga: Yura Shinano) started. In pachinko, idol voice actors popular among the eight main characters were appointed, and Yukari Tamura sang the songs at the time of the big hit, but in the animated version all the casts are replaced.

· Synopsis
A girls junior high school student, Hideyoshi, looks exactly like a warring country era, but wanders into a mysterious world where there are only women. Hideyoshi Oda Nobunaga and others who met the famous Sengoku warlords have decided to help Nobunaga collect "the legendary crimson armor" with the aim of unifying Tenku.

· Broadcast information
TV Tokyo: 4/4 (Monday) 26: 00 ~
TV Hokkaido: 4/5 (Tue) 26: 00 ~
Television setouchi: 4/5 (Tue) 26: 03 ~
TVQ Kyushu Broadcasting: 4/5 (Tue) 26: 58 ~
TV Aichi: 4/7 (Thurs) 27: 00 ~
AT-X: 4/9 (Sat) 8: 30 ~ other
TV Osaka: April 9 (Sat) 26: 55 ~

·staff
Original: Peace Corporation (CR Sengoku Otome)
Director: Hideki Okamoto
Series composition: Wada Todoko
Character design draft: white group
Animation character design, total drawing director: Kanji Yamakawa
Art director: Sakamoto Nobuto (bic · studio)
Color design: Hitomi Ikeda (Studio Easter)
Edit: Kiyoshi Hirose (Graphica)
Director of Photography: Nozomi Sekiya (Graphico)
Animation Production: Toms Entertainment

·cast
Toyotomi Hideyoshi: Rina Hidaka
Oda Nobunaga: Megumi Toyoguchi
Akechi Mitsuhide: Eri Kitamura
Date Masamune: Hirata Yuka
Imagawa Yoshimoto: Ling Moon Moon
Tokugawa Yayas: Satomi Akasaka
Takeda Shingen: Kokutai-ki
Uesugi Ken Shin: Mariya Ise

OP: Heaven Trade Unit (Akasaka Satomi, Izase Mariya, Kokutaiyuki, Moon Lingi) "Haze-kagerou-"
ED: Heaven Trade Unit (Akasaka Satomi, Ise Mariya, Kokutaiyuki, Moonlin Rei) "Like a heat arrow

◆Together with Together - Ambition of the Eyebank -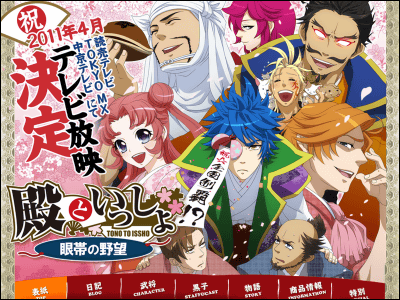 【PV】 と い っ て と い ょ PV (2) - YouTube


· Outline of the work
Animation of Gag Manga set in the Warring States Period serialized in "Monthly Comic Flapper". OVA was released in March 2010, and new additions to it were telecasted from July 2010.

· Synopsis
Masamune Date watching over the invention of the odd eyepatch, the gates of the Warring States era are super individuality faction, their keeper keeps being swayed. I draw such a warrior comedy.

· Broadcast information
Ytv: 4/4 (Monday) 26: 49 ~ (scheduled from 26: 14 after the 2nd round)
TOKYO MX: 4/6 (Wed) 22: 55 ~
Chukyo Television: 4/7 (Thurs) 26: 22 ~ (25: 42 ~ after 2nd round)

·staff
Original: Ohihira (Media Factory "Monthly Comic Flapper" series)
Director: Makyu
Music Production: Frontier Works
Animation Production: Gathering

·cast
Date Masamune: Tatsuo Suzuki
Katakura Keiko: Ono Daisuke
Narumi Date: Tomokazu Sugita
Former parent of Chosuke Ekabe, City: Mamiko Noto
Nobuyuki Sanada: Daisuke Kishio
Masayuki Sanada: Kentaro Itoh
Sanada Yukimura: Maeno Tomoaki
Komatsu, Mori Ranmaru: Yu Kobayashi
Asanoi Nagamasa, Naoe Kanetoshi: Tachibana Shinnosuke
Shimazu Yoshihisa: Nobuyuki Hiyama
Yoshihiro Shimazu: Wataru Hatano
Keiji Maeda: Noriaki Sugiyama
Akechi Mitsuhide: Daisuke Hirakawa
Oda Nobunaga: Takaya Kuroda
Uesugi Kenshin: GACKT ("Notation of Starring Negotiation!

◆Adversity unrequited kaiji breakout record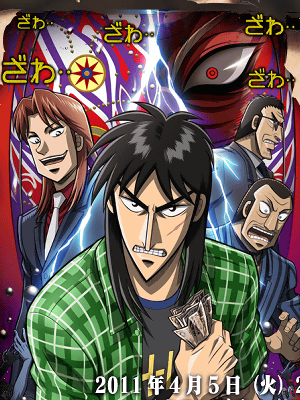 · Outline of the work
Nobuyuki Fukumoto's gambling manga "Gaming apocalypse Kaiji" was made into an animated television under the name of "Adversity-free kaiji" from October 2007 to March 2008. As a sequel, "Gaming destroyer record Kaiji" will be animated this time. In the end corner of "Adversity-unrequited Kaiji", the original authors Fukumoto and Hayagi Sage of Kaiji wanted "a second phase" as a sequel, but that wish will finally come true.

· Synopsis
Kaiji who challenged to win against the Tonegawa group executives after a lot of twists and turns gets a hard win over "E card". In addition, he also challenged Hyodo as chairman, but this leads to a loss by losing debts. Kaiji who was sent to the underground facility of the group by betrayal of Endo aims at escape from the basement first, aims to purchase tickets for a small amount by paying a small salary, but is involved in the skillful strategy of Otsuki's group manager.

· Broadcast information
Japanese television system (excluding some): 4/5 (Tue) 24: 59 ~
Yomiuri Television: 4/11 (Monday) 27: 29 ~ (From 26: 19 ~ after 2nd)

·staff
Original: Nobuyuki Fukumoto (Kodansha "Young Magazine" series)
Series composition: Hideo Takayashiki
Music: Taniuchi Hideki
Director: Yuzo Sato
Animation Production: Mad House
Production work: Nippon TV, Bop

·cast
Kaiji: Saint Hagihara
Ichijo: Daisuke Namikawa
Endo Naoya Uchida
Hyodo: Tsugayama regular type
Narration: Fumihiko Tachiki

◆STEINS; GATE (STEINS GATE)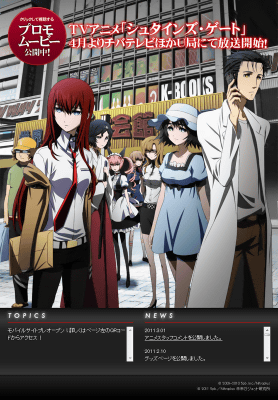 YouTube - TV anime "STEINS; GATE" Promotion Movie C 79


· Outline of the work
Xbox 360 game released in 2009 "Steins; Gate"Animated. It is the second part of the collaboration project "Science series" by 5 pp. And nitroplus, the first bullet "CHAOS; HEADIt shares a worldview with. In addition, "CHAOS; HEAD" also broadcasts TV animation from October to December 2008.

· Synopsis
"Crazy Mad Scientist · Phoenix House Injuries" Presiding Future Gadget Research Institute College student Kichiro Okabe who is the second full school teacher in the second place, coincidentally produces a time machine that can send e-mail in the past.

· Broadcast information
Telephoto: 4/5 (Tuesday) 26: 05 ~
Sun TV: 4/5 (Tuesday) 26: 05 ~
Ciba-TV: 4/6 (Wednesday) 25: 30 ~
TV Aichi: 4/6 (Wednesday) 26: 30 ~
Nico Nico Douga: 4/7 (Thur) 13: 00 ~
TOKYO MX: 4/7 (Thursday) 25: 30 ~
Tvk: 4/9 (Sat) 26: 00 ~
AT-X: 5/6 (Friday) 22: 30 ~

·staff
Original: 5pb./Nitroplus
Director: Takuya Sato, Hirotsugu Hamasaki
Series composition: Zenki Hanada
Character design, total drawing director: Hisa Sakai
Prop Design: Koseiwa Shigeyuki, Nakamura Kazuhisa
Art setting: Kazuo Kanpei (Kusanagi)
Art director: Koji Eto
Color design: Miyuki Sato (Wish)
Special effect: Yukiko Kaneda
3DCG: Hiroshi Soma
Director of Photography: Keisuke Nakamura
Edit: Masahiro Goto
Acoustic director: Tsunobase Fujiyama
Music: Tsuyoshi Abo, Jun Murakami
Animation Production: WHITE FOX

·cast
Okabe Rin Taro: Mamoru Miyano
Makise Kosoru: Asami Imai
Mayuri Shiina: Hanazawa Kana
Atsushi Hashida: Tomokazu Seki
Amanu Suzuha: Yukari Tamura
Faylis · pussy: Momoi Haruko
Rika Urushihara: Yu Kobayashi
Megumu Kiryu: Saori Goto

OP: Ito Kanako "Hacking to the Gate"
ED: Phantasm (FES cv. Yui Sakakibara) "Scrapes of the Egyptian 12"

◆Happy ~ Kappi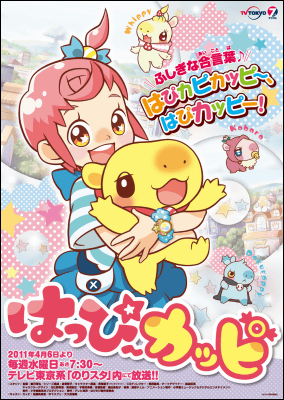 · Outline of the work
Animation of manga for girls serialized in Shogakkan's "Petit", "First grade primary school", "Second grade elementary school students" and "Third grade elementary students".

· Synopsis
One day, the currant picks up a beautiful stone that does not seem to be the one of this world. Beyond that I notice that animals are falling. That animal went out from a different world from this world, it was the Prince of Kapitemia, Cappi.

· Broadcast information
TV Tokyo series: 4/6 (Wednesday) 7: 30 ~ (broadcast within "Norita")

·staff
Director: Takuya Minezawa
Series composition: Tomoko Kinro
Character draft: Keiko Aoyagi (Sun Carat)
Character design: Masumi Hibino
Music: Watabe Chel
Animation Production: Shogakkan Music & Digital Entertainment
Production: Shogakkan Shueisha Production
Production: Happypi Production Committee, TV Tokyo

·cast
Kappi: Ei Mi Kato
Kinoshita Suguri: Rumi Okubo
Atsumu Moon: Satoshi Goto
Yuzu Kinoshita: Hayami Kentarou

Theme Song: Ei Kato & Rumi Okubo "Happy Capi Donut !!"

◆Fur die Liebe (Fuji Deleve)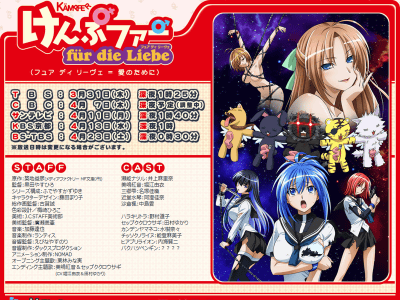 · Outline of the work
It is a special edition of the TV animation "Kufufa" broadcasted from October 2009, which is the 14th episode of the main part (the 13th episode will be screened only on March 6th event). BD & DVD containing 13 episodes and 14 episodes will be released on May 25 (Wednesday).

· Synopsis
A boys high school student · Sejun Nazuru woke up one day, suddenly became a beautiful girl. Natsuru knows that he was chosen as a warrior of "Kempfer" from a talking stuffed toy named as Harakiritira.

· Broadcast information
TBS: 4/7 (Thursday) 25: 59 ~
Sun TV: 4/11 (Monday) 25: 35 ~
KBS Kyoto: April 13 (Wednesday) 25: 00 ~
CBC: 4/14 (Thu) 26: 15 ~
BS-TBS: 4/30 (Sat) 25: 00 ~

·staff
Original: Toshihiko Tsukiji (Media Factory MF Bunko J)
Director: Yuhiro Kuroda
Series composition: Kuyuki Fuwa Yuki
Character design: Mariko Fujita
Overall director: Makoto Koga
Color design: Hiroko Umezaki
Art: J.C.STAFF Art Department
Art director: Hirose Yoshinori
Music: Tatsuya Kato
Music production: Lantis
Acoustic Director: Ebi Nerinagari
Acoustic production: Dachs Productions
Animation Production: NOMAD

·cast
Senzo Nazuru: Mary Inoue
Misa Akane: Yui Horie
Misatozuki: Kaori Natsuka
Kimono Mizu: Aki Kana
Sakuraki Akira: Ai Nakajima
Harakiritra: Michiko Nomura
Seppuku Crow Rabbit: Yukari Tamura
Kanden Yamako: Mizuki Nana
Chisso Knolaine: Mamiko Noto
Heavly lion: Kenji Utsumi
Bakuhatsu penguin: Rie Kugimiya

OP: Minoru Kuribayashi
ED: Mimi Akane & Seppuku Hare (CV. Horie Yui & Tamura Yukari)

◆30-year-old health and physical education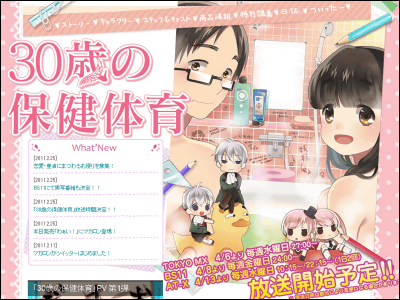 YouTube - "30-year-old health and physical education" PV 1st


· Outline of the work
A guide book of romance & sex issued by Ikusha "30-year-old health and physical education"Into TV animation. The original book calls up a considerable topic, and the encounter textbook as a sequel "Health Physical Education at 30 Years ~ Love's Beginning Edition ~」, Explained what the effort for love affair is"30-year-old health and physical education love efforts"Has been published.

· Synopsis
Kawatoshi of the hero now is a villa pear youth of a pear who works for a system company. On such a 30-year-old birthday, the god of sexuality, Ogoro, got off from the heavenly world. It is Ogoro's to make Hayao graduate from the virgin, but Hayao is to be swayed by his self-paced Daigoro.

· Broadcast information
TOKYO MX: 4/6 (Wednesday) 27: 00 ~
BS 11: 4/8 (Friday) 24: 00 ~
Nico Nico Douga: 4/8 (Fri) 24: 00 ~
AT-X: 4/13 (Wed) 10: 15 ~ other

·staff
Original: Ichinoseki "30-Year-Old Health Physical Education"
Director: Makyu
Screenplay: Ryo Akiyama
Character design: Tadano SA
Acoustic director: Yo Yamada
Animation Production: Gathering
Production: "30-year-old Health and Physical Education" Production Committee

·cast
Kawasaki: Hiroshi Shimono
Natsu Ando: Kaori Natsuka
Ogoro: Ryutaro Okiayu
Macaron: Yui Watanabe
Picchan & Kuu-chan: Eri Kitamura

◆SKET DANCE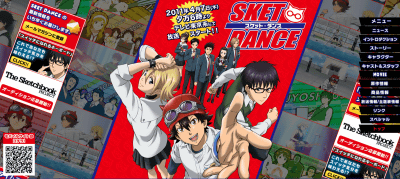 · Outline of the work
Currently as "Soul Eater Repeat Show"SOUL EATER - Soul Eater -"Rebroadcast of TV Tokyo series that Thursday 18 o'clock, animation of weekly Shonen Jump has appeared. The original was awarded the 55th Shogakkan Manga Award for Juveniles section, the cumulative sales of comics was 5.5 million copies with 17 volumes already published. Drama CD and VOMIC (Voice Comic) and the cast of the main character are the same.

· Synopsis
At the Campus School High School there existed club activities / living support departments (so-called squads teams) aimed at solving problems and troubles at school and helping people. ...... However, there are not many requests, and the contents are nothing but convenience level jobs at most, such as "lost item search" and "pet's amulet". A strange request flutters down under the sucket team today ....

· Broadcast information
TV Tokyo series: 4/7 (Thurs) 18: 00 ~

·staff
Original: Kenta Shinohara (Shueisha 'Weekly Shonen Jump' series)
Director: Keiichiro Kawaguchi
Series composition: Shinichi Inoguri
Character design: Nakatake studies
Music: Naruse Shuhei
Animation Production: Tatsunoko Pro

·cast
Bossun (Yusuke Fujisaki): Hiroyuki Yoshino
Himeko (Kazuy Onsuka): Shiraishi Ryoko
Switch (Kazuyoshi Fuefuki): Tomokazu Sugita
Tsubaki SAITO: Hiroshi Shimono
Azuchi Sōjiro: Seki Tomokazu
Niu Mimori: Megumi Takamoto
Shigeru Asaka: Yu Kobayashi
Kaoru Nojima
Takahashi Chiaki: Satomi Sato
Takeo Shinko: Kenta Miyake
Yabezawa Megumi: Toyotagi Megumi
Muyuki Yuki: Fumiko Orikasa
Saotome Roman: Ai Kinano

◆Cheerfulness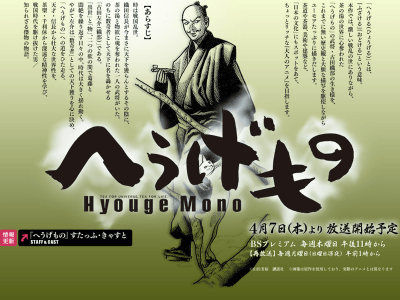 · Outline of the work
Animation based on cartoons "Ugenamono" during serial numbering by Morning. "Hinge" means "playfully" or "funny". In the world of intense warfare while depriving the world of the tea ceremony to the world of the tea ceremony, the warrior of "HEAVENOON" · Orientation of Orihara Furuta, spotting on the culture of tea ceremony, tea ceremony, art and architecture, Sengoku As a work of a different color.

· Synopsis
Time is the Sengoku period. Oda Nobunaga was right in the shadow of the real weather right now, there was a warrior who was deprived of the soul by tea ceremony and lust. "Oda Shinsuke (Oribe)" which later has a name in heaven as a mysterious person. During the days in which conflicts and fears repeat between "life advance" and "thing," two desires, the times are greatly fluctuating. Eventually Shisuke decides in mind that it will catch a celestial heaven as "a madman." A story of a grand master who learned spectacular globality from genius Nobunaga, profound spirituality from tea holiday and Sen no Rikyu, a man who passed through the era of warring States, unknown.

· Broadcast information
BS premium: 4/7 (Thurs) 23: 00 ~ / (Sunday) 25: 00 ~

·staff
Original: Yoshihiro Yamada "Bekkonomo" (14th Tezuka Osamu Cultural Award Manga Award)
Director: Koichi Masashita
Series composition: Hiroyuki Kawasaki
Animation Production: Bee Train
Production: General vision
Production / work: NHK

·cast
Furuta Shinsuke: Okura Koji
Oda Nobunaga: Koyama Oyama
Hashiboshi Hideyoshi: Masashi Ehara
Chiaki Chiaki: Nobuo Tanaka
Akechi Mitsuhide: Hideyuki Tanaka
Ieyasu Tokugawa: Shogo Tsurumi

◆A channel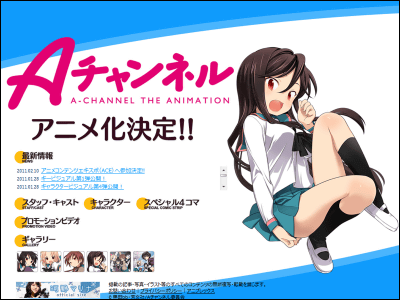 · Outline of the work
Made Yoshifusa's "Manga Time Kirara Carat" series animated series.Manga Time KiraraFrom the system "K-ON!"Hidamari Sketch"GA Art Department Art Design Class"Kanamome"Although animation has been made, this work also painted everyday life of high school girls. Mr. Kono singing the opening theme song is the winner of the 4th All Japan Anison Grand Prix, and the song is composed and arranged by Mr. Akemi Shinka.

· Synopsis
Tooul who entered the same high school to love childhood friend's love and a little natural lucky childhood friend, Yuzo who is tall in the high school, Yuzo of the tall Kansai dialect girl, eyeglasses girl with pigeon Nagi nicknamed a beautiful girl if you take off glasses. Draw a daily life in four high schools.

· Broadcast information
MBS: 4/7 (Thursday) 25: 30 ~
TBS: 4/8 (Friday) 26: 20 ~
CBC: 4/13 (Wed) 26: 25 ~
Animax: 4/18 (Monday) 22: 00 ~

·staff
Original: Kuroda bb
Director: Ono Manabu
Assistant Director: Seto Kenji
Series composition, Screenplay: Tatsuhiko Uratai
Character design, total drawing director: Masaru Sasaki
Music: Akatsuki Shinma MONACA
Animation Production: Five sets of Studio
Production: A channel committee, Mainichi Broadcasting

·cast
Lun: Kaori Fukuhara
Toru: Yuki Ao
Yuko: Misako Hotobuki
Nagi: Umiyama Yumi
Mr. Kito Teacher: Minori Chihara
Dr. Kamate: Miyuki Sawashiro
Dr. Sato: Daisuke Ono
Yutaka: Ai Aki
Miho: Momoko Saito

OP: Kono Marina "Morning Arch"

◆Dororon Enka Me ~ Lamera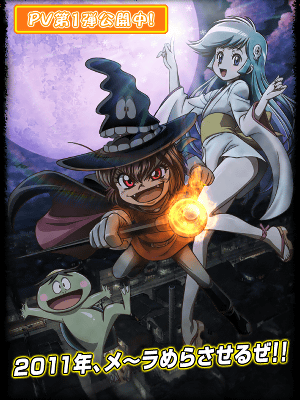 · Outline of the work
Anime new series of manga "Dororon Enma kun" by Go Nagai. This work has been converted into a television animation from 1973 to 1974, and in 2006 it was diverted from "Fire Maker Hell" and "Violence · Jack Flame Magic Hen", which was the reading of this work OVA that did "Kiko Onika Flame Devil"Has been produced.

· Synopsis
Set in the downtown of Tokyo in the 1970s, Ekima-kun, Snow Princess, Kapael, Shappojii and Yokai patrols rampaged to get rid of bad youkai who threaten the human world.

· Broadcast information
MBS: 4/7 (Thurs) 26: 10 ~
TBS: 4/8 (Friday) 26: 25 ~
TV Aichi: 4/12 (Tue) 25: 30 ~
TVQ Kyushu Broadcasting: 4/14 (Thu) 26: 53 ~
AT-X: 4/13 (Wednesday) 11: 00 ~ other

·staff
Original: Go Nagai "Dororon Enma"
Director, series composition, script: rice potato
Character design, total drawing director: Takahiro Kimura
Screenplay: Hiroshima Kitajima
Effect drawing director: Yasushi Hideo
Art director: Takashi Nakamura
Color design: Sakiko Ito
Director of Photography: Shinichiro Kan
Edit: Yasutaka Ikeda
Music: Keiichi Suzuki, Moon Riders
Music Production: Star Child Records
Acoustic Director: Takeshi Takashi Takeshi
Acoustic production: HALF H · P STUDIO
Animation Production: Brains Base

·cast
Enma: Yamaguchi Kappei
Yukiko Hime: Mamiko Noto
Kapael: Takeshi Koyasu
Shappoji: Inaba
HARUMI: Ayako Kawasumi
Tsutomu: Rashi Shishido
Spokon, Tobachiri sensei: Daiki Nakamura
Galiben: Maiko ITO
Lenkoman: Hideyuki Umezu
Ms. Chiko: Inuka Kikuko
Enma Great: Yukimoto Norio

OP: Masaaki Endo and Moon Riders "One Million Celsius from Soul Mela!"
ED: Moon Riders feat. Yoko "Minna Kurabu Sasasasa"

◆Marie † Hold Off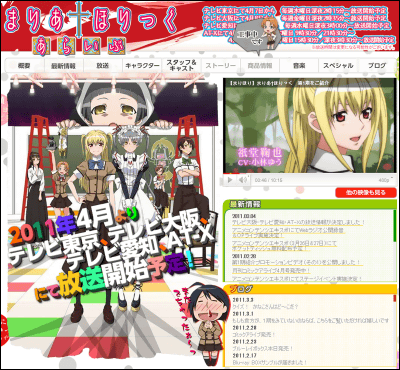 YouTube - 【PV】 Maria † Horiku The first promotion video first bullet


· Outline of the work
The original is a comic series serialized by Monthly Comic Alive (published by Medi Factory) by Endo Kaizoku. The comics are on sale until Volume 7, the cumulative issue circulation exceeded 1.4 million copies. The first period of TV animation will be broadcast from January to March 2009 and the second period will be broadcast from the spring of 2011.

· Synopsis
Eyebrows Although it is a brilliant honor student, the nature is endlessly defeated by self-proclaimed girl, Doumi Momiya, 100% Tsun's poisonous tongue maid, Marika, with a comical character hero, Miyamae Kanako.

· Broadcast information
TV Tokyo: 4/7 (Thu) 26: 15 ~
TV Osaka: 4/8 (Friday) 26: 35 ~
TV Aichi: April 13 (Wednesday) 27: 00 ~
AT - X: 4/14 (Thursday) 9: 30 - others

·staff
Original: Endo Kaisei (Media Factory "Monthly Comic Alive" series)
Overall Director: Akiyuki Shinbuchi
Series composition: Masahiro Yokoya
Character design: Yoshiyuki Morioka
Series Director: A Friend
Deputy Director: Kenichi Ishikura
Total drawing director: Noriyasu Yamauchi
Art Director: Toshihiro Iijima
Color design: Izumi Takizawa
Concept design: Takeyuki Takeuchi
Director of Photography: Rei Egami
Edit: Rie Matsubara
Acoustic director: Toshiki Kameyama
Sound production: omnibus promotion
Music: Tatsuya Nishiwaki
Music Production: Media Factory
Produce: Jenko
Animation Production: Shaft
Production: Maria † Horiku Alpha Production Committee

·cast
Miyamae Kanako: Sanada Asami
Mamiya Shito: Yu Kobayashi
Marioka: Mary Inoue
Takaaki Ishima: Yuko Kaida
Momoi Sachi: Ryoko Shintani
Kirin Nomi: Kanda Akemi
Inamori Bowstring: Satoshi Goto
Shizuzu: Aya Hirano
Dorm president: Miyuki Sawashiro
Shiroki Yuri: Matsuki Miyu
Ichiro Saito: Tomokazu Sugita
Narration: Ujita Bunji

◆I'm ready, Azazel.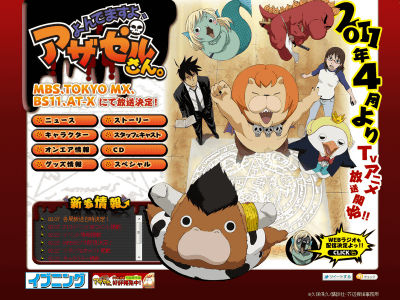 · Outline of the work
Animeized the same name manga of "Evening" series. One piece It is a little short work of 15 minutes instead of 30 minutes. Konosaka Masaya who is counted as 3 biggest retweet voice actors who plays Azazel which is a lower neta with a skill of "bastard". Since Namikawa Daisuke of the role of Mr. Akiboshi received an offer as a hero character, I thought that it was a role of Azazel which is included in the title and read the script, and dubbed "I wonder why I am a member of the Kansai dialect"? It was said that the morning was realized at the moment when Mr. Kosaku Ozaka's blond hair was seen at the scene on the first day.

· Synopsis
Female college student Rinko Saga who works at Fumibe Detective Agency. She finds her qualities as her employer, Akutabe (Aktabe), and as we work as an assistant, we know the face behind the futon called "devil detective". One day, receiving a request from my wife, "I want you to part with my husband with an affair partner", Summoned from Makai using Magical Book written by Grimoa, Azazel is a terrible vulgar. In exchange for Ikenhe, it was Azazel heading for the request, but the situation is unexpected ...! ___ ___ ___ ___ 0 ___ ___ 0

· Broadcast information
AT-X: 4/8 (Friday) 23: 00 ~ other
BS 11: 4/8 (Friday) 23: 30 ~
TOKYO MX: 4/8 (Friday) 25: 30 ~
MBS: 4/9 (Sat) 26: 58 ~
Nico Nico Douga: April 11 (Mon) -

·staff
Original: Yusuke Kubo (Kodansha "Evening" series)
Director: Tsutomu Mizushima
Character design, total drawing director: Junichiro Taniguchi
Art director: Hiroki Ogura
Art setting: Akane Iwakuma
Prop Design: Minoru Ueda
Color design: Mayumi Sato
Photographer Director: Eiko Arai
Edit: Junichi Uematsu
Sound Director: Kazuhiro Wakabayashi
Music: Takagi Ryuji
Music Production: Star Child Records
Animation Production: Production I. G
Production: Fumiya Detective Agency

·cast
Azazel: Masaya Onosaka
Rinko Saga: Rina Sato
Rikuban: Namikawa Daisuke
Beelzebub: Kamiya Hiroshi
Salamander: Nakai Kazuya
Undine: Yu Kobayashi
Kintaro no Teru: Shiraishi Ryoko
Moroku: Genda Tetsuaki

◆Strange seminar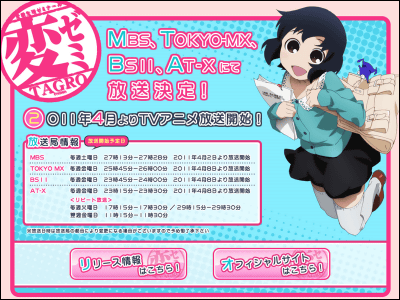 · Outline of the work
An animated version of TAGRO's cartoon "Fujimi" serialized from Morning 2 No. 2 released on December 21, 2006. "Seminar seminar" stands for "metamorphosis physiological seminar". On July 23, 2010, 4 volumes of the booklet was published as a special edition with the first limited edition OAD, and in December 2010 the animation of TV animation was announced. Hanazawa Nanaeko is responsible for the voice actor Kana Hanazawa, and Hanazawa sings the theme song 'Punctuation!' On the TV version.

· Synopsis
Noriko Matsuyura, a normal university student, also enters the transformational physiology seminar to which Musashi wheat that has become a member belongs - the so-called "semi seminar". Nanako who did not know the seminar studying various metamorphosis acts to the saddle who sends everyday being tossed by the strangely metamorphosis. The report to be submitted is reluctant to teach to the professor, but while adhering to the advice of Musashi wheat which is a bit of concern, Nanako's campus life is too hasty!

· Broadcast information
AT-X: 4/8 (Fri) 23: 15 ~ other
BS 11: 4/8 (Fri) 23: 45 ~
TOKYO MX: 4/8 (Friday) 25: 45 ~
MBS: 4/9 (Sat) 27: 13 ~

·staff
Original: TAGRO (Kodansha "Morning Two" series)
Director: Hideo Kato
Screenplay: Takamitsu Kono
Character design: Naoki Okuoka
Acoustic director: Toshiki Kameyama
Acoustic production: grooove
Music: Katsu Yokoyama
Music Production: Star Child Records
Animation Production: XEBEC

·cast
Nanao Matsutaka: Hanazawa Kana
Musashi wheat: Akira Ishida
Miwako Mizukoshi: Sakiko Takaguchi
Taguchi Yesterday: Shiraishi Minoru
Seiko = Gregory: Shiho Kawaragi
Ichikawa Hoshizaki: Mori Hironobu
Kato Atsana: Ryoko Shintani
Kenji Iino: Takashi Matsuyama

◆Soft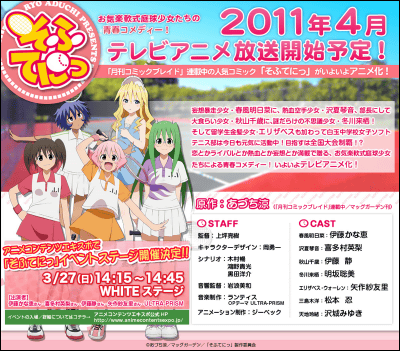 · Outline of the work
"Monthly Comic Blade"Animated soft tennis cartoons in series. Although it is a 4-character title of Hiragana that tends to be in Moe animation, the author himself said that on Twitter "I am not good at Moe cartoons".

· Synopsis
Fantasy runaway girl · Spring breeze Asuka, hot-blooded karate girl · Kazune Sawako, director general eater, Chitose Akiyama, Miraculous girl · Kurusu Fuyukawa, and Elizabeth Warren, a blonde international student. A young comedy aiming for the domestic event to win the domestic tournament, filled with romance, romance, hot-blood, delusions and full of loads of romance, rivalry, women's soft tennis department of Shirakadan Junior High School complete with my pace members.

· Broadcast information
AT-X 4/8 (Fri) 23: 30 ~ other
Cibatelle: 4/8 (Friday) 25: 30 ~
TV Aichi: 4/8 (Friday) 26: 00 ~
Terebellum: 4/8 (Friday) 26: 05 ~
Sun TV: 4/8 (Friday) 26: 15 ~
Nico Nico Douga: 4/10 (Sun) ~
Tvk: 4/10 (Sunday) 25: 00 ~
Showtime: 4/25 (Mon) -

·staff
Original: Azuchi Ryo (Mag Garden "Monthly Comic Blade" series)
Director: Ryoki Uebzu
Character design, total drawing director: Yuichi Oka
Scenario: Kimura Aya, Kono Takamitsu, Kuroda Yousuke
Acoustic director: Miwa Iwami
Acoustic production: Studio mouse
Music production: Lantis
Animation Production: XEBEC

·cast
Harukaze Asuna: Kanae Ito
Kotone Sawakami: Eri Kitamura
Akiyama Chitose: Shizuka Ito
Kusuu Fuyukawa: Satomi Akasaka
Elizabeth Warren: Yaharu Sayuri
Hiroshi Mishimaki: Shinobu Matsumoto
Tenchi Tomo: Miyuki Sawashiro

OP: ULTRA-PRISM with Shiratama Mid soft tennis department (Kanae Ito, Eri Hitoshi Kitamura, Shizuka Ito, Satomi Akasaka, Saeko Yahagi) "Forget the Ruu Baku"

◆The world's first love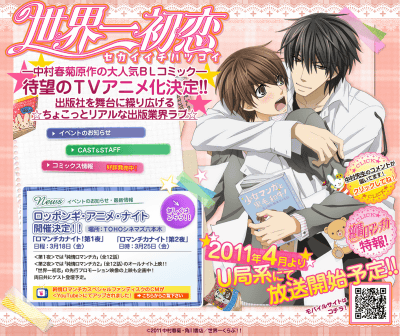 · Outline of the work
It was converted to TV animation twice from April to June 2008 and from October to December 2008Junjo RomanticaNakamura Shunki works again animated. There is a part linked to "Junjo Romantica", such as the name of Akihiko Usami among the writers in charge of the publishing industry, the hero was in charge.

· Synopsis
Manga editor Ryo Onodera transfers to Marukawa bookshop for granted, but it is assigned to the editorial department of girls' manga rather than literary books that have come up to now. The editor-in-chief, Mr. Takano Masamune who appeared before the rule of astray, was a partner who had a relationship with himself when he was a high school student, and there was a connection that the two broke up from misunderstanding.

· Broadcast information
Terebot: 4/8 (Friday) 25: 05 ~
Gifu Broadcasting: 4/11 (Monday) 25: 45 ~
Ciba-TV: April 11 (Mon) 26: 00 ~
Sun TV: 4/11 (Monday) 26: 05 ~
KBS Kyoto: 4/12 (Tue) 25: 00 ~
Mie television: 4/12 (Tuesday) 26: 50 ~
TOKYO MX: 4/12 (Tue) 27: 00 ~
Tvk: 4/13 (Wed) 25: 45 ~
TVQ Kyushu Broadcasting: 4/13 (Wednesday) 26: 48 ~
AT-X: 4/15 (Friday) 8: 00 ~ others

·staff
Original: Nakamura Harukugi (Kadokawa Shoten "CIEL" series)
Director: Now Chiaki
Series composition: Rika Nakase
Character design: Yoko Kikuchi
Color design: Masamoto Shinji
Art director: Junko Shimizu
Director of Photography: Kondo Takeshi
Edit: Masahiro Matsumura
Acoustic director: Goda Hazime
Music: Sei Ando
Music production: Lantis
Animation Production: Studio Dean
Production: the world's best!

·cast
Ryo Onodera: Takashi Kondo
Masamune Takano: Katsuyuki Konishi
Yoshino Chiaki: Tachibana Shinnosuke
Yoshiki Hatorori: Yuichi Nakamura
Yokosawa Takashi: Horiuchi Kenio
Yuzuse Yu: Kamiya Hiroshi
Shigeta Kisa: Nobuhiko Okamoto
Minoho: Midorikawa Mikawa
Ryuichiro Isaka: Tomoyuki Morikawa

◆Toriko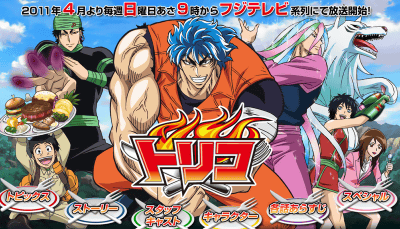 · Outline of the work
Jump on Super Animation Tour 2009 for the first animation, next year's jump Super Anime Tour 2010 The work on which the original episode was also created is finally becoming a TV animation. Staff and cast are total replacement, Toei animation production as well as theatrical version released in March.

· Synopsis
A beast made whole body with melting frozen meat on the tongue, plump crab crab and tree shrimp with shrimp prawns, fountain with mellow mellow brandy springs springing constantly ...... People who are full of unexplored delicious tastes are "gourmet era" I called it. And in this gourmet age, there were "gastronomy" professionals who procure ingredients, combining the knowledge of every ingredient and the strength to overcome the danger in the undeveloped land. A skilled gourmet shop Toriko comes to a journey aiming for hard-to-find ingredients after receiving a request from Komatsu who is a gourmet cooker of the hotel gourmet.

· Broadcast information
Fuji TV series: 4/10 (Sunday) 9: 00 ~

·staff
Original: Shimabukuro Mitsuyo (Shueisha 'Weekly Shonen Jump' series)
Series Director: Za Ming Ming
Series composition: Isao Murayama
Character design: Kagawa Maki
Producer: Mr. Hatano (Fuji Television), Kazuya Watanabe (Yomiuri Advertisement), Naoko Sagawa (Yomiko Advertisement), Washio Tian (Toei Animation)
Animation Production: Toei Animation

·cast
Toriko: Ryūtaro Okiayu
Komatsu: Park Yumi
Coco: Takahiro Sakurai
Sunny: Mitsuo Iwata

◆Kaku Ring 1 World Congress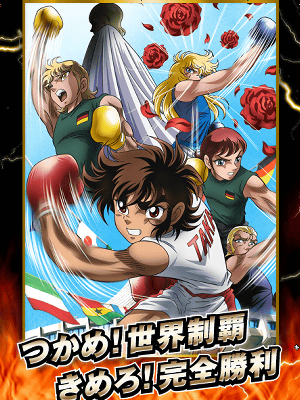 · Outline of the work
"Ring on the Ring 1" is based on manga by Masami Masuda, the first television animation in 2004, the second period "In the Ring to the Ring 1 - Japan-US Battlefield Edition" in 2006, the third period in 2010 It is animated as "Kake Ring 1 Shadowdo", this time will be the fourth period.

· Synopsis
Ryuzo who junior boxing competition has started and a fierce battle will be fought against the powerful nations of each country. Which country is the flag that appears in the main pole? The deadly fight of the men who put the world's strongest titles now begins.

· Broadcast information
Animax: 4/10 (Sunday) 21: 00 ~

·staff
Original: Masami Masuda (Shueisha JCDX "Ring ni Kakeru 1" published by Shueisha)
Planning: Kozo Morishita
Producer: Yoshihide Moriyama
Series composition: Yousuke Kuroda
Production manager: Osada Shosuke
Character design: Shingo Araki, Michi Himeno, Keiichi Ichikawa
Total drawing director: Keiichi Ichikawa
Art design: Takashi Kurahashi
Color design: Tomoko Kokijiki
Music: Masuto Ueda
Series Director: Hiroshi Ikehata
Production: Toei Animation Sammy

·cast
Takamine Ryuji: Morita Seiichi
Takamine chrysanthemum: Rie Tanaka
Kenzaki order: Ryutaro Okiayu
Katori Ishimatsu: Takeshi Kusao
Toraichi Shiina: Hideo Ishikawa
Takeshi Kawai: Hiroshi Kamiya
Don Giuliano: Takaya Kuroda
Napoleon: Tomoyuki Morikawa
Scorpion: Midorikawa Mikawa
Helga: Yuuki Hiroshi
Apollon: Miki Shinichiro
Taesus: Kazuya Nakai
Icarus: Junichi Miichi
Orpheus: Hiroshi Shimono
Ulysses: Aragaketorosuke

◆Astarotte's toy!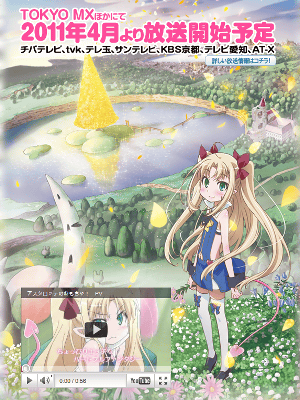 YouTube - Astarotte's toy! PV 2nd bullet


· Outline of the work
"Lotte's toy!" Serialized by Dengeki Ma in 2007 is an original comic by Hayaka Yui, familiar in the illustration of the big hit light novel "Baka to Test to Shokanju". Heartful full of etiquette with Lotte principal of Tsundere personality Yumi tribe (Succubus) and Naoya selected as a candidate for Suimei (Harlem) candidate as her "toy", and Naoya's daughter · Tomorrow leaves. A story is rolled out! In anime the title has been renamed "Astarotte's toy!"

· Synopsis
Naoya during job hunting (Naoya) is brought to the Yuko country "Yugwarland" by a mysterious woman. Naojaya was ordered to enter Princess Lotte's shrine there. Nagoya who knows the true face of Lotte who is selfish but actually lonely, decides to remain in "Yugwarland" for her. A tomorrow leaf of Naoya's daughter from the human world came and a strange living together where parents and mistress live under one roof started. However, every day of Naoya 's everyday it is a series of happening due to the intrusions of unique characters! Is it?

· Broadcast information
Chiba Television: 4/10 (Sunday) 23: 30 ~
Tvk: 4/10 (Sunday) 25: 30 ~
Sun TV: 4/11 (Monday) 24: 00 ~
Teradami: 4/11 (Mon) 25: 05 ~
TOKYO M: 4/11 (Monday) 25: 30 ~
KBS Kyoto: April 11 (Mon) 25: 30 ~
TV Aichi: 4/12 (Tue) 26: 00 ~
AT-X: 4/18 (Monday) 11: 30 ~

·staff
Original: Haya Yui
Director: Takeshi Ozaki
Character design: Mai Otsuka
Series composition: Akaneko Ko
Configuration cooperation: Akiyuki Shinbuchi
World visual designer: okama
Art director: Kenichi Tajiri
Director of Photography: Takeo Toki
Color design: Yuzu Saito
Acoustic director: Miwa Iwami
Acoustic production: Dachs Productions
Animation Production: Diomedia

·cast
Astarotte: Rie Kugimiya
Naoya: Rina Sato
Tomorrow Leaves: Yukari Tamura
Yudit: Hitomi Nabatame
Zelda: Ayumu Fujimura
Effie: Yui Horie
Ku: Misaki Suzuki
Olaf: Cho
Merche Leader: Yuko Minaguchi

◆Bridge over to the starry sky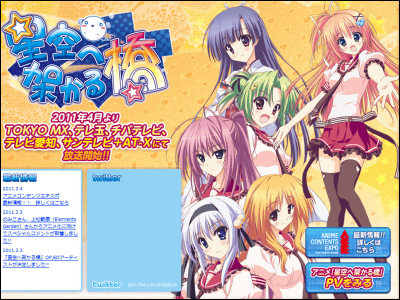 · Outline of the work
Anime with feng's same name adult game as the original. The original is a trilogy in addition to feng's "Hill where the blue sky is visible" and "Akaneiro ni Somaruga", which is a trilogy and shares the world view, of which the "Akaneiro ni Somaruga" started in October 2008 Although it is made into TV animation in December, the staff and production company of TV animation are changing. Abbreviated names such as "Starbucks (Hoshika)" "hanging" etc.

· Synopsis

Kazuhiro Hoshino has moved to a beautiful mountain range Furuicho in the air surrounded by nature for the recuperation of his brother "Hoshino Ayumu" from the city. It was supposed to borrow to the inn that is familiar to his father, "Yorozuyo", but the horsemans who mistook the unfamiliar country way on the way to Yorozu. Moreover, a horse that decided to enter the mountain alone by a small trouble. A girl appears in front of an unfamiliar mountain, an uneasy horse. Country love comedy "Bridge over the sky", forget the usual bustle and try not being healed?

· Broadcast information
AT-X: 4/11 (Monday) 9: 00 ~ other
Ciba-TV: 4/12 (Tue) 25: 30 ~
TOKYO MX: 4/13 (Wednesday) 26: 30 ~
TV Aichi: April 13 (Wednesday) 26: 00 ~
Terebellum: 4/14 (Thu) 25: 05 ~
Sun TV: 4/14 (Thu) 26: 05 ~

·staff
Original: feng
Character original plan: Ryoka, Naguruuru Den, Tsurusaki Takahiro, Yuika Satle, Akira Sawano, Elephant Arashira
Director: Mihara Mutsunori
Series composition · Screenplay: miscassion
Character design · Total drawing director: Haruo Okawara
Art director: Koichi Kadoma
Art setting: Koizu interest
Animation Production: Movie Studio
Production: Yama Hironomachi Tourism Association

·cast
Kazuma Hoshino: Shintaro Asanuma
Nakatsugawa Hideo: Nakamura Riko
Hinata Ibuki: Aoba apple
Tomodo Tsumogi: Takahashi Tomoaki
Koyori Todo: Aiko Okubo
Hara Sakai: Mayumi Yoshida
Kamikomi yen: Shimizu Ai
Tado Kasane: Mai Kadowaki
Ten thousand songs: Shiho Kawaragi
Other

OP: Only the "star-like horoscope"
ED: Nakatsugawa Hatsu (Nakamura Riko), Kamemoto Kyoka (Shimizu Ai) "Bashutsu Cinderella"

◆Yu-Gi-Oh! ZEXAL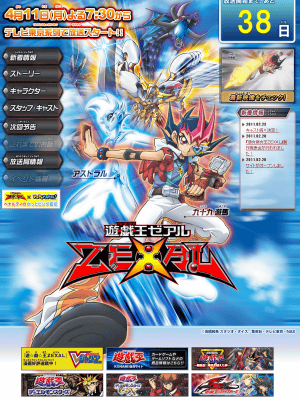 · Outline of the work
The latest work of "Yu-Gi-Oh!" Series which began broadcasting in 1998. The card battle became the animation 2nd work "Yu-Gi-Oh! Duel Monsters" (starting in 2000), so it's supposed to be playing a 11-year card battle, but in this work the battle is AR Become a duel. The hero is renewed from Yu-Gi-Oh 5D's, and it becomes a juvenile horse of a junior high school first grader.

· Synopsis
In the near future city "Heartland", both adults and children were absorbed in AR duel. AR duel is a duel that uses "D · Geizer" and "D · pad", and the super duo powerful duel which the monsters jump out from the ground, the sky, and the building from real and collide with each other by using these two It can be tasted. The main character "Kuju Horse Rider" was also crazy about this duel, but skillful skill is a beginner-level series losing champion. A horse that was supposed to confront with a school's faulty "Ling Fang" on one occasion as a trigger. This duel will greatly change the fate of horse horse ...! In this fierce fight, an eerie door that always appears in Yuma's dream suddenly appears. The moment when the door that was tightly closed was released, countless lights overflowed, and when I looked up at the next door, there was a mysterious life form "Astral" that came from a different world! To regain Astral's lost memory "99 number cards", they will act together. What is the real purpose Astral appeared? And what exactly is the presence of a new monster "number monster"? A powerful rival that appears in front of the horse one after another, and a mystery of the astral becoming obvious. A new Duel legend by this combination opens the curtain now!

· Broadcast information
TV Tokyo line: 4/11 (Monday) 19: 30 ~
BS Japan: 4/16 (Sat) 18: 30 ~

·staff
Original work · Original draft: Takahashi Kazuki, Studio · Dice (Weekly Shonen Jump)
Project: Yukio Kawasaki (TV Tokyo), Miyune Miyune
Director: Satoshi Kuwabara
Series composition: Shin Yoshida
Duel composition: Hikibuko Masahiro
Character design: Hiroyasu Takaya
Monster Design: Seiji Oda
Accessories / Mechanical Design: Oya Suzuki
Art director: Takashi Nakamura
Color design: Ayumi Minowa
CG Produce: Nagata Tada
CG Direction: Kazen Tomita
Director of Photography: Kenji Akazawa
Edit: Tsunemi Neno
Acoustic director: Yuki Matsuoka
Sound production cooperation: Jinan Studio
Music: Conisch
Music Production: Marvelous Entertainment
Music cooperation: TV TOKYO music
Casting cooperation: Love Shinuma (Nerke planning)
Animation Producer: Daisuke Furuya
Producer: Ryo Sasaki (TV Tokyo), Teruaki Mimatsu
Animation Production: Gyaroppu
Production: TV TOKYO / NAS

·cast
Kuju horse: Yu Hatanaka
Astral: Freedom Irino
Yoshinobu Ling Fang: Toshiki Masuda
Kagetsuki Bird: Komatsu Umiko
Takeda Tetsuo: Shin Shimada
Ninety-nine Akari: Miyahara Nagahama
Ninety-nine Spring: Taniko Tani

◆The World God Only Knows Second Season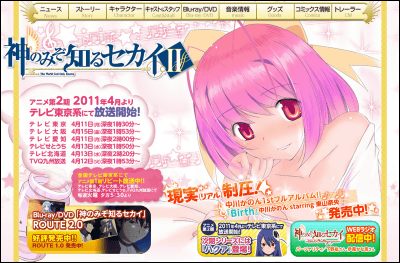 · Outline of the work
A new series of "God Only Knows Sekai" that was made into an animated TV from October 2010, based on manga serialized on Weekly Shonen Sunday. Currently, the 1st term is rebroadcast on TV Tokyo series on Tuesday evening.

· Synopsis
Katsuragi Keima, a genius of a strategy on a romance simulation game and having a synonym of "falling god", is contracted with Elsy of the devil who has fallen from the sky. It falls in love with a real woman in order to catch the "running soul" that nests in the gap between human beings. Keima is trying to challenge Aomi Aoyama and others, Atsumi Takahara on the land section, Ayama Miyoshi etc. of chaebols one after another, applying game strategy.

· Broadcast information
TV TOKYO: 4/11 (Monday) 25: 30 ~
TV Aichi: April 11 (Mon) 26: 00 ~
TVQ Kyushu Broadcasting: 4/12 (Tue) 25: 53 ~
Television setouchi: 4/13 (Wednesday) 25: 50 ~
TV Hokkaido: 4/13 (Wednesday) 26: 20 ~
TV Osaka: April 15 (Fri) 25: 53 ~

·staff
Original: Miki Wakaki (Shogakukan "Weekly Shonen Sunday" series in series)
Director: Shigeto Takayanagi
Series composition: Hideyuki Kurata
Character design: Akio Watanabe
Sub Character Design: Toshie Kawamura
Prop Design: Chiyoko Sakamoto
Color design: Yuichi Kuboki
Art director: Ayumu Sato
Director of Photography: Kazuhiro Yamada
Edit: Tomoki Nagasaka
Acoustic director: Miwa Iwami
Music: Matsuo Hayato
Animation Production: Mangrove
Production: TV TOKYO, Geneon · Universal · Entertainment

·cast
Keima Keima: Hiroshi Shimono
Elsee: Kanae Ito
Hakua: Saori Hayami
Kasuga Kasuga: Ami Koshimizu
Chihiro Kosaka: Kana Aumi
Jun Nagase: Aki Toyosaki

◆Quicer of the Stigmata II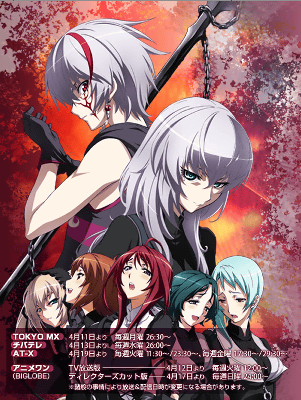 · Outline of the work
The content is too eroticRestrictions were applied to terrestrial broadcastingThe second phase of "Quicer of the Stigmata" will be broadcast. Apparently the momentum seems to stop stopping this time, and animation one already has two kinds of delivery, scheduled for TV broadcast version and director's cut version.

· Synopsis
Orthodox churches special ability persons who gain energy by sucking women's tits (cow milk = Soma), called quesas, and freely manipulate specific elements. Among them, queeners called Adept are looking for the statue of "Sarui-su's goddess woman" and send a golden quaker to the private Mikhailov school, thinking that the clue is in private Mikhailov school. Orthodox Church sends Queer Sasha of Iron to prevent Adept's ambitions. Sasha had a past whose grandson Queer was murdered by her sister.

· Broadcast information
TOKYO MX: 4/11 (Monday) 26: 30 ~
Anime One (TV Broadcast Version): 4/12 (Tue) 12: 00 ~
Cibatelle: 4/13 (Wednesday) 26: 00 ~
Anime One (Director's Cut Edition): 4/17 (Sunday) 24: 00 ~
AT-X: 4/19 (Tue) 11: 30 ~ other

·staff
Original: Hiroyuki Yoshino, Kenetsu Sato
Director: Kanako
Character design · total drawing director: Isao Sugimoto
Series composition · Screenplay: Makoto Kamgangsu
Screenplay: Shigeru Morita, Mr. Oda Docho, Hiroshi Sato, Hiro Akizuki
Design Works: Hiroyuki Okawa
Art director: Higashi Junichi, Yuki Eiyoshi
Director of Photography: Hayashi Kojiraw
Music: Tatsuya Kato
Acoustic director: Kawahito Meida
Animation Production: Huz Entertainment

·cast
Sasha: Yuko Sanbe
Katsuragi Hana: Yoko Higakasa
Tenshino: Aino Nanjo
Miyuki Seta: Hiromi Sakurai
Ayame Hutatsuki: Takumi Yuto
Obu Muhiyuu: Ayumu Fujimura
Yamanobe light: Toyosaki Aki
Kuracha: Aya Hirano
Miyuri Tsujido: Ayako Kawasumi
Mitarai Fumiyo: Hanazawa Kana
Yuri · Noda: Advances in Chiba

OP: Fu Ran "Spiral or sacred desire."
ED: Girl's disease "metaphor"

◆C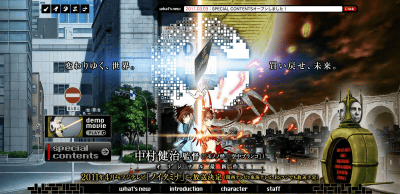 · Outline of the work
"Mononoke"Or"Aerial swingsThe latest work by Kenji Nakamura is anime based on finance.

· Synopsis
The Japanese economy, which was on the verge of bankruptcy, rebuilt miraculously by the appearance of government-affiliated financial institution Sovereign Wealth Fund. Prime minister attracted attention to the world by appealing the fiscal consolidation and the economic revival, but citizens never realized the economic recovery, dark news was repeated. College student Kimaro Yuka who attended the Faculty of Economics had a dream of wanting to live in a trivial way, but one day he says, "Because I lend money with the possibility of the future as collateral, I would like to operate with a sense of talent?" I get a suspicious invitation.

· Broadcast information
Fuji Television: 4/14 (Thursday) 25: 05 ~ (24: 45 ~ after 2nd round)
Kansai Television: 4/19 (Tue) 25: 58 ~
Tokai TV: 4/21 (Thu) 26: 05 ~
Sakuranbo Television: 4/30 (Sat) 25: 05 ~
BS Fuji: 5/21 (Sat) 25: 30 ~

·staff
Director: Kenji Nakamura
Series composition, Screenplay: Noboru Takagi
Character design: mebae
Animation character design: Hirofumi Hashimoto
Conceptual design: Sato Keiichi
Deputy Director: Shin Matsuo
Directing cooperation: Kimitoshi Mioka
Art director: Toshiki Nishi (KUSANAGI)
Art setting: Yachiho Taniuchi (KUSANAGI)
CG Director: Satou Yuzo
Color design: Rumiko Nagai
Director of Photography: Kenji Takahashi
Edit: Shigeru Nishiyama
Music: Taku Iwasaki
Acoustic director: Nagasaki Jun Man
Acoustic Production: Milestone Music Publishing
Animation Production: Dragon child production
Production: "C" Production Committee

·cast
Yugamiro: Uchiyama Shigeki
Shinju: Haruka Tomatsu
Seiichiro Mikuni: Daisuke Hosomi
Q: Goto Saori
Masaka Takagi: Takahiro Sakurai
Ikuta Wave Nara: Yui Makino
Iita: Yuji Mitsuya
Jennifer Sato: Mayumi Asano

OP: NICO Touches the Walls "Matryoshka"
ED: School Food Punishment "RPG"

◆Aria the Scarlet Ammo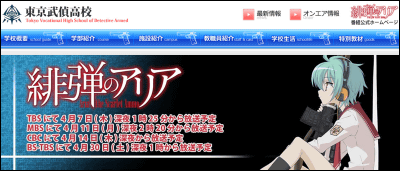 · Outline of the work
Animation of light novel which is published from MF Bunko J. The original is released in December 2010 8 volumes of the latest, and has reached the cumulative total of 1 million copies at the stage of the previous 7 volumes. In addition to a comicalization by monthly comic Alive Kokyaka Yoshino, in Young Ganggan the story written in a different story from the main story is written in a story written by the original author ("Aria the Scarlet Ammo AA").

· Synopsis
Detective which solves the problem with force to counter criminal crime, known as "military". Toyama Kinji was a student at Mushi High School which is a mentor training facility, but in a certain incident, he was planning to quit Mt. Wuyi High School and move to a general school. One day, Kinji will be targeted to life by bomb demons while school. Suddenly a girl flew down from the sky before the kanji wrestled. Her name is Kanzaki, H · Aria. It is a rogue military that is impossible to imagine from a small, pretty appearance ... ... a frenzy and aggressive girl. This encounter changes the future of Kinji and Aria and the two persons greatly.

· Broadcast information
TBS: 4/14 (Thu) 25: 25 ~
CBC: 4/21 (Thurs) 26: 00 ~
MBS: 4/25 (Monday) 26: 20 ~
MBC: 4/27 (Wednesday) 25: 10 ~
BS - TBS: 5/7 (Sat) 25: 00 ~

·staff
Original: Akamatsu Junior High School
Original illustration: Kobochi
Director: Takashi Watanabe
Series composition: Hideki Shirane
Character design: Kazunori Iwakura
Art director: Tanihiko Tanihada
Color design: Yukiko Ito
Director of Photography: Yoshio Okochi
Edit: Shigeru Nishiyama
Acoustic director: Kawahito Meida
Sound Production: Magic Capsule
Music: Takumi Ozawa
Music Production: Flying Dog
Animation production: J.C.STAFF

·cast
Toyama Kinki: Junji Majima
Kanzaki · H · Aria: Rie Kugimiya
Hoshi Satoru: Mikako Takahashi
Mineko: Mariya Ise
Reiki: Norihiro Ishihara
Muto Tsuyoshi: Kondo Takayuki
Shiranaki Ryo: Takuya Eguchi
Norito Noritaka: Nojima Kenji
Takatagahara clear: Mai Nakahara

◆We still do not know the name of the flower we saw that day.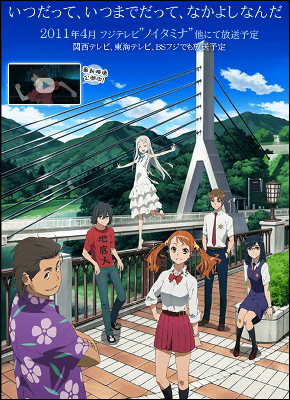 · Outline of the work
Original work of Noitamina frame. Director · Nagai Ryuzuki × Screenplay · Okada Yuri × Character design · Tanaka Shiga combination is "Tora-dora!It is also a combination of sweet and sour youth group drama drama development is expected. Although the name of one of the heroines has become a topic because it is "ANATA", this isMr. Nagai and Ms. Tanaka thought "It is embarrassing to put it out because it is embarrassing", but it remained with Mr. Okada's strong commitmentthing. Abbreviation is "that flower".

· Synopsis
The protagonist of Gikimori Gimi "Jin Tan". It is awkward to be flushed by a girl friend. "Yukiatsu" and "Tsuruko" who go to secondary school. I will go on a journey without going to high school "POPO". And, since the elementary school student who was a good friend, the girl "Menma" does not change while each changes. One day, I ask a wife to ask "I want you to make a wish". Although it is troubled, I'm searching for "a request for snakes". The wishes of that unexpected occasion triggered the childhood friend who had lived their lives in each area again and gathers like the old one.

· Broadcast information
Fuji Television: 4/14 (Thurs) 25: 35 ~ (25: 15 ~ after 2nd round)
Kansai Television: 4/19 (Tue) 26: 28 ~
Tokai TV: 4/21 (Thu) 26: 35 ~
BS Fuji: 5/21 (Sat) 26: 00 ~

·staff
Original: Ultra Peace Busters
Director: Ryu Nagai
Screenplay: Yuri Okada
Character design, total drawing director: Tanaka Shiga
Animation Production: A-1 Pictures
Production: "Anohana" Production Committee (Aniplex, Fuji Television Vision, Dentsu)

·cast
Harind (Nitta Inukai): Iriino Freedom
Menma (Honma germination): Ai Kinano
Akari (Anjo Naruko): Haruka Tomatsu
Yukiatsu (Matsuyuki Shu): Takahiro Sakurai
Tsuneko (Tsurumi Toshiko): Saori Hayami
Poppo (Hisakawa Railroad): Takayuki Kondo

◆Denpa Onna to Seiuchi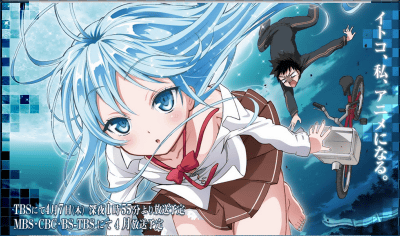 · Outline of the work
Animation of the light novel "Denpa Onna to Seishun Otoko" written by Tokushima, a writer named "Monthly entrance man". The debut work "Liarukimi-kun and broken Mai-chan" contained a gloomy element such as a child abduction case, but this work is a refreshing youth story.

· Synopsis
Mr. Niwa Niwa who had decided to live with her aunt, met Towa erio which is a cousin there. She was a "radio woman" with her upper body covered in a futon, she said she was an alien. On the other hand, True was shaking the "youth point" to his actions and was aiming to gather as many points as possible, "Ao Haruo".

· Broadcast information
TBS: 4/14 (Thu) 25: 55 ~
MBS: 4/28 (Thurs) 26: 40 ~
CBC: 4/28 (Thurs) 26: 30 ~
BS-TBS: 5/7 (Sat) 25: 30 ~

·staff
Original: Iruma Human (Dengeki Bunko / Ascii · Media Works)
Original illustration: Tin
Overall Director: Akiyuki Shinbuchi
Series composition: Ayano Yuniko
Character design: Ayako Nishida
Series Director: Yukihiro Miyamoto
Art director: To Kohji
Color design: Hitoshi Hibino
Director of Photography: Masayuki Aizu
Edit: Rie Matsubara
Acoustic director: Toshiki Kameyama
Acoustic Production: Groove
Music Production: Star Child Records
Animation Production: Shaft

·cast
Towa ero: Asuka Otaru
Maka Niwa: Freedom Irino
Muneko Youko: Kato Eimi Ri
Maekawa: Mai Fuchigami
Towa Women: Ai Nonaka

OP: Caregiver Erio "Os - Alien"
ED: Yukushimaru Eriko "Lulu"

◆Deadman · Wonderland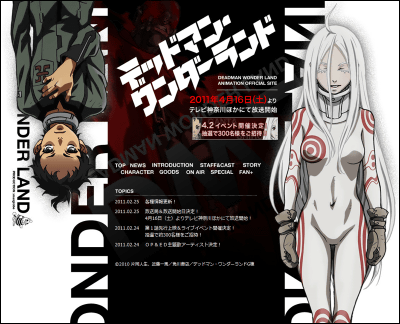 · Outline of the work
Mangrove animated the original work by Kataoka life and Kondo Ichima who was in charge of drawing in the manga version "Symphonic Psalm Eureka Seven". A story takes place in the setting of the fully privatized prison "Deadman · Wonderland" in Japan 10 years after the Tokyo Great Earthquake where 70% of Tokyo is submerged and nearly 150,000 people died.

· Synopsis
Igarashi log (Ganta) who was having a mediocre every day with his classmates. One day, the fate of Ganta changed completely as a "red man" appeared at the school he attended. He was sentenced to death by an innocent crime and he was imprisoned in Japan's only privatized prison "Deadman · Wonderland".

· Broadcast information
Tvk: 4/16 (Sat) 25: 00 ~
Gifu Broadcasting: 4/16 (Sat) 26: 30 ~
TVQ Kyushu Broadcasting: 4/17 (Sunday) 26: 30 ~
Sun TV: 4/18 (Mon) 25: 35 ~
Terebellum: 4/18 (Monday) 26: 05 ~
TOKYO MX: 4/19 (Tue) 26: 30 ~
Mie television: 4/20 (Wednesday) 26: 50 ~
Ciba-TV: 4/21 (Thursday) 25: 30 ~
BS Niterele: 4/22 (Friday) 27: 00 ~

·staff
Original: Kataoka Life, Kondo Kazuma (Kadokawa Shoten "Monthly Shonen Ace" Series)
Director: Koichi Hatsumi
Series composition, Screenplay: Yu Yuri Yuuki
Character design: Masaki Yamada
Mechanical design: Noriyuki Yanase
Prop Design: Daisuke Nisuma
Effect design: Shuhei Arita
Art director: Watanabe Sanji
Color design: Yuko Saito
Director of Photography: Takeshi Kakuyama
Edit: Kumiko Sakamoto
Acoustic director: Miwa Iwami
Music: NARASAKI
Music Production: AMG MUSIC
Animation Production: Mangrove
Production: Deadman · Wonderland G building

·cast
Igarashi log: Park Yumi
Shiro: Hanazawa Kana
Kiyomasa Chikara: Masayuki Kato
Takami sheep: Hiroki Kaji
Takami Water Moon: Nori Iori
Makina: Takako Honda
Tamaki, Tadaki: Junichi Suwabe

OP: fade
ED: Nirguiris

◆Blue Exorcist



· Outline of the work
Popular works in jump square series are animated. Catch copy is "Fate destroy". A considerable number of preliminary announcement commercials have been broadcast, and in the live thread, "BlueOf theFuckingCyst is blue shit ", but the official abbreviation is"Blue Eku".

· Synopsis
The "material world (Asher)" inhabited by human beings and the "demonic world" (Gehenna) where the devil lives. Although it was originally two dimensions that can not even interfere, the devil possessed all kinds of substances and interfered with the material world. However, among humans there was an exorcist (Exorcist) who pursues such a demon.

· Broadcast information
MBS · TBS series: 4/17 (Sunday) 17: 00 ~

·staff
Original: Kazu Kato (Shueisha "Jump Square" series)
Director: Okamura Shinsa
Series composition: Ryota Yamaguchi
Character design: Keisuke Sasaki
Music: Hiroyuki Sawano
Production: A-1 Pictures
Production: "Blue Exorcist" Production Committee, MBS

·cast
Okumura Rin: Okamoto Nobuhiko
Yukio Okumura: Jun Fukuyama
Shuzu Suzumi: Hanazawa Kana
Ryosuke Katsuro: Nakai Kazuya
Shima Ryuzo: Yuza Koji
Miwa kitty maru: Hiroki Kaji
Kamiki Izumo: Eri Kitamura
Kirushira: Rina Sato
Igor Neigaus: Ryutaro Okiayu
Amymon: Teruya Kakihara
Mephisto Feles: Hiroshi Kamiya
Fujimoto Shigero: Fujiwara Keiji

◆If Dora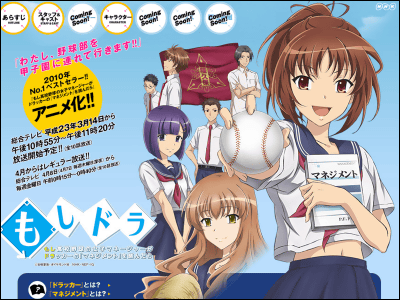 · Outline of the work
Business book that became a million seller in six months from the launch "If a high school baseball girls manager reads Drucker's "management""Animated. Broadcasting for 2 weeks as a band program from 22:55 to 23:20 on Monday to Friday from April 25 (a total of 10 stories). Regular broadcasting on week 1 from 25:15 every Thursday from April 29 is also done.

· Synopsis
Kawashima Minami, who attends the Tokyo Metropolitan High School, will serve as a weak baseball team manager on behalf of her as a result of hospitalization of his best friend, Miyata Yuki. However, Minami has no idea what the manager 's job is and who knows what to do. As a manager' s introductory book, she obtains Drucker 's "management" at the bookstore. "I manage the baseball club and take me to the Koshien!Although Minami declared that Minatomi declared, the director not told the members to say, Shunfield outfielder wondering that it is regular, fourth hitter who is troubled with being a captain, Ace pitcher with dissatisfaction with the director, There are problems in the baseball club. What is the baseball team customer, selling to the players, social contribution to the whole school, innovation for high school baseball, and management of Minami now begin.

· Broadcast information
NHK General: 4/25 (Monday) 22: 55 ~
All 10 episodes

·staff
Original: Natsumi Iwasaki
Character original plan: Yuki Usagi
Director: Takayuki Hamana
Series composition: Junichi Fujisaki
Character design, total drawing director: Chieko Miyakawa
Music: Sato Sato
Acoustic director: Takuya Hiramitsu
Animation Production: Production I. G
Production, Writing: NHK, NHK Enterprise, Production I. G

·cast
Kawashima Minami: Hikasa Yoko
Miyata Yuki: Hanazawa Kana
Keiichiro Asano: Teruya Kakihara
Jiro Kashiwagi: Sho Tsuyama
Kaede Makoto: Kenjiro Tsuda
Second floor Justice: Shintaro Asanuma
Hōno Hōjo: Aka Nakatani
Hoshide Jun: Yoshimasa Hosoya
Yukinosuke Sakurai: Hideki Nakanishi
Kuchiki Civilization: Ryo Akasawa
Niimi Daisuke: Yoshiaki Takumi
Yasuyo Miyata: Eriko Hirata

OP: azusa "Dream Notes"
ED: momo "I love you"

● Movies
◆Illusionist(Link to Amazon for the annihilation of the official website)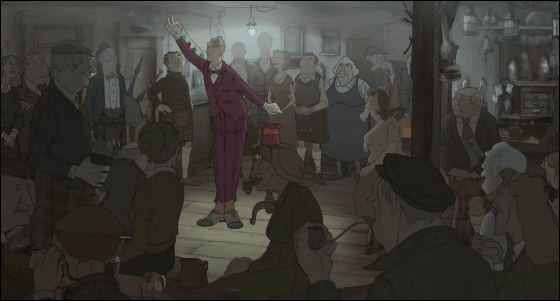 · Outline of the work
A screenplay that film director Jack Tachi who died in 1982 wrote for her daughter, "Belleville RendezvousDirector Sylvain Shome is making a film. At the 83rd Academy Awards in 2011 he was nominated for feature length animated film award (Toy Story 3 awarded).

· Synopsis
An elderly magician, Tachishiev, who loses popularity in the past and sends out rushing days, will go to a remote island in Scotland. The girl Alice who saw the appearance of Tachishiev who showed off his magic trick at the bar, believes that it is surely a wizard that will make everything come true, chases after Tachysev who leaves the island. Eventually the two begin to live together in Edinburgh's corner.

· Screening information
TOHO Cinemas Roppongi Hills: 3/26 (Saturday) ~
Tachikawa Cinema City: 3/26 (Saturday) ~
United Cinema Sapporo: 4/9 (Sat) -
Fushimi Million seat: 4/9 (Saturday) ~
Cine · Libre Umeda: 4/9 (Saturday) ~
Solaria cinema: 4/9 (Saturday) ~

·staff
Director, adaptation, character design, composition: Sylvain · Chume
Original script: Jack Tachi
Producer leadership: Philippe Carcanne, Jake Eberts
Production: Bob Lust, Sally Shome
Assistant Director: Paul Dutton
Art: Biane Hansen
Synthesis / visual effects: Jean-Pierre Boucher
Digital supervisor: Campbell · McAllister

◆APPLESEED XIII (Apple Seed Thirteen)(Theatrical Remix Version APPLESEED XIII - Testament)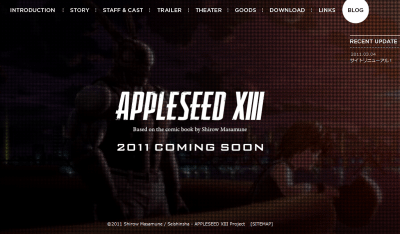 · Outline of the work
Shiro Masami original comic "Apple Seed" animated. Until now, "APPLE SEED (Apple seed)" and "EX MACHINA (EXMAKINA)" have been converted into two movies, but this time it is "series animation", all 13 3DCG animation episodes are different for each episode 13 It takes the form that the creator of the company creates it. Animation production is "Fireball"ofGeneather's animation studio, Production I.G of "Ghost in the Shell" goes into production cooperation, and each talk production includesDynamo Pictures,Frameworks · Entertainment,Air Co., Ltd.,Wells Animation Studio,Premium Agency,N Design,Mosu Corporation,Dandelion animation studioAnd others are participating.

· Synopsis
In the 22nd century when the General Administration Bureau, which was devastated in World War II (Nuclear War) and placed in the giant artificial city Olympus, dominated the world. Dunan nuts, former LA municipal SWAT, and Briareos, an excellent multifunctional cyborg with that lover, were scouted to Olympus and sent days to fight terrorists as special forces ES. W. A. ​​T members. While the plan for mankind committing the future of human beings to BioLoyd, a cloned hybrid of hybrids, is progressing, the terrorist group Argonautes led by Hero Al · Kaedes, who should have died twenty years ago, crushed mankind liberation fronts, peeled the fangs of Olympus It was.

· Screening information
Shinjuku Piccadilly: June 13 (Monday) - Sequential special screening starts sequentially
Namba Parks Cinema: 6/13 (Monday) ~ Sequential special screening starts sequentially
Nagoya Midland Square Cinema: 6/27 (Monday) - Sequential special screening starts sequentially
There are also schedule of net distribution

·staff
Original work, original design of character: Masamune Shiro (Aoshinba "Apple Seed")
Project: Mikoto End · Basara
Planning and Cooperation: Aoyama Shrine
Director: Takayuki Hamana
Series composition: Junichi Fujisaki
Screenplay: Junichi Fujisaki, Keihiro Sakurai, Daisuke Tanimura, Shuei Okamoto, Eiji Umehara
Assistant Director: Kazuyoshi Fusei
CG Director: Akihito Watanabe
Character design: Takayuki Goto
Mechanical design: Atsushi Takeuchi
Art background: Mimpe
Prop Design: Hilarious leopard
Animation Production: Genie's Animation Studio
Production cooperation: Production I. G
Production: "Apple Seed XIII" Production Committee

·cast
Dunan: Maaya Sakamoto
Briareos: Koichi Yamadera