Beta version of the latest version of the browser "Sleipnir 3" boasting domestic No. 1 share, launched today from today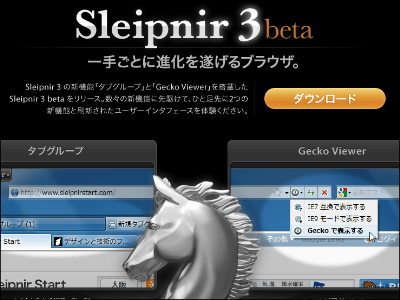 The latest version of the browser "Sleipnir" boasting domestic No. 1 share "Sleipnir 3"Beta version was released today.

As a result of reviewing all the designs, it started from an almost equal state from zero, so it will be a fact that more than two years have elapsed since announcing the start of development, but what kind of function is actually installed Is it?

Details are as below.
Sleipnir 3 beta - A browser that evolves with each step.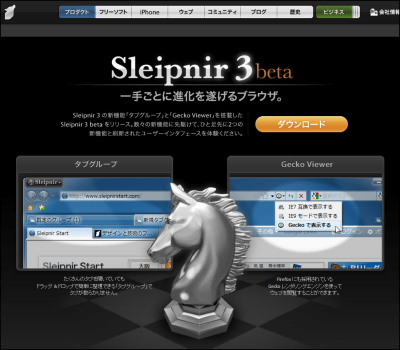 According to the special site released by developer Fenrir (Fenrir) today, "Sleipnir 3" beta version has the following new features as the main feature.

■ Tab group
Ability to group tabs as a group by drag & drop. It is convenient when you want to organize tabs that are too open for each genre.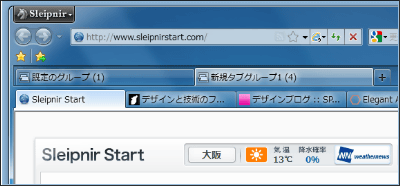 ■ Tablet
It is a function that does not take the width by making tabs that you want to keep small tabs. Is not it perfect for those with tabs you want to keep constantly open?




■ Search result group
When searching words or phrases using the search bar, tabs of search results are automatically grouped in the same tab group. It is a tab of the search result that has been forgotten to close closing and becomes obstructive but it is saved that it is easy to close it collectively later.




■ Gecko Viewer
Sleipnir uses the rendering engine "Trident" adopted in Internet Explorer (IE), but you can browse using the "Gecko" rendering engine adopted by FireFox, and the site using Gecko is page by page You can memorize with. By using IE in the PC, it also supports browsing simulating each version of IE.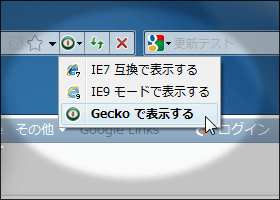 In addition, it also realizes performance and stability improvement on personal computers equipped with a beautiful user interface optimized for Windows Aero, an organized option screen, and a multithreaded CPU.

Although it is not installed in the beta version, by installing the label management system of the file management software "FenrirFS" in the official version, "FenrirFS bookmark" which can manage bookmarks using labels and drag & It is planned to implement functions such as toolbar customization by drop, plugin and skin management screen integrated on options screen, searching history and favorites from address bar.

Further details on "Sleipnir 3" beta can be checked from the following.

Sleipnir 3 beta - A browser that evolves with each step.