Software "BlueStacks" that allows Android applications to run on Windows without rebooting


BlueStack Systems announced that it is planning to release the world's first software "BlueStacks for Windows" that can seamlessly use Android applications from Windows PC.

According to the announcement "While using BlueStacks for Windows, Windows applications (Internet Explorer, Excel, Outlook, PowerPoint, Word etc.) that are essential items in the business world, Android entertainment applications (games, music / videos, photos Etc.) and applications necessary for everyday life can be enjoyed at the same time on one PC ", depending on the scene it may be very useful software.

So, detailed materials on product announcement are from the following.BlueStacks
http://www.bluestacks.com/

The product outline described in the BlueStacks news release is as follows.

◆ Product overview
· Software that can simultaneously run Android and Windows applications on Windows
· Compatible with Tablet PC, Slate PC, Netbook, Notebook, Desktop running Windows
· Using the touch panel realizes the same operability as mobile phone and smartphone
· Can be used with normal mouse (Recommended touch panel compatible)
· Supported Windows OS: Windows 7, Windows Embedded Standard 7, Windows XP SP 3

Formal release schedule
First quarter of 2011

This is the material of BlueStacks product release. This product release is held as aimed at PC vendors, etc. rather than general consumers, it can be seen that BlueStacks is aiming for preinstallation on commercial PCs as a strategy.



At the beginning mention the innovation in the iPad market.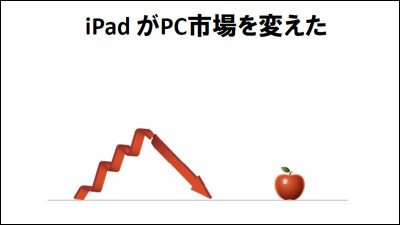 With the advent of iPad, BlueStacks Systems has claimed that users' awareness of consuming applications and content, OS and application setup, security, and so on have changed.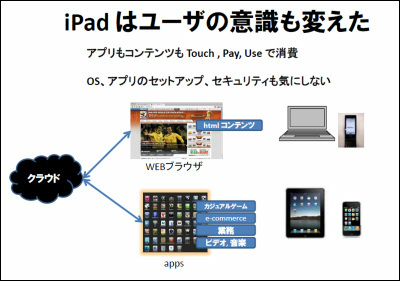 It is predicted that there is a potential need to simultaneously use Windows and Android applications on one PC.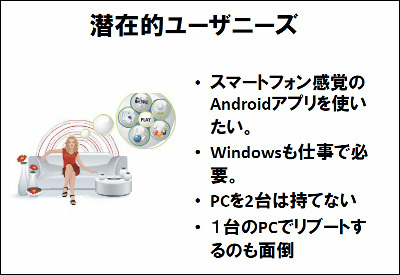 If Windows and Android applications can be used on one PC, one should be able to use both for work and play.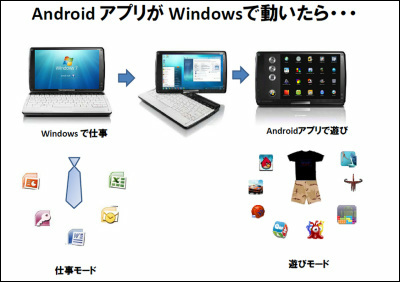 It is said that BlueStacks realizes this.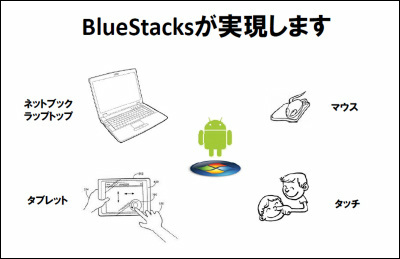 Android screen on Windows without reboot. This screen is under development and may differ from the screen that actually operates.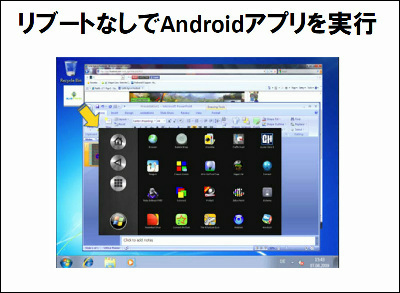 With the advent of BlueStacks, business opportunities for PC vendors, content vendors and mobile phone companies will also expand.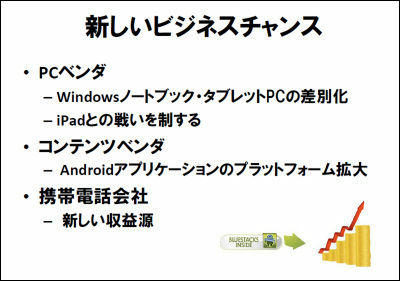 We will be able to offer Android applications to users who have only used Windows so far, which will increase the revenue source for vendors.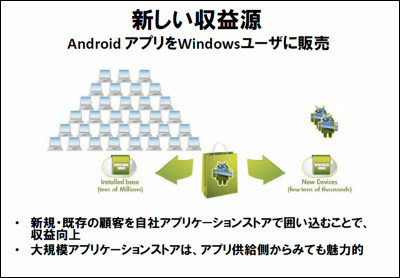 When a user buys a PC, a message to the PC vendor that the PC will be "the ability to use the Android application" becomes the standard of selection, that is, whether sales will change depending on whether BlueStacks is included or not .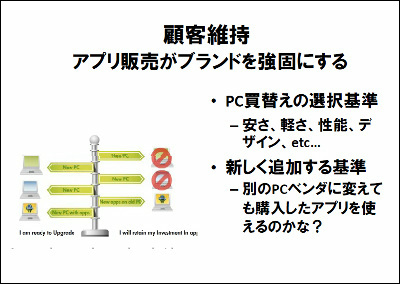 Concept diagram of BlueStacks. It will create a "multi-OS execution environment" that handles Windows, Android, Palm applications on one PC. The base OS is Windows, but Android plans to join.



The official release is the first quarter of 2011. Will this new possibility spread to Android applications now?