"Serial experiments lain" event report that the tickets were sold out in 10 minutes and Cine · Libre Ikebukuro became full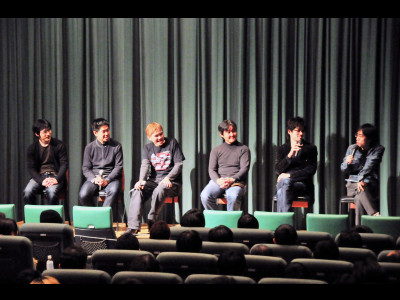 On November 22nd at the Cine · Libre IkebukuroSerial experiments lain"Event was held.

This is the same work that was broadcast in 1998Blu-ray BOX was released on October 27In the event to celebrate the event, there are only enthusiastically enthusiastic pieces and the event tickets are said to have been sold out in about 10 minutes. I can understand if it is a level animation that also became a social phenomenon like "Gundam" or "Eva", but what on earth will "lain" attract fans so much?

Cine · Libre Ikebukuro in the event venue is full. First of all there was a screening of Layer 1 "WEIRD", followed by the staff's talks.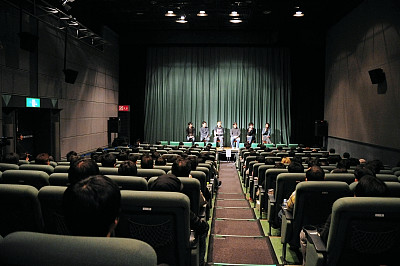 From the left the speaker is Hirofumi Araki, Yoichi Izumi, Mr. Hiroshi Saito, Akihisa Okuda, ProducerYasuyuki ueda (Kodo Ueda)Mr. Burnham studio, which could be said to have triggered the BDTetsuro SatomiMr.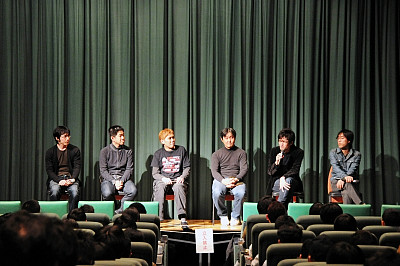 Koji Ueda (Ueda):
I was talking to this event 's ticket, "Everyone will come, I definitely have surplus," but thanks to you for coming to such a lot of people I appreciate it. I hope you will enjoy it for a short time.

Tetsuro Satomi (hereinafter Satomi):
Okuda, please introduce yourself.

Akihisa Okuda (Okuda):
I am Mr. Okuda who was in charge of package design. I count on it from the very beginning, 12 years, while I did not do a cheap version etc. on the way, I have been designing for a long time.

Saito Hiroshi (hereinafter, Saito):
It is Saito who was responsible for the new digital processing and photography work this time. Thank you.

Izumi Tsui Yoichi (Izumisui):
Izumi Tsui who I was in charge of restoration work as Mr. Saito said. Thank you.

Hirofumi Araki (hereinafter Araki):
In this restore, I am Araki who was in charge of re-shooting the digital part. Thank you.

Mr. Araki, Mr. Izumisui, Ms. Saito.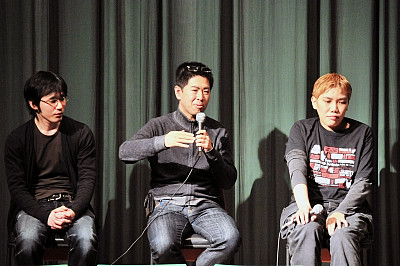 Mr. Okuda, Ms. Ueda, Ms. Satomi.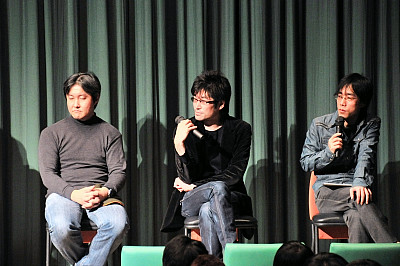 Ueda:
Although it was actually planned to be released last December, it is up to now I am sorry to have become such a thing with the stickiness of Saito shooting director and my unreasonable retakement. Re-shoot old works with tremendous quality, and Araki-san had me convert files that I do not know for some time the extension so far to the current shooting format ... .... When Mr. Saito panicked, Mr. Izumitsui helped me, I feel that the restoration of this time managed to finish the day of completion.

Satomi:
First of all, that is why "angle of view changes".

Ueda:
I think that it is an honest impression that "Wow, narrow" by entering the theater. However, it is narrower than the conventional 4: 3. Your house is surely a landscape television .... The way of saying is like a dead word, but since it is such a screen, I thought that I would like to extend the width as much as possible. Since the film has a slightly larger width on the left and right, as it is developing, "There is still a horizontal width, let's use it." I think that you can understand it when you see it, because there are dirt or because it is a place that is not originally photographed, the cell was not painted, so you can paint it with a crank or you will have a shake called film gutta So, I got it all repaired.

Satomi:
When you see an old work on DVD, it moves slightly up and down, is not it? It is both live-action and animated, but it's particularly noticeable as animation is a frame shot. However, in the case of "lain", the play has disappeared, as you have seen. ...... It is a terrible thing, it is terrible, it is terrible thing. Although it is commonplace that it is digital.

Ueda:
How long it took to stabilize (work to eliminate image shaking)?

Saito:
I asked Mr. Izumi to do it, how much it costed it. Really, Ms. Izumii had been doing work to take back the film.

Izumisui:
There was considerable play as well as backlash before shooting when playing back. As you know, movie papers have tapped holes ... ....

Satomi:
I do not think you know (laugh). We had taken tap holes and shot one at a time.

Izumisui:
In the past, it was a procedure to set it on the shooting table and shoot one frame at a time, but as the hole got larger or shifted as you retake or paint the cell, the setting itself was bad and the cell itself It is distorted and it is. When there are a background, a person, a cell in the foreground, or a plurality of people, each shake differently, the shake is different at the right end and the left end.

Ueda:
There is also distortion of the film itself.

Izumisui:
Well, because the film is warped rather than just right, in such cases you can not divide the left and right, or draw the characters one by one by hand. It is shocking that the cut finished that way was a NG cut.

Ueda:
I am sorry very much. Although the film original plate remained in the laboratory, when the retake to make it in time for broadcasting entered by another volume, the material was not exactly contained and it went somewhere and it was missing, I stuck it to the butt and fixed it, but he said, "That ... OK, you got an OK take from then?"

Izumisui:
It is difficult to confirm all the cuts in advance, and if it is a subtle retake, I can not judge which is the right cut. There was not enough time ... It was an excuse to say ....

Ueda:
Although I compare it with DVD many times, every take is the same. There was a scene where DJ was at the booth and the camera pulled, and there was a lot of take, but I did not really know which was OK take and sent a message to the director. Even if you look at them again, they are really the same and it seems like "What is this, how different?" ....

Satomi:
It is the same because we are using the same original.

Saito:
Send both from scratch and say "Please use the one you like, Mr. Ueda".

Ueda:
It is still a mystery.

Satomi:
I think that the most important part of restore is stabilization.

Ueda:
It is what I say in front of the workers, but it was a work that was not really rewarded. In order to make a situation that looks beautiful, it is tremendously tremendous effort to erase the trash and take back the trash ... .... The color design of the film at the time was wrong, there was a place called "Why is it painted with this color", and it is considerable time and effort to adjust the eyes between phrases.

Satomi:
Thanks to the effort not to be rewarded, it is like a miracle if we make it that the texture of the cell picture remains with the same picture connection as the digital work.

Ueda:
Hmm, but from the customer.

Satomi:
I am trying to follow that the release is postponed for one year (laugh)

Ueda:
Is not it (laugh) That which I could not forgive was a cell float. Because the cell picture has a thickness, you can only shadow that much.

Satomi:
Even one episode still remained.

Ueda:
There was also a judgment that I tried to stop it if it took all of it and it became unnatural.

Satomi:
Since the background is a drawing paper at that time, using watercolors will inevitably uneven, afterwards there is also a shadow due to superimposing a cell picture, which will shadow the light at the time of shooting. Is not it right?

Ueda:
correct.

Saito:
It's a shadow of the cell, but I'd like to take what I want to take, but the schedule has been pushed down and a phone call comes from Mr. Ueda. "Saito, you are already pushing the schedule (schedule), so please do not stick to me carelessly, will you close your eyes?" I am sending it as "That's right", but the next day, from Ueda-san, "I'll be worried about it so fix it." Well then it will not end (laugh)

Ueda:
No, well, well, hey ... .... I was wondering about how strange it was about the beginning, to say why they were so concerned.

Saito:
You did not care too much.

Satomi:
Actually, the difference with the DVD version is up to the point that it is obvious, the angle of view is also different, I think that it was rewarded. The ticket was sold out in ten minutes.

Ueda:
I hope it will be ....
(Clapping at the venue)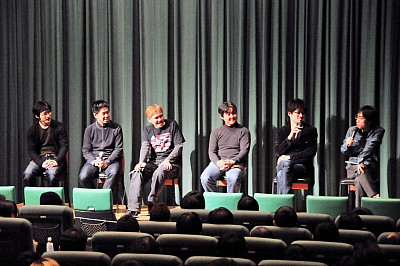 Satomi:
By the way, how is the digital part done? Originally, digital is different from film, it can not be stretched.

Ueda:
Since the photographing materials are already gone, the OP and ED have taken charge of CG and Nakahara (Shoji) -kun, who was in charge of shooting, from the 35 mm interlaced material. He was a solid person, so he had backed up his data in charge and he was working on his part for himself. Also, I participated in the digital at that timeRare trickMr. Araki did a guy who is old, has no extension and does not know what file it is.

Satomi:
Do not know the extension?

Ueda:
Because it is a Mac ... ....

Satomi:
That's right, Mac has loose extension management.

Saito:
Even though I was a pict, I added an extension such as tga and it looked like "What's this file?"

Ueda:
It looks like a booby trap. At that time, the version of AfterEffect was around 3.1 to 3.3, so I could not open the file anymore in the current environment. So, put AfterEffect 5.5 on old OS 9 machine, send the file converted from 5.5 to Mr. Araki ....

Satomi:
Because the era when 5.5 was the mainstay was long.

Ueda:
Also, if it was not 5.5, I could not read 3.x series files. ...... Ultra sober, nobody wants to hear such a story, it is a hardship story that seems like.

Satomi:
Production is also a digital transition period.

Ueda:
The size is small enough to be surprised now. In an environment that edits HD (1920 × 1080), I think that VGA (640 × 480) is too small like a booger to say "This is small!"

Satomi:
In the company I was at that time there were 20 sales departments and one computer. Nevertheless, in the work, e-mails fluttered, and how much were you anticipating the era, "Please check e-mail every day".

Ueda:
Let's ask Chiaki Konaka who will appear later on this.

Satomi:
It is an enlightening eye.

Ueda:
When was the package, when did you ask Mr. Okuda to restore work ... ...?

Okuda:
It's just a year ago.

Ueda:
Mr. Abe who is going to take a picture later has also drawn many copyright illustrations. We synthesized the interface with Reingon, and in place of 3D, Araki asked Mr. Araki to make a wireframe a little. Since I was going to release it last year, Mr. Okuda worked for a great period of time.

Satomi:
Were you planning to release it in 2009?

Ueda:
Yeah ... that is what it is like this.

Satomi:
No way.

Okuda:
I do the repair many times for about half a year ... .... Although it says about 3 patterns in the booklet, OK did not come out for half a year. I was told that there is still repair, it was abandoned, it was getting hurrying for about a month and a half ago on the release date, and it became hurried and it seems like "I was forgotten though I told you there was a repair?" did.

Ueda:
It was a mission as an office worker to sell it, (laugh)

Satomi:
I also visited the production site from time to time, but I was moving a little bit, but sometimes I found a new one and I was back.

Ueda:
Because the material came out when I forgot.

Satomi:
So you can not read the percentage. Ordinarily, when we make BOX, if it is all 13 episodes I can say that "This is the end of 1/13 when I finish one episode."

Ueda:
On the back calculation, it is the pace of January 1 story.

Saito:
Mr. Ueda or I was doing in the editing room until the picture was connected, but Mr. Araki and Izumi Tsui had finished work to a certain extent and said "You are still doing" (Lol)

Satomi:
Now, since the drawing period of new animation is about 4 weeks to about 5 weeks, it is the same as making a new work.

Ueda:
I was doing ancillary work of digital processing with the cut which I was in charge and the cut which I got up from Mr. Saito, so I cut it according to the original source and brought it to the editing room on my own I do only work, but Mr. Saito's work was not half done.

Saito:
I also thought that it would end if I did it (laugh). If you do it indiscriminately. Because I had as many as 70 cuts a day at most.

Satomi:
What is "cut" about 1 talk about "lain"? About 300?

Ueda:
It is around 250-280. If there is digital, there are 100 cuts if there is only drawing.

Saito:
So, the next day I raised 70 cuts I only got about three cuts.

Ueda:
When I was having a meeting with Ms. Saito at the beginning I was talking "When I get on the track, I get out about 70 to 80 daily daily", so I thought that I could put out a plan within that year .

Satomi:
It's about 3 to 4 days and it's a pace that one episode will rise.

Ueda:
The intention of Daily 80 was Max 80.

Satomi:
Why was everyone planning like such a dream?

Ueda:
No, I said that Mr. Saito could do it, so believe it (laugh). If I told the company "No, I will leave", it will be like a reaction like "Okay ~".

Saito:
There is no help for things that will not go out (laugh)

Satomi:
I knew the result, so I think that nobody could stop it.

Ueda:
Hey you. It is unusual, how much betrayed the expectations of the people of the company.

Satomi:
It would be furious if I were business.

Ueda:
I think I'm really sorry.

Satomi:
Its obsession to retake until the settlement of accounts. Moreover, it is so plain that it is hard to convey. Probably, since the customer who is here is watching it twelve years ago, although it is ARE, it is natural for recent animation fans to have no play as well as stabilization, and there is digital cut and it is natural. How will those people who think that there are 2D 3 D effects are natural?

Ueda:
Such a person will not buy (laugh)

Satomi:
I thought I'd ask if a young customer stayed here today, but no one ... (lol)

Ueda:
Who does not see in real time? (Several people are raising hands), is not it?

Satomi:
Look at the current eyes, how is it?

Customer:
it's completely okay.

Satomi:
All right?

Ueda:
You are good at lifting!

Satomi:
Well, let 's get something at a last minute by such a thing like this.

Ueda:
Well then, is it "like lain for me?"

Satomi:
Shall I go around with "lain and me"?

Okuda:
It is my first time to see Mr. Saito, but I saw Saito-san and Mr. Saito's manuscripts containing only "contents" in the commentary, and I am deeply moved to see Mr. Saito this afternoon. did. It was nice to do.

Saito:
I'm really sorry for the inconvenience.

Satomi:
When I got the first episode and the second episode completed and showed it with QUITEC, when asked Mr. Ueda to "Who did this?", I told you to introduce me as Saito-san is.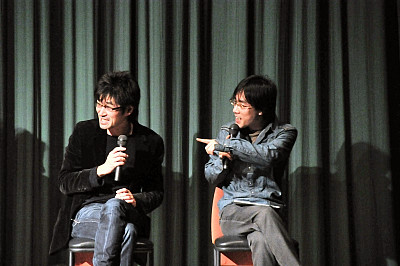 Ueda:
Stabilize work. I told you to introduce me when I finished.

Saito:
It is delightful to have been able to sell and reach everyone's hand. Thank you people who helped this time, thank you for each staff who became shade and became sunny and cooperated. Also, the booklet really talked while watching images without preparation.

Izumisui:
I also saw "serial experiments lain" at that time in real time and started digital animation as a work myself, so I thought that it was bold to use 3D with TV animation I was watching it.

Ueda:
I heard that story for the first time (laugh)

Izumisui:
Personally, because I was working and there was a kind of shock, I do not think dreaming that I will repair in 12 years and I feel a magical edge. I'm going to put in power, I think that I would like to take a closer look at the revived Blu - ray version.

Araki
When I was broadcasting "serial experiments lain", I was not in the second year since I entered the animation industry, and I never thought that I would participate in works that occupied an important position in animation, I was surprised to hear your voice. In the work of the package, is it okay for me to have my CG on the illustration of Abe? I was chattering while working. I'm pretty honored this time.

Ueda:
I think that these three people will continue to see the name with various new works in the future, so I hope you enjoy it too.

Satomi:
Well then Ueda's comment at the end ... ...

Ueda:
No, I'm fine as I will get the next one.

Satomi:
About the restore part.

Ueda:
No, it is like this.

Satomi:
I took everyone's year and a half.
(Venue lol)

Ueda:
I think that's really sorry. It was these people who asked us not to skip so much that the producer was trying hard to get in there even though it would not be easy to do so Well, the delay of the schedule is that everyone I wonder if I should take responsibility. ...... No, I guess you made a good one?

Saito:
This kind of work is not easy.

Satomi:
It will not be ever again.

Ueda:
It's gigantic it's got it. I am grateful to the staff who has accomplished it. It is true.

Satomi:
In the meantime, I hope that the feast will also be switched to the screening of episode 12.

Ueda:
Actually I was planning to screen the first episode, the twelfth episode, and the 13 th episode, but it is screening of the first episode and the twelfth episode because there is not much time. Please watch every episode 13 at home (laugh)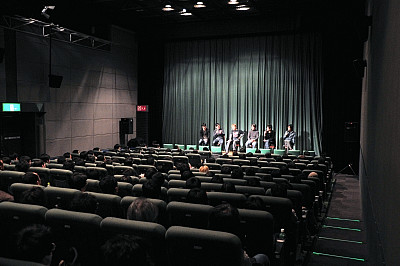 After this, the second part of the talk event was held with the screening of the twelfth episode sandwiched.

"Serial experiments lain" event report of the original staff at the time · end report