I tried using "ScanSnap S1100" in comparison with past models as to whether it is really useful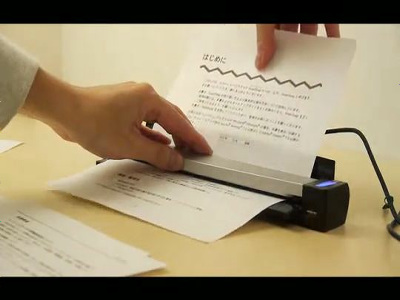 "ScanSnap S1100" to be released from Saturday, November 20th, has been dramatically reduced in size and weight compared with the previous model of the ScanSnap series. Although it is S1100 which increases expectation, it is different from the past method by the way of use, because it is a single-sided reading of the manual feed type, but what is the actual feeling of use is like, by comparing the reading speed It was.

So, the movie you actually used is from the following.FUJITSU: S1100 Product Information
S1500 Product information
S300 product information

First, from past model S300. I will read from the bottom of the set paper. Reading 10 sheets of A4 single-sided origin in black and white in about 1 minute.


Next, S1100 released this time. Push the original manually from the bottom and take out the manuscript that comes out from the top. Since it will cause an error if inserting too much too quickly, we are swapping with some margin. Ten sheets finished in about 1 minute and 40 seconds.


A paper jam occurs when trying to read it quickly and quickly. Before you get used to it you need to pay attention to the angle at which you insert the paper.


For reference, I also compared S1500. As expected it is business use only, I will read in a tremendous speed.


The S1100 is small enough not to make it easy to carry, but if it is still necessary to scan a large volume such as 200 sheets or 300 sheets, it may be a bit painful as it is a manual feed. However, since it is unnecessary to use an AC adapter, it can be used only by power supply from USB, so it will be handy if you need to scan as it is on the go.