At last a maker will appear that will release the Android tablet postponed the release of Windows tablet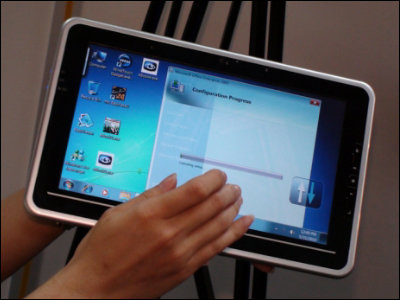 Since the cost of manufacturing the Windows tablet is very high compared with the Android tablet, we want to encourage widespread promotion by suppressing price even a littleTablet manufacturers are shifting from Windows to AndroidWe tell you the other day, but finally a manufacturer who postponed the release of the Windows tablet and released the inexpensive Android tablet prematurely appeared.

Details are as below.
MSI postpones Wintel tablet PC; to launch Android model by the end of 1Q11

According to this article, MSI of Taiwanese manufacturers planned to release in the third quarter of 2010 Microsoft tablet terminal adopting Windows 7 and Intel's Atom processor "WindPad"We are planning to release a model that adopted Google's" Android 3.0 "by March 2011 as the company's first tablet device.

The Android tablet to be released is a model with 10.1 inch display and USB and HDMI port, the price will be less than $ 500 (466 yen). Sample items are expected to be prepared by December, and are expected to be exhibited at the home appliance mass merchandisers' exhibition "CES 2011" to be held in January next year.

In addition, the Windows tablet that was postponed to release will be released as the second tablet device of the company since the Android tablet was released, but whether it actually will be released or not will be changed depending on market trends I will.

In other words, depending on market trends MSI may not release Windows tablet,Acer who is judging the time to introduce tablet marketIf you are going to forget to release the Windows tablet,I want to advance the expansion of the iPad counter tablet MicrosoftIt may become to raise a heavy waist for cost reduction etc.