"Android than Windows", tablet maker shifted from high cost Windows to Android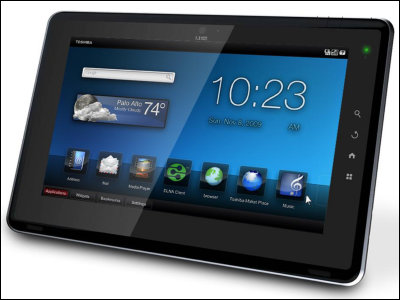 To counter Apple's iPad, each company is preparing tablets using Google's mobile phone OS "Android" and Microsoft's "Windows" tablet terminal, the cost required for each production is obvious became.

Compared to Android tablet, the Windows tablet has the result that the cost necessary for manufacturing is extremely high, and for manufacturers who want to promote spread by suppressing the price even a little "Android than WindowsIt has become the situation that it is.

The image above is a high-end Android tablet published by Toshiba for overseas "FOLIO 100"is.

Details are as below.
Engineer samples of Android 3.0 - loaded tablet PCs to be ready in December

According to this article, Google announced that "Android 3.0" will be the latest version of "Android" for mobile phones soon will be completed, and in December will be provided with samples for developers It seems that the market stakeholders revealed that they announced the affiliated manufacturers.

And the tablet terminal adopting "Android 3.0" will be held in January next year in the consumer electronics industry "CES (consumer electronics show)"It is expected to be announced from laptop manufacturers such as Acer, ASUS, and MSI.

Also, mobile phone manufacturers such as HTC and Motorola are expected to exhibit similar terminals, and Samsung is expected to exhibit the Android 3.0 version of the tablet terminal "GALAXY Tab", so market participants Said that the share of Android tablet will improve in 2011.

By the way it is about tablets adopting Microsoft's Windows which boasts an overwhelming share as OS for PC, but license fee paid to Google to adopt "Android" by manufacturer is only 10 dollars (about 810 yen ), Whereas Microsoft requires about 50 to 60 dollars (about 4060 yen to 4880 yen), and the difference in license fee has a big impact on manufacturing cost.

In addition, the Intel processor including the Atom processor adopted in the Windows tablet is about 30 dollars (about 2440 yen) higher than the ARM processor adopted in the Android tablet, the OS and the CPU alone can be up to 90 dollars ( Approximately ¥ 7320), the cost difference will occur, so manufacturers are supposed to choose Android.

Regarding OS "Windows Phone 7" for mobile phones of Microsoft announced in the early October 12 of Japan time from manufacturers"It is too late to be released" "The demand specification of the OS is high, it is not possible to create a low-priced model that leads to popularization", etc. "I am unlikely to catch up to iPhone and Android", a pessimistic voice risesAlthough Microsoft's mobile product business, such as Microsoft's mobile product business, is not getting excited in recent years, how much can we cover the disadvantage of cost by using "interface of familiar PC" as a weapon?