"It is unlikely to catch up with iPhone or Android," mobile phone manufacturer pessimistic on "Windows Phone 7"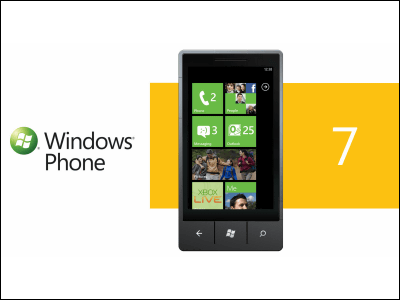 Today in Japan time JapanWe announced that Microsoft will release 9 models of smart phones that adopted "Windows Phone 7" for the year-end shopping season worldwide, But it became clear that mobile phone manufacturers showed a pessimistic outlook.

I am not going to catch up with Apple's "iPhone" or Google's "Android", but what is the problem?

Details are as below.
WP 7 able to increase market share, but unlikely to be abreast of iOS, Android, say Taiwan handset makers

According to this article, smartphones that adopted Microsoft's "Windows Phone 7" are now released to 5% by many major mobile phone operators such as AT & T, T-mobile, Vodafone, Orange, O2, Telefonica It is estimated that the share of "Windows Phone (formerly Windows Mobile)" that is falling as far as 10% can be raised in 2011.

However, Taiwanese smartphone makers have predicted that smartphones adopting Windows Phone 7 are not likely to catch up with smartphones that adopted "iOS" adopted by iPhone and others and Google's "Android" platform about.

Before Blackberry and the iPhone appeared, Windows Phone boasted the second largest share after Symbian OS, but since the release of Windows Mobile 6, the market share began to decline and a newer version of mobile Because the release of OS for OS was too late, terminal makers said that the later iPhone and Android established the position of the mainstream smartphone globally.

Also, more than two years have elapsed since many smartphone makers changed their platform for research and development from Windows Phone to Android, and while currently focusing on growing the Android market , It is impossible to switch platform to Windows Phone 7 at the moment.

And the specifications required by Windows Phone 7 are so high that it is possible to limit the development of smartphones to high-end models only for manufacturers who want to increase sales by not only high-end but also inexpensive models etc. It seems to be disadvantageous.

Because Windows Phone 7 also supports game play using Xbox LIVE, it is hard to imagine that some specs are required,The smartphone announced this time also adopts Qualcomm's high-capacity handling Snapdragon chipset for all modelsAlthough I received the impression that only the high-end models are lineup, etc. It seems that it is a very big neck that inexpensive models playing a big role in promoting diffusion can not be made.

MicrosoftProvide Windows Phone 7 development environment for developers free of chargeAlthough we are trying to rewind, we are trying to rewind, but Apple and Apple that realize high usability by providing software and hardware in vertical integration and Android who involves terminal makers and mobile phone companies as weapons using weapons as an opportunity As the momentum is increasing more and more, I am wondering how far I can catch up.
in Mobile, Posted by darkhorse_log