Toppings have been added and I came back "Pancakes as much as you want"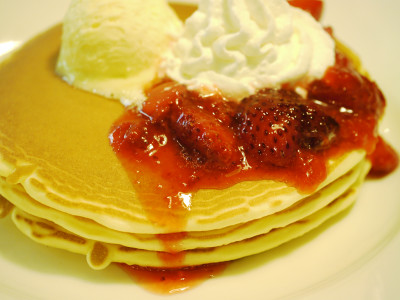 Family restaurant from March 2010 "Royal host"You can have all you can eat pancake"Pancake as many as you wantThere was a plan of being implemented.

When I was watching Twitter and others, it was quite popular that people who did not go to have a voice saying "I want you to do it again", as well as those who went, "I want to go again" Although it seems to be, it was decided to revive as a special in autumn this time.

Since the content has changed slightly from the last time, it was content that can reach the itchy place, so I went to Royal host immediately.
Royal host autumn special | as much as you like pancake

Arrived at the Royal host.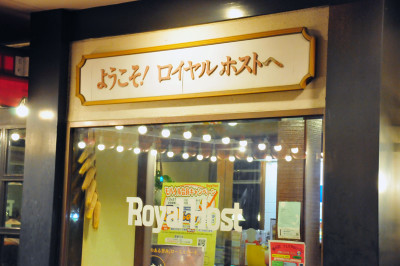 There was a menu in front of the shop. Implementation time is from 15 o'clock to 18 o'clock on weekdays (Monday - Friday), and if ordered by 18 o'clock additions can be accepted until 19 o'clock. The price is 700 yen including tax with drink. A topping small dish that did not exist last time has appeared.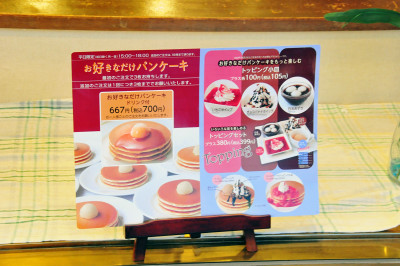 Maple syrup arrived first. "Please use as much as you want", but in moderation.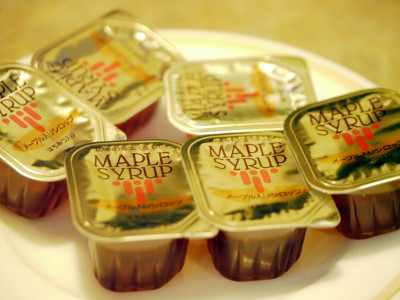 And the order pancake and coffee arrived. By the way, this shop is a drink bar installation store so drinks were all you could drink. This may be different depending on the shop.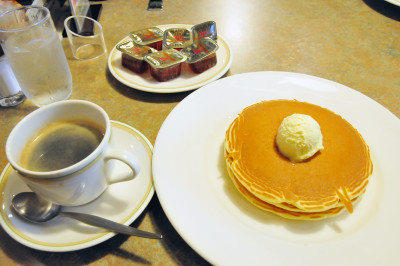 In the last time there were 5 at the beginning, and up to 5 additional sheets could be added afterwards, but this time it was changed to 3 pieces at a time. Because there is quite a volume, it may be just that.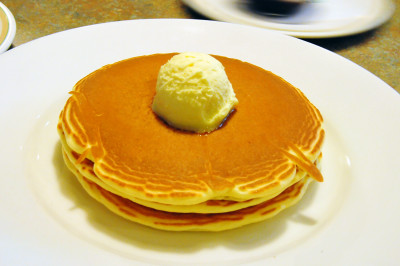 The major change is that Kore, topping has joined. One small plate is 105 yen (tax included).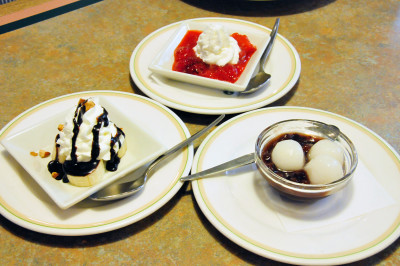 Ichigo & Fresh Cream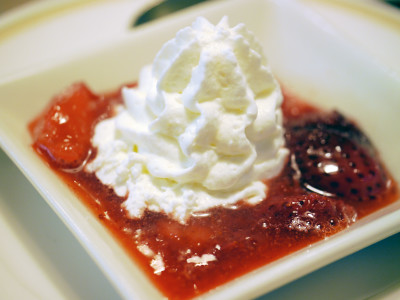 Chocolate banana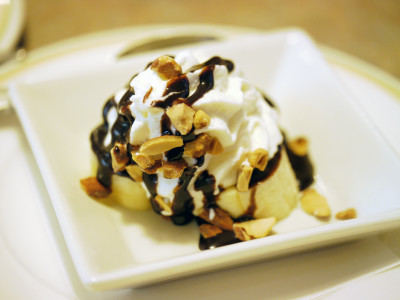 Azuki & white ball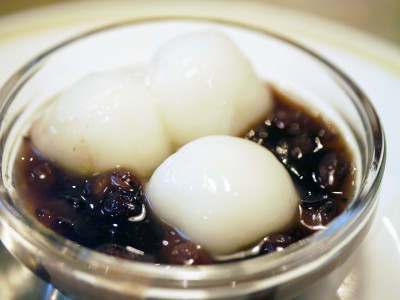 Like this, you can also make fruit pancakes.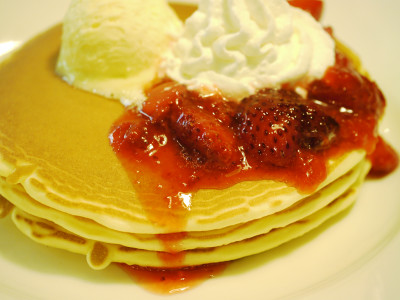 You can also make chocolate banana pancakes.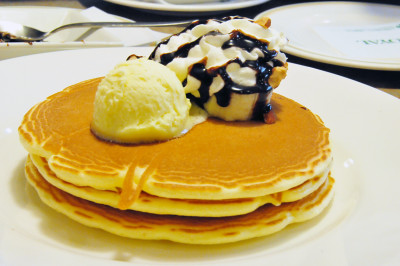 It is good to have a Japanese style white-ball pancake.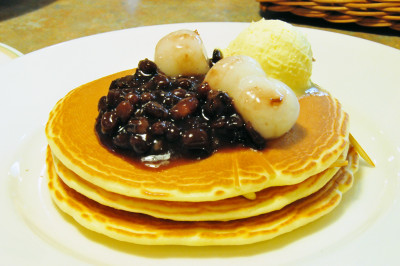 It is not dorayaki.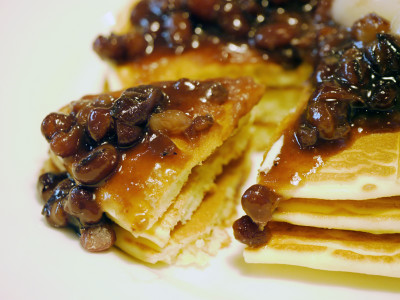 The feeling I ate, strawberry & fresh cream was the impression that the refreshing flavor of the fruit fits well with pancake. If you eat a number of sheets, you will get a lot of trouble on your stomach so it might be better to taste like this. Azuki & white ball is a bit unusual taste from ordinary pancake and it is funny, but it may be better to avoid a bit when you want to eat a lot of sheets because it is the heaviest. The chocolate banana was a feeling between the two sides. Because the sweetness of maple syrup is rich, chocolate feels thin.

So, I tried it this time as well.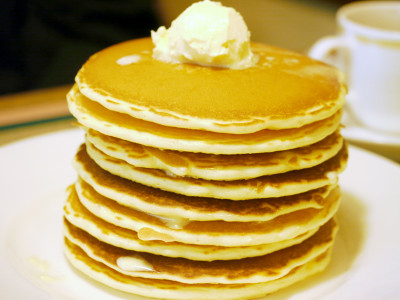 Loose syrup from the top of 9 piles.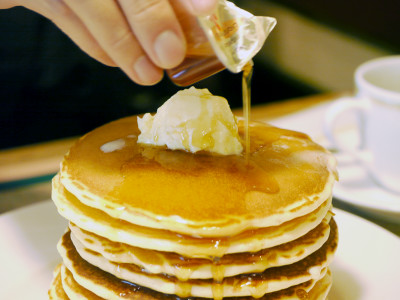 The scent of maple syrup dripping from the top down does not accumulate.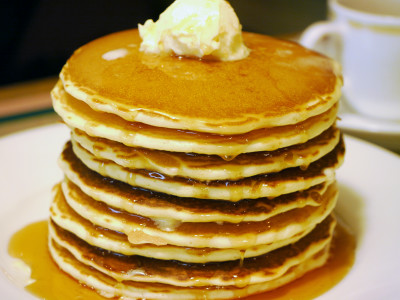 The lower person is soaked with sweetness and sweetness.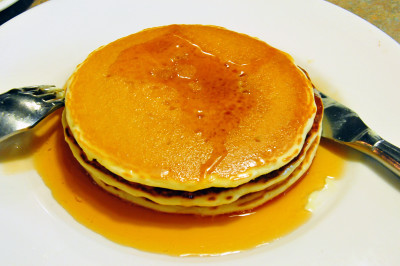 Trying it off ......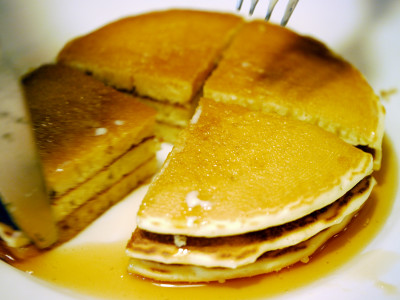 This street.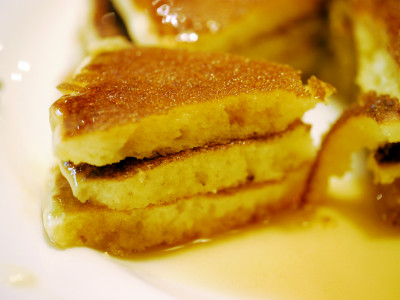 It is a pity that we are not doing it on weekends and nights, but if you have the opportunity, try eating pancake as much as you like. Depending on the store, there are places that are not being implemented so it may be better to check on the official blog of Royal host beforehand.

Royal host blog "As much as you like pancake 2010 autumn" holding ♪ ♪