Toshiba's "SmartPad" Android tablet is officially announced soon, photos also leaked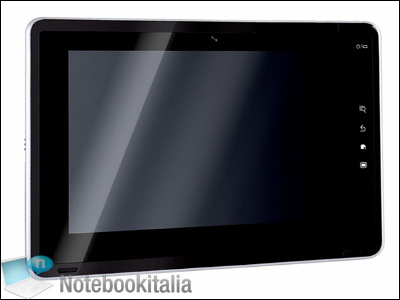 Initially the world's first hardware keyboard was installed in JuneClam shell type Android terminal "dynabook AZ"Toshiba announced that it is highly likely that the Android tablet will be released soon.

Those that are already taken as product pictures have leaked out, and the content is expected to increase.

Details are as below.
Nuovo tablet Toshiba: immagini in anteprima - Notebook Italia

According to this article, from 3 th of next monthIFA 2010, the world's largest electronics trade show in Berlin, GermanyToshiba said that it is planning to announce an Android tablet called "SmartPad".

Like "dynabook AZ", "SmartPad" is supposed to be a model adopting NVIDIA's Tegra 2 platform, and display will be 10 inches. Those that are already taken as product pictures are also running out.

This is a product photo that is regarded as "SmartPad". In addition to being equipped with a WEB camera at the top of the screen, there are four buttons, such as a search button on the right side of the main unit.



Connector for connecting with the dock at the bottom of the main unit.



right side. It has a power connector, headphone terminal, HDMI terminal, USB terminal, USB miniB terminal, and SD card slot from the left.




Price and detailed specifications are not clarified, but if you refer to "dynabook AZ", a model incorporating IEEE802.11b / g / n compatible wireless LAN, Bluetooth Ver.2.1 + EDR, etc. It seems that it is supposed to become, since it has a USB port and HDMI port, it seems to be able to expect high scalability.