"Electric potato" will appear or it turns out that electricity passes through the potato will make it better for the body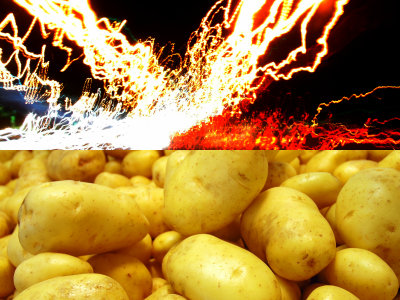 Speaking of the potato recipe usually boils, burns and fried, but when you put electricity through potatoesAntioxidantThe results of the study that the amount of cerebrospinal fluid increases will be improved and the health will be improved.

Potatoes are one of the vegetables commonly appearing in everyday meals, but from now on will the process like this experiment be done, so to speak, will "electric potato" become its standard?

Details are as below.The electric potato: How zapping a spud 'could make it a healthy food' | Mail Online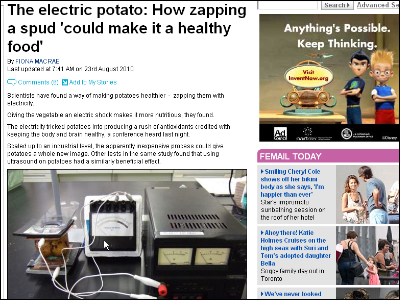 The results of the research have revealed that antioxidant substances increase by passing electricity through potatoes, becoming more nutritious and better for the body.

This discovery was made by Obihiro Anaba UniversityKazunori HironakaAssociate Professor. According to the observation that many antioxidants were discovered in agricultural crops hit by natural disasters such as drought, Professor Hirokun says that he tried experiments to reproduce this phenomenon with human hands. Also, knowing that we had not done research in the form of stressing vegetables through a mechanical process so as to obtain good health benefits was one of the reasons to tackle this experiment I say that.

During the experiment, the potatoes were soaked in salt water so that they could be energized, and it took a little charge for about 30 minutes. As a result of the experiment, it seems that the numerical value of antioxidant has increased by 60%. It was also discovered that similar effects can be obtained by applying ultrasonic waves to the potato for 5 minutes, such as those used for echoes to see the appearance of the fetus. I heard that these announcements were held at the National Science Society meeting. Since potatoes are the fourth to fifth largest crops in the world, this research may affect the whole world.

According to a spokesperson who attended the conference, "There were other examples of applying ultrasound to food at the stage of food production, so the impact on the potatoes announced this time could also be added It is possible to say that it is one of things ", he commented," In the meantime, we can take more antioxidant substances by using potatoes, especially purple potatoes, to tie the steaks. "

However, although the increase in antioxidants was confirmed at this announcement, research on taste may become necessary in the future as it has not been announced whether potatoes that received the treatment are deliciously eaten or not There is sex. Originally rich in nutrition, vitamin C and vitamins B1, B6 and so on are also included, and yet they are familiar food materials, so if you develop from this research and become more healthy and you can eat deliciously, this technology is practical It may be on the day that "electric potato" becomes standard as it becomes standard.

However, as for the effect of antioxidants and the route of ingestion, the following results are also given out.

News - Science & Space - Potential for Antioxidants to Proceed Cancer - National Geographic Official Japanese Site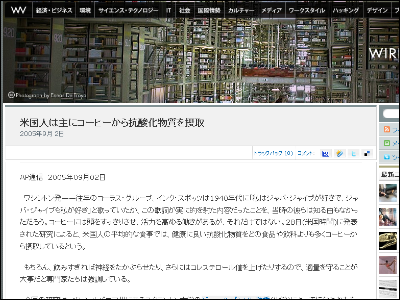 Antioxidants are often praised for their anti-cancer action. However, in some cases, I found that there is a possibility of helping the progression of cancer (cancer).
However, it seems unnecessary to watch in everyday diet because it is not easy to ingest high concentrations of antioxidant substances as in the experiment, as it is ingested from everyday meals. Also, there seems to be the following story.

Americans mainly take antioxidant substances from coffee | WIRED VISION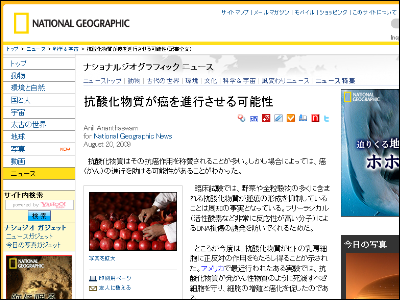 The American average meal says that healthy antioxidants are ingested from coffee more than any food or beverage.
Especially without relying on potatoes, polyphenols, one of the antioxidants, are contained in coffee, so you can take antioxidants by coffee break.

Although the discovery of potato this time has a considerable impact, there is also opinion from another angle as mentioned above even if one antioxidant substance is taken, so even if "electric potato" is proved to be put into practical use, it is bought in large quantities Rather than eating three meals at a time, it might be just right to try plus a bit for the usual diet.