NESTAGE famous for "TV panic" "Wanpakozo" etc. goes bankrupt, Geo sponsors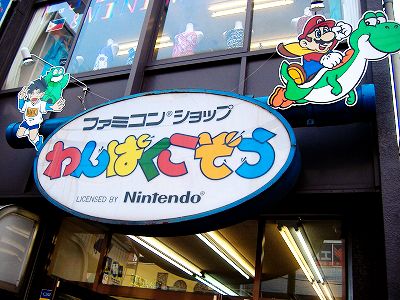 "TV PanicHome game software sales business such as "Wanpakuo (now being wanpaku)", "Wonder Panic"Wanpaku"Game star" and "Gangster", as well as the operation of game portal site "Glep", toy robot business, operation of complex cafe , And video content distribution business, etc., recorded sales of approximately 38,585 million yen in the fiscal year ended September 2007NESTAGEToday applied to the Osaka District Court for the application of the Civil Rehabilitation Law and the bankruptcy of the business occurred.

Details are as below.
Household game software vendor Jasdaq listed company NESTAGE applied for application of civil rehabilitation law Liability 1.5 billion yen - Large bankruptcy preliminary report | Teikoku Databank [TDB]

【PDF file】 Notice on petition for commencement of civil rehabilitation proceedings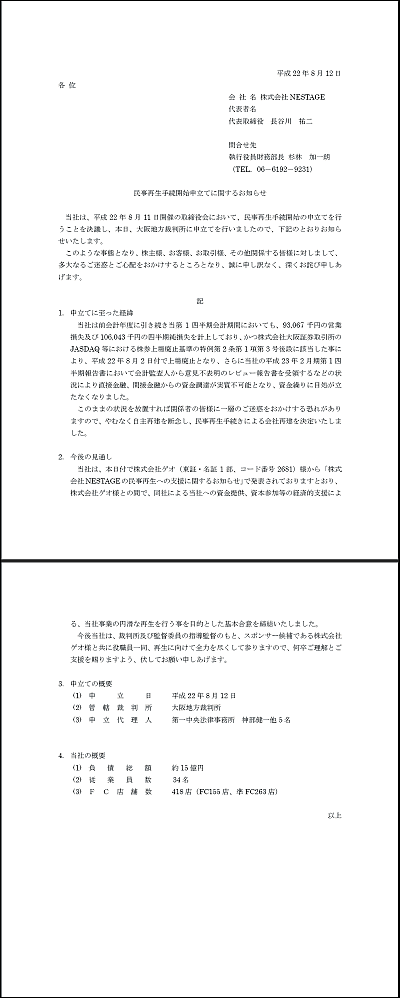 【PDF file】 Notice on support of NESTAGE Corporation for civil revitalization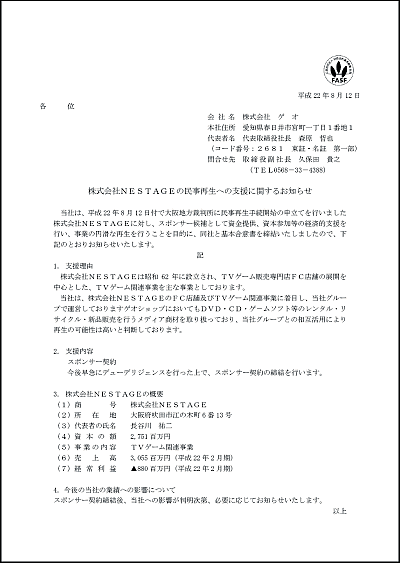 As a matter of fact, it has already been delisted on August 2nd, and it is impossible to obtain funds directly from finance and indirect financing due to circumstances such as the receipt of a review report that is not expressing opinions from the accounting auditor Because it became a situation that the prospects ceased to be caught, it abandons voluntary reconstruction and decides to rebuild the company by civil rehabilitation procedure.

The total amount of liabilities is 1.5 billion yen, the number of employees is 34, the number of franchise stores is 418 stores (155 FCs and 266 sub-FCs), and today announced the support of Geo Co., Ltd. "NESTAGE Inc. for civil renewal In the future, we have concluded a basic agreement with the aim of smoothly revitalizing the project with economic support such as fund provision from GEO and capital participation.

According to Geo's announcement, Geo is paying attention to FC stores and TV game related business of NESTAGE, and also in the Geo shop operated by Geo Group, rental, recycling, etc. of DVD · CD · game software etc. We deal with media commerce to sell new goods, so he seems to believe that the possibility of revival is high through mutual utilization with the Geo Group.

Speaking of "Wanpakuzo", in July 1998 "Second-hand game software litigation"Soga Enterprises, Sony Computer Entertainment, Capcom, Konami, Square, Namco's leading six companies have been famous for being accused of" Wanpakuzo Ibaraki Store "together with Act, but this kind of It is a situation that makes us feel the end of one era.
in Game, Posted by darkhorse