Flight Report: ANA's Gundam Jet Tokyo-Osaka Maiden Voyage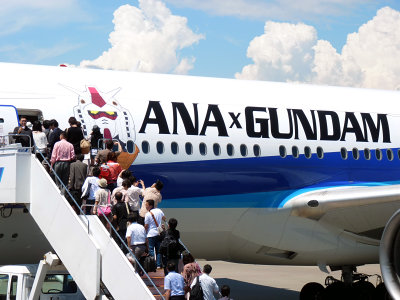 ANA(All Nippon Arways)'s Gundam Jet made its first Tokyo-Osaka(HND-ITM) trip last week on July 16. Since some of our staff had to come back to Osaka after attending Tokyo Toy Show 2010 that day, they opted to embark the anime-themed jetliner's maiden voyage rather than the usual bullet train.

Here's our report, with lots of in-flight pics!
Terminal 2 ticketing concourse of Haneda Airport(Tokyo International Airport).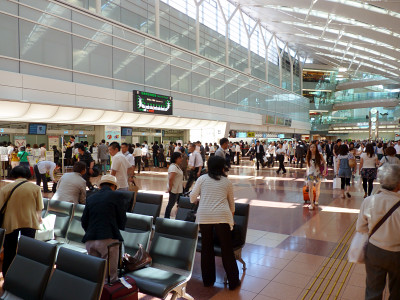 As an Osaka-based website we usually take the bullet train for business trips to Tokyo, so we don't really frequent Haneda, but the relatively new Terminal 2 seems like a nice building.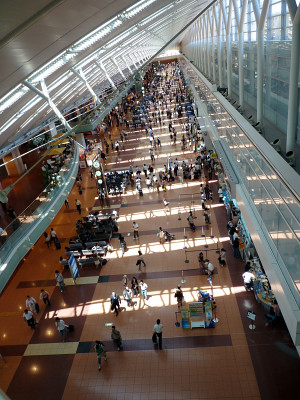 The usual design ANA planes.


We spotted a Pokémon Jet, also operated by ANA, from the shuttle bus.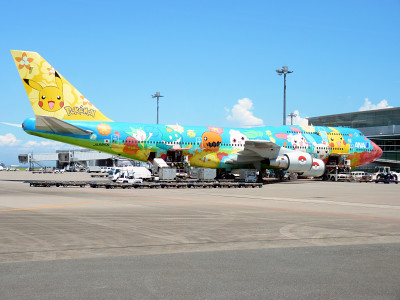 Cute.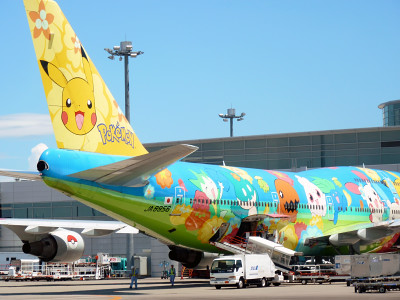 Gundam Jet came in view.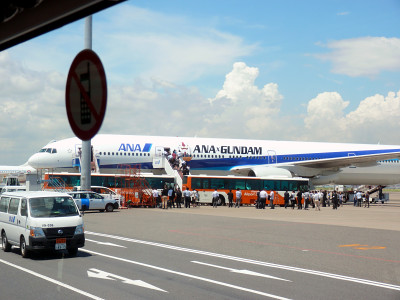 Passengers were already embarking when our bus arrived.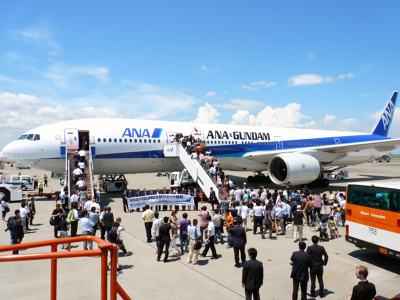 Press people were also there since it was the maiden voyage.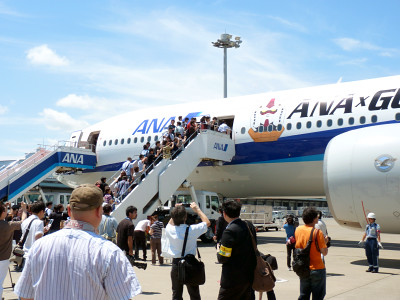 ANA employees holding "ANA×GUNDAM Jet Inaugural Flight" banner.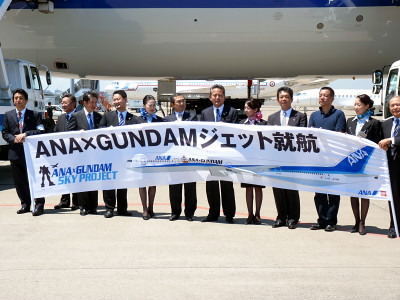 A Gundam fan was carrying RX-78 Gundam's shield-like backpack.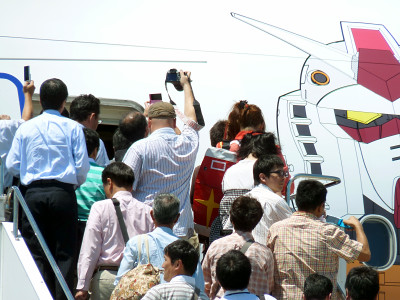 "Life-sized" Gundam head decal on the port side.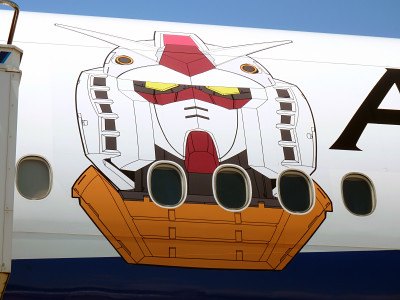 It might not look that big on a Boeing 777-300.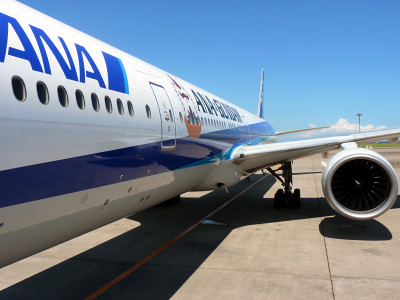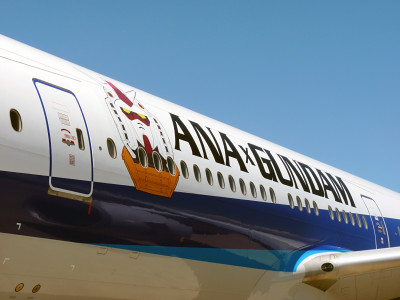 But up close it's actually pretty huge.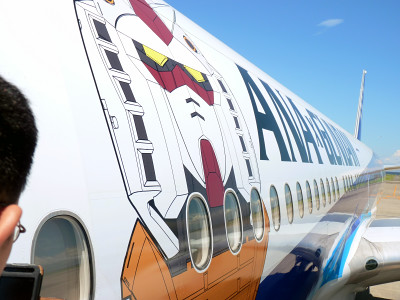 Brochure for ANA's original Gunpla was shown near the complimentary candies.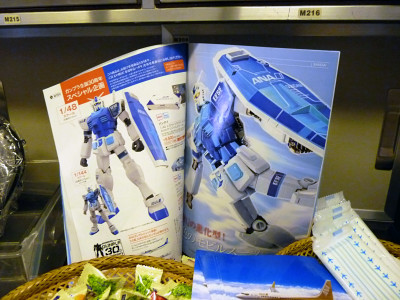 Each passenger of the Gundam Jet is handed out this leaflet.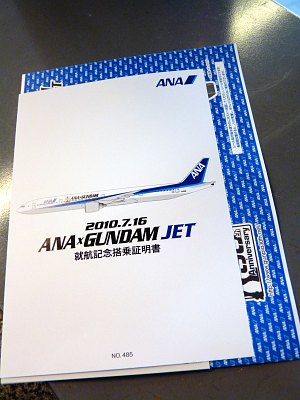 The "Boarding Certificate".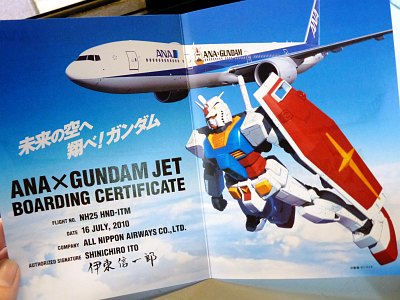 Stickers.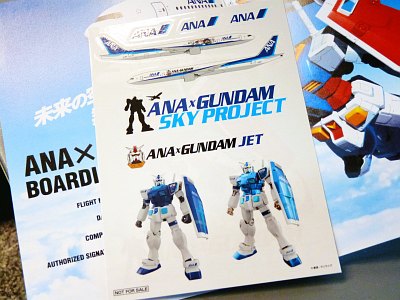 You need this postcard to order ANA's original Gunpla, so essentially, the special Gunpla is sold exclusively to passengers who boarded the Gundam Jet.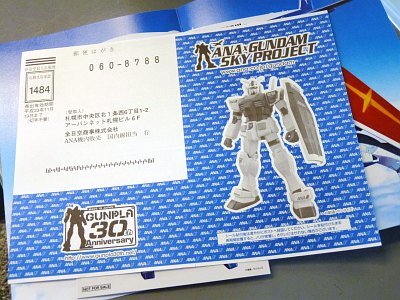 The Gunpla featured on ANA's inflight catalogue in the seat pocket.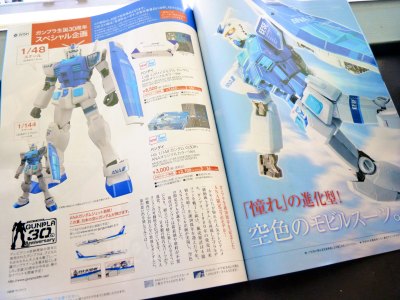 Sky blue ANA colour.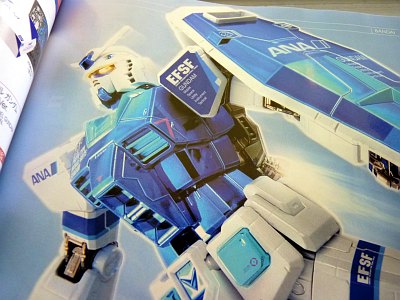 There's a 1/48 scale model and a 1/144 model.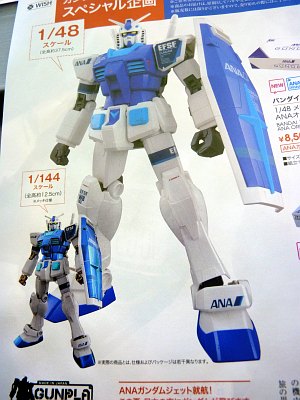 More than half of the passengers must be Gundam fans, we guess.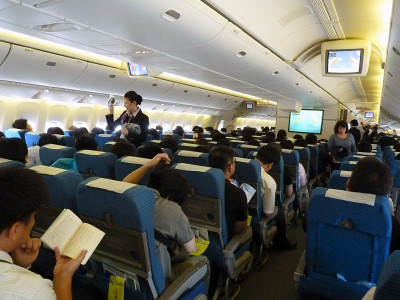 We spotted Airbus A310 and Dassault Falcon 900 of the French Air Force. Later we found out that the French Prime Minister was visiting Japan this day.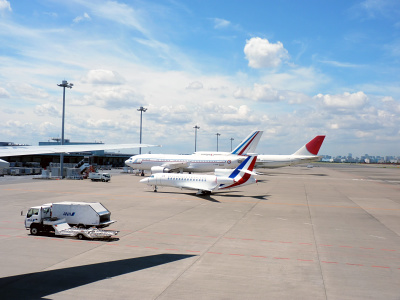 So the Gundam Jet took off Haneda while the airport staff waved their hands, which is unusual for Japanese domestic commercial flights as far as we can tell. Must be the privilege of maiden voyage.

As you know, you get to feel the gravity while an aircraft accelerate for takeoff. We heard people around us mumbling "G ga konnna ni sugoi nante" (I didn't expect this kind of g-force), Sayla's line from Mobile Suit Gundam's Episode 15: Sayla's Agony.

We had a window seat on the starboard side.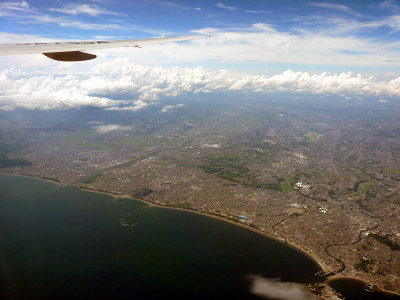 Passing by Enoshima Island.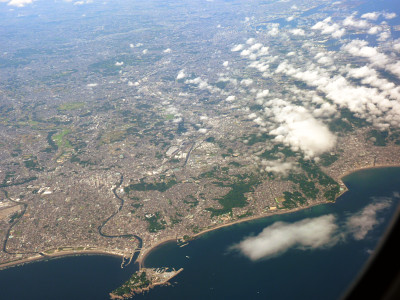 Mt. Fuji. A Tokyo-Osaka flight heads roughly south-west, and the starboard window gets the better view.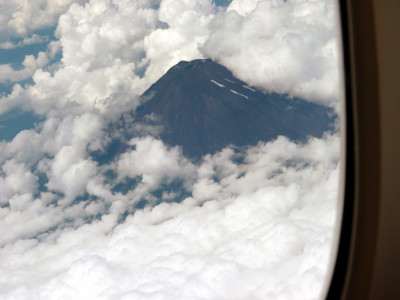 Getting cloudy...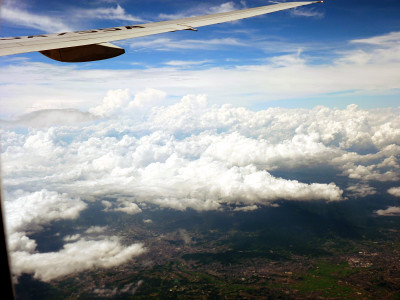 The better part of the flight was pretty smooth, but we seemed to have entered a turbulence near the end of the flight, although there wasn't too much trouble for landing.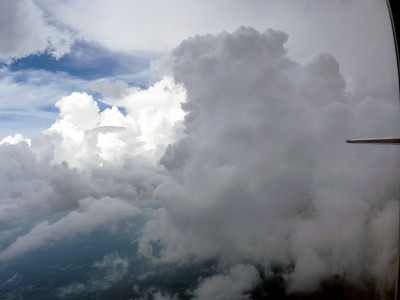 Passengers of the Gundam Jet was welcomed by another banner at Itami Airport(Osaka International Airport).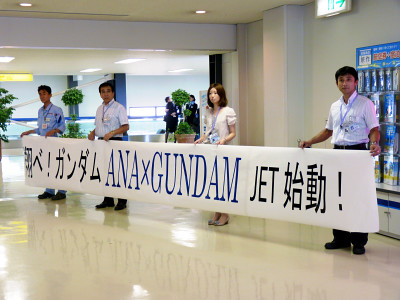 Here we were able to see the starboard side for the first time.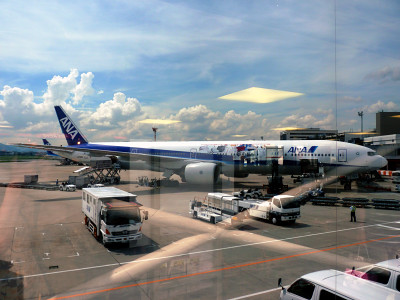 Life-sized Gundam. Apparently, several RX-78 Gundam mobile suits can be loaded horizontally on a Boeing 777.