To promote the spread of "SD card with built-in wireless LAN", data exchange is possible without using a personal computer among all the devices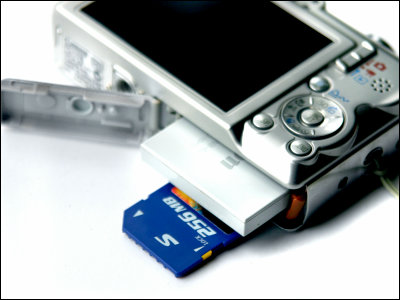 A photograph taken with a digital camera,SD memory card built in wireless LAN that can transfer automatically without using a PC card reader "Eye-Fi"It was announced today that an industry group aiming for full-scale dissemination of SD memory cards with wireless LAN built in will be launched.

If you do, you will be able to exchange data directly between all the devices.

Details are as below.
Toshiba: News Releases (2010 - 06 - 22): On the establishment of promotion group for promotion of SD card with built-in wireless communication function

According to this release, Toshiba launched "Wireless LAN Built-in Flash Memory Card Common Standards Formulation Forum (tentative name)" on June 29 in order to promote the spread of SD card with built-in Wi-Fi compliant wireless LAN communication function It is said to be established. Trek 2000 International, a Singapore electronic parts maker, a standard joint proposer, will also participate in the forum.

And the compatible communication standard of "Wireless LAN communication function built-in SD card" promoting the spread of this forum is IEEE802.11b / g, capacity is 8GB, compatible format is JPEG and RAW. By inserting it into a digital still camera etc. equipped with a slot compatible with the SDHC standard, it becomes possible to wirelessly communicate even with a device without a communication function.

Usage scene is like this. The next-generation model released in 2011 also supports IEEE 802.11n.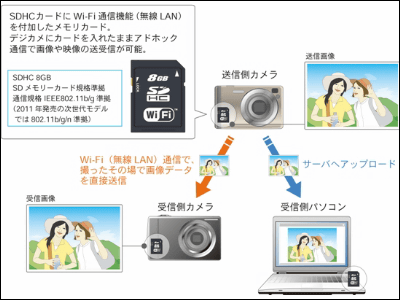 We will also invite other manufacturers to participate in the forum widely, promote the dissemination of wireless communication function built-in type cards and exchange technical information necessary for developing common specifications and corresponding product development I am doing.

By having the communication function on the recording medium itself, it becomes unnecessary to install the communication function on the device itself, so it seems that it seems that it can be popularized at low cost and at high speed, but just how many manufacturers agree Is it done?

In addition to the memory sticks deployed in-house,We announced electric shock in January this year to enter SD memory cardOther, just by holdingSony promoting the proximity wireless transfer technology "TranferJet" that can utilize 560 Mbps high-speed data transferIt is a place to worry about trends etc.