File transferring technology "TransferJet" going forward to commercial use.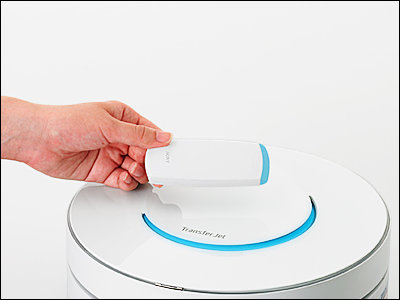 Recently we have reported about "Tranferjet" Sony's new nearfield data transfer technology which can send and get a data "in a touch". For example, you can transfer MP3 data to your silicone player or send image data from your digital camera without connecting any wires which makes you puzzle.

The transfer rate is as fast as 560Mbps which is faster than the USB2.0 of 450Mbps, so the product is useful enough to replace legacy USB peripherals. And now, the technology is seeking to move out of the lab.

Detail follows.

Sony Global - Press Release - Consortium Established to Develop and Promote Close Proximity Wireless Technology "

The release says that the Sony and other major electronics companies made agreement of establishing new consortium to set Transferjet standards, which is seemed to contribute much in contents business like movies and musics.

Former wireless transferring needs complex settings and it's far from the word stable. Transferjet solved those kinds of problem. It can connect the device by as easy as holding them directly and make really fast data transferring.

Usage is various. You don't have to place your silicone player onto the wired cradle anymore. Digital camera will be more useful, with no need of memory card replacing. Data backup and ringtone setting of your cell phone also going to be a lot more easier.

Canon, Kodak, Hitachi,victor, KDDI, Kenwood, Matsushita electric, Nikon, Olympus , Pioneer, SAMSUNG, Seiko Epson, Sony Ericsson and Toshiba will be contributing the consortium.

Official sites can be seen from here; TransferJet

This article was originally posted in Japanese at 14:42 July 17, 2008.
in Note, Posted by darkhorse_log