Toshiba to release wordl's first "SDXC" flash memory with biggest capacity and fastest access speed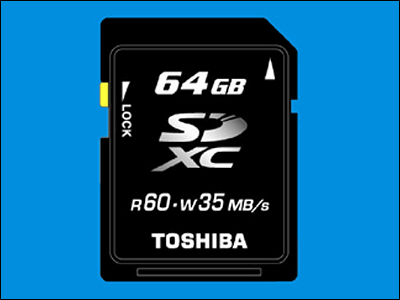 Succeeding the existing SDHC format, Toshiba is going to release world's first "SDXC memory card", with 2TB max capacity and 300MB/s speed at fastest. Toshiba will start with 64GB model in spring, 2010.

Read on for detail.

Toshiba: News Release (2009-08-04): Announcing the world's first commercializing of "SDXC" memory card.

According to the release, Toshiba is to release "SDXC" memory card, which is compliant to SD memory card standard Ver. 3.00.

"UHS104", the first commercial SDXC card will be released in 2010 spring and has the largest 64GB memory and fastest 35MB/s writing speed and 60MB/s reading speed.

There will also be 32GB model and 16GB model at the same time.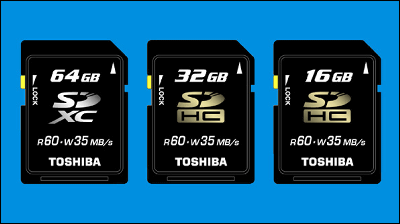 SDXC memory card adopts "exFAT" format for its file system so legacy devices which adopts "FAT32" format will not be able to handle this SDXC card. You should check out whether your device can handle "exFAT" format.

Related Post:
A new adapter will enable you to use 16GB Memory Stick Pro Duo. - GIGAZINE

"MoeSD" -the Micro SD featuring MOE-able characters released - GIGAZINE

KDDI exhibited "Micro SD Wireless LAN Card" at Wireless Japan 2009 - GIGAZINE