Capacity beyond HDD, finally Toshiba to release a 512 GB model explosive SSD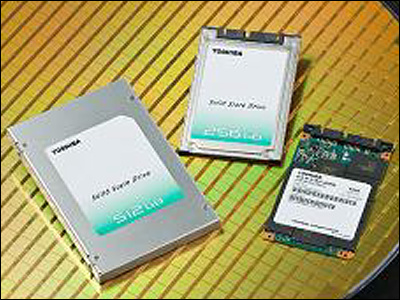 Toshiba today announced the world's highest capacity SSD for 512 GB laptop computers.

Not only is it overwhelming HDD at transfer speed, it is more than the maximum capacity of HDD for laptop computer currently on the market.

Details are as follows.
Toshiba: News Release (2008-12-18): The Industry's Largest 512 Gigabyte SSD Product Launched

According to this release, it seems that Toshiba has developed 2.5 inch SSD for 512 GB laptop computer which adopted "multivalued NAND type" flash memory which increased capacity per element.

In manufacturing, 43 nm process is used, and in addition to realizing the recording capacity which is twice as much as the conventional product, by making the multilevel NAND operate in parallel at high speed by the controller newly developed this time, compared with the conventional product He said that the data processing speed has been doubled or more.

The transfer speed is 240 MB maximum per second for reading, 200 MB maximum per second for writing, and the interface adopts Serial ATA - II. In addition to the 2.5 inch model, 1.8 inch models and 3 mm thick small module models are available, and the maximum capacity is 256 GB in each case. In addition, the mass production time to worry is scheduled for the second quarter of 2009.

Incidentally, the 512 GB SSD that appeared this time has exceeded 500 GB which is the maximum capacity of the HDD for notebook PC currently on the market, not only the transfer speed but also the storage capacity of SSD exceeds HDD Become.

The SSD of the 32 GB model is falling to 10,000 yenBut, what about the price?