High performance inexpensive tablet "JOOJOO" compatible with HD movies and FLASH starts selling in Japan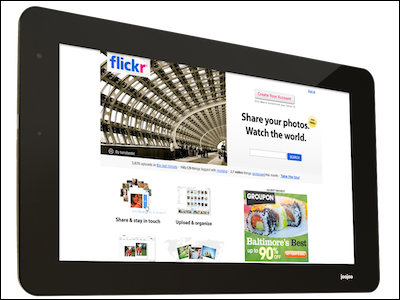 At last the Apple tablet terminal "iPad" will be released on May 28, but "JOOJOOAn inexpensive tablet computer named "It was released in Japan."

By adopting NVIDIA's ION platform known for its low power consumption and high graphic performance, it is compatible with HD video playback, combining multi-touch interface and high-resolution LCD, as well as multitasking and iPad It supports Adobe's FLASH format content which does not support it.

Details and commentary movies are from the following.
According to the release sent from Fusion Garage, today it is said that the release of the tablet PC "JOOJOO" will be launched to Japan from today. "JOOJOO" is a model designed for users who frequently use WEB and can start up in just 9 seconds, so it can access the Internet almost instantly anywhere Wi-Fi connection is possible.

This is "JOOJOO". The price is 44,999 yen.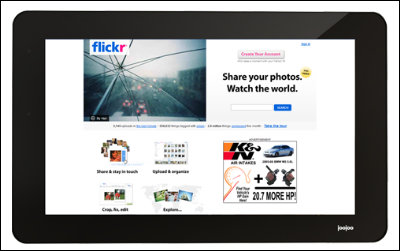 Although it is an anxious spec, it is equipped with a capacitive 12.1 inch high resolution (1366 × 768) liquid crystal for multi touch interface and Intel Atom processor (1.6 GHz) and NVIDIA ION platform, IEEE 802.11 b / g / n compatible , Wireless LAN, Bluetooth 2.1 + EDR, 4 GB SSD, USB port × 1, etc. It can be driven with a battery for 5 hours. The weight is 1.1 kg.

Placed "JOOJOO" vertically. The adopted OS is the browser-based original OS.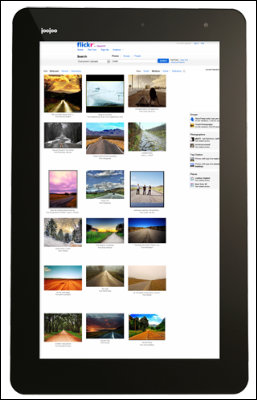 The official page of "JOOJOO" is from the following.

Joojoo
https://thejoojoo.com/