"EeePC T91" has appeared, thin type tablet model with touch screen with multi function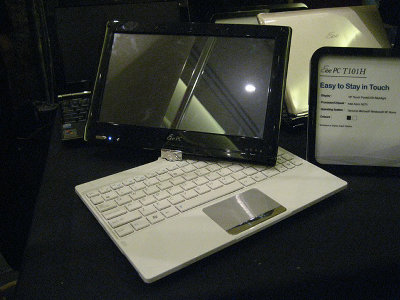 ASUS has announced the latest model "EeePC T91" of the low-priced notebook PC "EeePC" series at the world's largest consumer electronics trade fair "CES" held in Las Vegas, USA.

In addition to being a tablet model that rotates the display by 180 degrees, it adopts a touch screen, furthermore, in addition to being equipped with functions not previously mounted in the model, the main body is a very thin model.

Details are as follows.
Aubee: ASUS Eee PC T91 multitouch convertible Tablet PC

According to this page, the newly appearing "EeePC T91" seems to be a tablet model equipped with a 8.9 inch touch screen rotatable 180 degrees.

OS is Windows XP Home Edition, Intel's Atom processor Z520 (1.33 GHz), TV tuner, FM transmitter, GPS loaded. The thickness is 1 inch (about 2.54 cm) and the weight is 2 pounds (about 900 grams). The battery driving time and price are unknown.

The specification is like this.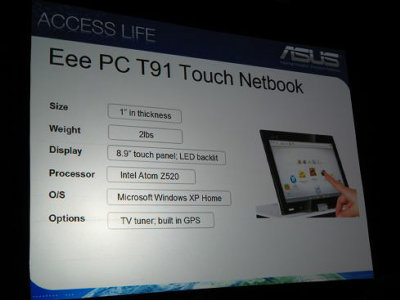 It is regrettable that the number of clocks of the CPU is lower than the Atom N 270 processor (1.6 GHz) installed in the conventional model, but it is a slim model and it is a mobile model that has a built-in GPS It might be very interesting.